Product Review: Smooth Glass Slideshow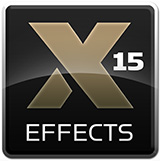 [Read my product review disclosure statement here.]
The team at idustrial revolution continue cranking out new effects for Final Cut Pro X. Last week, Peter Wiggins, CEO, sent me an email:
"I thought I'd let you know that we are officially launching another new set of plugins on Tuesday. It is called XEffects Smooth Glass Slideshow and we really like it – a lot! It gives the editor the tools to make some very glossy-looking videos right on the FCP X timeline."
EXECUTIVE SUMMARY
"XEffects Smooth Glass Slideshow enables the creation of beautiful dynamic, glossy slideshows. Combine media with self animating glassy bar titles & transitions. Add information with customizable text elements with built in color palettes and on screen controls.
"A highly customizable set of 39 plugins, each element can be layered up to produce stunning animations.
"The glossy bar titles have a range of sizes, width animations, directions & acceleration, brightness & tint, bevel edge, opacity and color.
"The transitions are similar with matching customizable bars either side of the revealing wipe.
"Text elements have over 30 built-in color selections or choose your own to match a corporate color scheme or theme. Text move matches the motion of the image or video underneath." (idustrial revolution website)
Developer: idustrial revolution
Distributed by: FXFactory
Website: https://fxfactory.com
Price: $39.00 US (normally $49.00)
Free trial available
INSTALLATION
As with all FX Factory titles, installation is handled using the FX Factory interface, takes about a minute and is dead easy.
WHAT IT DOES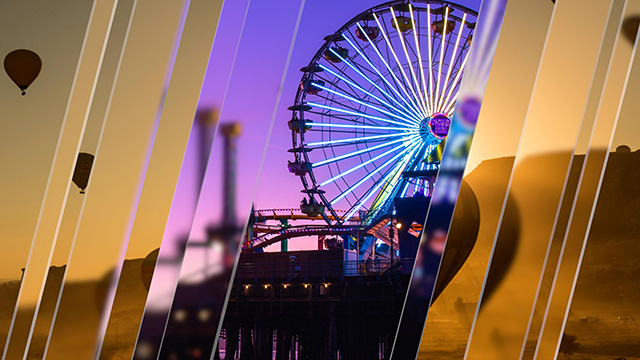 [Image courtesy of idustrial revolution.]
Smooth Glass Slideshow creates visually stunning transitions – either with or without text.
Here's a link to a YouTube video that shows you more:
HOW IT WORKS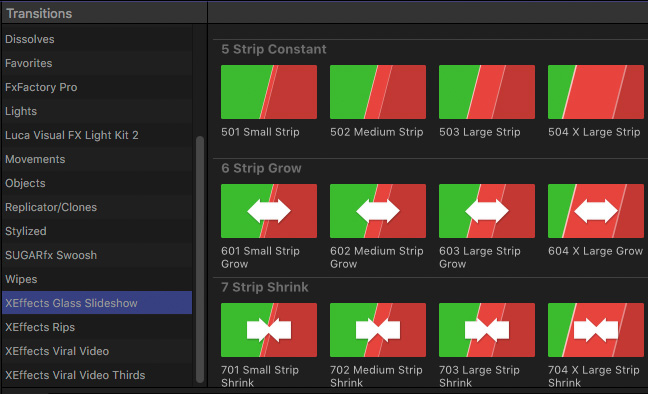 Smooth Glass Slideshow contains:
15 transitions
4 sliding effects
8 animated text effects
12 text templates
Effects that range from subtle to in-your-face.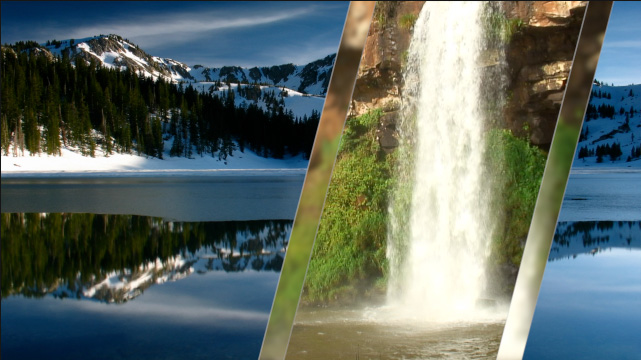 For example, this is transition "803 Right Open." Transitions are just that – transitions without text that move from one clip to the next, but in a visually interesting way.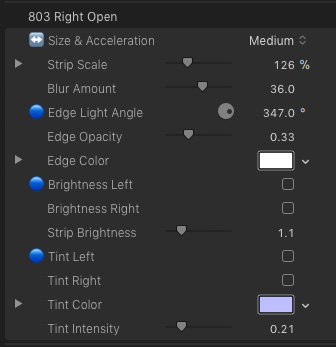 Customization options are extensive, though we are not able to adjust the width of the sliding portion of the frame; instead we use different templates for different widths. The slides can also expand or shrink.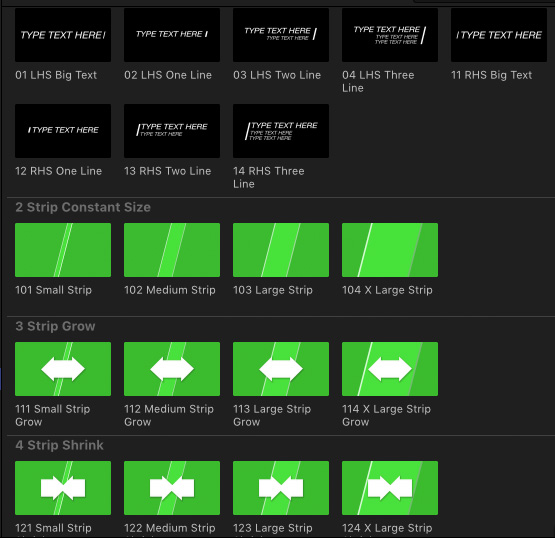 However, the real power of these effects comes when you move to Title templates; more importantly, when you combine templates into a stack in the Timeline.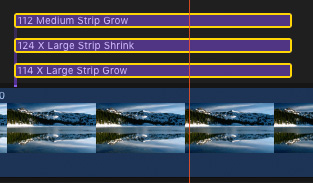 While transitions move from one clip to another, stacking text templates allows you to apply multiple text effects to the same clip; each using a different width, sliding direction and color scheme.
This gets especially interesting when the text is below some of the sliding effects, as you see in the video above.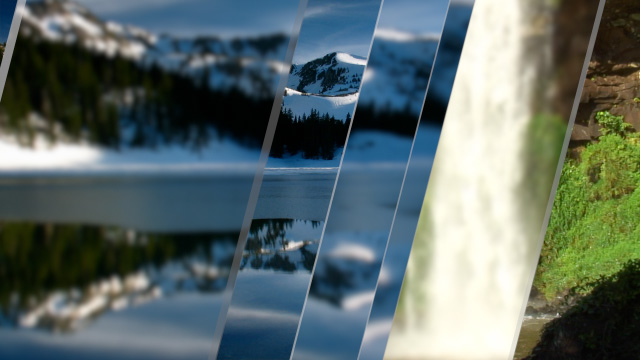 Or, combine transitions with text effects, such as this example of three text templates stacked above a sliding transition between two source clips.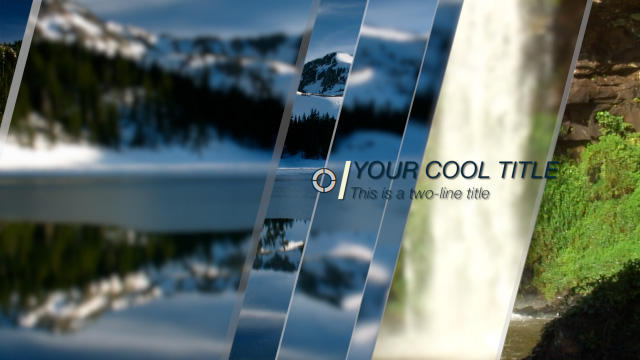 Or apply one of the eight, animated text clips into the stack, with three dozen different text  color combinations to choose from. This gets even more interesting if the animated text clip is below one of the sliding clips.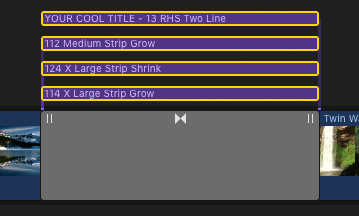 Here's what the screen shot above looks like in the Timeline.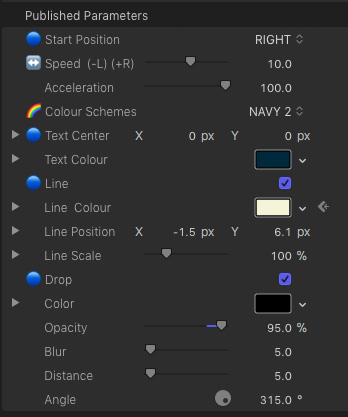 And, this screen shot illustrates the range of customization options associated with one of the text templates.
SUMMARY
These effects remind me of Tinkertoys – for those of you who remember those easy-to-combine building blocks – they get really interesting when you combine them. The strength of this package is not any single effect, but that you can stack multiple effects on top of the same clip or transition to achieve some really fascinating effects.
Customization options are extensive. While I would like more control over the width of the blurred portion of the effect, the templates provide four preset widths to choose from. I also like that we can change the direction and color palette of each effect, so the glass seems to be sliding in multiple directions at once each with a subtly different look.
As with all FX Factory effects a free trial is available. After playing with these for a while, I can easily see using Smooth Glass Slideshow to create arresting visual effects for social media videos without getting bogged down in overly-complex settings.
---
Bookmark the
permalink
.