Product Review: Red Giant Universe

Sometimes, it is difficult to tell if Red Giant is a software developer or a filmmaker. The recent release of "Go Bag," directed by Seth Worley, is an excellent example of using filmmaking to develop and showcase products. (By the way, if you haven't seen this short film, it's worth watching.)
As Red Giant writes on their website:
"At Red Giant, we make tools, films and training to enrich the community of filmmakers and motion designers. For our own award-winning short films, we create new software to fill our needs. Then we make those products available for everyone else, helping artists create the perfect look that matches their story. Red Giant develops tools that make the filmmaking process faster, more secure, more accurate and just more fun. For over 10 years, we have built software for motion design, color correction, visual effects and photography that is used for everything from major motion pictures to worldwide television programming to web production."
Red Giant launched Universe in March, 2014. This is a subscription-based package of free and premium transitions and effects – more than 100 – which works in all major NLEs including:
Premiere Pro
After Effects
Final Cut Pro X
Motion
Vegas
Davinci Resolve
HitFilm
EXECUTIVE SUMMARY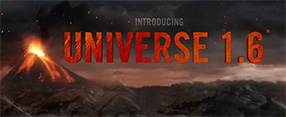 Red Giant makes quality products and Universe is no exception. Universe provides web-based access to an expanding collection of more than 100 professional-quality transitions, utilities and effects which are downloaded to your system, installed locally and accessed within your editing system.
The Red Giant Link provides an easy way to install and update these effects, but, once installed, they work the same as any other effect. Universe gives you access to stunning effects and transitions for one low monthly or annual price.
Red Giant has demoes of all their effects on the Universe page of their website.
Developer: Red Giant
Website: www.redgiant.com/universe/
Pricing: Free, $20/month, $99/year (US)
Free trial available, 30-day money-back guarantee
WHY IS IT A SUBSCRIPTION?
I don't speak for Red Giant, because I haven't discussed this with them, however based on my 25 years in the software industry, developing software is a real challenge. Not only do you need a great idea, you need time, people and money to turn that idea into a robust, bug-free, shipping product. As if that wasn't hard enough, traditional software business models create a wildly fluctuating revenue stream: lots of money when new products were released or updated and not a whole lot in-between.
Guess wrong on a product or deliver late on an upgrade and the whole company is on short rations. Subscriptions solve this by providing consistent income from month to month that a company can plan on and use to deliver, revise and support new and existing products.
As creators, it is essential that the people building and supporting the tools we use every day can continue developing them long into the future. Subscriptions make this possible with a lot less stress. It's a two-way street. Developers need to create tools so incredible that we just have to use them. And we need to support those developers so that they can continue to create more.
However, for those on a budget, Red Giant ALSO provides a free version containing some wonderfully useful effects.
WHAT IS UNIVERSE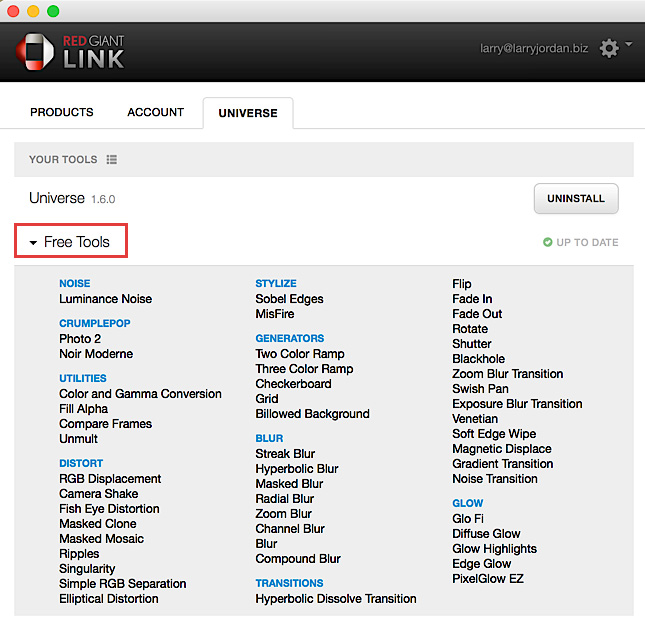 Universe provides web-based access to an expanding collection of professional-quality effects which are downloaded to your system, installed locally and accessed whenever you need them. The free version contains 14 transitions, 4 utilities and 32 effects.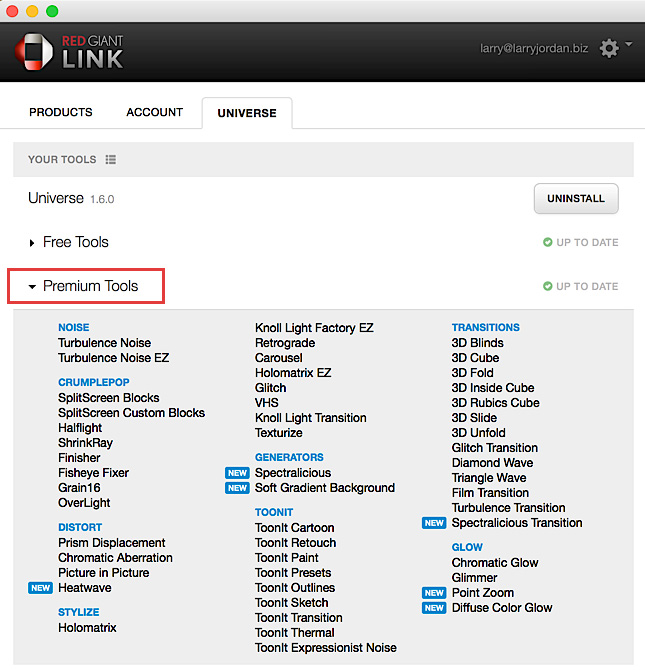 The Premium version contains everything in the free plan, plus another 16 transitions and 39 effects, including the legendary Knoll Light Factory EZ, Holomatrix, and Toonit, plus some amazing new effects like Heatwave and Diffuse Color Glow.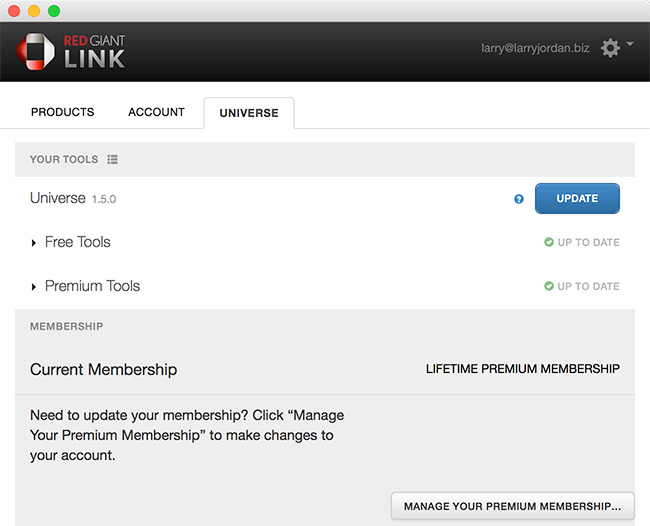 Once you sign-up, you need to download Red Giant Link. Similar to Adobe's Creative Cloud interface, this allows you to:
Download and install Red Giant stand-alone products, once purchased
Display and modify your account status
Access and update Universe effects
Universe can be installed on up to two computers.
NOTE: Effects are accessed via the Red Giant Link, but installed locally. This means you could have a different effects configuration on each computer. This would allow you, for example, to optimize one computer for editing and another for finishing and color correction.

Updating is as easy as clicking a blue Update button.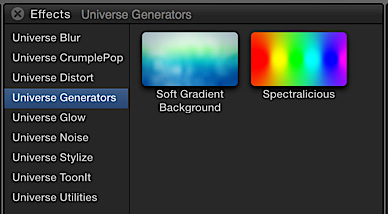 Once you have Universe installed, all the effects appear in your NLE just as you would expect, ready to use. For example, here's a portion of them in Final Cut Pro X.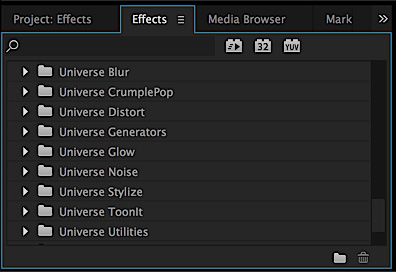 And the same group inside Premiere Pro CC.
SIDEBAR: A VERY COOL BENEFIT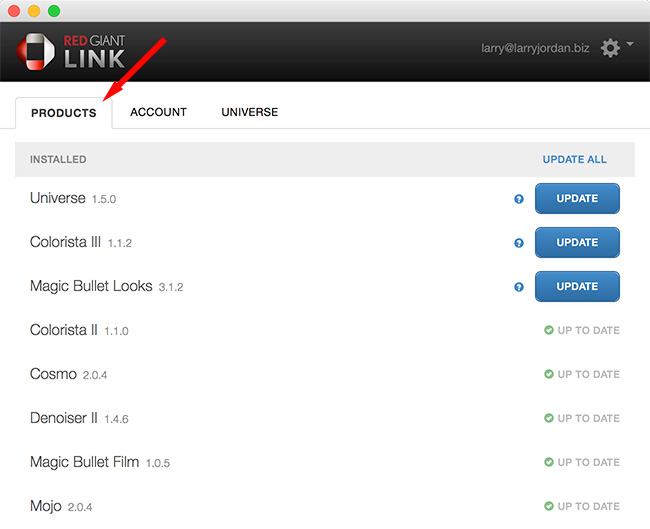 Another cool feature of Red Giant Link is that it allows you to download, install and update stand-alone products such as Colorista and Magic Bullet, which are also created by Red Giant using the same interface.
This greatly simplifies the process of figuring out which products you've got and whether they are current or not.
SUMMARY
I've liked Red Giant products since my first exposure to the Magic Bullet Suite many years ago. Universe continues that high standard.
Delivered, maintained and updated via The Cloud, but stored locally, Red Giant Universe provides a wealth of high-quality effects and transitions in an easy-to-manage package at a very affordable price. Whether you are looking to simply enhance an existing shot or create something mind-bending from another world, Red Giant's Universe is a great place to start.
---
Bookmark the
permalink
.