Product Review: OWC USB-C Travel Dock [u]

[Read my discloser statement on product reviews here.]
Both the 13″ and 15″ MacBook Pro laptops only have USB-C ports. This means that if you need access to HDMI, USB-A (USB 3.1 Gen 1), or an SD card reader, you will either need to use a bunch of dongles … or a dock.
The folks at OWC loaned me an USB-C Travel Dock for a week to play with. Here's what I learned.
EXECUTIVE SUMMARY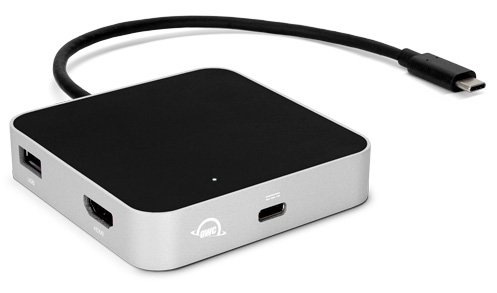 The OWC USB-C Travel Dock is a small, light, bus-powered accessory that provides a variety of common data ports for laptops that have USB-C connections.
Weighing only 91 grams (3.2 oz), and roughly 3 inches square (80 mm), this unit will fit in just about any travel bag. Supporting both Mac and Windows computers with USB-C (or Thunderbolt 3) ports, it requires macOS 10.10, Windows 10 or later.
Product: USB-C Travel Dock
Manufacturer: OWC
Website: eshop.macsales.com/item/OWC/TCDK5PSL/
Price: $49.88 (US)
INSTALLATION
Installation is trivial. Take it out of the box and plug the attached USB-C cable into your computer. No drivers or other software are required.
WHAT IS USB-C?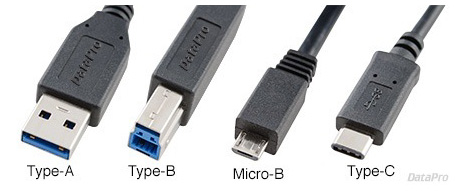 (Image courtesy DataPro.)
USB-C is the latest version of USB, with its own connector and high-speed protocol. Unlike past versions of USB, which tended to be slow, USB-C is very fast. And, unlike past versions of USB, the USB-C connector is reversible, which means that you can't put in in upside-down. (Well, um, you can, but it still works perfectly, unlike past USB connectors.)


(Image courtesy C-NET.)
While the actual speed of any USB connection is dependent upon both the computer and the peripheral you are connecting to it, USB-C (also called USB 3.1 or USB 3.1 gen 2) has a top speed of 10gpbs, which is twice as fast as USB 3.1 gen 1 (also called USB 3.0, sigh…)
POWER

The device is powered from the USB-C port on your computer, or it can accept power from a dedicated USB-C power adapter; which is not included. However, for best performance from the SD card reader or USB peripherals, OWC recommends using a power adapter. (The port for the power adapter is illustrated above.)
The dock itself requires 1.5W of power to operate. When connected to a power adapter the dock can draw a maximum of 60W. When connected to a power adapter, each USB Standard-A port can deliver up to 12W of power.
Any power not used by the dock, media reader, and connected USB peripherals is passed to the host for battery charging, if applicable.
A PHYSICAL DESCRIPTION
As mentioned earlier, connecting is a piece of cake. Tear it out of the box, plug the cable into a computer (remember the computer needs to have USB-C ports, this won't work with older computers that only have tradition USB connectors), and you are good to go.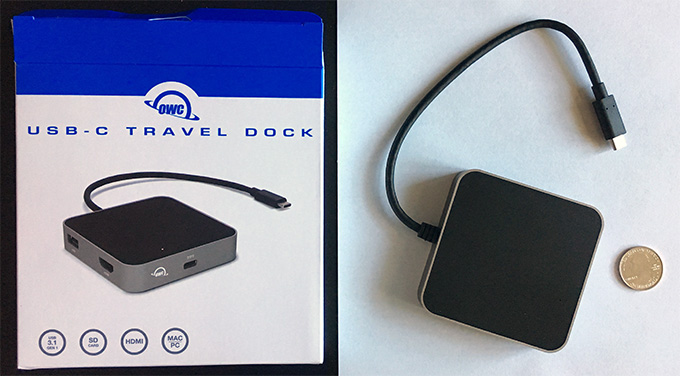 What struck me, when I opened the box, was how SMALL this is. Three inches on a side is just not that big. In the image above, this is the box it came in, plus very minimal cardboard packaging (not shown) and the dock. (The quarter is there just as a size comparison, it was not in the box…)
And, it is light. You could throw this in a pocket and forget that it's there.
The edges of the case are metal (it comes in four colors: space gray, gold, white and rose gold) with the top and bottom fairly thick plastic. The unit feels substantial without feeling heavy. I'd have no hesitation throwing this across the room to an associate without worrying if the floor was concrete.
The construction is solid and nicely done.


Ports:
(1) USB-C with cable attached. This is how you connect it to the computer
(2) USB-A (traditional USB) connectors
(1) USB-C to connect a power adapter or other USB-C device
SD Card reader
HDMI 2.0
DOES IT WORK?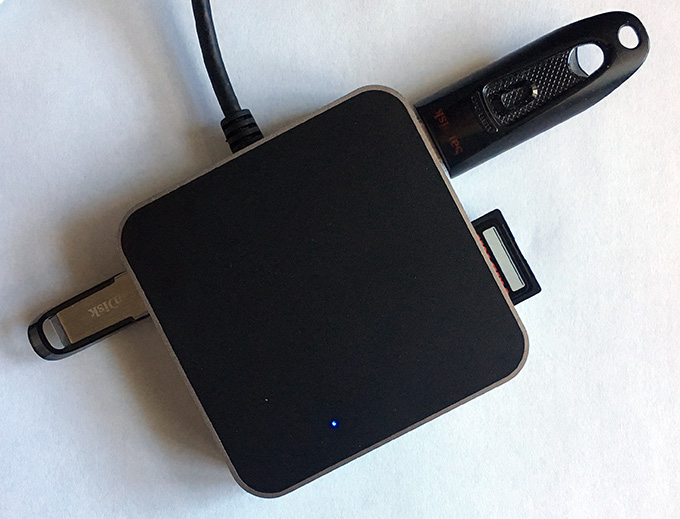 Yup. However, as I don't have a current MacBook Pro, I used a 2017 iMac for comparison. Here you can see the Dock with power applied (the blue light), along with two USB drives and one SD card plugged in.
I discovered that if the iMac is asleep when you plug the Travel Dock in, the computer won't recognize it when it wakes up. However, if you plug the Travel Dock in when the computer is awake, it recognizes it instantly.
Copying a 375 MB WAV from from an SD card took about nine seconds when copying using the Dock and about seven seconds when using the SD Card Reader slot on the back of the iMac; about a 28% speed difference.
Copying a 10.31 GB folder containing 231 media files and still images to a USB-A drive (and, remember, those aren't particularly fast) took 15:45 using the Dock and 15:36 using the USB-A port on the back of the iMac; essentially no difference in speed (less than 1%).
So, the Dock isn't quite as fast as the native ports on an iMac, but, with a laptop, you don't have that choice. Aside from USB-C, there are no other ports available.
SUMMARY
As long as Apple manufactures its professional laptops with only USB-C ports, we are going to need the OWC Travel Dock.
The OWC Travel Port is solidly built, small, light and with all the standard ports you'd need for most peripherals. While the speed of the ports is slightly slower than native ports on an iMac, speed takes a second seat to portability, connectivity and ease of use. Here, the OWC USB-C Travel Dock shines.
UPDATE – Jan. 28, 2018
The team at OWC adds:
Being a true travel dock is important for the user because lesser options that are out there are just hubs. There's no way to connect the unit to your Mac/PC and get power as well.  That means you can power your Mac/PC while taking full advantage of all of the ports.  This is a nice added benefit.
---
Bookmark the
permalink
.