Product Review: OWC Mercury Pro LTO – High-speed, Low-cost Archiving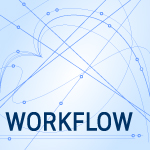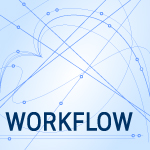 [ Read my product disclosure statement here.]
It came wrapped, not in plastic, but nicely nestled in a blue cloth bag, the kind you'd take grocery shopping. The Mercury Pro LTO system from OWC had arrived in an environmentally friendly way. (The team at OWC loaned me a unit for two weeks for this review.)
NOTE: This review also features an interview with Larry O'Connor, CEO of OWC, talking about this drive later in this review. (Link).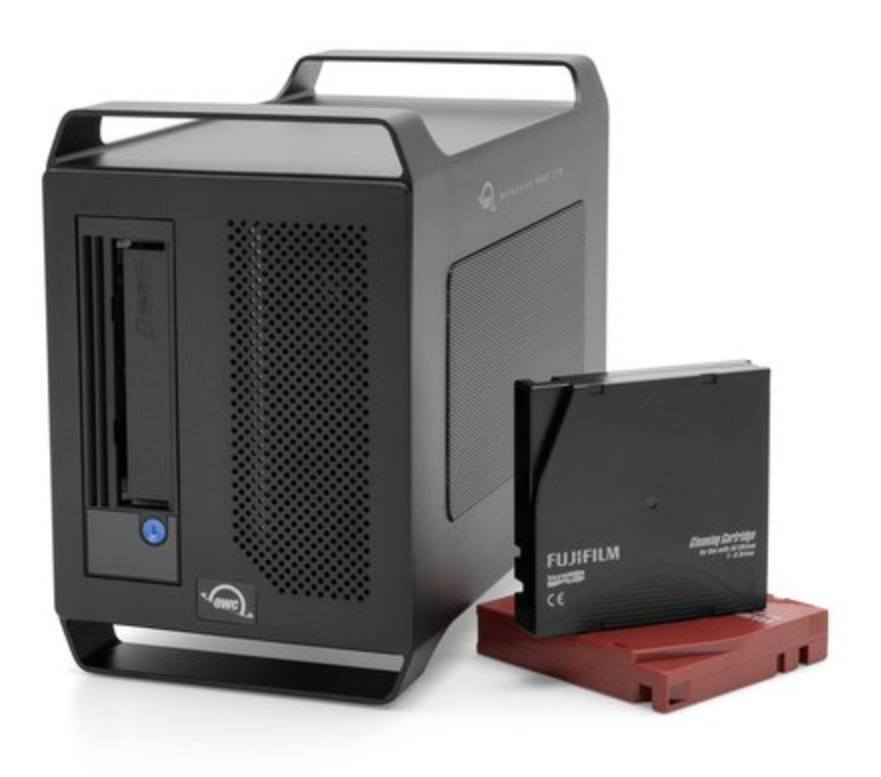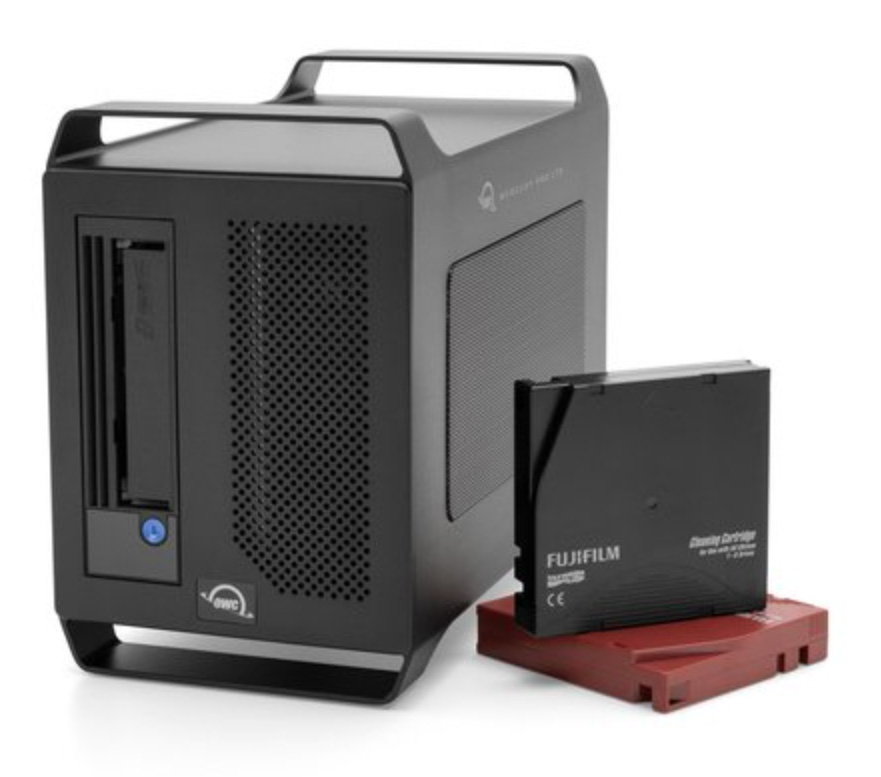 EXECUTIVE SUMMARY
The OWC Mercury Pro LTO is a high-speed, tape-based archiving system designed to protect your media, and other digital assets, for the long-term.
Connecting to any current Mac via Thunderbolt 3, and storing files via LTFS, it can hold up to 12 TB of uncompressed data on a single tape, reading or writing files at up to 300 MB/sec. Bundled with myLTO, which is a simple utility from Imagine Products that formats, reads and writes files to tape, this system is designed to help media creators who may not be particularly tech-savvy safely protect their files.
Additional benefits include user-upgradeable storage and tape drives, a surprising lower price point, and the high-quality construction that OWC is known for.
The Mercury Pro LTO is a well-built, high-speed and proven system for safely storing digital assets for up to 30 years. The initial purchase price can be scary, but which costs more, archiving your media or reshooting? I'm very impressed with the Mercury Pro LTO.
Developer: OWC
Product: Mercury Pro LTO
Website: https://eshop.macsales.com/shop/owc-mercury-pro-lto
Price: $4,499 with slot for adding up to 4 TB of storage via SSD
DEFINITIONS
Backup. To make a copy of a file, or group of files, in the event the original file is accidentally damaged or erased. Most backups are made daily to some form of high-speed storage, like hard drives or RAIDs to provide instant access if needed. Source files are not removed. Backups are made for protection.
Archive. To make a copy of a file, or group of files, then remove the original files. Archives are created to free up space on more expensive and faster storage by transferring files no longer needed on a daily basis to tape. Archives are made for long-term preservation.
WHO SHOULD CONSIDER AN LTO SYSTEM?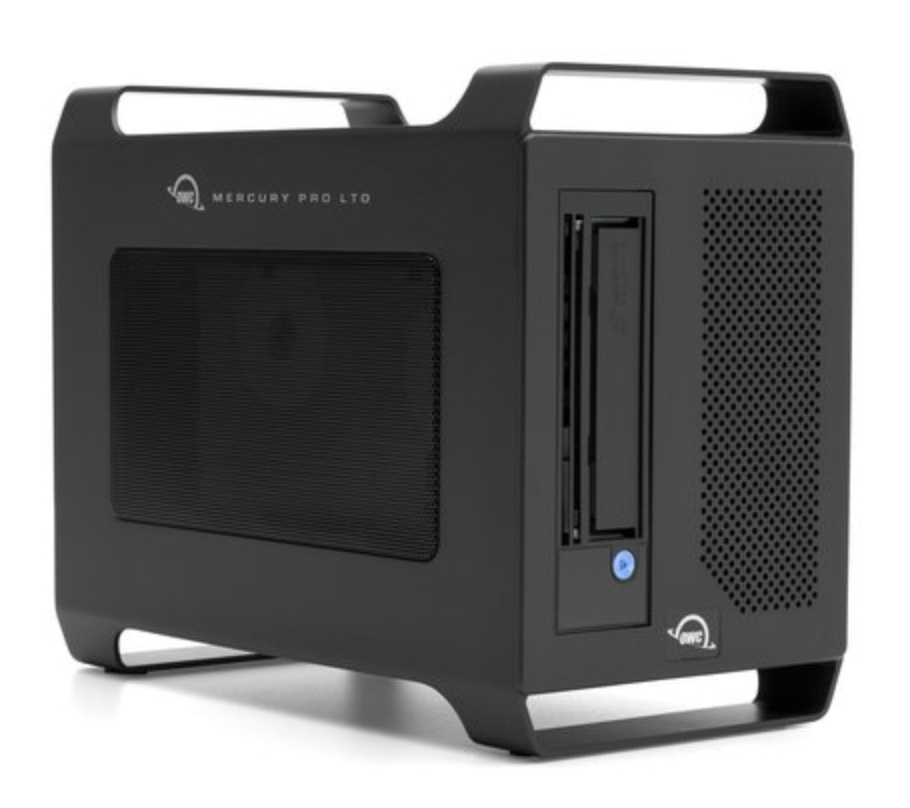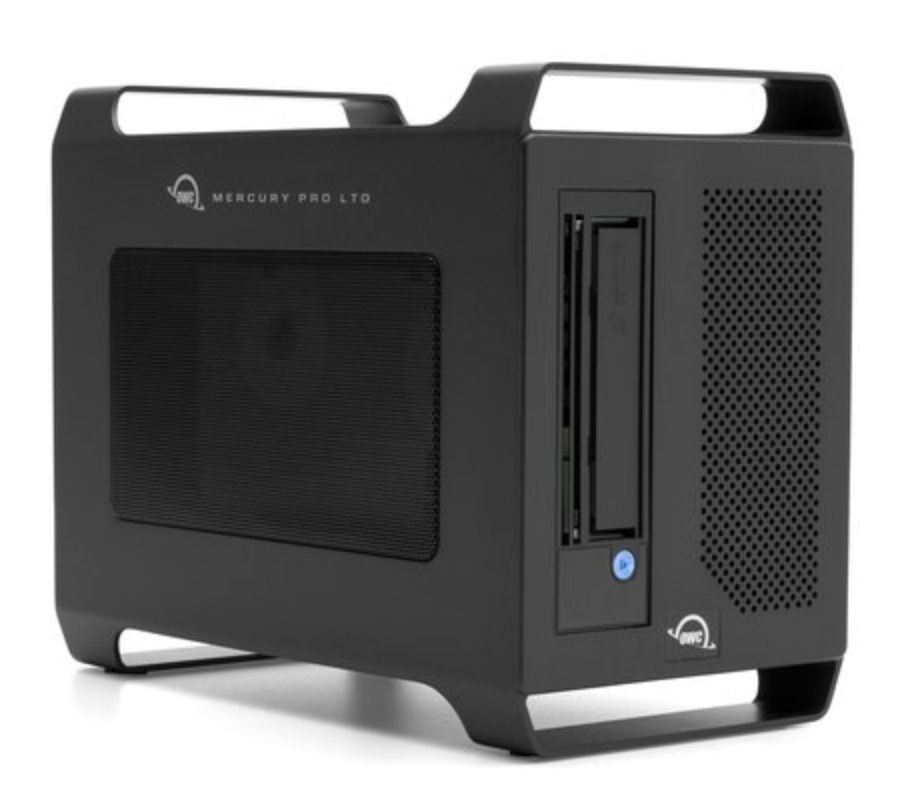 The big benefit to LTO is that you can add 12 TB of storage to your system – with a shelf-life of 30+ years – for less than $100 – via tape. The economic benefit of using LTO tape rather than hard disks for long-term storage is dramatic!
The two biggest negatives are the cost of initially purchasing the LTO hardware itself, and the fact that LTO technology changes often enough, that you'll need to convert your entire tape library to the latest technology about every 8-10 years.
Give that, who should consider LTO technology?
Media creators who create media or projects that they need to retain for years
Media creators who need access to past projects or media, but don't need to access those file instantly
Anyone who needs to hang on to any type of digital file for a long time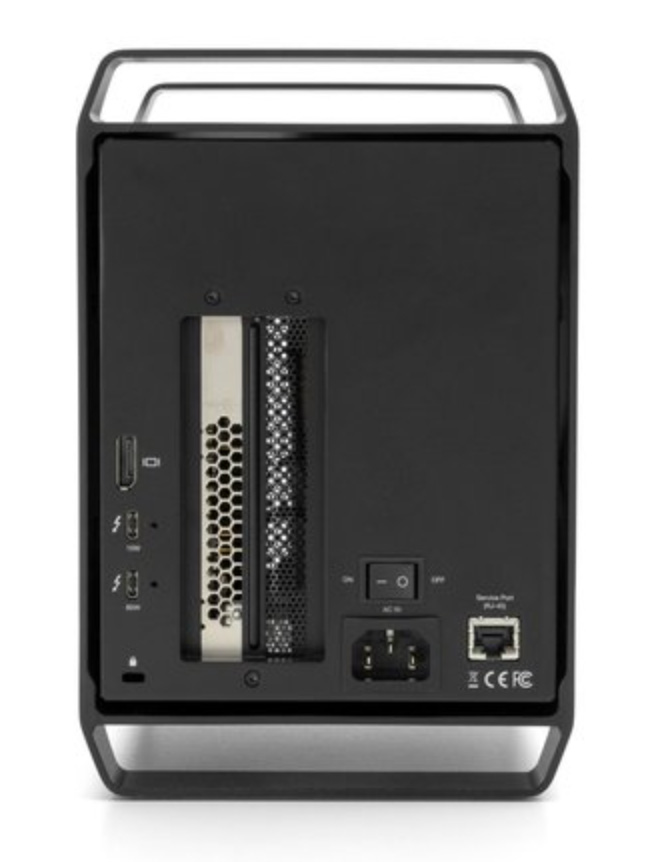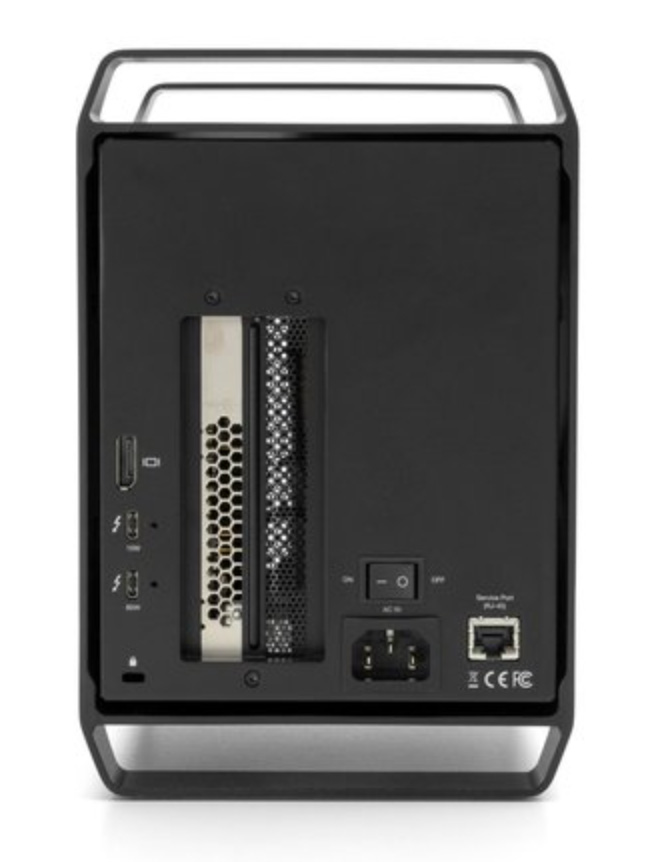 INSTALLATION
Connecting the LTO is as easy as connecting a hard drive:
Unpack it
Set it on a table
Plug in the AC power (supports all world-wide standards)
Connect the Thunderbolt 3 cable (included) to a Mac
The system has three major components:
The case and related electronics
An SSD / hard drive
An IBM LTFS tape drive
What I really like about this system is that the user can replace/upgrade the SSD or the tape drive just by removing a few screws. This means that, as technology improves, we can upgrade components of this system less expensively than buying a new one.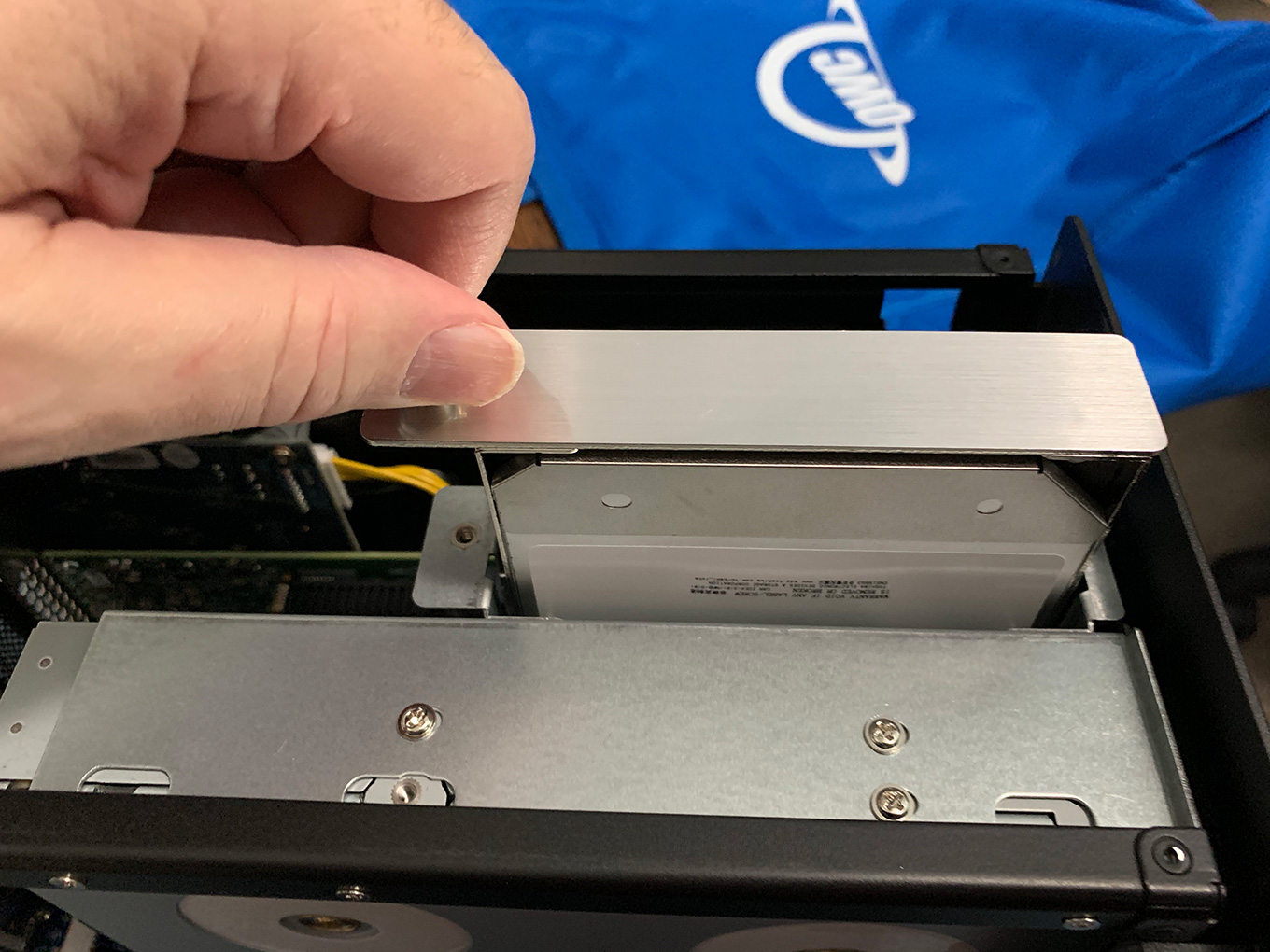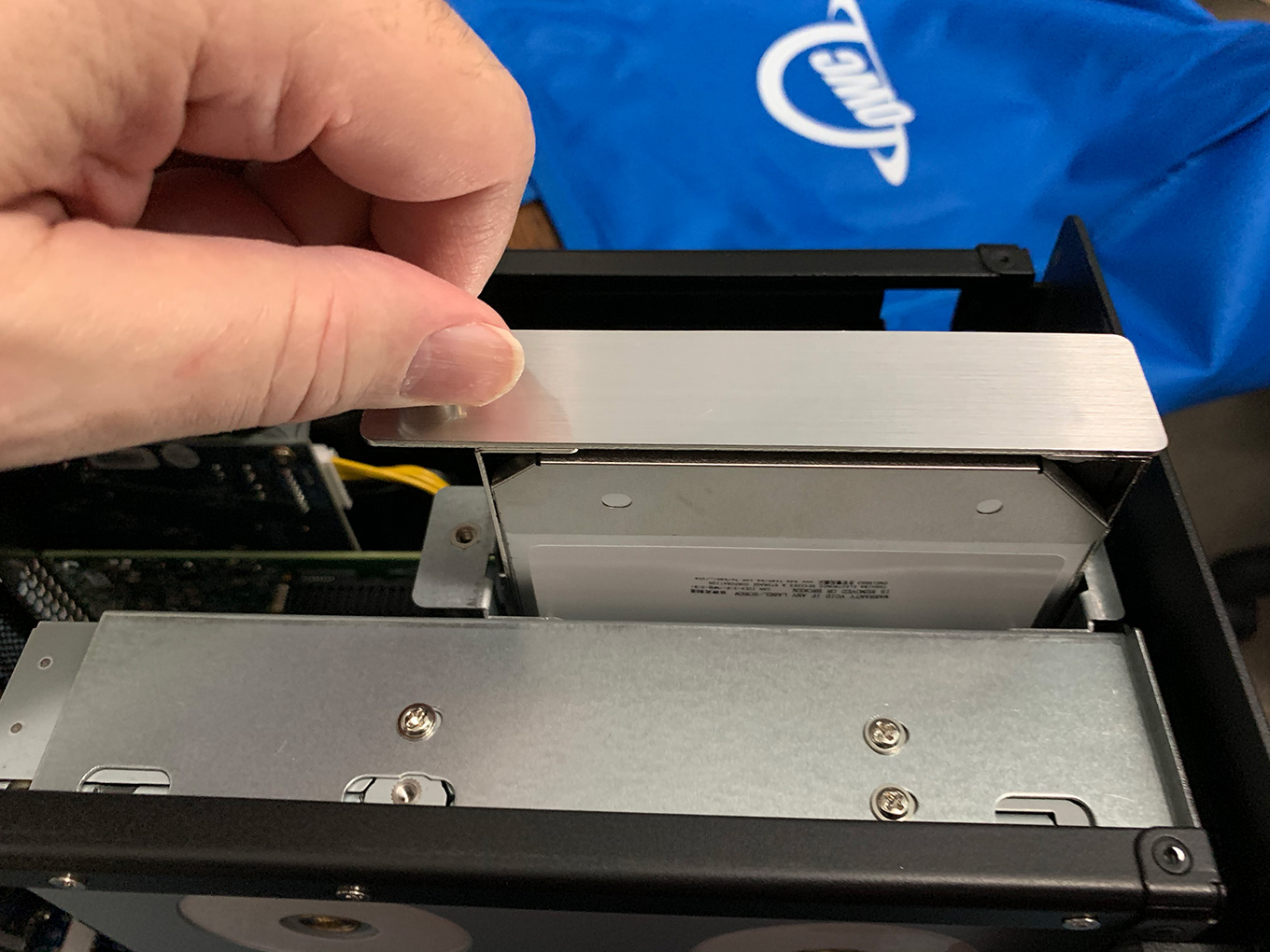 SIDEBAR – BANDWIDTH
I was sent an initial release unit containing a 12 TB spinning hard drive (HDD), called a staging drive. Shortly after it arrived, OWC contacted me saying they were not happy with the performance of the HDD and wanted me to upgrade it to a 2 TB SSD.
NOTE: I would have upgraded it for this review, but, while OWC sent a replacement SSD, they didn't send the necessary mounting bracket to actually connect it. So, this review usds the HDD version; which I, uh, ignored, as you'll read shortly.
This made me realize that the performance of this system is dependent upon bandwidth. Here's the deal.
At full speed, an LTFS LTO-8 drive transfers data at 300 MB/second.
A RAID (HDD or SSD) transfers data at 400 MB/second or faster, allowing the tape drive to run at full speed.
A PCIe SSD transfers data at 400 MB/second, again allowing the tape drive to run at full speed.
The single HDD bundled with the original system, however, transfers data around 225 MB/sec, meaning that the tape drive can't run at full speed because the HDD is too slow.
A 1 Gb Ethernet connection, say to a server, transfers data around 110 MB/sec.
The benefit of a staging drive is that you can gather all your assets in one spot, then write them to tape as fast as either the storage or the tape drive can go. The disadvantage of a staging drive is that you need to transfer the assets to it in the first place. And, if the staging SSD is smaller than the total amount of assets to be transferred, you will need to repeat this process – manually – until all your files are backed up.
The benefit to transferring assets directly from a server or RAID, bypassing the staging drive, is that you don't need to copy assets before transferring them to tape. The disadvantage to direct copying is that the tape drive may not be saving files as quickly as it could.
None of these issues are OWC's fault. These are the result of different pieces of hardware running at different speeds.
An ideal setup would be a RAID connected to the Mac via Thunderbolt 3 or a server connected via 10 Gb Ethernet. Both of those would feed the tape drive as fast as it can go and neither would require a staging drive.
To me, replacing the SSD with a 12 TB HDD simplifies staging files even though the tape drive operates at a slower speed. I'm willing to accept the slower write speed of the tape for the greater storage of  the HDD. Why? Because I do all my backups/archives overnight, when speed doesn't matter so much.
WARNING: If you have an installed either an SSD or HDD as a staging drive, you MUST eject that first, then shut down the Mercury Pro LTO.
MY GEAR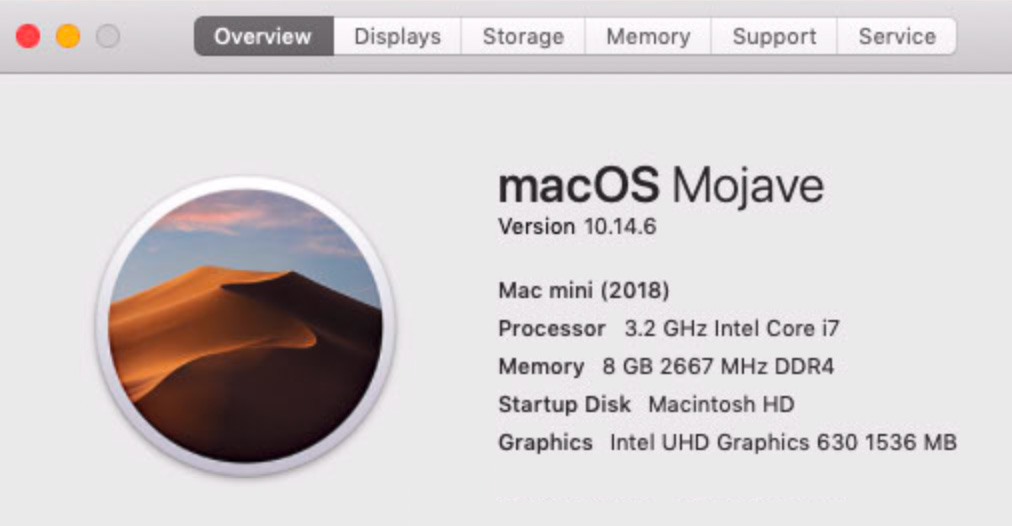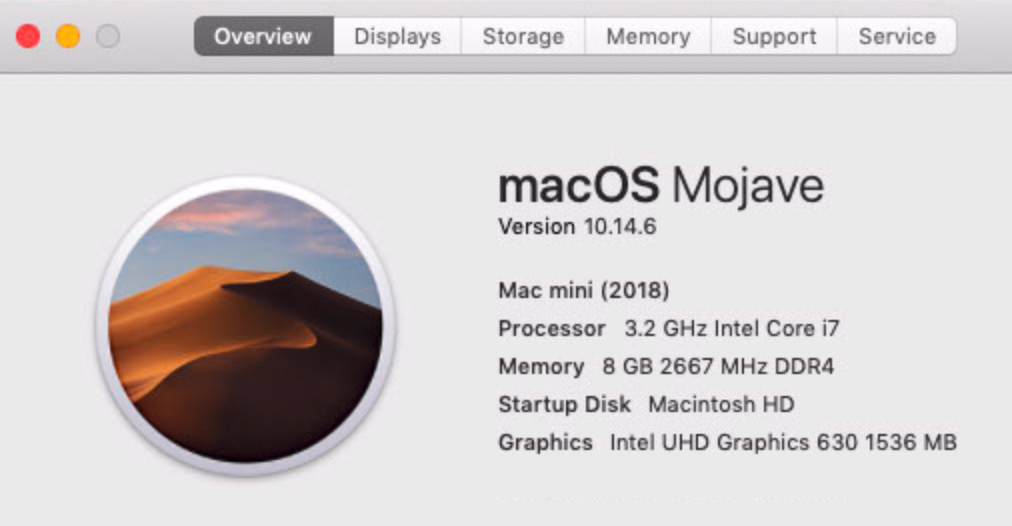 For this review, I'm using a 2018 Mac Mini, running macOS Mojave (though the results would be the same running macOS Catalina).
While the LTO contains a 12 TB HDD, I'm bypassing it by connecting a 4-drive Thunderbolt RAID which transfers 400 MB/second of data, more than fast enough to fill the tape drive.
myLTO
myLTO, developed by Imagine Products, is a simple tape formatting, backup and retrieval program. Specifically designed for smaller operations, it makes using an LTO drive easy.
"myLTO® for Macintosh is an automated copy utility application geared for media files. The software takes advantage of the Linear File Transfer System (LTFS), developed by IBM and supported by HP, Quantum, Tandberg and other tape drive manufacturers. LTFS is now a SMPTE standard.
"LTFS mounts a tape as a user defined read/write volume within the computer operating system. This makes it possible to write and read from the tape as if it were a disk and save files in their original format. It also makes myLTO hardware independent—you can use it with any Ultrium® LTFS compliant tape drive (e.g. LTO-7, LTO-8).
"To save to tape, File and Folder names must comply with LTFS standards. For your convenience, myLTO alerts you to any non-compliant characters and prompts to automatically change them for tape storage.
"myLTO controls deck functions, such as formatting and mounting tapes, and copy operations onto LTO tape with a simple, easy to use interface.
"With the software you may choose to make additional copies of your assets onto multiple LTO drives and local hard disks at the same time. Copies may be verified using checksum integrity algorithms (e.g. XXHash, MD5, etc.) in addition to the LTFS write verification process. (myLTO User Guide)
myLTO makes backups, it does not remove any source files from your system. As well, it is not a database. It doesn't track which files are stored on which tape. For complete archiving capabilities, you would need more robust software, including:
YoYotta
Archiware
Axle.ai
and others
However, myLTO can generate two different PDF reports which show which files are on which tape, along with extracted screen shots from each file, where appropriate. The system will even notify you when a backup is complete.
OPERATION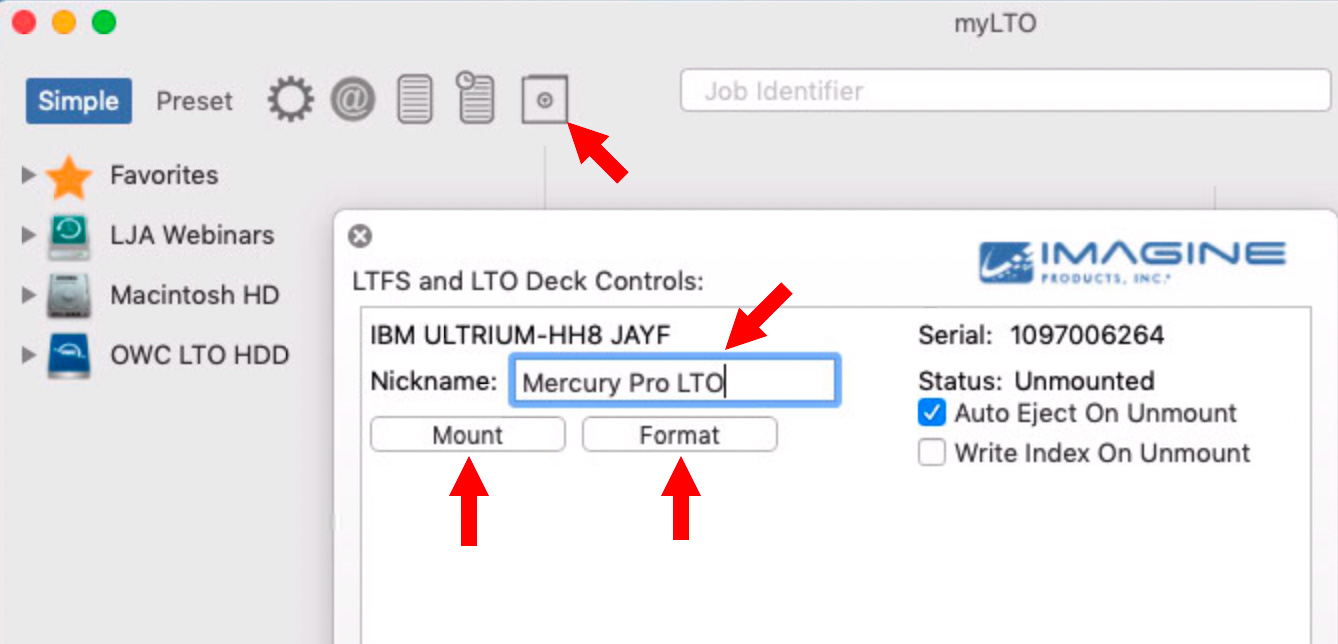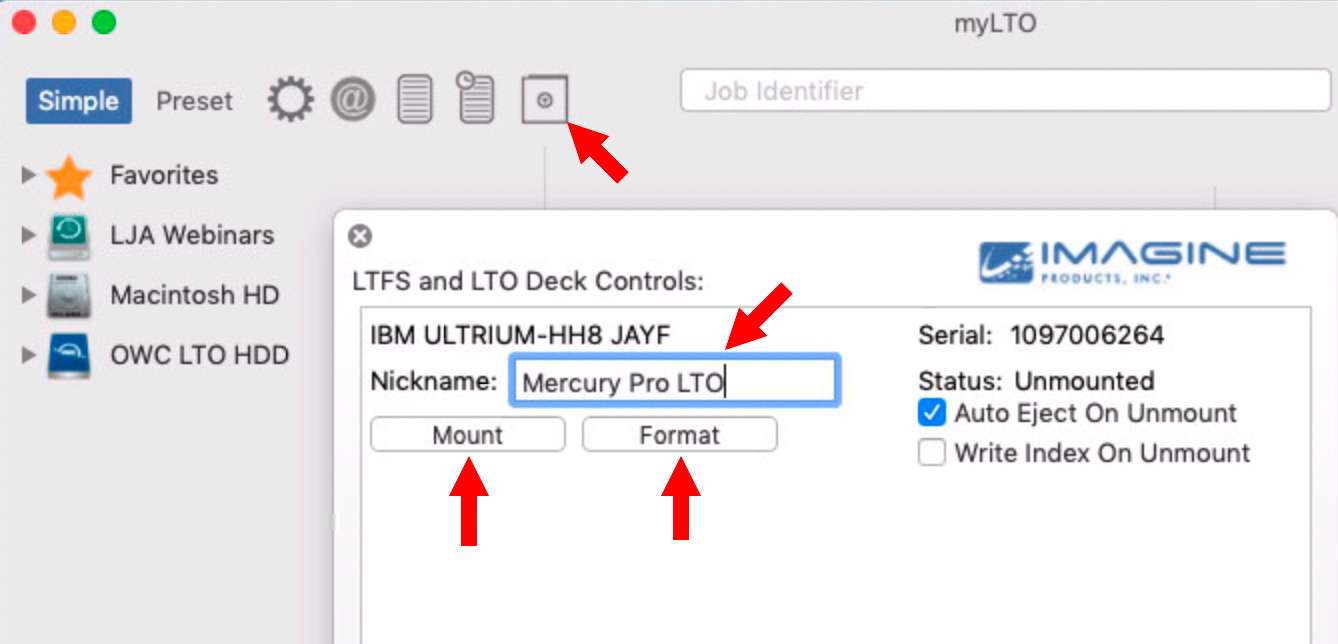 It takes about 30 seconds to load a new tape. Tapes need to be formatted before they can be used, but, once formatted, they don't need to be formatted again. To format a tape:
Insert a new tape and wait for the light on the front of the unit to glow steady green.
Click the tape icon in myLTO (top red arrow)
Give the LTO drive a nickname (I'm using "Mercury Pro LTO")
Click the Format button (lower-left red arrow)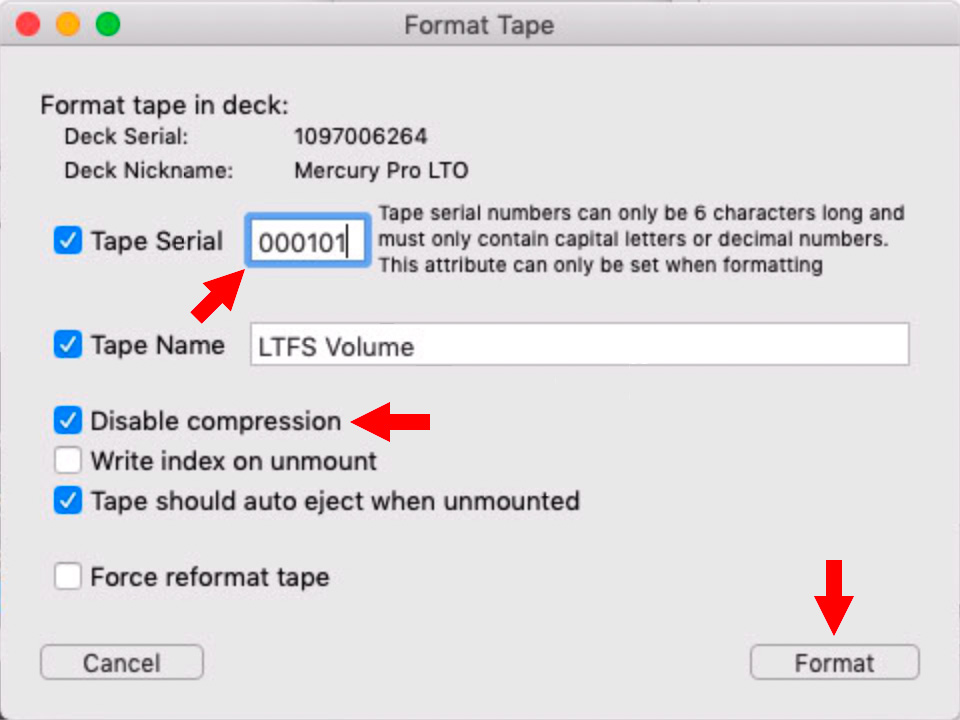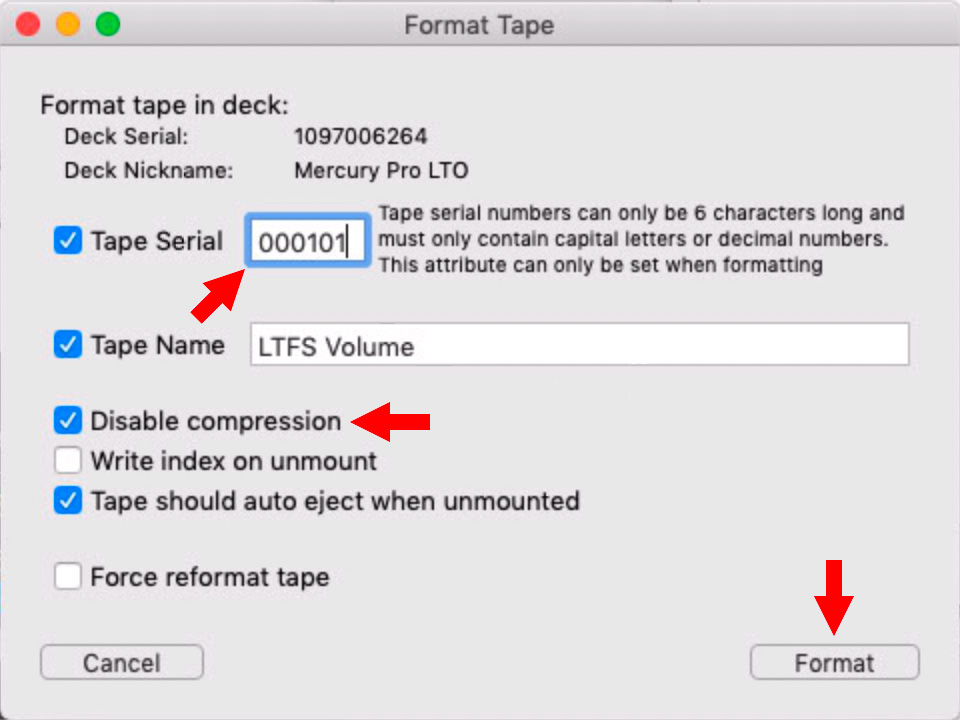 In the Format Tape window, number the tape. This is important as it is how any asset system tracks the location of any asset. The rest of the default settings are fine.
NOTE: Most media files are already compressed. Be sure Disable Compression is checked. Compression is used for Word or Excel files which are compressible, virtually all media files are not.
Formatting a 12 TB LTO-8 tape takes about a minute, but only needs to be done once per tape. Like the old days of video tape, the tape drive needs to scan the entire tape to prep it for data recording.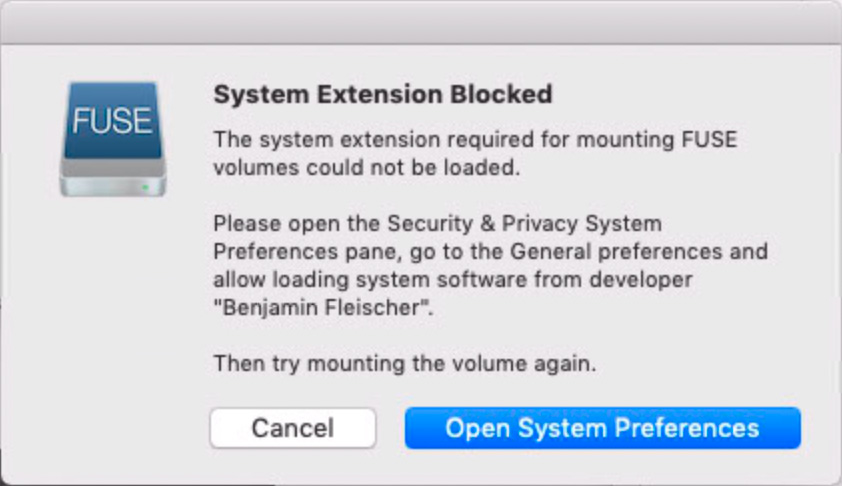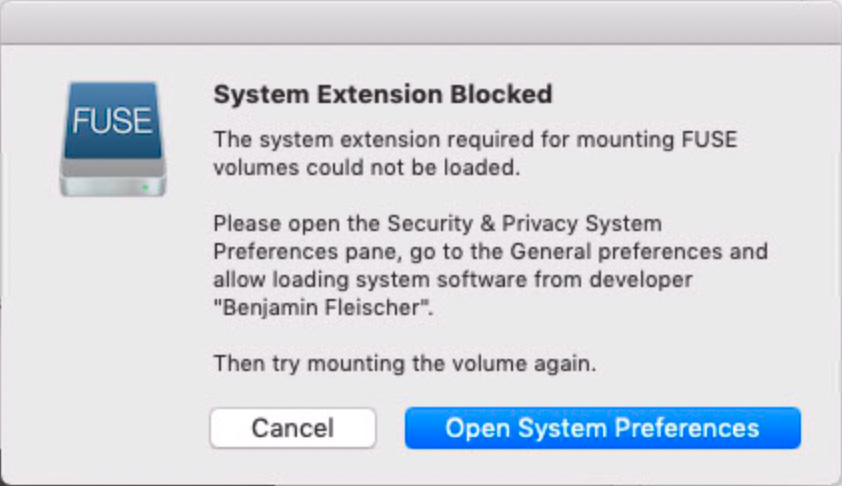 NOTE: You will see a note warning that a System Extension needs to be enabled. This is to load "FUSE," a subsystem that allows Macs to talk with LTFS drives. Be sure to allow this.
Formatting a tape the first time can be confusing – especially with that error message. There's no way to tell whether a tape is formatted or not simply by looking at it.
Worse, the first time I formatted a tape, myLTO ejected it, then displayed a spinning gear without the tape drive running or any message describing what's going on. After waiting for almost ten minutes with nothing but a spinning gear, I shut everything down and started again.
This seems to be a weakness of the software.
Once a tape is formatted, it needs to be mounted. In the "MyLTO" screen shot above, click the Mount button to load the tape and get it ready (tapes need to be mounted to be accessed).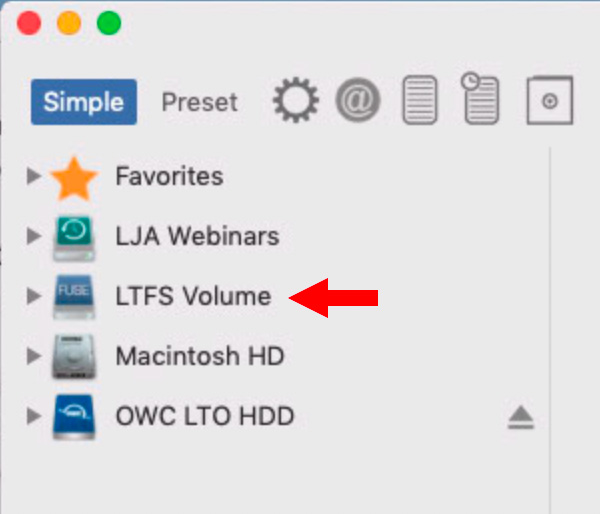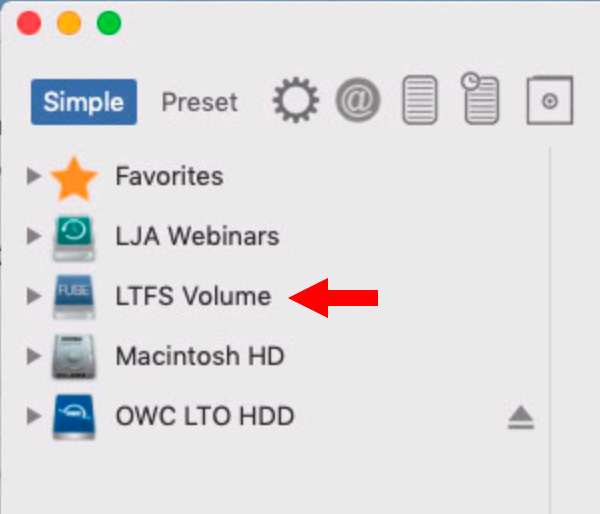 Once a tape is formatted and mounted it shows up in the sidebar on the left.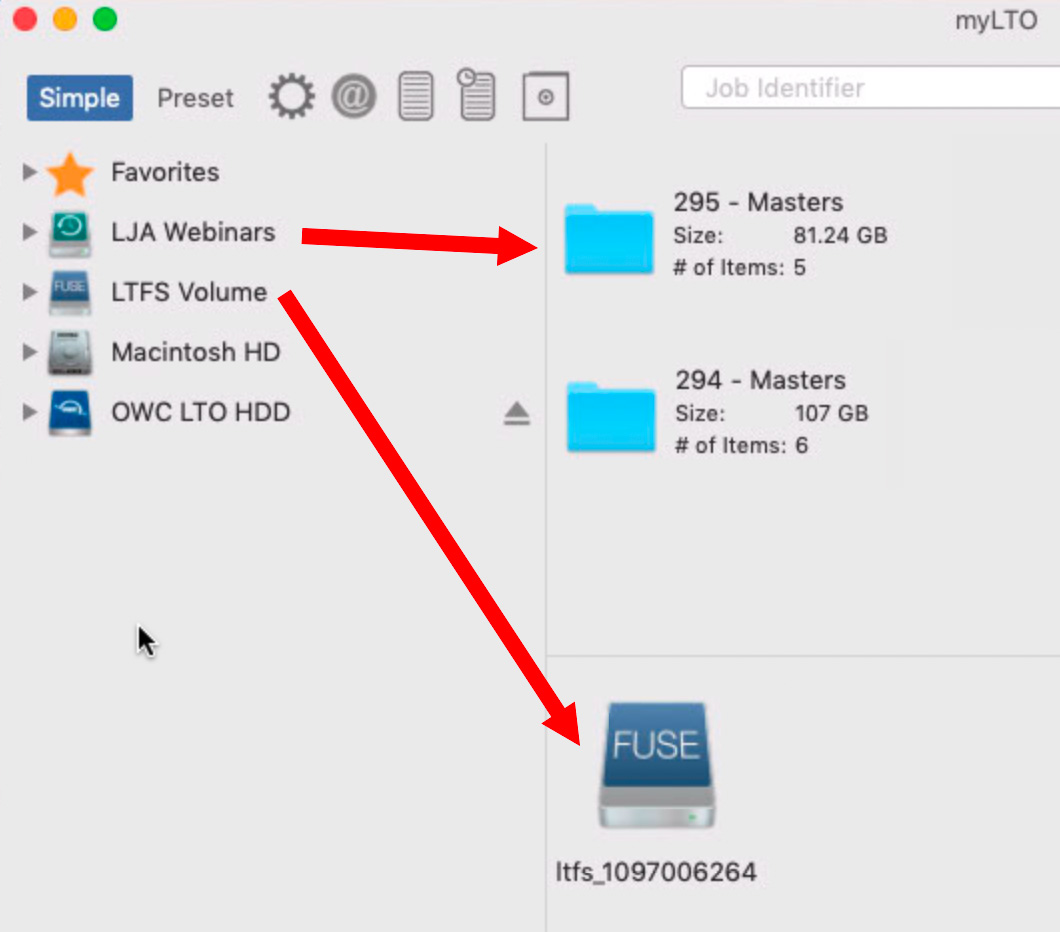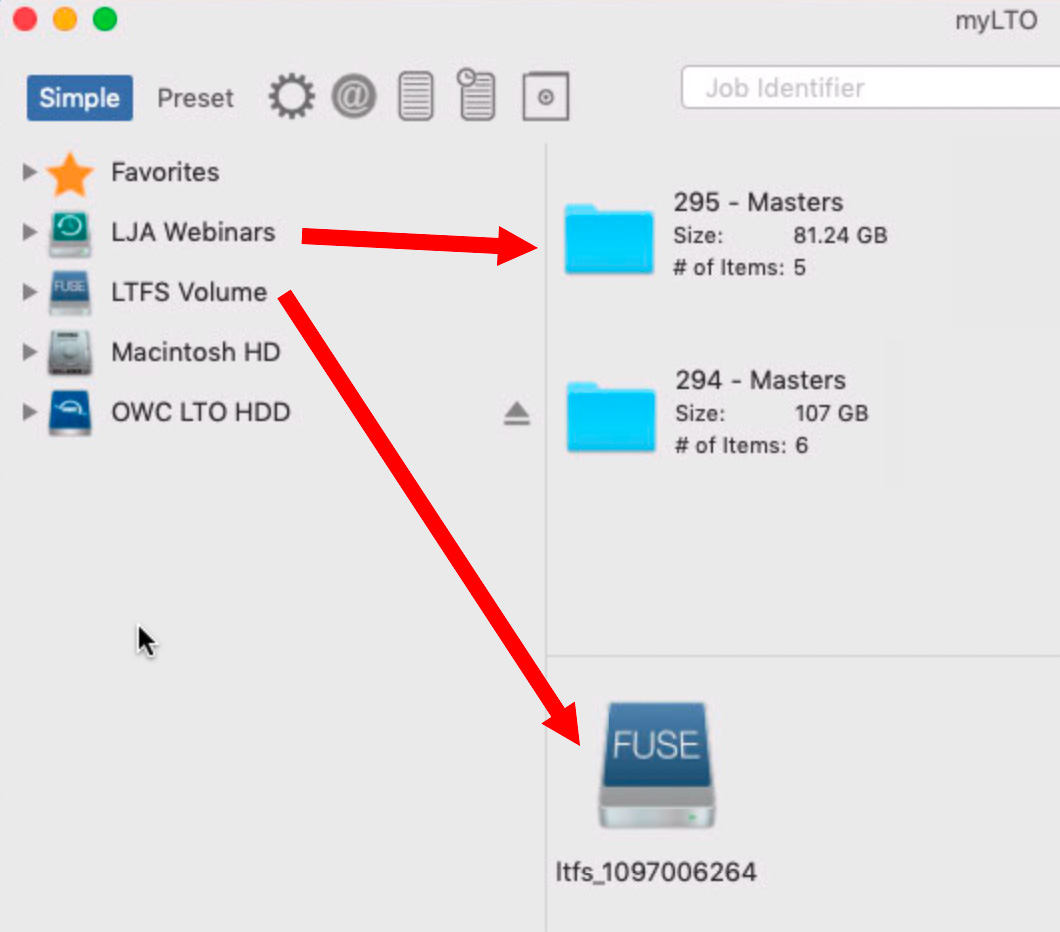 Drag the LTFS Volume into the Copy To section at the bottom of the interface, and the files / folders / volume you want to backup into the Copy From section at the top.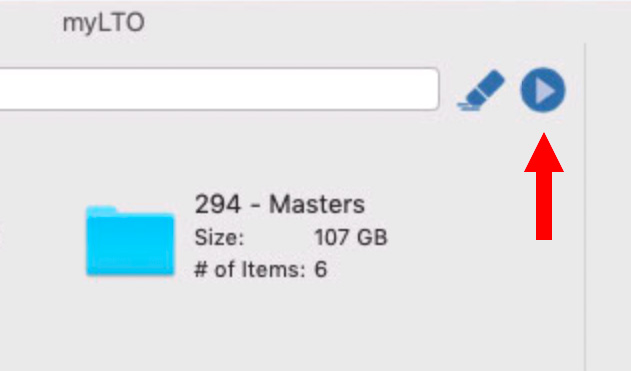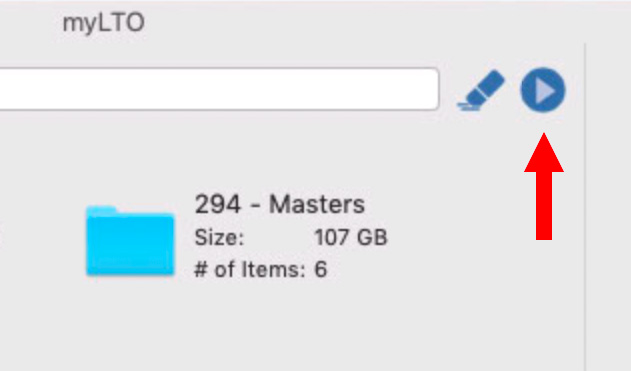 To begin the backup process, click the Begin button. In this example, I'm copying about 190 GB of media (ProRes 4444 files) to the tape.


A real-time status report in the top right corner indicates how long the process should take. Don't believe these numbers until you hear the tape drive actually start streaming. The time estimate is wildly wrong until the tape starts moving. (The blue bar shows total progress.)


Using Activity Monitor to monitor the data transfer rate from the RAID, we see that it is sending data to the LTO drive as fast as the drive can handle it. (I've found that Activity Monitor tends to overstate data transfer rates, but you get the idea – this system is moving data fast!)
Once a copy is complete, the tape system rewinds the tape, then does a bit-by-bit comparison between the file on the tape and the source file on your storage. This verifies that the system has copied the file correctly.
NOTE: Even though LTS tape works REALLY hard to make sure copies are perfect, it is generally accepted practice to make at least two copies of all archived materials, then store them in different places. You know, just in case.


When everything checks out properly, the green Verified message appears. In my example, it took 15 minutes to copy about 188 GB ofdata, which works out to a speed of 213 MB/second.
Keep in mind that most backups occur overnight, simply because with terabytes of data, they take a LONG time.
NOTE: Assuming a transfer rate of 250 MB/sec, it would take about 14 hours to copy 12 TB of data, which is the amount of data that would fill a single LTO-8 tape.
RETRIEVE A FILE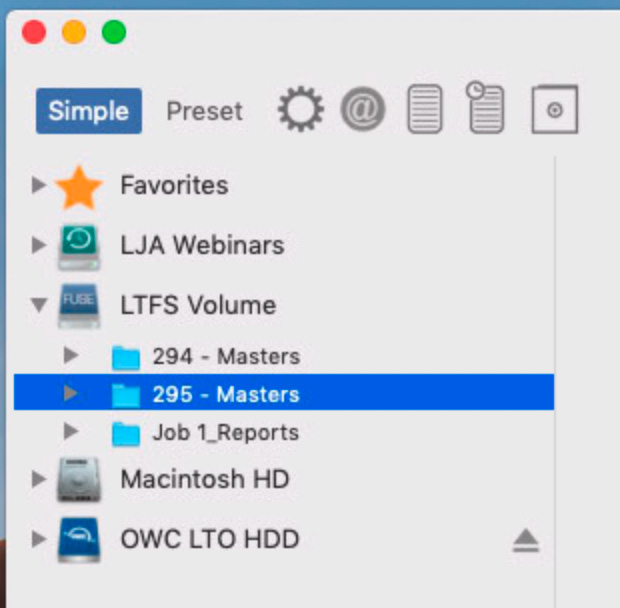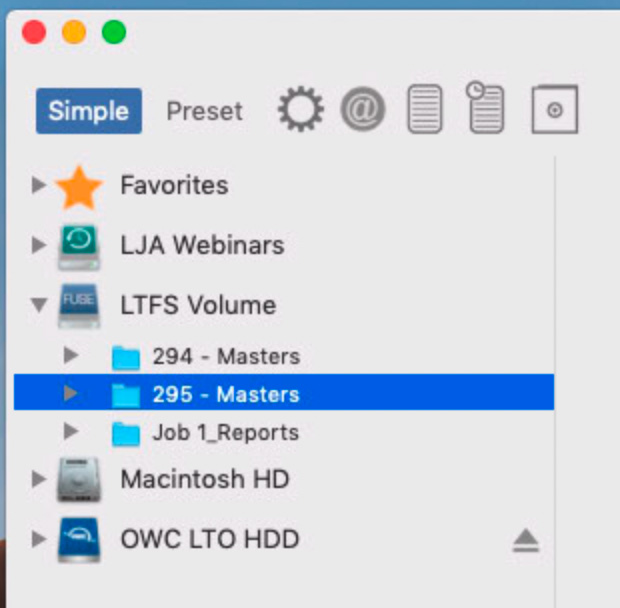 Retrieving a file is equally simple – once you find the tape that has the appropriate file on it.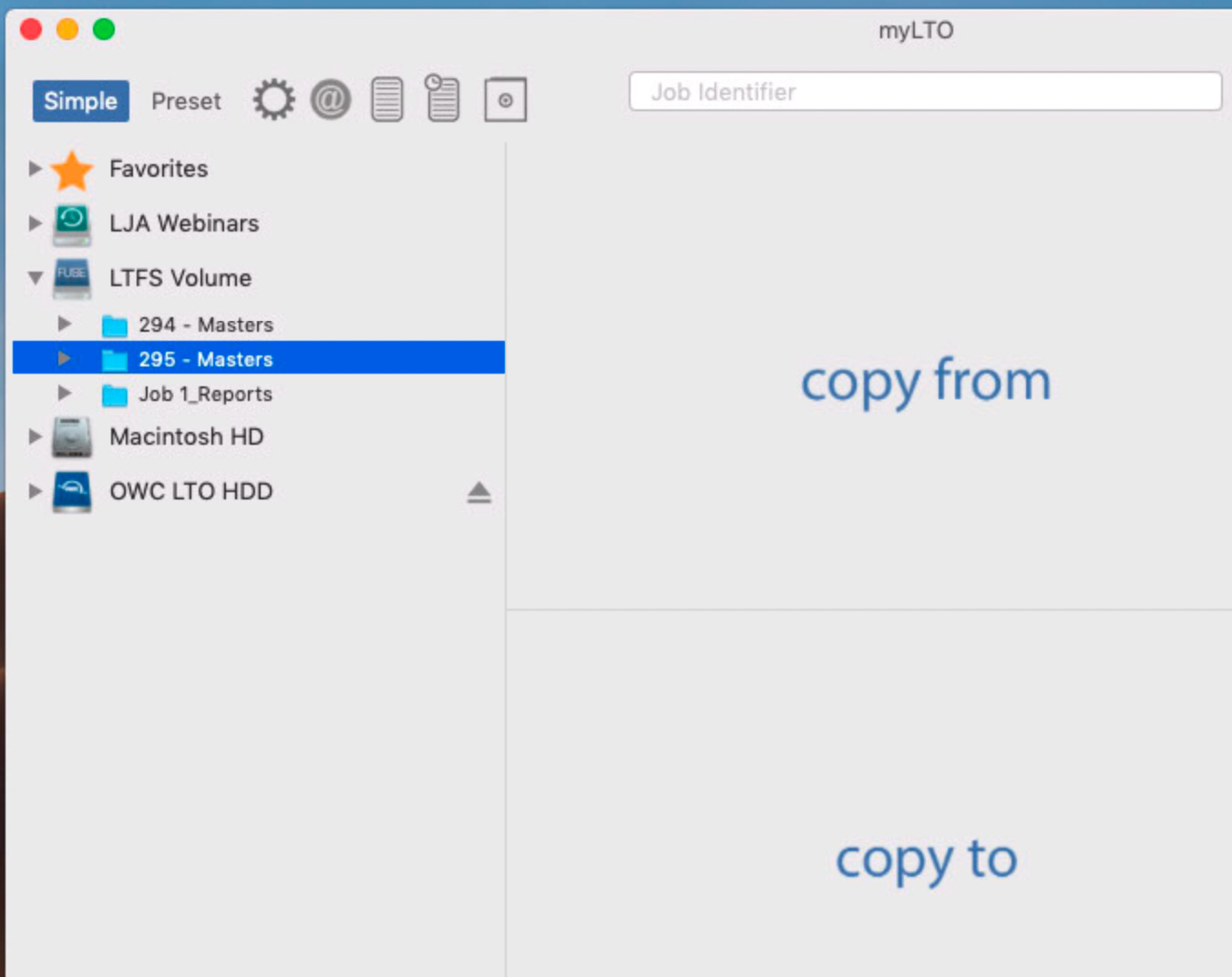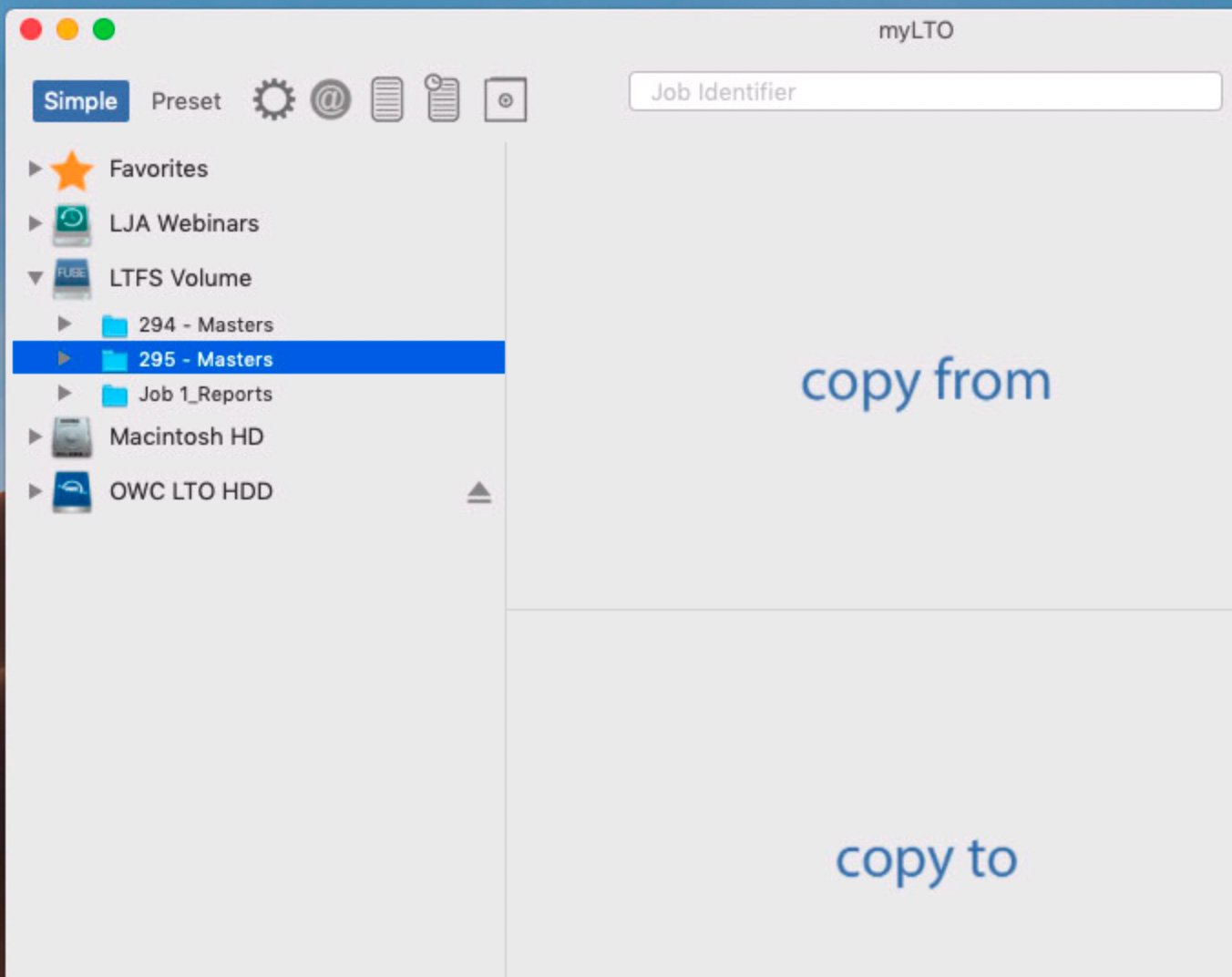 Drag the file you want on the tape to Copy From and the destination into Copy To. Click the Begin arrow to start.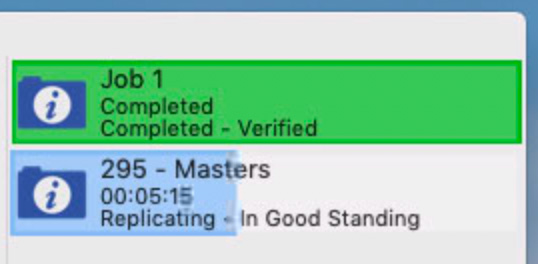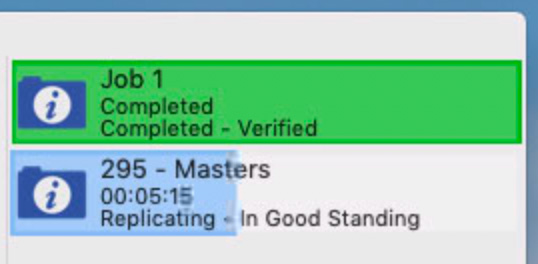 Retrieving from tape, generally, is faster than writing. In my example, it took about seven minutes to copy 81 GB of data from tape to the desktop.


myLTO has other options that assist in file management including:
Creating presets determining which folders to consistently copy
Generating reports showing what is stored where
If you are curious, here's a sample report.
All in all, myLTO makes copying files to and from tape simple.
NOTE: However, I also got an error message when unmounting a tape, using the Unmount button in myLTO software. It failed twice. I finally needed to quit the app, wait five minutes, then restart the app to get the tape to unmount. A better option is to check the "Automatically unmount tapes upon completion" preference to prevent this problem.
AN INTERVIEW WITH LARRY O'CONNOR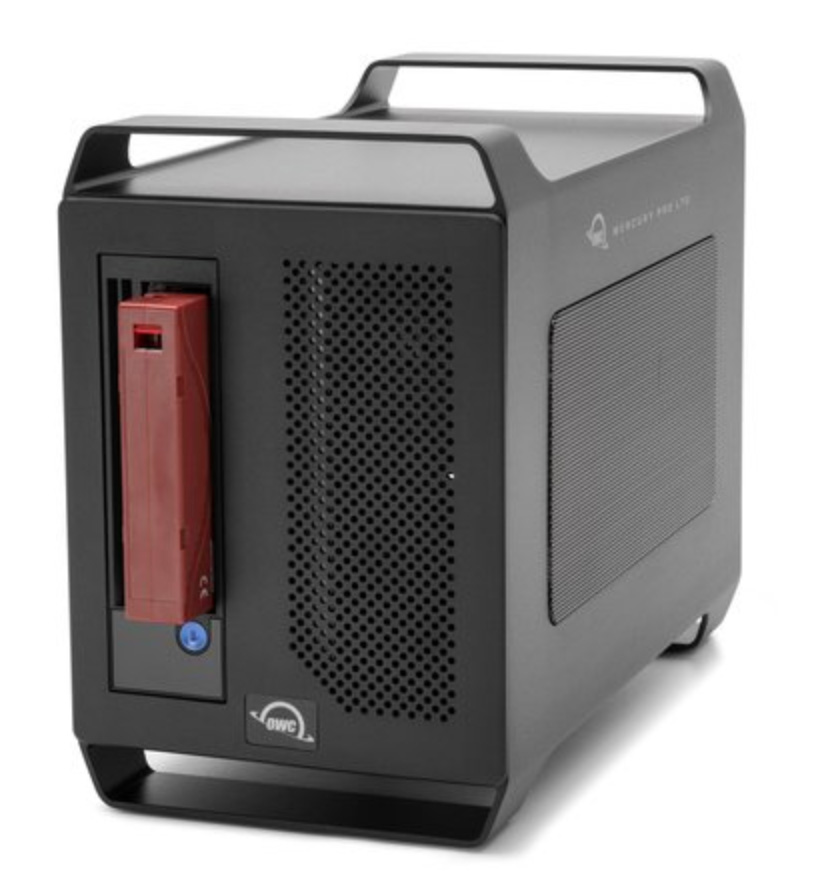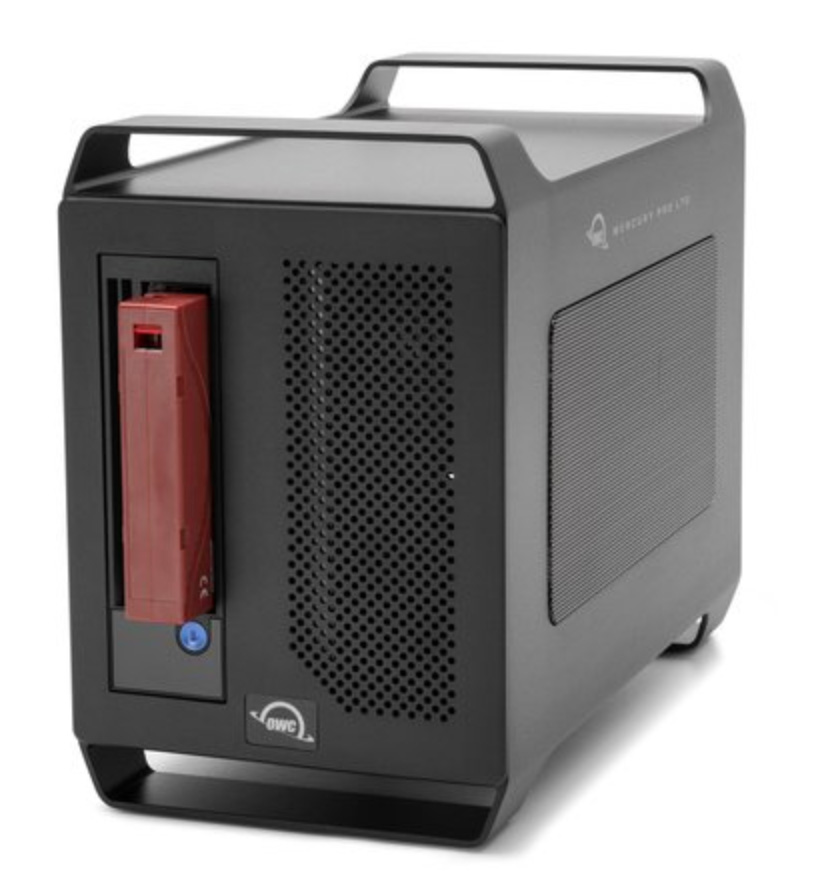 To learn more about this system, I emailed Larry O'Connor, CEO and Founder of OWC to learn more.
Larry: I REALLY like the spiffy blue bag the device was packaged in. Much cooler than plastic wrap. What was your thinking about the packaging?
OWC: OWC prides itself on its sustainability. Our HQ in Woodstock is run on solar and wind power and we have a new large solar array in our Austin office. By eliminating the plastic wrap and providing a reusable bag, we hope people will use our bag and use less plastic bags in their daily lives.
Larry: There are other Mac-compatible LTO drives in the market. Why did OWC decide it was necessary to create this?
OWC: This was the final piece of the workflow OWC didn't have. We have products that help with ingest, editing, storage and now we have the archival piece as well. Now users have a trustworthy "ingest to archive" single source. We also believe our design and configuration options provide a better solution for customer needs.
Larry: Who do you see as the principle market?
OWC: The principle market we see for this is Media and Entertainment, as well as any business that needs reliable, mass data archive. For example, LTO solutions like the Mercury Pro LTO have become a workflow requirement for production companies like Netflix to safeguard original camera footage, provide off-site backup, and fulfill long-term archiving of series and films. That being said, healthcare, government, education and businesses also use LTO solutions to back up and protect their critical data.
Larry: All LTO drives manufactured today use a SAS interface. Why did you decide use Thunderbolt 3 vs. USB 3.1 Gen 2?
OWC: This is technical, but it comes down to the LTO drive being SAS as you mentioned. This is an enterprise level solution and direct SAS via PCIe interface insures the precision, performance, and reliability needed for LTO. Adapting SAS to USB is just not practical for this kind of application. Thunderbolt 3, effectively being 'external' PCIe, is the right way to support this solution.
Larry: Other Mac-compatible LTO drives cost $1,000 more. What trade-off in quality or reliability did you make to bring this in below a $4,500 price?
OWC: No trade-offs. The OWC Mercury Pro LTO has been third-party tested as well as Apple and Intel-certified. We are, by far, the most prolific supporter of Thunderbolt enabled devices. As such, we have the benefit of our overall Thunderbolt volumes that bring benefit to our entire line up. As with all OWC storage solutions, the Mercury Pro LTO goes through a multi-step performance review prior to shipping to make sure everything is operating properly and ready for demanding use. You'll notice an industry leading 5-year warranty backing it as well.
Larry: Editors worry about the initial cost of purchasing an LTO drive. Why is this a better option than simply buying more hard disks?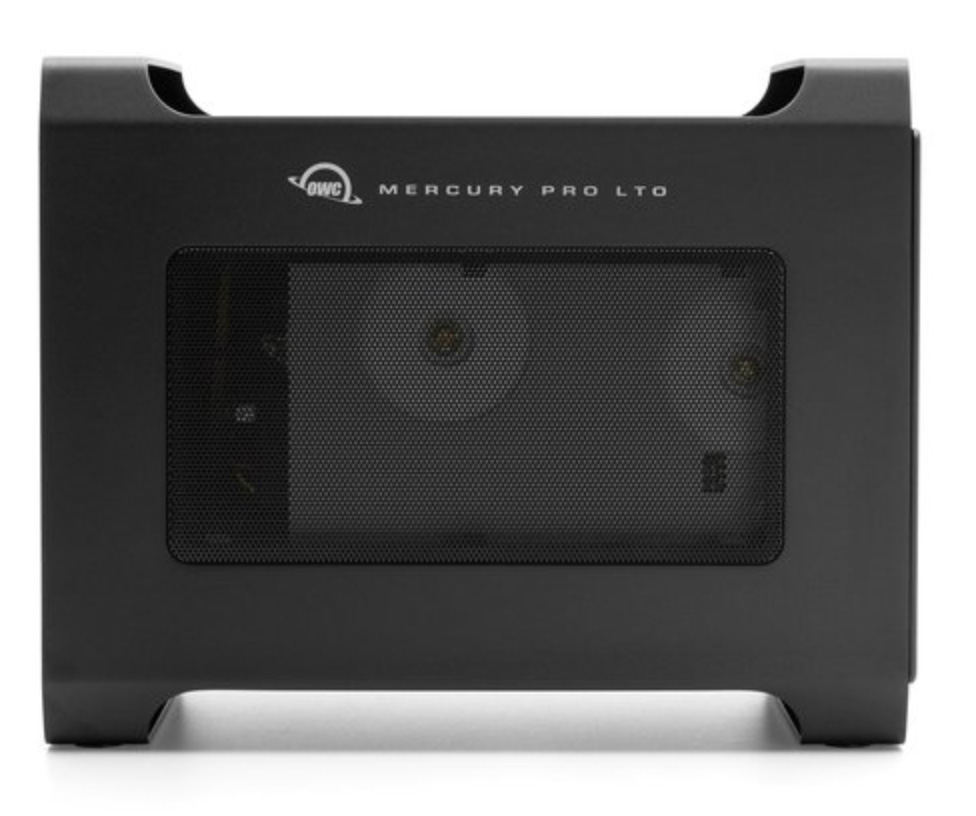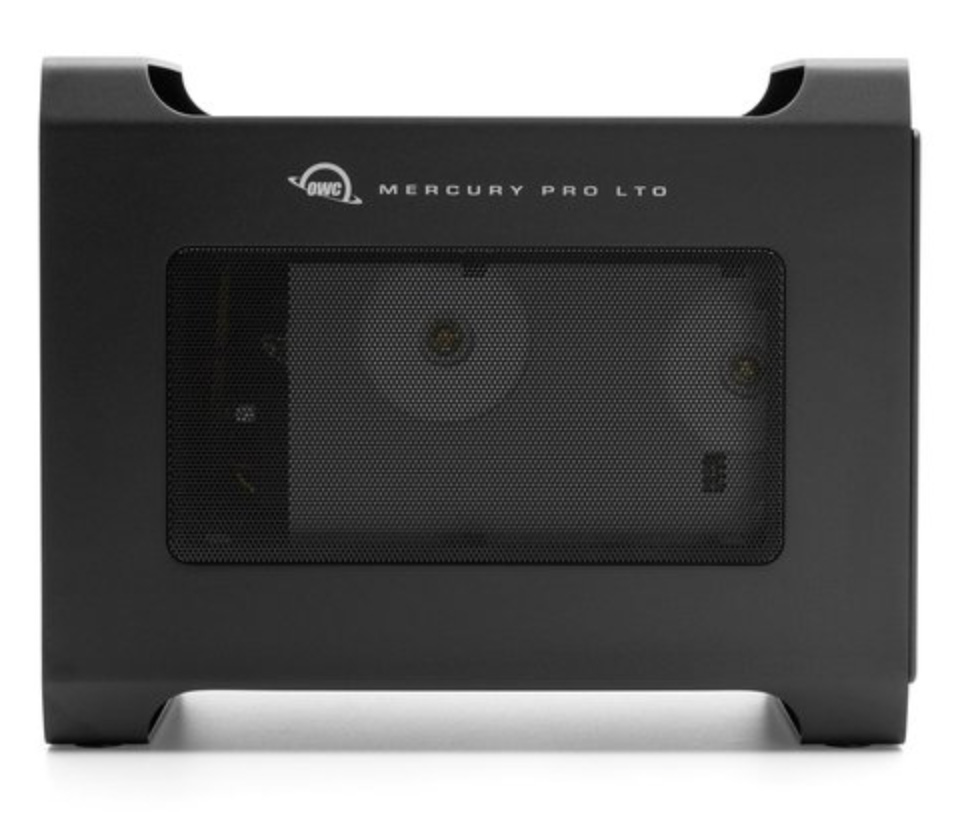 OWC: Actually, overtime, you can save money using LTO drives vs buying more HDDs. You can experience up to 55% lower total cost of ownership with LTO drives vs HDD. Depending on your data needs, HDD may still be the right choice – but for certain studios / customers, LTO is a requirement that mandates the investment either way. You can see the comparison on our site, https://eshop.macsales.com/shop/owc-mercury-pro-lto.
Also for true archival purposes, an HDD will only last about 7 years without being powered up, while LTO tape will last 30 years.
Larry: LTFS (the file system used by many LTO drives) is a two-edged sword: It allows us to mount drives directly to the Mac Desktop. However, every time the Finder opens a folder it writes a small file into it, which is fine for high-speed storage, but makes a tape drive go totally nuts as it scrolls up and down the tape to write that small file then get back to display the files in that folder. Should we ignore LTFS when running this drive?
OWC: Only if you double click on the volume icon to open it do you then get the vastly increased tape drive activity that you are observing from Apple Finder. That's out of our control… but for those that want to use the finder direct read/write, that is a consequence – but not the primary or intended typical use case. While the volume on the tape mounts on the desktop, everyone I know who uses LTO drives just ignores it and uses the backup application to backup and restore files from the drive.
Larry: This is the latest generation LTO-8 drive. However, the LTO hardware roadmap shows new versions every couple of years for the foreseeable future. This means that we need to budget for new LTO hardware on a regular basis. How often should we plan to replace our gear?
OWC: Yes, while LTO tapes do update every few years, the Mercury Pro LTO is designed to read one and write one generation of tapes back (LTO-7 – Dec 2015) and our drive is designed to upgrade to LTO-9, so it is also designed for the future.
Larry: In a different interview, I talked with the product team about FujiFilm, who makes LTO tapes, about the need to bring the costs of purchasing an LTO drive down. What would be the value or tradeoff in releasing a USB-connected LTO drive vs Thunderbolt – aside from the speed of transfer to and from the tape?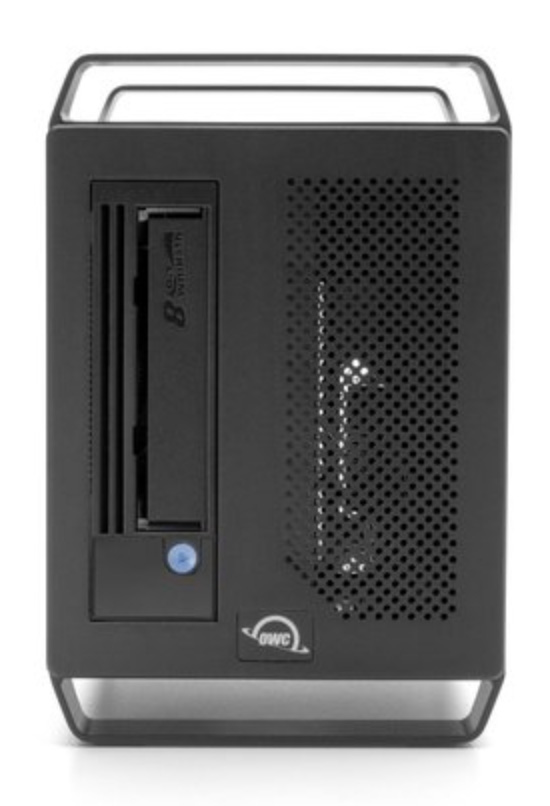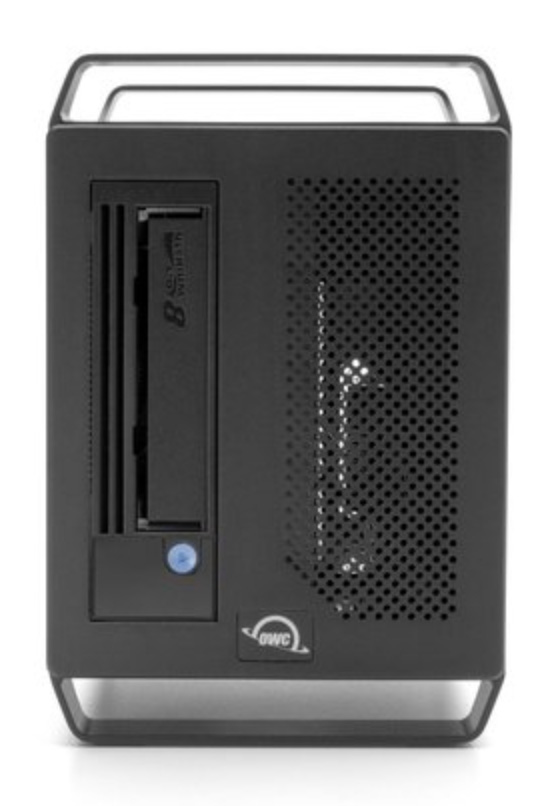 OWC: It's not a matter of tradeoffs – it is a matter of what works. USB and the way it operates is simply not suitable for LTO today (or the foreseeable future). You need I/O precision and consistent data performance here. This is 'literally' linear tape and in the absence of either of those things cause significant impact to LTO data rates + wear and tear on the drive and tape as it needs to spool back and forth to 're-track' so to speak. LTO is an enterprise, mission critical-level technology that utilizes the enterprise SAS command set for operation. As it stands today, even attempting to bring this to USB would be penny wise and pound foolish in my humble opinion.
All Macs since 2016 have Thunderbolt 3. Many PCs and now all PCs with TigerLake also have full Thunderbolt. SAS over Thunderbolt is the right, non-compromised way to support LTO on modern systems. With Thunderbolt, the operation is consistent on any machine with an available Thunderbolt USB-C port. Ignoring issues and imagining the best case scenario with USB, it would still be an absolute nightmare on an individual user basis and worse for those utilizing it with different flavors even of the same USB level if used with multiple systems.
Certainly LTO is expensive – but all things are relative. I'd note that the cost of LTO-8 today is about 1/4th that of just 3-4 years ago, so costs have come down substantially and I'd argue – where you have an application that LTO is right for or a client that LTO is required for – this is because it is cost effective. We always want to see costs improve and we pass those on when they do… but not via means that compromise the solution.
Larry: Who makes the LTO mechanism itself in your drive?
OWC: We selected IBM for our solution.
Larry: Given that OWC is new to the market, why should someone consider purchasing an LTO drive from OWC?
OWC: OWC has been a trusted source in the M&E space for years with our docks and storage. Like we mentioned above, with the Mercury Pro LTO, you now have a single, highly-trusted source to get all the solutions you need for a project. LTO is within our expert wheelhouse today and we spent nearly two years on this project to see this be not just another LTO solution, but to be a best-in-class offering a Thunderbolt interface.
Larry: Recently, The TOLIS Group, another developer of LTO hardware and software, closed its doors due to the pandemic. Should we worry that this drive will be abandoned, leaving us with tapes we can't read?
OWC: OWC has been around for over 30 plus years now and we aren't going anywhere. Also, LTO tapes and drives have been around since the early 2000s, so I don't think there will be a shortage of ways to read tapes. TOLIS offered solutions based on IBM and other LTO Technology with a proprietary, non-LTFS file system that only TOLIS supported.
LTFS, however, has broad industry support with multiple software vendors. TOLIS is certainly missed, this isn't a reflection on their support and ongoing development of LTO technology. Further, the hardware solutions they offered are not limited in operation only with TOLIS software either. All aspects of the technology found with our LTO solution have broad, industry support that are not in any reasonable risk of being abandoned. Again, what has been lost with TOLIS was their unique and proprietary software solution set providing another option utilizing LTO and not the other way around.
Larry: If you were to write a short commercial, explaining to editors why they should consider and buy the Mercury Pro LTO drive from OWC, what would it be?
OWC: Designed and supported by the leader in Thunderbolt solutions, the Mercury Pro LTO is a cost-effective, easy-to-use archiving solution for M&E pros, corporations, government branches, and small businesses that need to safeguard critical data with long-term reliability and accessibility.
Larry: Larry, thank you for your time!
---
Bookmark the
permalink
.