Product Review: OWC Envoy Pro mini
[ Click here to read my product review disclosure statement.]

Recently, OWC invited me to be a judge on their Video Commercial Contest, which was fun in and of itself. There were a lot of great entries!
Anyway, rather than pay us for our time, they sent us a free gift. In my case, it was an Envoy Pro mini SSD drive, with my name engraved in the case.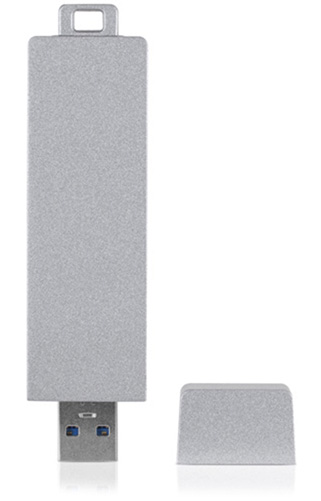 Here's what it looks like, without the engraving.
Since I love new tech toys and I was casting about for an article to write this week, I decided to write about this. And, in doing so, I discovered that answering the question: "How Fast?" is a very relative thing.
EXECUTIVE SUMMARY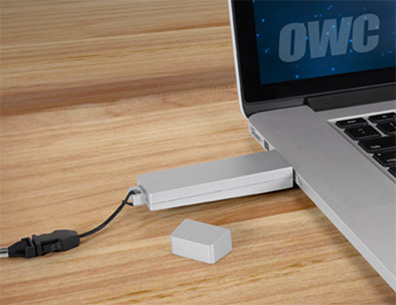 The stylish, and petite, OWC Envoy Pro mini is a small SSD drive that comes in three sizes: 120 GB, 240 GB and 480 GB. Small enough to fit in a pocket, or wear with a lanyard around your neck, this device is housed inside an aluminum shell and, because it only contains chips and no spinning media, is extremely rugged.
It supports USB 3.0 and has a 3 year Limited Warranty. In ideal circumstances, this device can also be very fast – but the speed is totally dependent upon what you are doing with the data.
If you are looking for fast, reliable storage that fits in a pocket with a price that doesn't break the bank, this is worth considering. The only limitation – like all SSD devices – is that total storage is limited when compared to spinning media.
Product: 240GB Envoy Pro mini Ultra-Portable SSD
Manufacturer: Other World Computing (OWC)
Website: www.macsales.com
Price, as tested: $177.50 (for the 240 GB version)
DESCRIPTION
"Elegant, light, and strong, Envoy Pro mini [provides] full-sized desktop-class SSD performance in the ultimate go-anywhere storage companion. It's incredibly fast and perfectly portable for your life on the move." (OWC website)
OWC lists its benefits as:
Big Storage. Big Speeds. Small Footprint.
The Speed and Flexibility You Need.
Pro Performance Meets Singular Design.
In fact, the Envoy Pro mini uses the same suite of controller technologies as OWC's high-performance desktop-class SSDs
HOW FAST IS IT?
The two key factors when purchasing any storage are: how much does it hold (capacity), and how fast does it transfer data (bandwidth).
The storage capacity of the Envoy Pro mini is fixed at 240 GB (239.7 GB formatted). But the bandwidth is another story. In fact, "speed" is a very relative thing. The basic conundrum is that the speed of any device is only as fast as the slowest device in the chain.
Let me illustrate.
OWC is proud of its gear and equally proud of the speeds they are able to achieve which they clearly post to their website.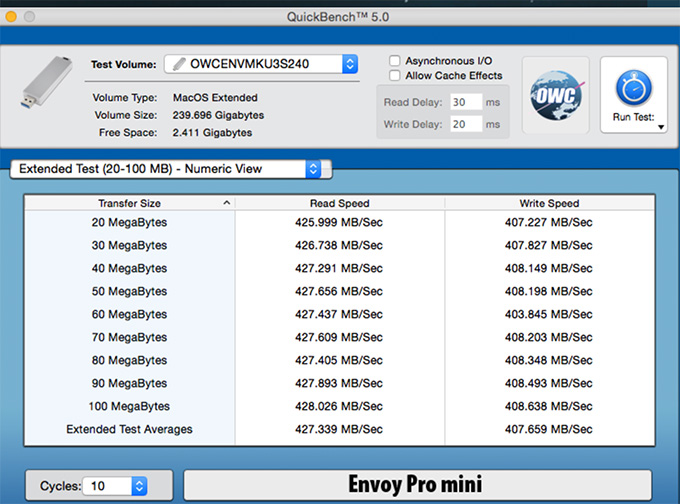 For example, here are the speeds OWC published on its website for this device. OWC is a reputable company and I have complete faith that these numbers are accurate; from a particular point of view.
NOTE: These speeds were measured by QuickBench, a trusted testing utility used by many in the industry.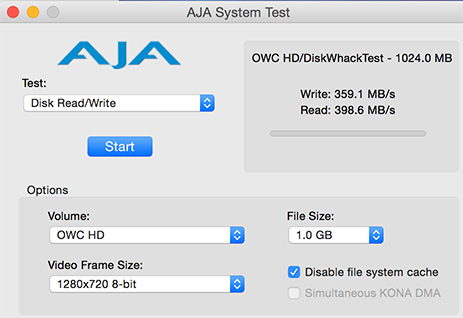 However, let's take a second look. Here are the speeds, as measured by an earlier version of the AJA System Speed Test, running on a 2013 MacBook Pro laptop. These are still sterling numbers, but about 12% slower than the speeds measured by QuickBench.
NOTE: AJA is an expert in video and storage technology and the AJA System Test is  a trusted test which is used by many, including me.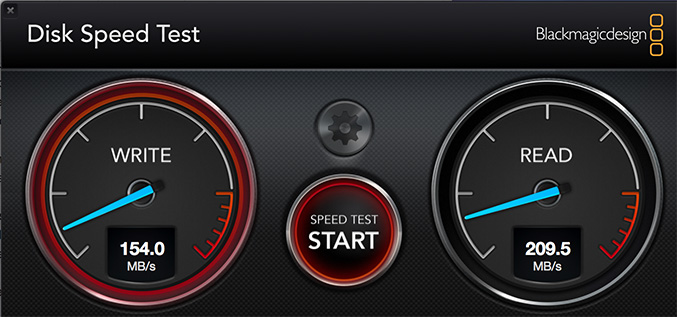 Trying a third test, here are the speeds, as measured by the Blackmagic Design Disk Speed Test. This indicates the Envoy is about half the speed of the speeds measured by QuickBench.
NOTE: Blackmagic Design is another reputable video company with recognized products and competence in media.
Hmmm…. Three different tests yield three different results. Which one is "right?" It is impossible to know. All three tests are reputable, though they each use different testing methodologies.
NOTE: Also, even the slowest measured speed is more than fast enough to edit 2K 10-bit depth video. So, for most editors, regardless of which speed is "right," the Envoy is fast enough for most linear editing, though I would be hesitant to recommend this for heavy multicam work.
But, let's wander further down the rabbit hole of testing "how fast" something is.

For example, here is the Envoy copying 8 GB of media from itself (supporting USB 3) to a device that uses USB 2.
NOTE: The two numbers you want to pay attention to are: Data read/sec and Data written/sec, both in the lower right corner. The graph shows bandwidth over time, blue indicating read speeds, while red shows write speeds.
Wow! Its barely able to get over 5 MB/second. Why? Because the device we were copying to – a USB 2 thumb drive – is so slow. So, even though the OWC SSD is very fast, its speed is constrained by the USB 2 device we are copying to.
Here's a different example, a USB 3 thumb drive copying files to the USB 3 OWC SSD. MUCH!! faster because the USB 3 protocol is much faster than USB 2. (Both devices were connected via a USB-A connector.
NOTE: The Envoy supports USB 3.0 Gen 1, and uses a USB Type A connector (the old style we are all familiar with.)

Here, we are copying from the OWC to a Thunderbolt 2 single hard drive. Yet again, different results for speed.

Here, we are copying from the OWC to the internal drive of a 2013 MacBook Pro; which is even faster than when we were copying to a Thunderbolt drive.
NOTE: If these tests were not enough to cause your head to spin, keep in mind that larger files transfer faster than smaller files. So, enlarging the test file size will improve the result of any speed test.
SUMMARY
I like the Envoy Pro mini. It holds a lot – for a small SSD – and is more than fast enough for video editing for 2K files or smaller. It is also extremely rugged and highly portable.
But what I enjoyed even more was exploring the fallacy that any storage device is equally fast all the time. It isn't. Storage bandwidth, the speed at which a device transfers data, is totally dependent upon all the devices in the transfer chain. A blindingly fast SSD transferring to a USB 2 thumb drive will be really, really slow.
So, please take any listed speed test – from ANY manufacturer – with a large grain of salt.
However, if you have a fast system, this small SSD can more than hold its own and free you from carrying large, bulky hard drives whenever you want to edit. Its only real limitation, given today's larger media files, is its storage capacity; but that is true for any SSD device.
If your editing needs to be REALLY portable and fast, and your files are not that big, this is a great device to add to your system.
---
Bookmark the
permalink
.