Product Review: OWC Envoy Pro Elektron NVMe SSD
[ Read my product review disclosure statement here.]
OWC released their latest SSD storage at CES: the OWC Envoy Pro Elektron, a portable NVMe SSD about the size of a short stack of business cards. OWC loaned me a unit to review for a few days, so here are my thoughts.
EXECUTIVE SUMMARY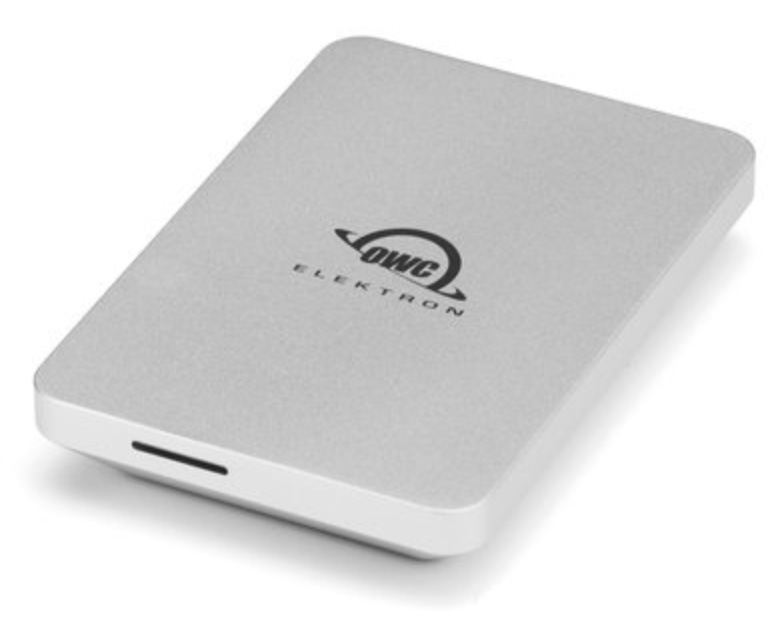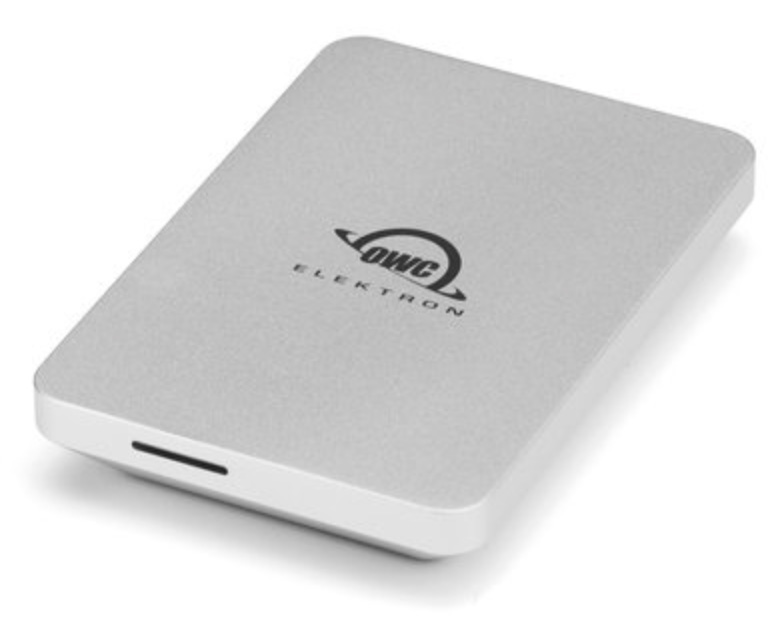 Really fast. Really small. Really portable.
OWC describes the Elektron as: "The fastest, toughest mini-sized SSD for transferring gigabytes of data in seconds anywhere with Macs, PCs, iPads, and Chromebooks."
With transfer speeds measuring around 900 MB/second, this unit easily supports editing up to 2K media files. Connecting via USB-C, it runs on Macs, PCs and tablets. (The unit also ships with a USB-A connector for older systems, but the data rate drops to about 50% USB-C speeds.)
Housed in aircraft-grade aluminum, "the Envoy Pro Elektron is IP67 rated so you can work in the dirtiest and wettest environments. And if you happen to drop this tiny but mighty drive onto a driveway or parking lot, the crushproof Envoy Pro Elektron can be rolled over multiple times without damage." (OWC website)

NOTE: I didn't roll over with a car, but I did drop it from about 6 feet onto carpet and it worked fine thereafter. This is by no means a severe drop test, but, well, I'm conditioned to not drop storage. Neither the unit, nor my heart, broke.
Th Electron is available in capacities of 240 GB, 480 GB, 1.0 TB and 2.0 TB; though formatted sizes will be slightly less.
Winner of the CES Innovation Award for 2021, the Elektron is fast, rugged, tiny and compatible with anything that has a USB port. The Envoy Pro Elektron continues OWC's tradition of leading-edge storage solutions. Plus, it comes with a 3-year warranty.
Manufacturer: OWC
Product: OWC Envoy Pro Elektron
Website: https://eshop.macsales.com/item/OWC/ENVPK02/
Pricing: $99, $149, $199 and $369 (US)
NOTE: I tested the 2.0 TB unit.
CONFIGURATION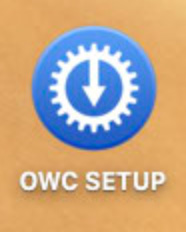 The Elektron is bus-powered, meaning no batteries or power brick. Plug in the USB-C cable and it powers on instantly.
OWC has developed a really handy configuration utility – OWC Setup – that walks you through formatting the drive for your computer. Here are the screens.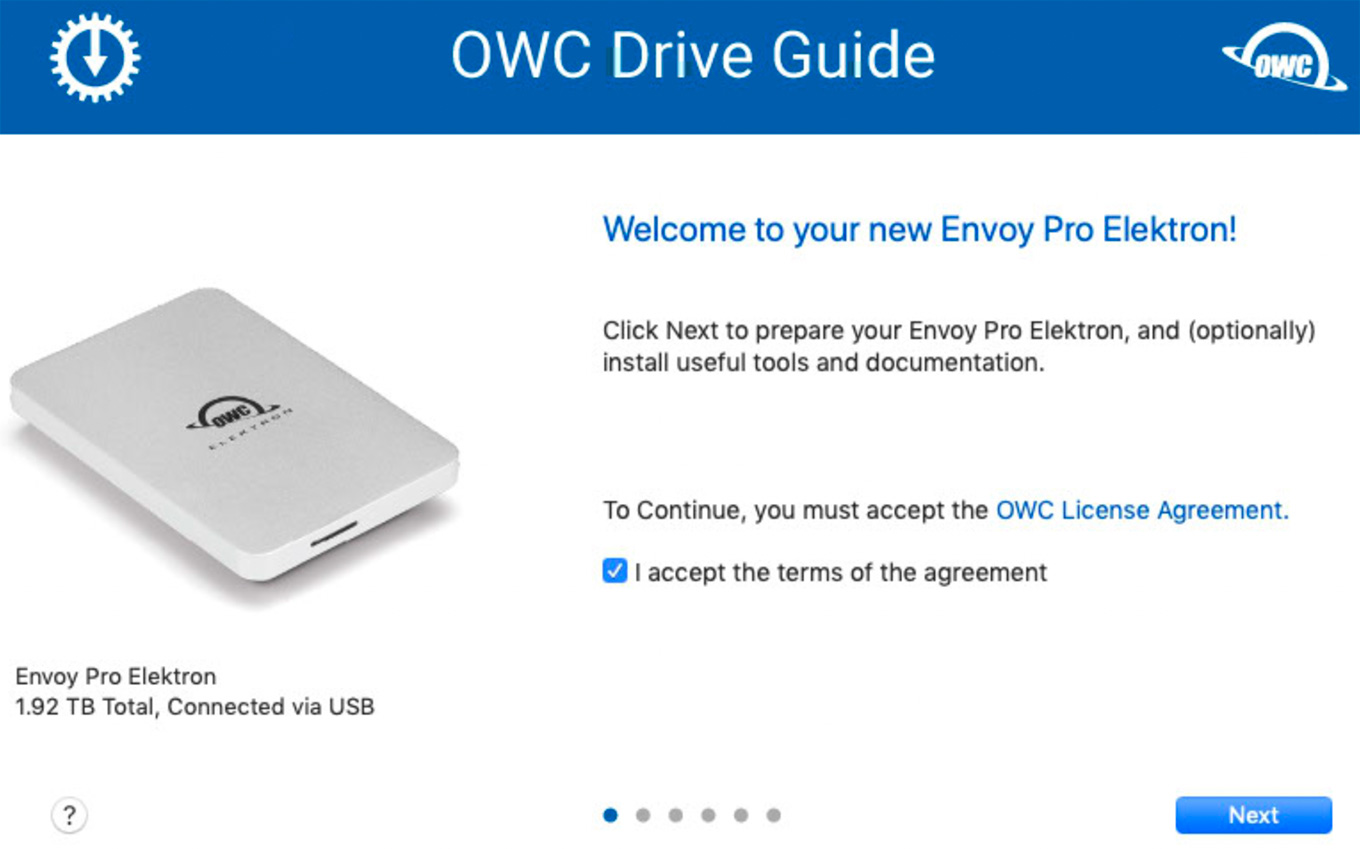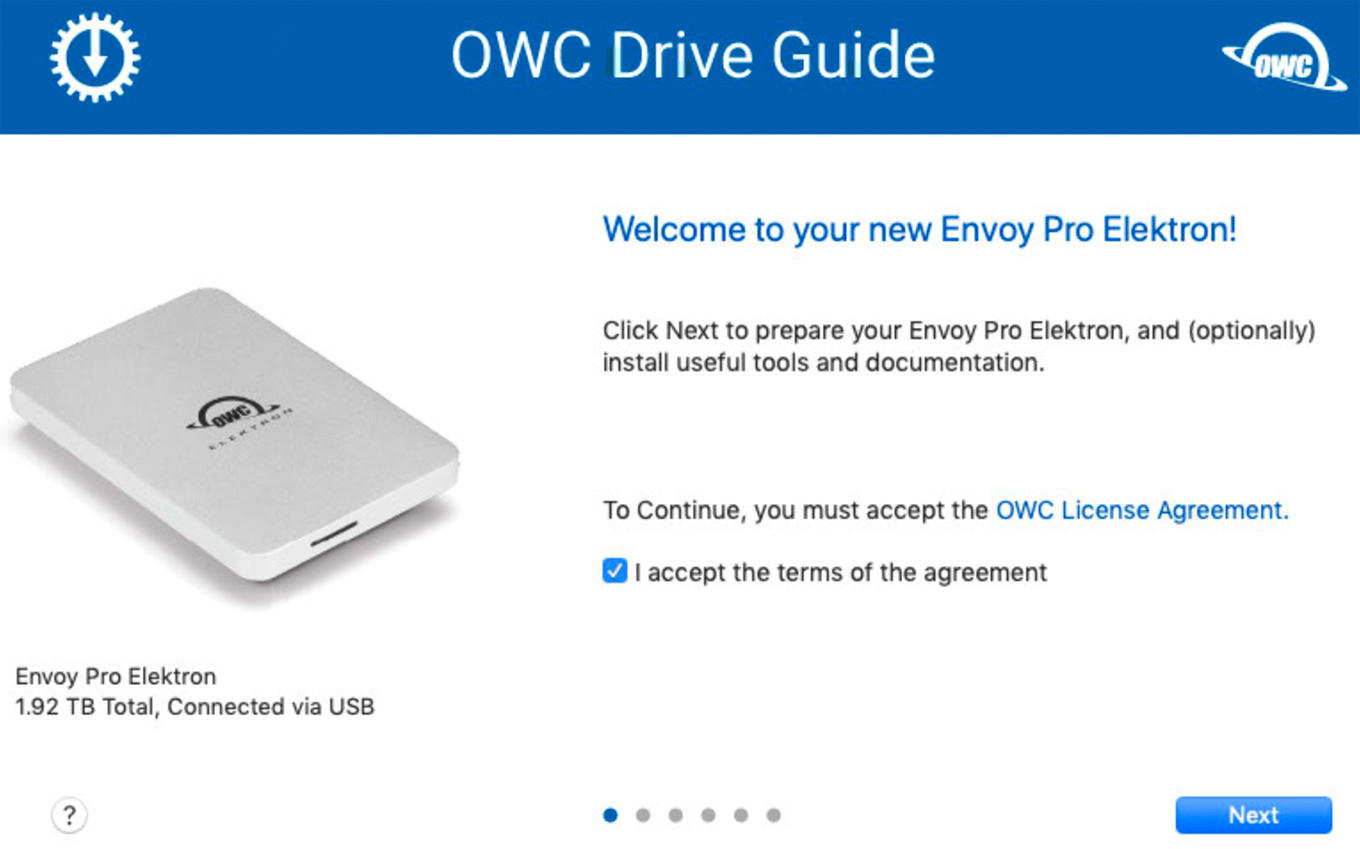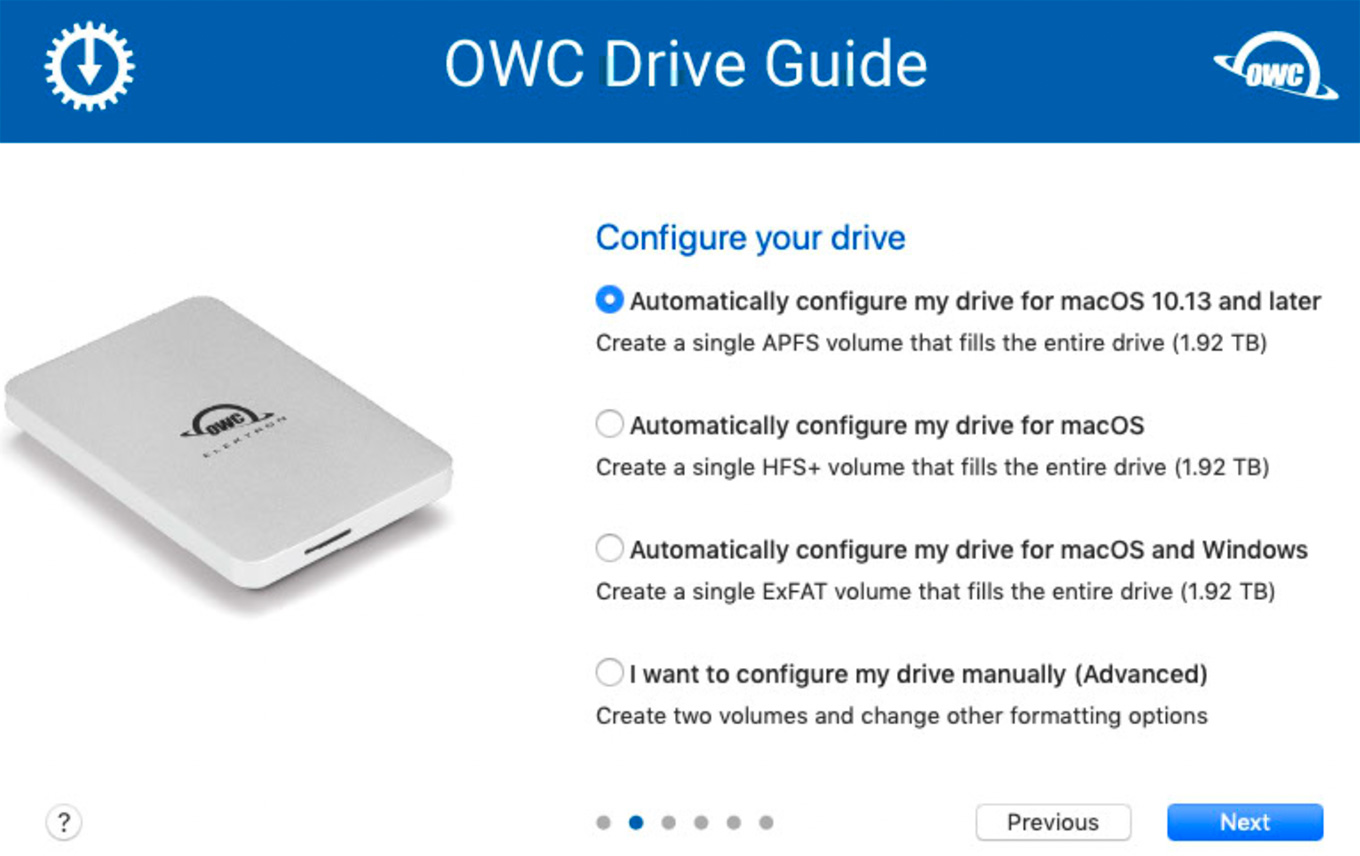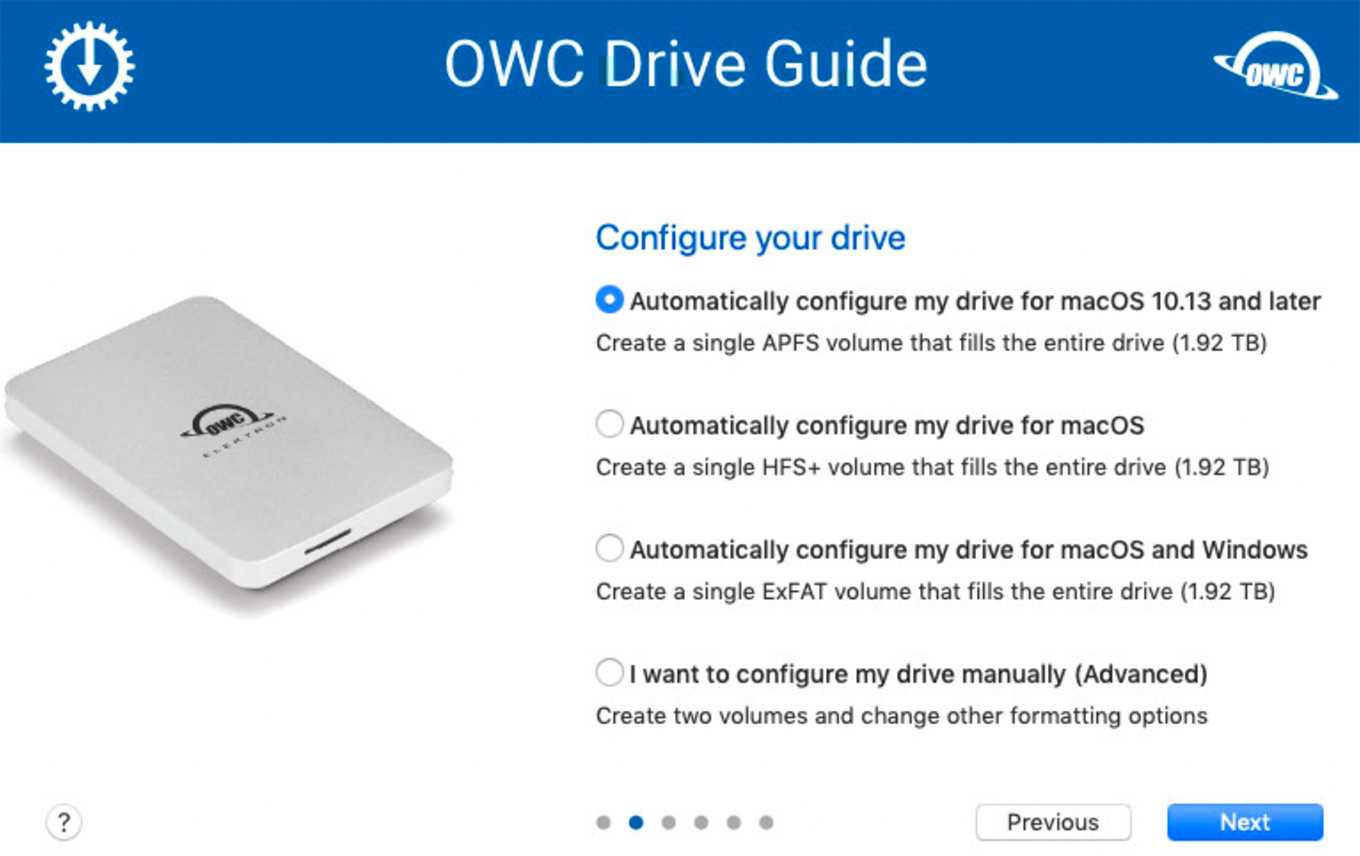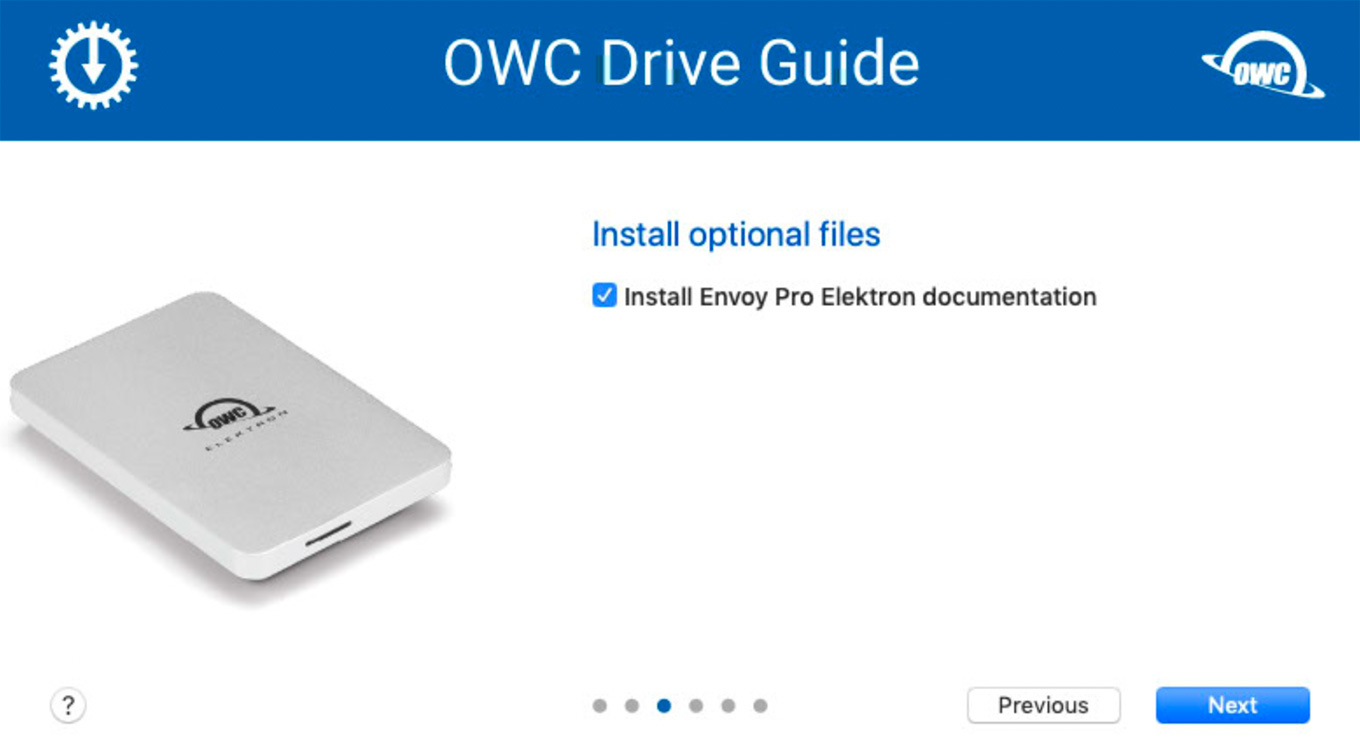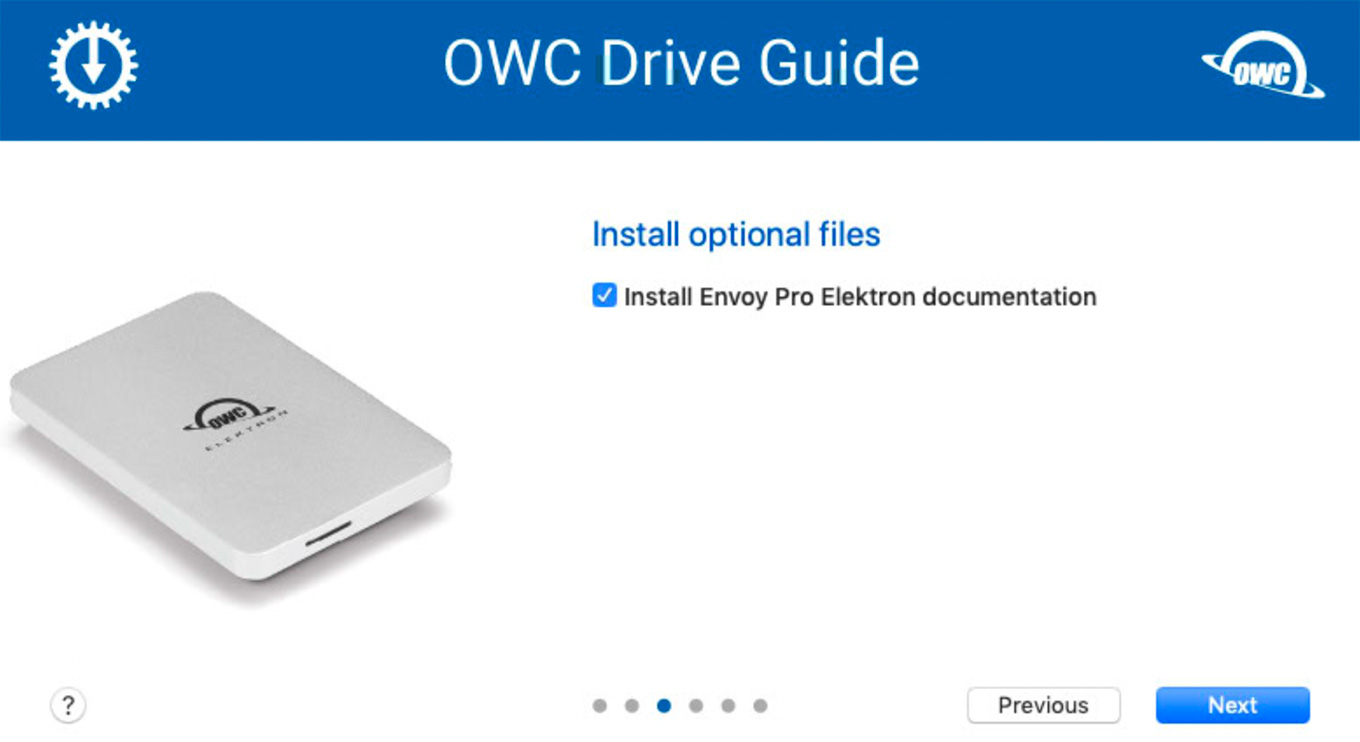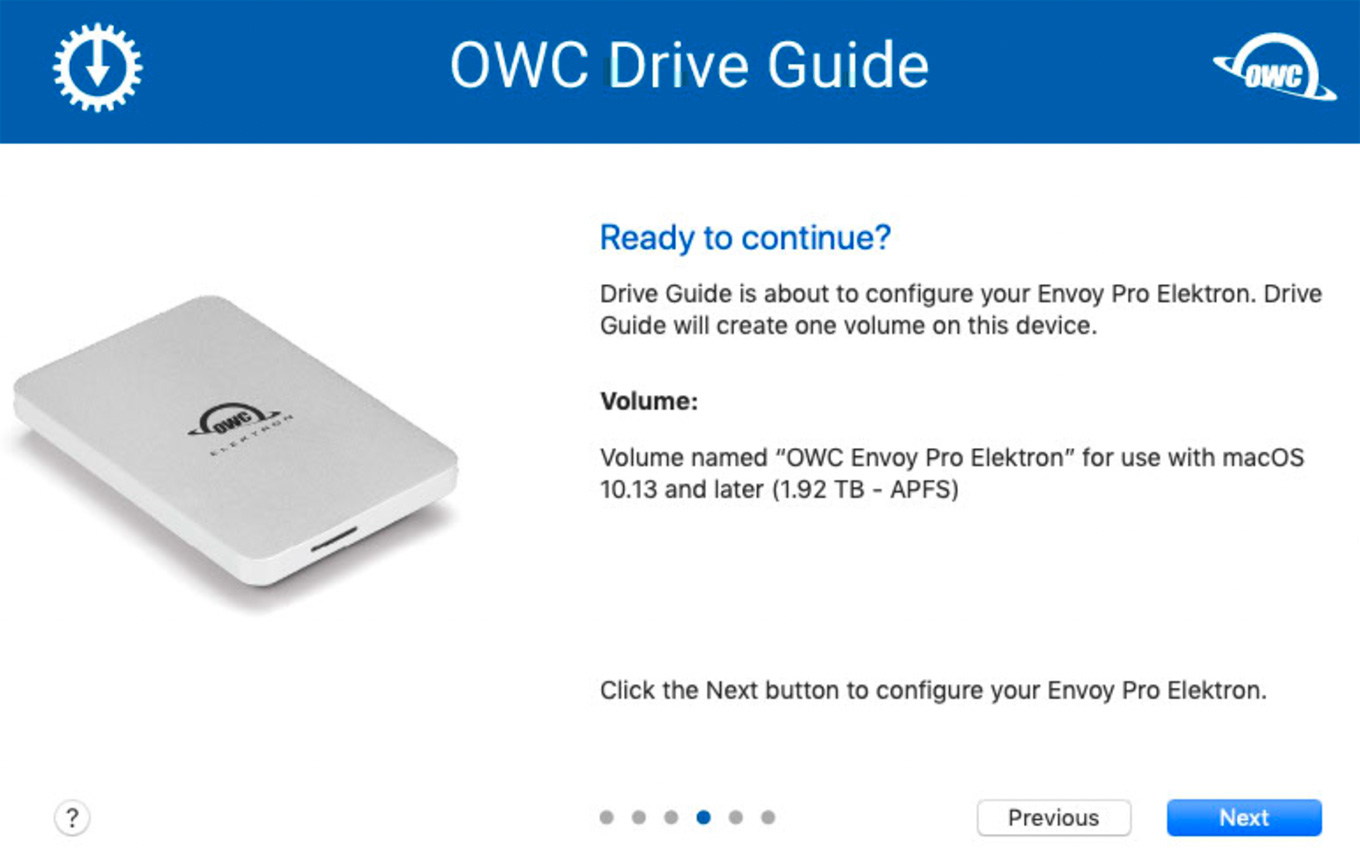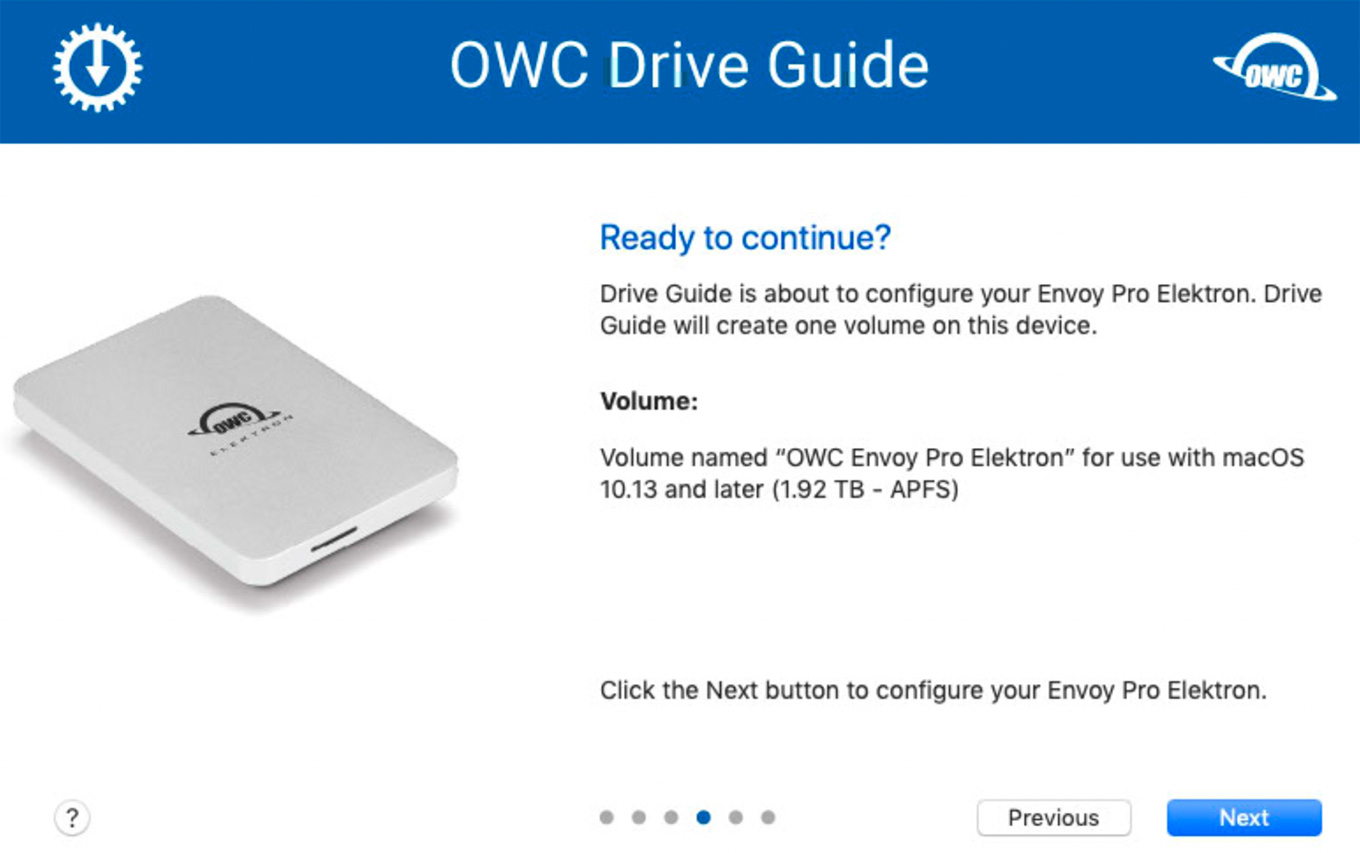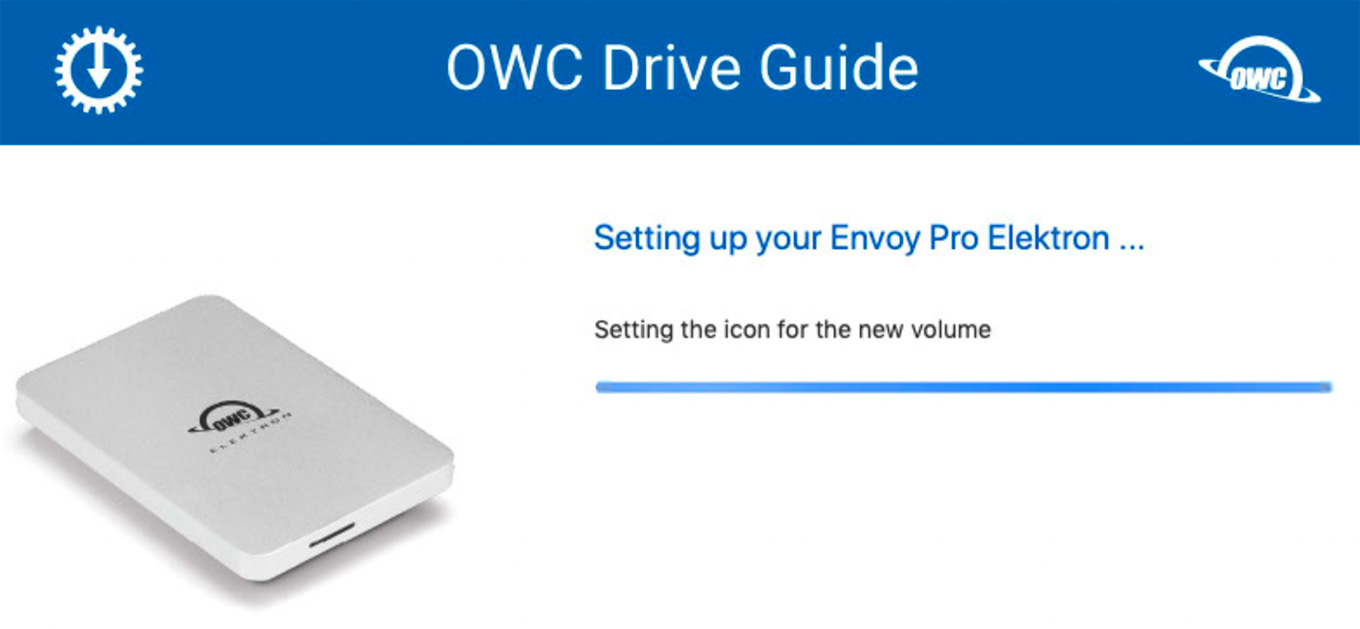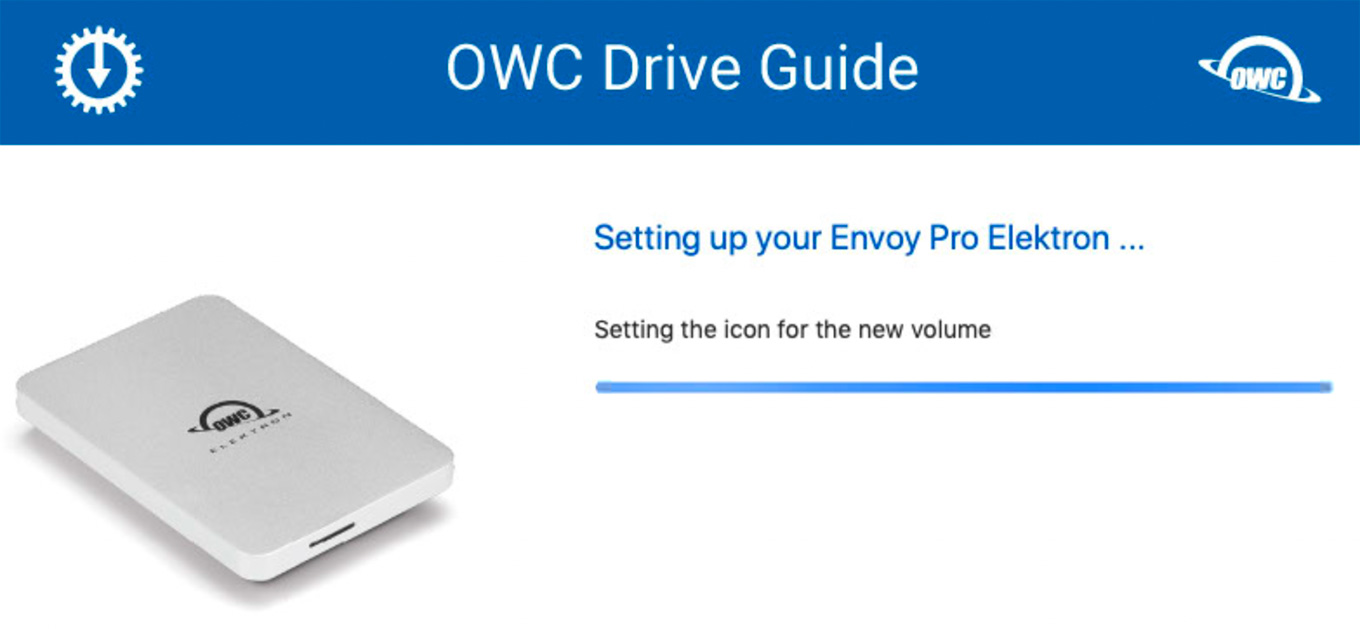 A few seconds after clicking through the last screen, the SSD is mounted to the desktop and ready to use.
NOTE: This configuration process only needs to be done once. And, if you prefer, you can always configure or reformat the SSD manually.
OPERATION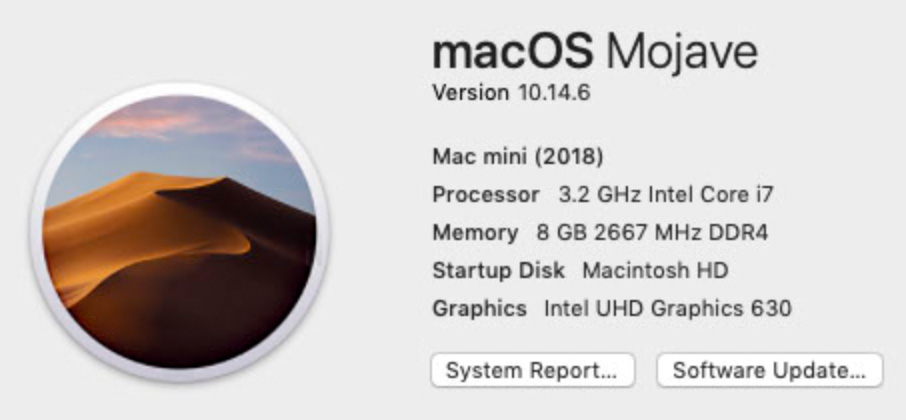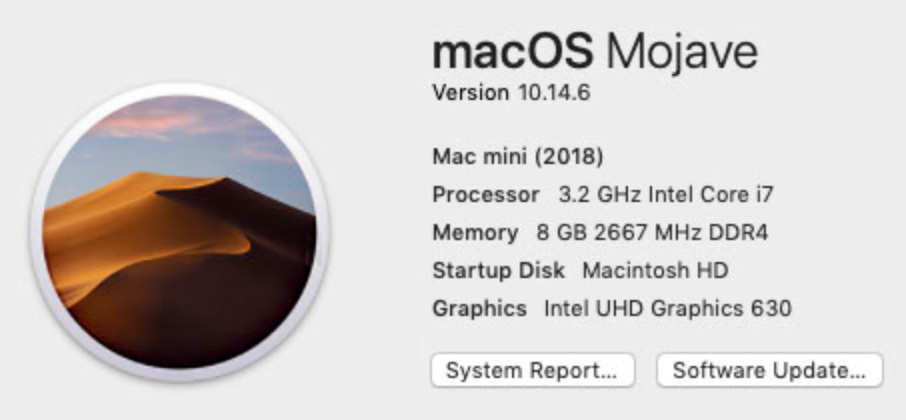 NOTE: All tests were run using a 2018 Mac mini, with no other applications running and the Elektron connected via USB-C. (Um, yeah, I haven't upgraded to Big Sur yet.)
The Envoy Pro Elektron works exactly like any other storage you've ever used, only faster. How fast?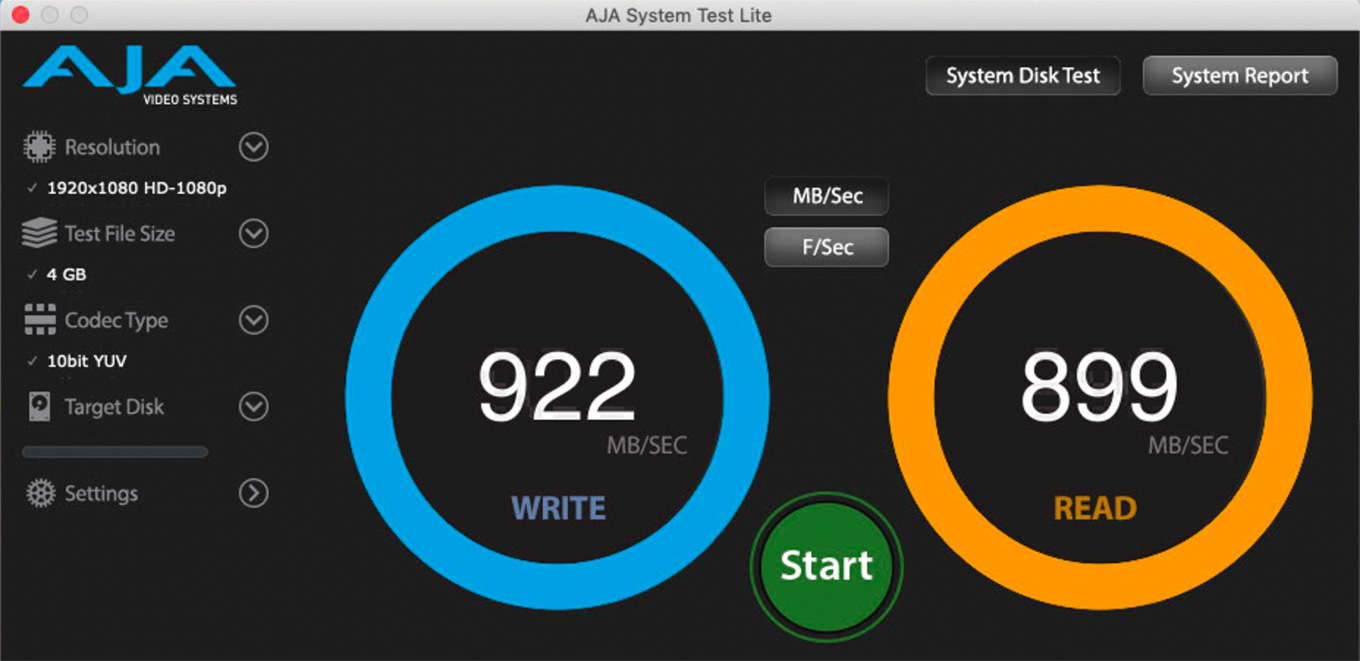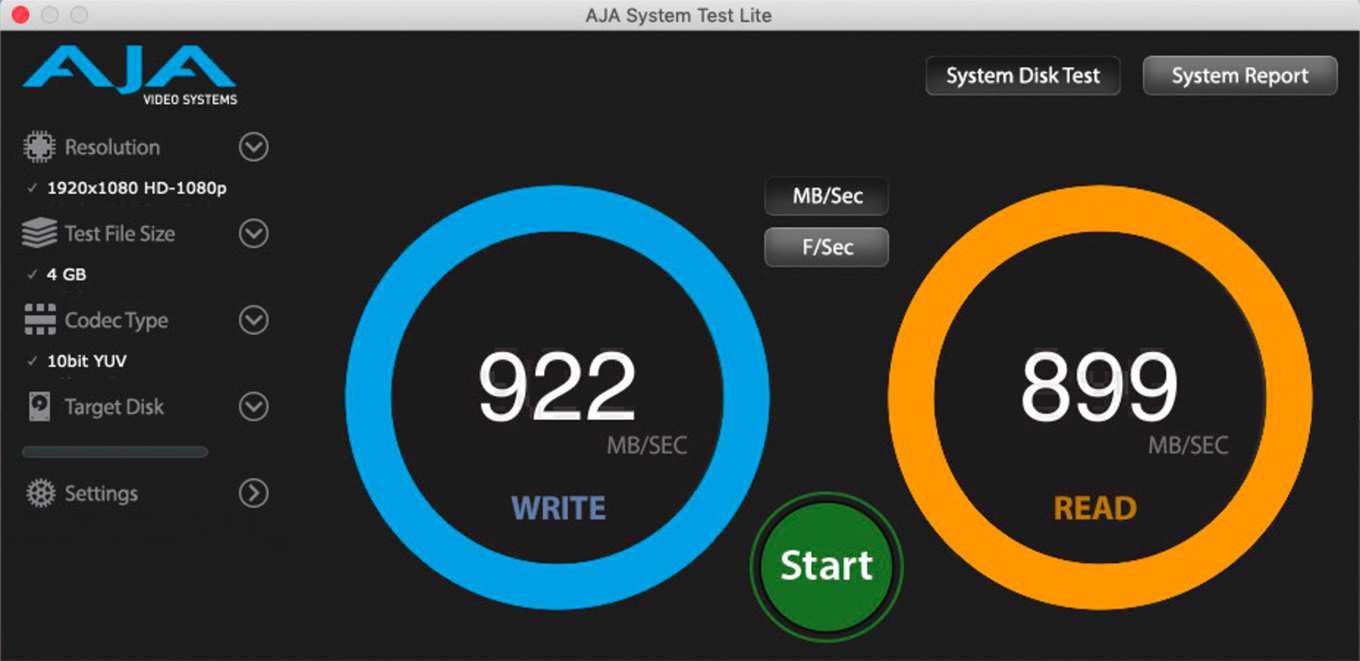 Based on a series of five tests each using AJA System Test Lite and Blackmagic Speed Test, the Elektron averaged 936.6 MB/second write and 903.2 MB/second read. There was less than 1% variance between the speeds measured using AJA and Blackmagic Test software.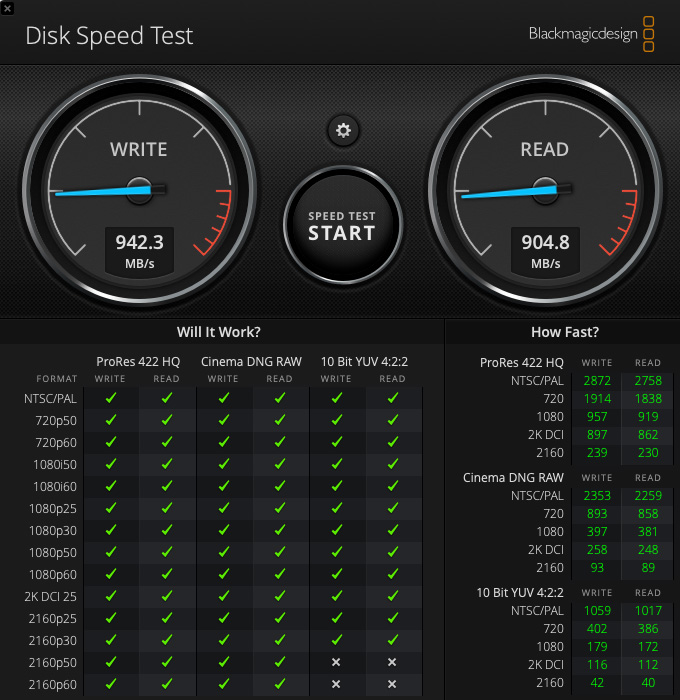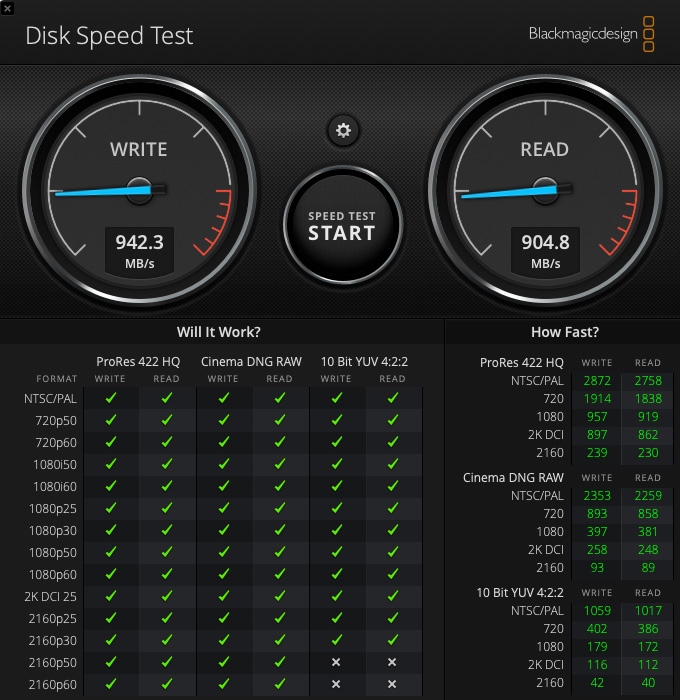 As you can see from this Blackmagic Report, the Envoy Pro Elektron supports all media up through 2K, with the exception of 2160/60 fps 10-bit media. For normal HD or multicam editing, this unit is really, really fast.
A NEW TEST
The Envoy Pro Elektron uses a new-ish implementation of SSD called "NVMe." (This stands for Non-Volatile Memory Express; which means "a really fast SSD.")  NVMe SSDs are far faster, as a group, than standard PCIe SSDs.
Taking this a step further, a benefit of using SSD drives as opposed to spinning hard disks is that a SSD has no drive heads, no seek time and no latency. This means, theoretically, that if multiple applications are accessing the SSD at the same time, they should not slow down the way traditional spinning media does.
So, I did a quick test and ran BOTH AJA and Blackmagic test programs at the same time, targeting the Envoy Pro.
What I discovered is that, while speeds decreased when multiple applications are accessing the SSD at the same time, the SUM of the speeds was faster than accessing the SSD using just one app. In other words, the SSD speeds up as more apps access it! Specifically, the SSD is 14% faster! Which I think is very cool.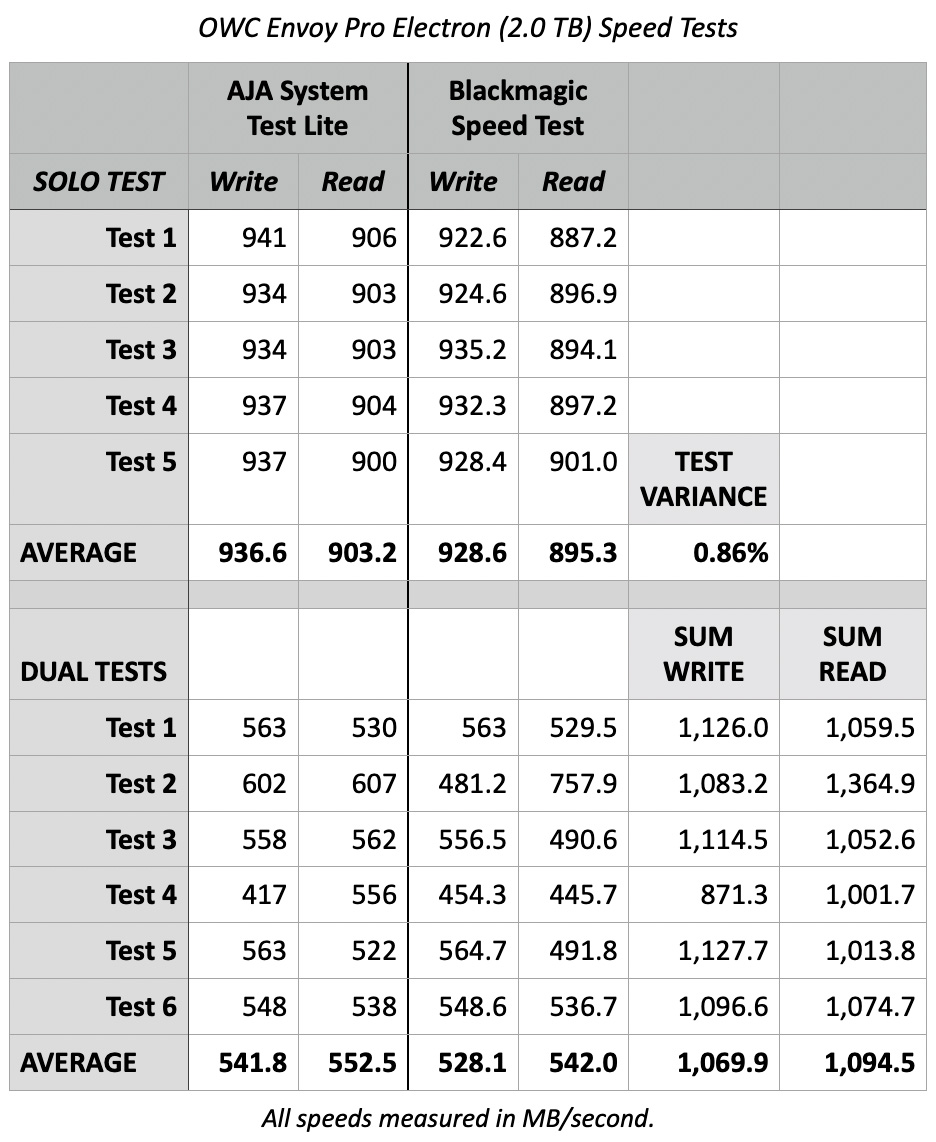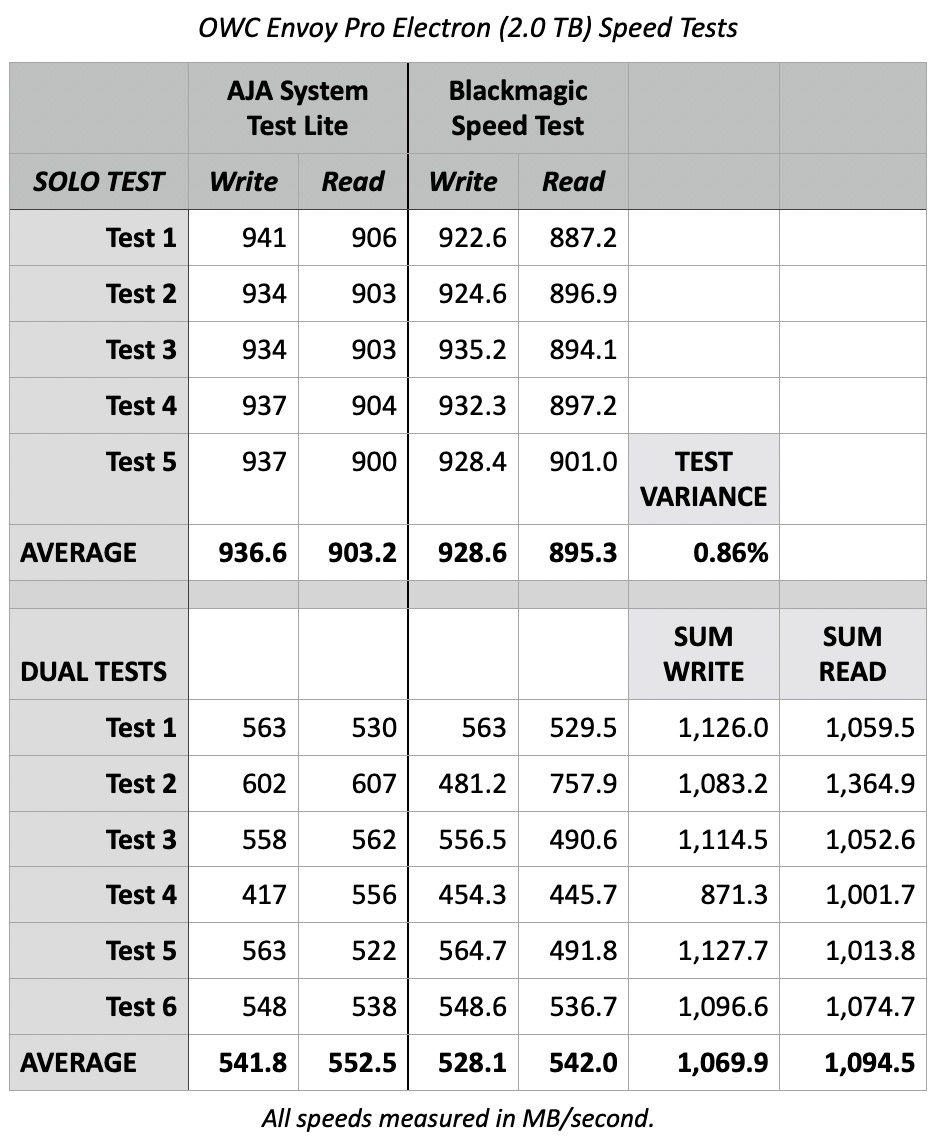 Here are the results of all my tests. I learned recently that test results vary, so I now make a point to run at least five speed tests for any hardware, then average the results to get more representative numbers.
NOTE: I started the Blackmagic test then, because it repeats, I let it cycle fully through one test before starting the AJA software. This meant both apps were writing and reading the SSD at the same time. I also discovered that starting AJA first caused all kinds of inconsistent results.
While measuring speeds while multiple applications are running is not a perfect test, still, I found these results worth noting.
ONE MORE THING – USB-A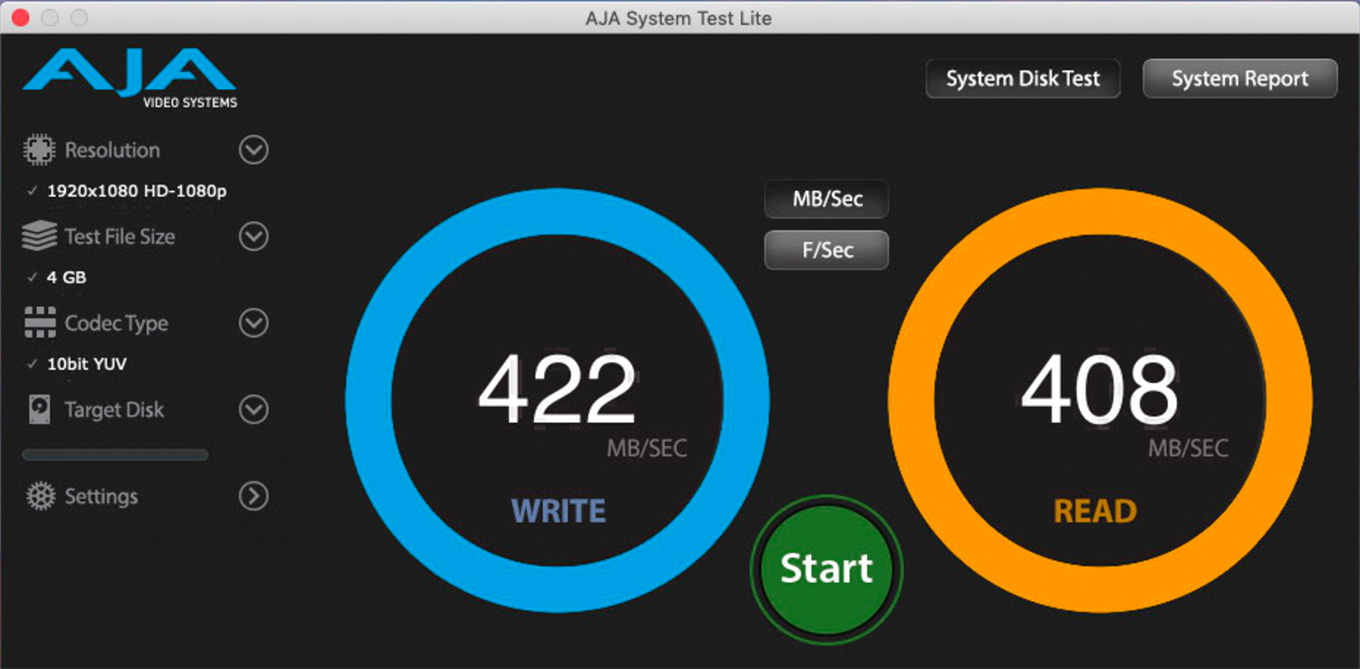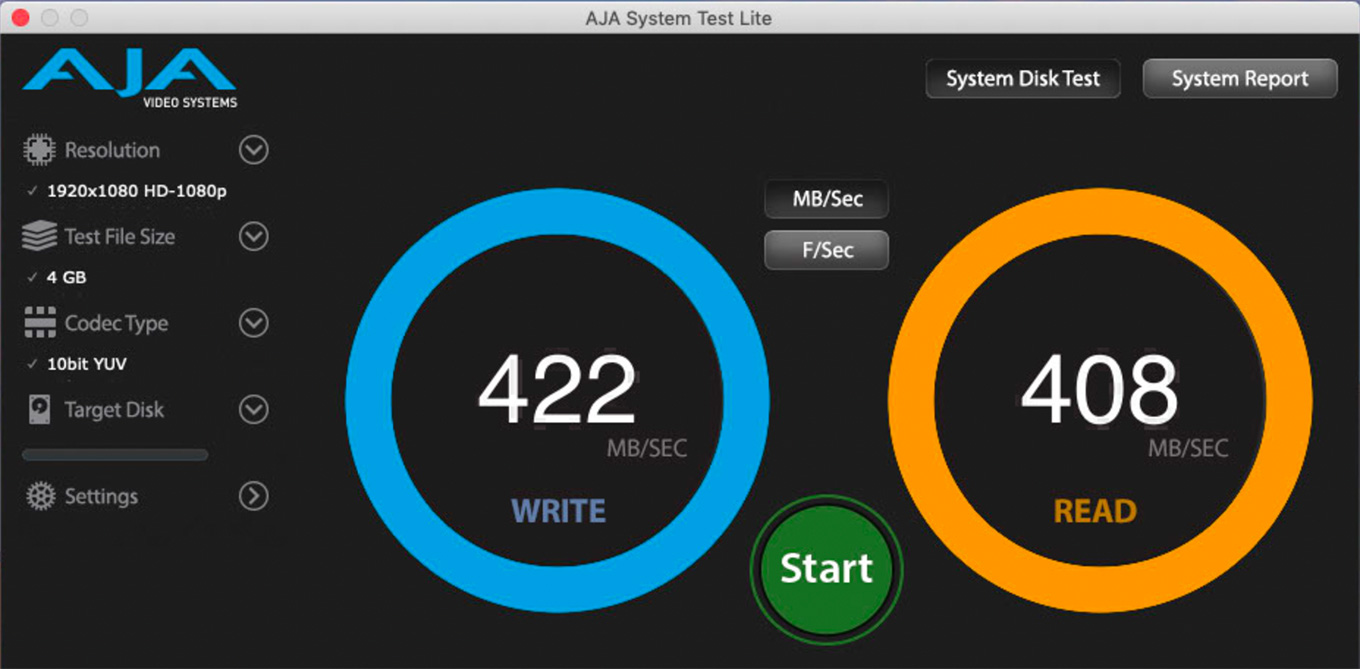 These are the speeds when connecting this unit via USB-A. I ran this test three times and all results were ±3 MB/second of this screen shot.
SUMMARY


The OWC Envoy Pro Elektron is a small, rugged, fast, bus-powered storage system that fits in your pocket. With speeds averaging over 900 MB/second, it can easily support multicam or traditional HD editing.
And with prices starting at $99 (US) you can give a speed boost to your laptop without breaking your budget. This is a very cool device.
---
Bookmark the
permalink
.