Product Review: OWC Drive Dock

[ Click to read my Disclosure on Product Reviews.]
A dock is a very useful thing. It allows us to easily connect a variety of bare hard drives to our computer system without requiring a screwdriver and the patience of Job.
So, when OWC loaned me a Drive Dock to look at, I was interested. (OWC has been a past sponsor of the Digital Production Buzz podcast, which I host.) In fact, OWC loaned me two units: the Drive Dock with an SSD, and their ThunderBay 4 Mini, which is a 4-drive RAID using all SSDs.
NOTE: Here's my review of the OWC ThunderBay 4 mini (SSD RAID).
And here's an article discussing more about SSD vs. HDDs.
EXECUTIVE SUMMARY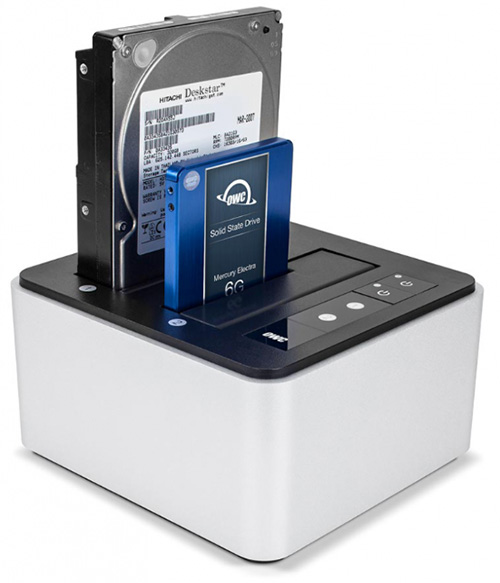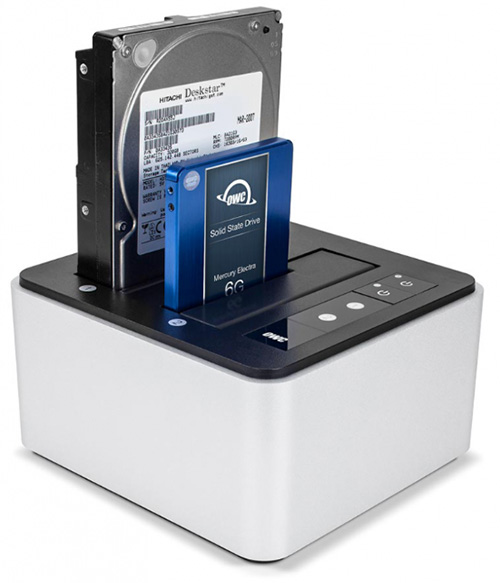 (All Dock images courtesy of OWC.)
The OWC Drive Dock is a solidly-built, external unit that allows simple plug-and-play access to bare hard drives and spinning media.
Connecting via Thunderbolt 2 or USB 3.1 Gen 1, the Drive Dock contains two docking ports that accept all standard 2.5″ and 3.5″ SATA hard drives, as well as standard SSD cards. A plastic flap supports an SSD so that it won't tip over. The dock enclosure itself supports a traditional 3.5″ drive.
The Dock supports both Mac and Windows, ships with a standard power cable (no wall wart needed), plus 24″ Thunderbolt and USB cables.
While I wasn't able to achieve the speeds listed on the OWC website, performance will vary depending upon how the Dock is connected to the computer and the drive inserted into it.
For those looking for a well-built system to access data on a variety of bare drives, this is a solid choice.
Product: OWC Drive Dock
Manufacturer: OWC
Website: www.owcdigital.com/products/drive-dock-thunderbolt-2
Price as tested: $279.99 US MSRP
NOTE: A USB-only version is available for $79.99 US MSRP.
SETUP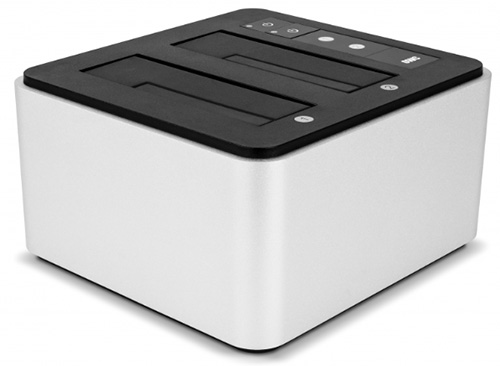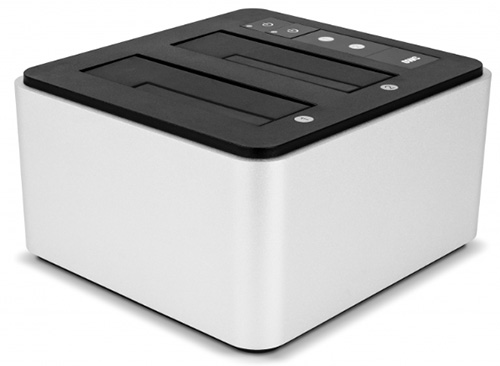 Setup is simple. Unbox the unit, plug it into a wall outlet, then connect the appropriate cable to the computer. For best performance, use Thunderbolt. For greatest compatibility, use USB.
The unit does not ship with any drives.
YOU STILL NEED A DRIVE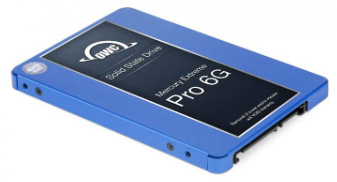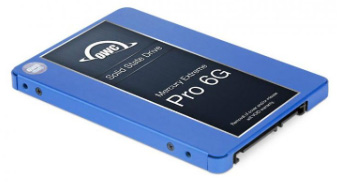 The Drive Dock is a connection device, which means its performance is totally dependent upon the drives you insert into it. It connects via Thunderbolt 2 or USB 3.1 Gen 1, which means that if your drives are fast enough, this can transfer data quickly between the Dock and your computer.
Along with the Drive Dock, OWC also included a 240 GB Mercury Extreme Pro 6G SSD card. This is their fastest SSD card, with a storage capacity that ranges from 120 GB to 1 TB ($89.99 to $419.75).
NOTE: An SSD (Solid State Drive) is a drive that uses all solid-state media, similar to RAM, to store data electronically. An HDD (Hard Disk Drive) is a drive that uses spinning metal platters to store data magnetically. Both SSDs and HDDs store media safely after the power is turned off. It is also common to call HDDs "spinning media."
Product: OWC Mercury Extreme Pro 6G
Manufacturer: OWC
Website: https://eshop.macsales.com/shop/SSD/OWC/Mercury_6G/
Price: $159.99 US for the 240 GB size (MSRP)
PERFORMANCE
Before we get into the stats, here are some rules that will be helpful in understanding performance:
Older HDDs will be slower than new ones
2.5″ disks will, generally, be slower than 3.5″ disks
HDDs that spin slower will transfer data slower than faster-spinning ones
HDDs that are full will be slower than disks that are empty
A single SSD will be faster than any single HDD
SSDs that are used a lot tend to slow down over time
Different brands of SSDs run at different speeds
All these numbers change as we use different brands of SSDs or HDDs. I tested the speed of the Dock three different ways all using a single, empty, OWC Mercury Extreme Pro 6G SSD (240 GB). The software I used was:
Apple Activity Monitor (part of MacOS, stored in the Utilities folder)
What surprised me was how the results varied. For some reason, the Blackmagic software seems to under-report the speed of an SSD.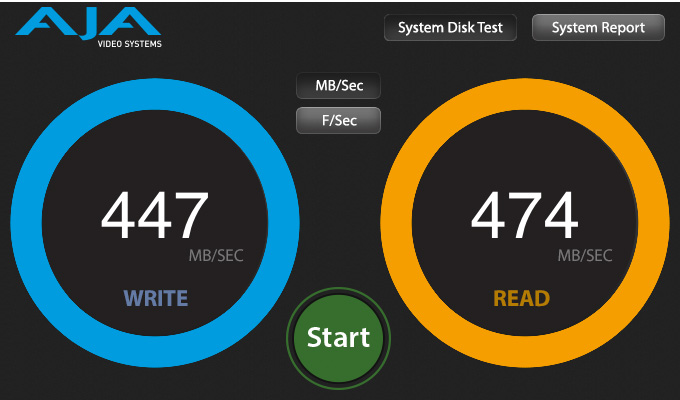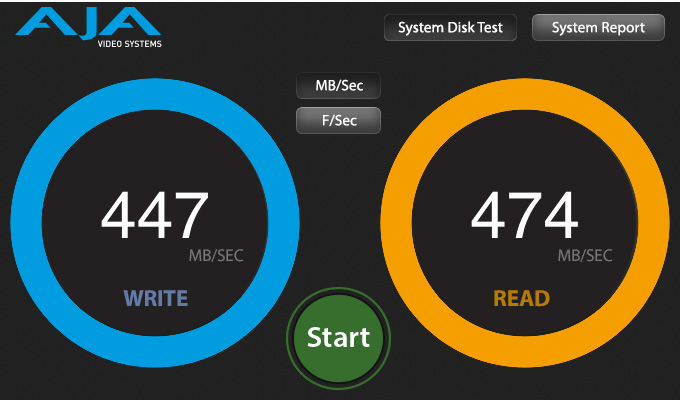 The best results were measured using the AJA System Test Lite software. These settings reflect connecting the Dock via Thunderbolt 2. Read and write speeds hovered around 450 MB/sec. This is fast enough for all SD or HD formats and most 4K files that don't use bit-depths in excess of 10-bit.
It is also fast enough to transfer a 100 GB file in about four minutes.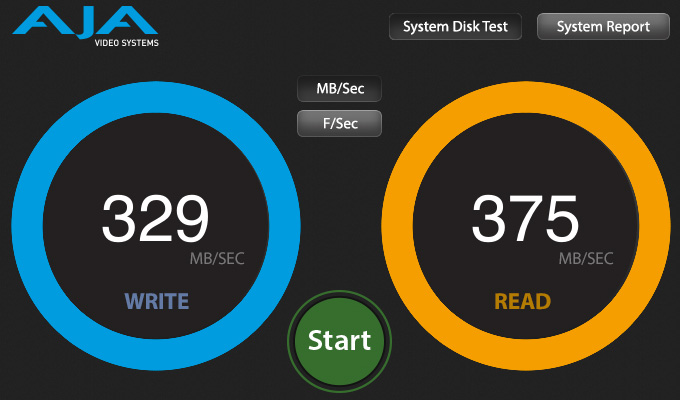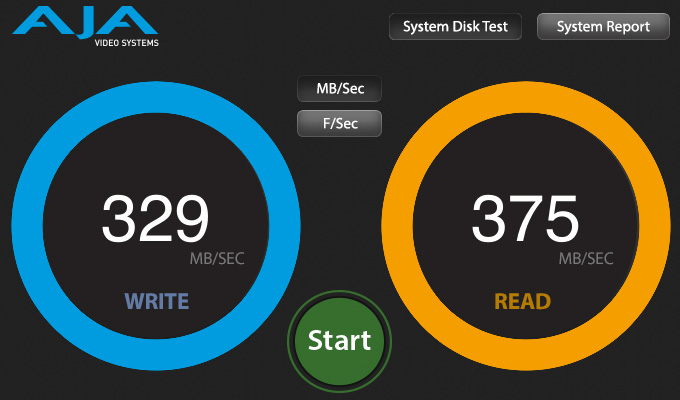 When the Dock was connected via USB, speeds dropped about 25%. Again, these are more than sufficient for all SD and HD editing, and many 4K formats. Transferring a 100 GB file at these speeds will take about six minutes.
Keep in mind that this is a single SSD card. Also remember that a single, current model HDD will transfer data around 150 MB/sec.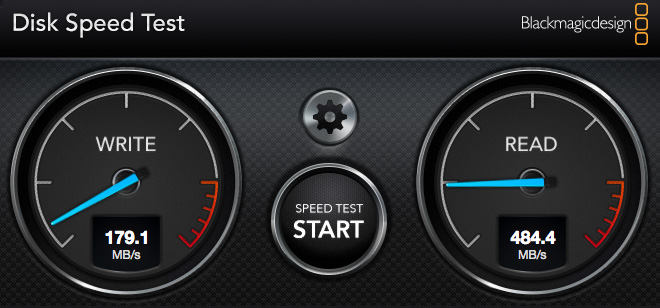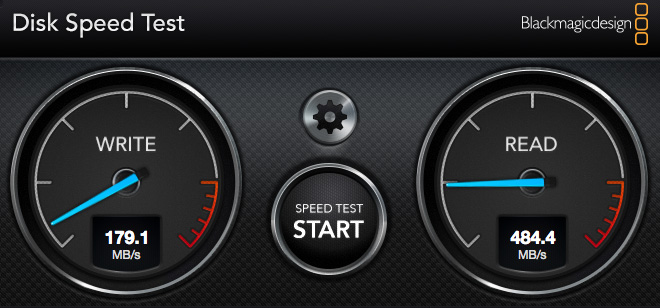 When we measure the same system using the Blackmagic Design Disk Speed Test, the read numbers closely matched those from AJA, but the write numbers were far slower.
The screen above shows the unit connected using Thunderbolt 2, while the screen below shows the same unit connected via USB 3.1 Gen 1. Again, note the 25% drop in read speeds when connected via USB. USB is not as fast as Thunderbolt.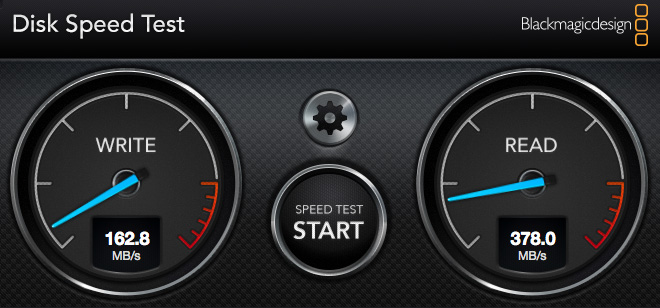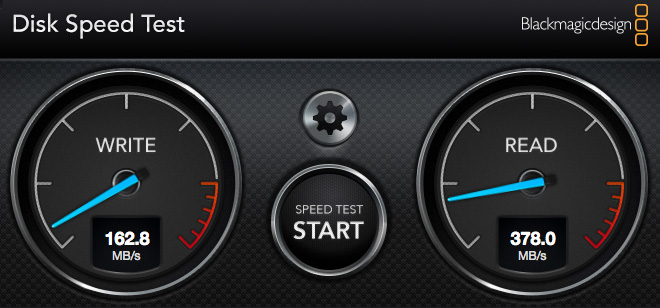 I don't know why Blackmagic seems to be underreporting the write speeds. This is a good example of testing performance using more than one measuring tool.


To provide a more "real-world" test, I copied a 71.6 GB file from a high-speed RAID to the Drive Dock, and saw transfer speeds around 200 MB/sec, as measured using Activity Monitor. During the transfer, peak speeds during write came close to 350 MB/sec.
I tend to think an average rate of about 225 MB/sec provides a reasonable expectation of performance for this setup. While it is very easy to obsess over performance numbers, these speeds are more than adequate for any HD editing or file transfers of any format between computers.
Keep in mind that the REAL reason a dock exists is to move data to and from bare drives. Performance is important, but every storage device will be different and no HDD can equal these figures.
OTHER NOTES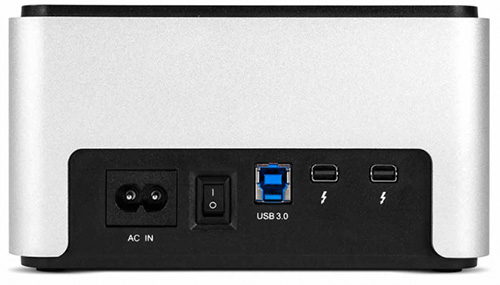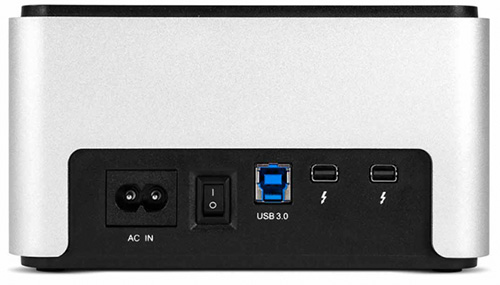 This unit has two Thunderbolt 2 ports, so you can daisy chain devices, though it would be nice if the Thunderbolt cable were longer. The rubber feet prevent it from skidding around on the desktop
There are two drive docks here, making it very easy to copy files from one bare drive to another using the same Dock.
The power supply is internal to the unit, no wall warts and no floor clutter.
Drives are hot-swappable. As long as you first unmount the drive from the Desktop you can remove one drive and insert another without turning the unit off.
Oh, and it is very, VERY quiet. You won't hear it running when you use SSDs.
I've also used the RocketStor dock and this OWC Drive Dock is much more solidly built.
SUMMARY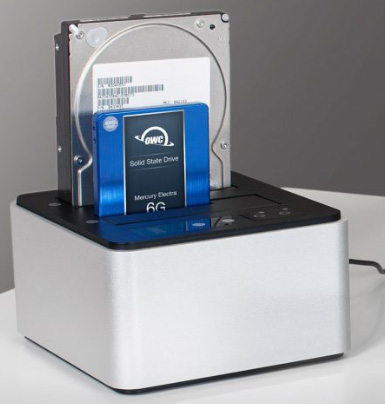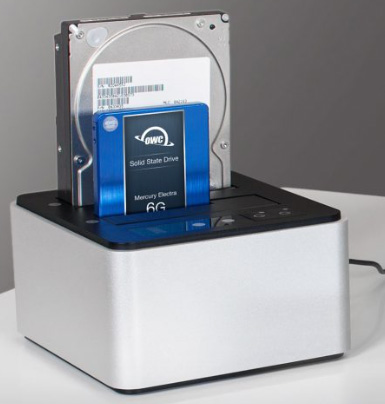 The principal reason for a dock is moving data to and from bare drives. While I don't think archiving data on hard disks is a good long-term strategy, there are millions of drives out there with inaccessible data; unless you have some sort of dock to plug them into all that data will be lost.
When it comes to working with bare drives, either HDD or SSD, the rugged, high-quality construction, performance and connection options of the OWC Drive Dock make it a solid choice for those looking for better ways to retain their data.
---
Bookmark the
permalink
.