Product Review: OWC Aura Pro X2 SSD Upgrade Kit

[ Read my product disclosure statement here. ]
Like many, I've held off updating my 2013 MacBook Pro (version 11,3). While the new MacBook Pros have significant performance benefits, stories of keyboard problems combined with the obvious lack of ports have made me hesitate. (Thin is FAR less important to me that adequate ports.)
Recently, OWC released new versions of their Aura Pro X2 SSD, which can be used to replace the internal SSD of most MacBook Pros from about 2011 on with an SSD which can potentially be both larger and faster.
When the folks at OWC asked if I would be interested in reviewing this new hardware, I said "YES!" immediately. Anything I can do to improve performance – and get this older system to last a bit longer – would be great! So, they loaned me a 1 TB unit for a couple of weeks to try. Here's what I learned.



EXECUTIVE SUMMARY
The Aura Pro X2 is an SSD designed to fit inside your MacBook. It utilizes a new protocol – called NVMe – which provides high-speed data transfer between the SSD and your computer. It supports from 240 GB to 2 TB of storage capacity, while consuming less power and running cooler than the installed Apple SSD.
OWC provides clear installation instructions and a solid product. Plus, in the upgrade kit, OWC provides an Envoy Pro enclosure and outstanding upgrade tools to hold your old SSD. This vastly simplifies migrating applications and data from the old SSD to the new one.
However, in tests on my system, the speed of the new SSD was virtually identical to the Apple-installed SSD. Keep in mind that the results you get from any hardware upgrade depend upon the age and configuration of your system.
If you have an older system and want to add more storage capacity, this is a really good choice. If you are looking for a boost in speed for an older system, this probably won't help.
Product: OWC Aura Pro X2 SSD
Manufacturer: OWC
Website: www.owcdigital.com/products/aura-pro-x2
Price: 279.99 (1 TB drive only) — 349.99 (1 TB drive plus upgrade kit)
Sizes range from 240 GB ($112.99) to 2 TB ($679.99) Upgrade kits: $70.00 (US)
INSTALLATION
The last time I tried to upgrade a computer, I destroyed a Mac mini. So, I was somewhat leery this time around. But, I really wanted to improve the performance of my older laptop.
However, after watching the OWC installation video twice, the actual installation was straight-forward. The first time I installed the unit, it took me 12 minutes. Because of my tests – and a screw-up, which I'll talk about in a minute – I actually installed and uninstalled this six different times. By the time I was done, it was taking me about three minutes from start to finish. This isn't hard if you pay attention.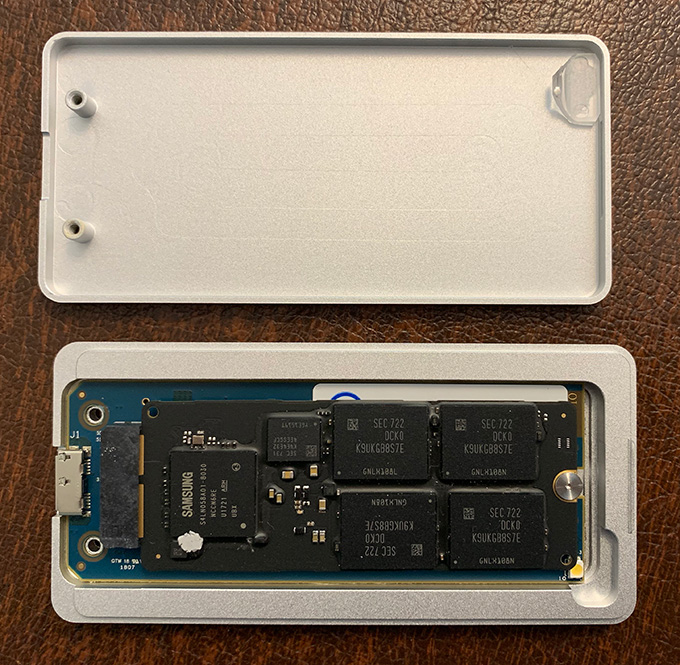 (The is the OWC Envoy Pro with my old SSD installed. The chassis is solid aluminum.)
If you are looking to upgrade your system, I STRONGLY! recommend the upgrade kit. It is excellent and makes the entire process very easy. (I should also mention that the team creating the installation videos for OWC deserves applause. These are well-lit, well-shot and well-written.)
I also want to commend OWC for the quality of their upgrade kit. The specialized screwdrivers are extremely high-quality; magnetized with rotating heads. As a hardware store junkie, I could not buy anything better. And the Envoy Pro case is all aluminum, well-assembled and designed to last for decades. Really, really high-quality work.
BIG CAUTION: At one point, you are told to disconnect the battery. This is important, not to prevent electrical shock, but to notify your computer that a new drive is installed. I forgot to do this when I reinstalled my old drive and the computer refused to recognize it.
Sigh… You can imagine I was somewhat, ah, concerned. Repeating the installation and, this time, disconnecting the battery at the appropriate time resolved the problem and slowed my heart rate.
MORE ON THE PROCESS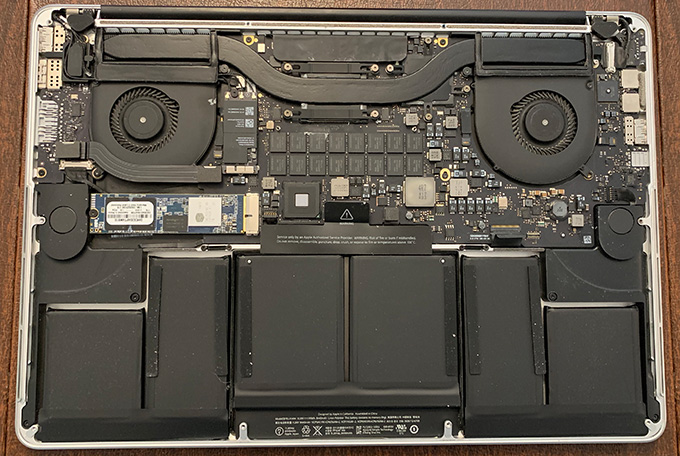 (This is what the inside of a 2013 MacBook Pro looks like. It is stunningly precise. This shot has the new Aura Pro X2 SSD installed at the center left.)
First, you take the bottom cover off your laptop, which requires a special screwdriver and removing ten screws. Then, disconnect the battery and install the SSD.
NOTE: I'm purposefully not explaining the details of the installation. Watch the video.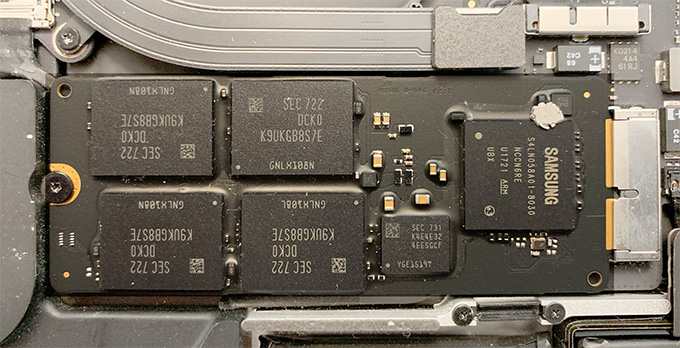 Here's what the circa 2013 Apple SSD looks like. To make it easier to see, I lightened the rest of the image in Photoshop.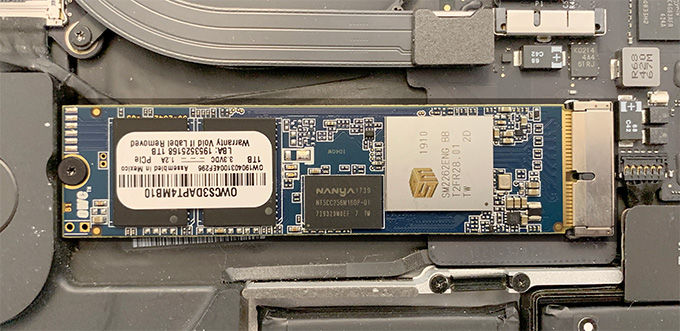 Here's what the new OWC SSD looks like; smaller in size but with the same capacity. As with the screen shot above, I lightened the area around the SSD in Photoshop.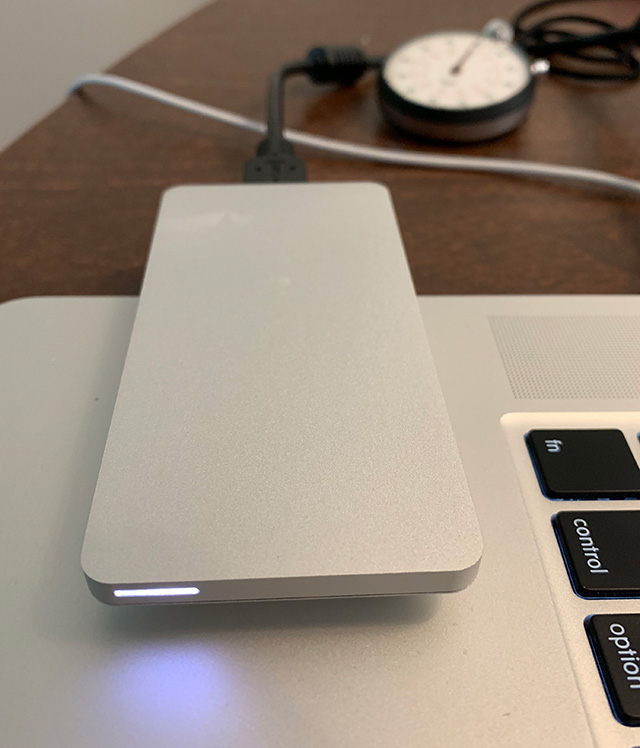 Then, you install the old SSD into the Envoy Pro and connect it to your laptop via USB. The USB connection runs at about 1/4 the speed of the SSD installed internally; so this will take a bit longer than you are used to.
NOTE: To boot from an external device, press and hold the Option key when you hear the start-up chime. Select the boot disk from the displayed options.

After booting externally from your old SSD, you then need to:
Format the new SSD using Disk Utility. I selected APFS and the process took a minute.
Download the latest macOS, in my case, Mojave. This took 50 minutes.
Install Mojave. This took 16 minutes.
Transfer data from the old SSD to the new. This took 27 minutes.
All in all, the total installation took slightly more than an hour and a half. I used Migration Assistant, part of the macOS, to transfer the files. APFS is the best choice to use when formatting SSD drives. Fusion and spinning media should still use HFS+.
Your results will vary depending upon your Internet download speed (mine is 20 mbps) and the size of the files you are transferring from the old SSD to the new (I transferred about 278 GB).
NOTE: The back of the MacBook Pro is held on using internal clips and 10 screws. As a tip, don't screw the back cover on immediately. Instead, clip it on, then test the system to make sure everything boots up properly. If you forgot to connect the battery or didn't properly seat the SSD, it helps not to have to remove all ten screws. In my case, I'm now very, VERY practiced at removing itsy-bitsy screws from a laptop.
MY SYSTEM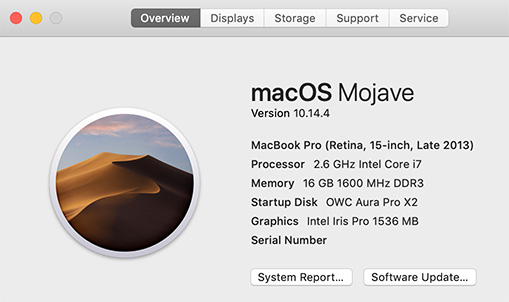 Here's my system, booted from the Aura Pro X2.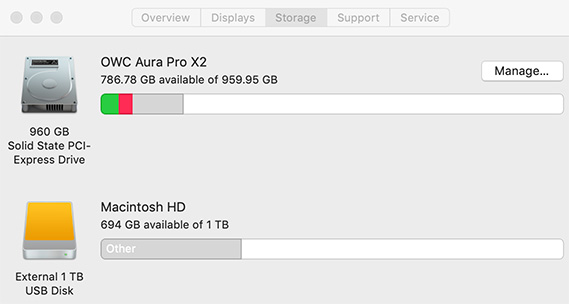 Here's my system with both drives attached and booted from the Aura Pro X2.


(Click to see a larger version of this image.)
For the technically inclined, here are the specs of the two SSDs; the Apple SSD is on the left.
SIMPLE PERFORMANCE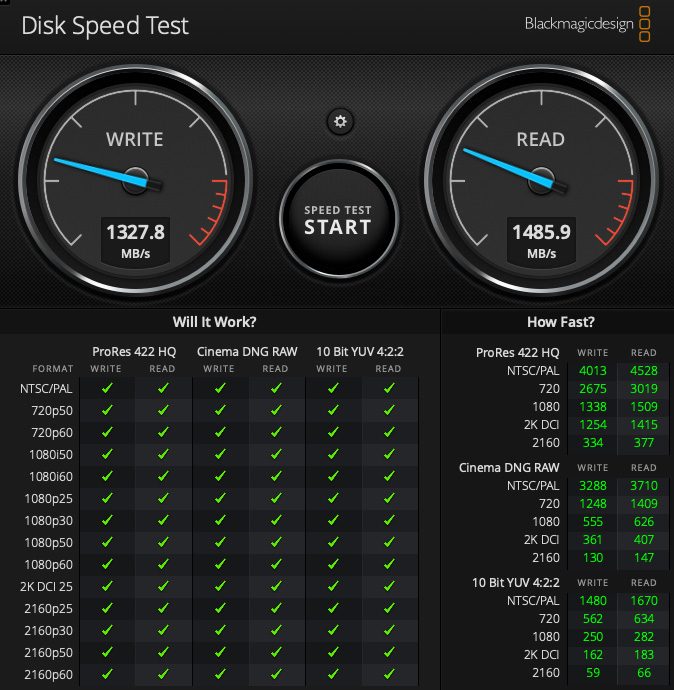 Here's the speed, measured by the Blackmagic Speed Test utility, of my original Apple SSD. It is normal for read and write speeds to differ; read is generally faster.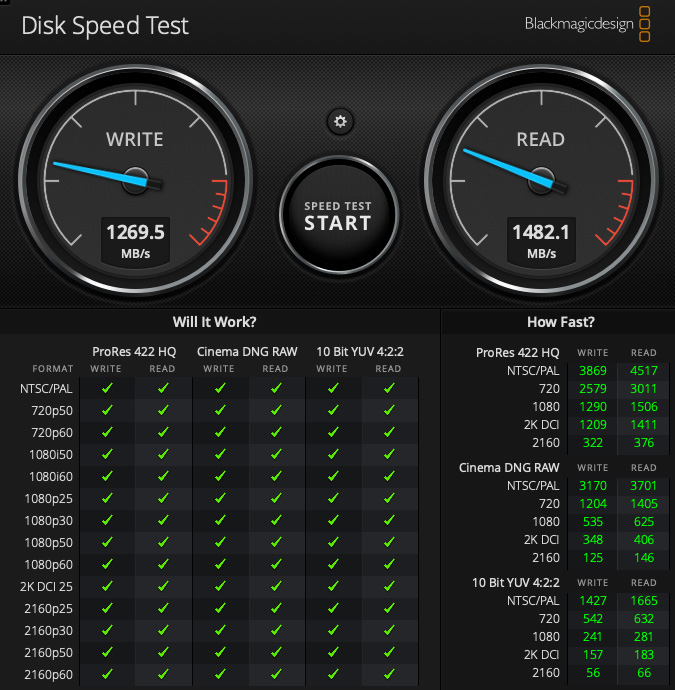 Here's the speed of the new Aura Pro X2 SSD. What's striking to me is how identical their speeds are. However, I should point out that both these system are more than sufficient for editing any media up to 2K 10-bit.
APPLICATION PERFORMANCE
Next, I decided to create three sets of speed tests comparing:
Start-up times
Application launch times
Video export times
As you may know, the first time you start an application it takes longer to load than the next time you launch it. So, I timed both an initial and follow-up launch.
The video exports, in both Premiere and Final Cut, generated identical 58 minute movies using ProRes 4444 video. This test was designed to emphasize storage speed, rather than the CPU or GPU.
NOTE: I set Premiere to use Metal, rather than OpenCL, in preferences.
For my tests, the exact same applications were opened and the exact same project files were exported. I wanted to make the results as directly comparable as possible.
Here's a table that summarizes my findings.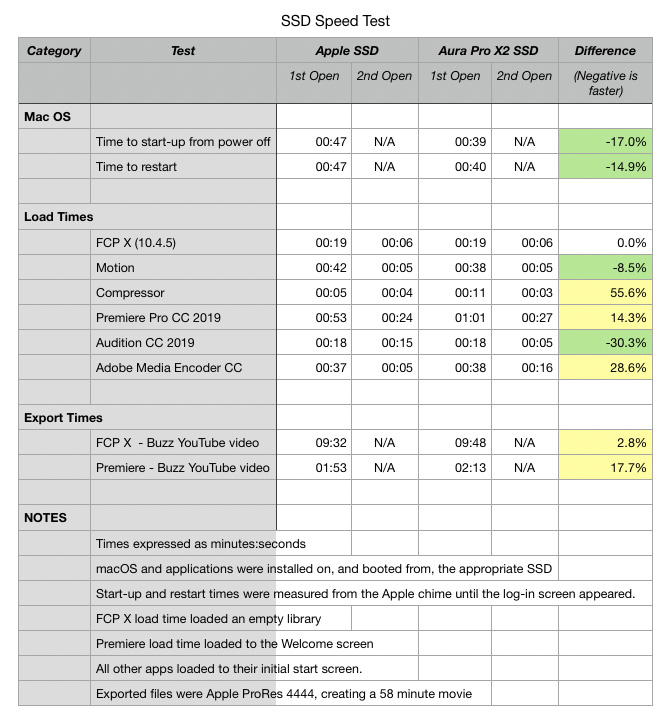 What's interesting here is how close in speed these two units are. There's no trend. In four cases, the Apple SSD is faster (yellow). In four cases, the Aura Pro X2 is faster (green). And in one case, it's a tie.
NOTE: On a side note, I was amazed with how MUCH faster Premiere exported the same file and format compared to Final Cut. About 4X faster! While testing this wasn't the purpose of this article, I'll look into this speed difference more in a future write-up.
SUMMARY
It is nice to think that newer always means faster. But, here, the Aura still connects to the Mac using PCIe, which means that the protocol used to connect the drive limits its speed. Newer Mac hardware, I suspect, will be faster.
However, if you, like me, have an older system I suggest you consider using the Aura Pro X2 only if you need to improve your storage capacity. Because, it probably won't do much to improve your system performance. The installation itself is simple.
---
Bookmark the
permalink
.