Product Review: mLUT from MotionVFX for FCP X, Premiere and Others

As I was researching my HDR webinar for Final Cut Pro X, I came across mLUT – a free plug-in/utility that simplifies a key task when working with RAW or log files: changing the LUT to convert a video file from what the camera recorded into something more pleasing to the eye.
NOTE: mLUT runs on Mac and Windows and supports Adobe Photoshop, Premiere Pro CC, After Effects CC, Apple Final Cut Pro X, Apple Motion, DaVinci Resolve and Avid Media Composer.
EXECUTIVE SUMMARY
mLUT is a free plugin created by MotionVFX for every major NLE on both Mac and Windows. mLUT allows you to manage the LUT (Look-Up Table) applied to a video clip. While this is not a big deal for either standard definition or most high-definition video, this is an ESSENTIAL task when working with RAW, log, or HDR footage.
While the feature set varies by NLE, the plug-in is accessed from with the NLE and allows to you organize, preview, apply and change LUTs for video clips.
While each NLE has its own internal method of changing LUTs, what I like about mLUT is that, in Final Cut Pro X – and perhaps other apps –  it allows you to organize and preview your LUTs, so that you can both simplify and speed the process of changing your look.
This utility is free and available from the MotionVFX website. As well, MotionVFX sells LUT "plug-in packs" providing a variety of image styles by category; such as weddings, blockbusters or film styles.
Product: mLUT
Developer: MotionVFX
mLUT Website: https://www.motionvfx.com/store,mlut-plugin,p1949.html
Plug-in Pack Website: https://www.motionvfx.com/store,plugins-final-cut-pro-x,2,8.html
Price: FREE
WHAT IS A LUT?
A LUT, which is short for Look-Up Table, is a conversion matrix. Every source image is stored as a series of numbers, where each number represents a pixel. A LUT takes the numbers from the source image and remaps them to new colors or grayscale values to change the look of your image. Instantly.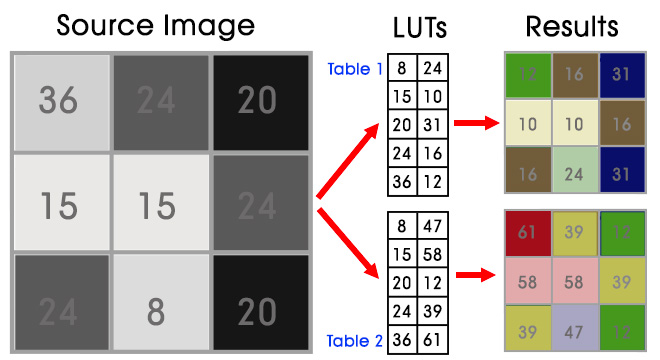 In this image, I'm showing the results from taking the same image and applying two different LUTs. In the top case, the colors tend toward brown. In the bottom image, the colors trend toward pink/yellow. (Um, yeah, these are some pretty ugly colors.)
In both cases, the source image is not changed. What changes is how the original color values are interpreted ("remapped") to new color and gray-scale values.
NOTE: In this example, I'm changing colors but not changing gray-scale values. In real-life, both colors and gray-scale values can be changed by a LUT.
What makes LUTs so attractive is that the changes are instantaneous and don't require any rendering. If you like the look, use it. If you don't, change it. In all cases, you don't waste any time rendering the file.
INSTALLATION
The easiest and most efficient way to install mLUT is use the desktop app minstaller from MotionVFX. This allows you to install any MotionVFX template, LUT or other utility.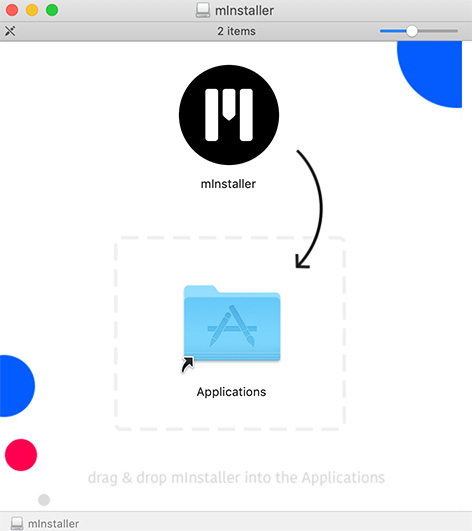 After downloading the file, installation requires dragging minstaller into the Application folder. In other words, it's a very typical installation.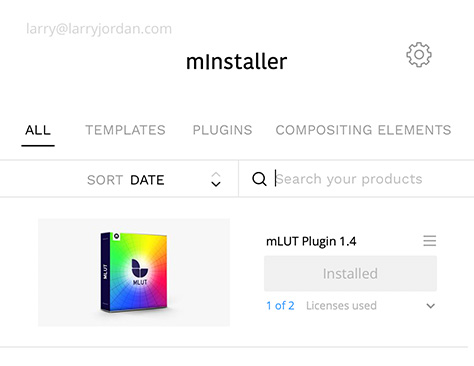 Running minstaller requires an Internet connection, as the app connects with the MotionVFX server to get the latest version of whatever you are installing.
Installation was straight-forward and took just a minute or two.
USING mLUT IN FINAL CUT PRO X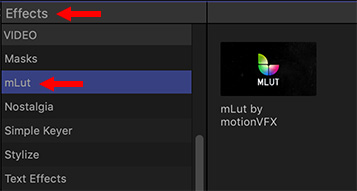 mLUT supports both FCP X and Motion 5. mLUT creates its own category in the Effects Browser. Apply the effect by dragging it on top of a clip, or selecting a group of clips and double-clicking mLUT in the Effects Browser.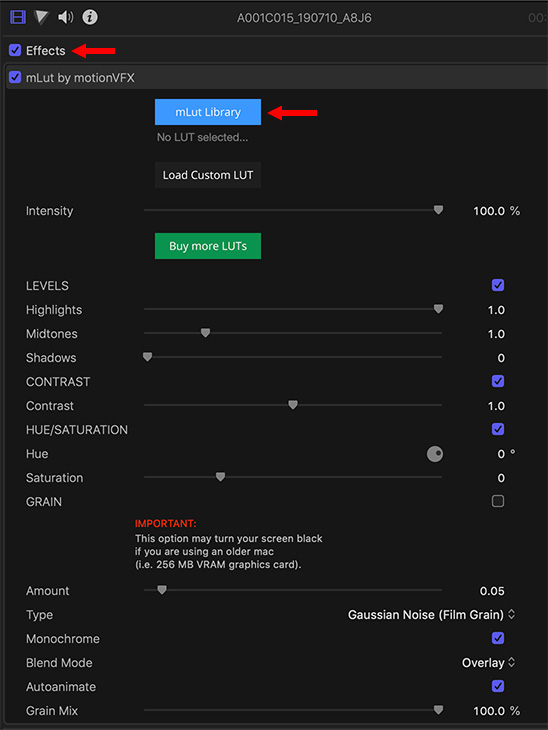 All the effect controls are displayed in the Video Inspector, as you would expect. Click the mLUT Library button to see all available LUTs.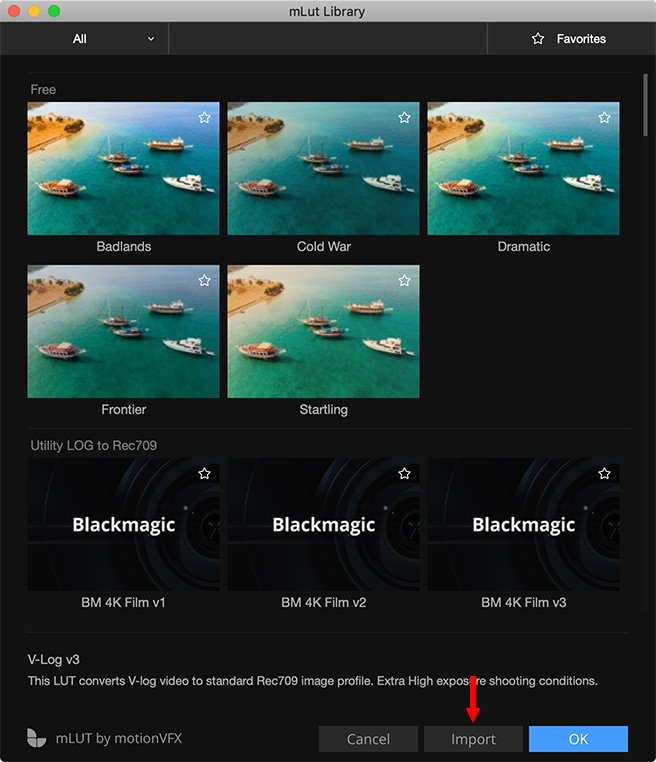 The Library contains all available LUTs. These provide both creative looks and conversion utilities from, say, vLog to Rec. 709. In addition to those supplied by MotionVFX, you can import more. In my example, I'm also importing LUTs from RocketStock (part of ShutterStock.)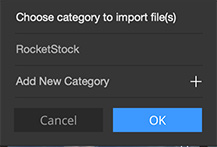 When you import a LUT, or a group of LUTs, you can store them in an existing category or create a new category. Here, I've created a new category for RocketStock LUTs.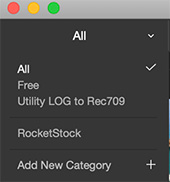 You can quickly switch between categories at any time using the Category menu in the top left corner of the mLUT Library.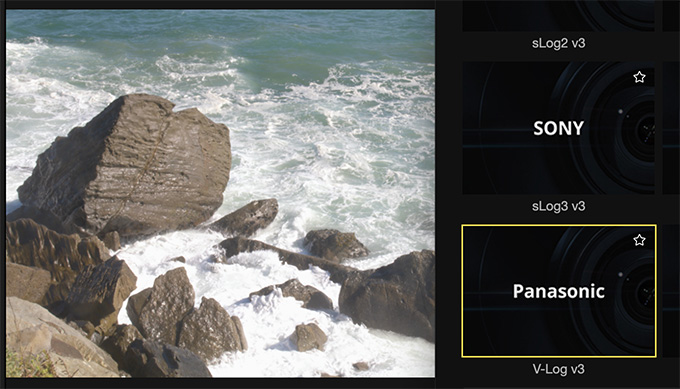 One thing I really like about mLUT is that when you click once on a LUT, it will instantly preview the results of using it in the Viewer. (Select the clip first so mLUT knows what to preview.) This makes it very easy to decide if this is the LUT you want to use for your project/clip.
Another thing I like is that the LUTs are stored where mLUT can find them. This means that I have access to them in future libraries and projects without having to reimport them for each project.


(Click to see a larger image.)
Once you find the look you like, refine it using the LEVELS settings which are a part of mLUT.
NOTE: Even after tweaking in mLUT, you still have access to the full range of color grading controls that are a part of Final Cut Pro X.
Because LUTs are not rendered, you can change your mind at any time and experiment with new LUTs, without wasting render time.
USING mLUT IN ADOBE PREMIERE PRO CC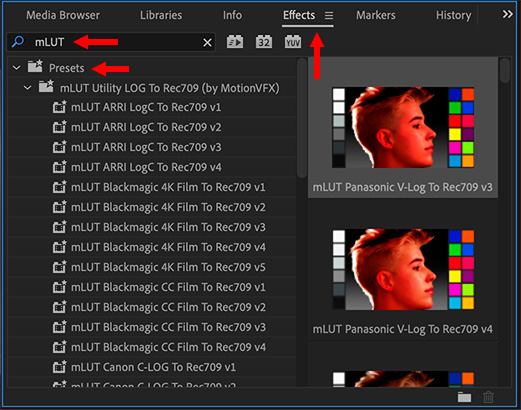 mLUT also supports Premiere, After Effects and Photoshop. While not as full-featured as the Final Cut version, mLUT in Premiere is still a very useful tool. In Premiere, you'll find the mLUT settings in the Effects folder. Do a search for mLUT.
Then, drag the LUT you want to apply on top of the clip you want to adjust.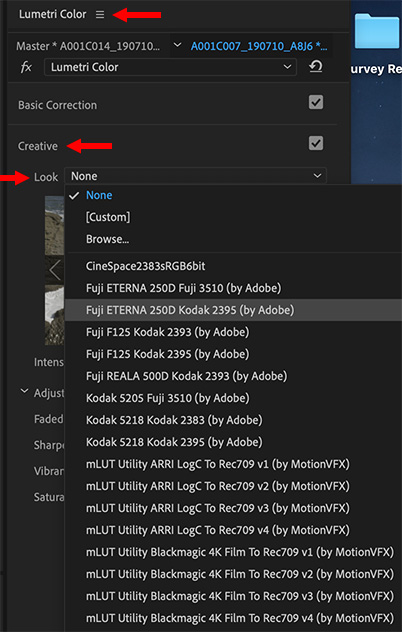 Switch to the Color workspace, then browse all available LUTs from the Creative > Look menu. There are dozens to choose from, some are bundled with Premiere, but most of these came from mLUT.
While Premiere does not allow the categorization or preview functions that Final Cut does, applying LUTs is as easy as picking a choice from a menu.
At this point, you can use the existing Lumetri color settings to tweak your clip until it looks exactly the way you want. Just as with Final Cut, LUTs don't need to be rendered.
And, in case you are looking for another reason to install this for Premiere, keep in mind the mLUT comes with a wide variety of LUTs so that out-of-the-box you can start making your footage look better. Plus, it supports all the LUT image packs that MotionVFX creates.
SUMMARY
As more of us move into shooting video using a variety of log or RAW formats, working with LUTs will become an essential part of any editing workflow.
While each NLE has its own built-in LUT manager, mLUT – especially for Final Cut Pro X – makes managing and applying LUTs simple and visually intuitive.
EXTRA CREDIT
Both Premiere and Final Cut support LUTs in the .CUBE format.
For a collection of free LUTs, take a look at those provided by RocketStock. Website: https://www.rocketstock.com/free-after-effects-templates/35-free-luts-for-color-grading-videos/
There are many LUTs to choose from. Do a Google search to discover them.
---
Bookmark the
permalink
.