Product Review: MediaInfo from MediaArea

Whether you use Final Cut, Premiere or any other media app, sometimes you need to know more about your media – either to figure out a problem or make sure the file meets the specs of your distributor. And, ideally, you should be able to determine this without re-opening your NLE.
MediaArea is "an open source software company focused on digital media analysis. [They] develop and support tools that aid developers in integrating digital media file investigation into their work. [They] do mostly open source code….  MediaInfo is [their] flagship product with 4,000 downloads per day.
"MediaInfo is a convenient unified display of the most relevant technical and tag data for video and audio files." (MediaArea website)
EXECUTIVE SUMMARY
MediaInfo is an inexpensive utility that allows you to review virtually all the metadata associated with your media, quickly and easily, without opening an NLE. In other words, this is a technical analysis tool that helps you better understand your media.
Available from the Mac App Store, installation is easy and operation is as simple as opening a file. The easiest way to see its value is to take a look at it for yourself.
MediaInfo supports macOS 10.7 to 10.14.
Developer: MediaArea
Product: MediaInfo
Website: https://mediaarea.net/en/MediaInfo
Price: $0.99 (US)
Mac App Store: https://apps.apple.com/us/app/mediainfo/id510620098?mt=12
WHAT IT DOES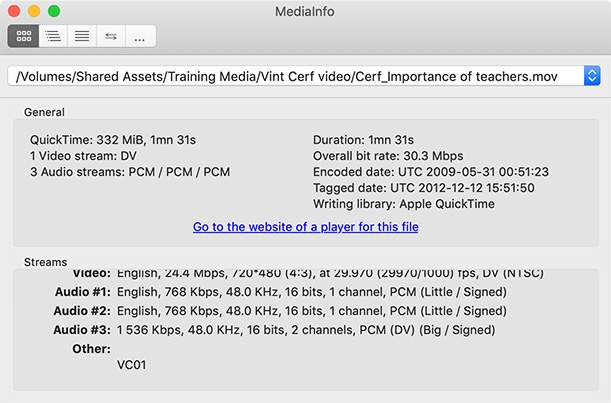 MediaInfo allows you to see most of the key technical details associated with your media. Here is a high-level summary of key data from the Easy tab. But there is MUCH more available under the Tree tab.

Across the top are five buttons. From the left, these are:
Easy (shortcut: Cmd + 1)
Tree (shortcut: Cmd + 2)
Text (shortcut: Cmd + 3)
File comparison (requires a $3.99 (US) annual subscription)
Export format selection options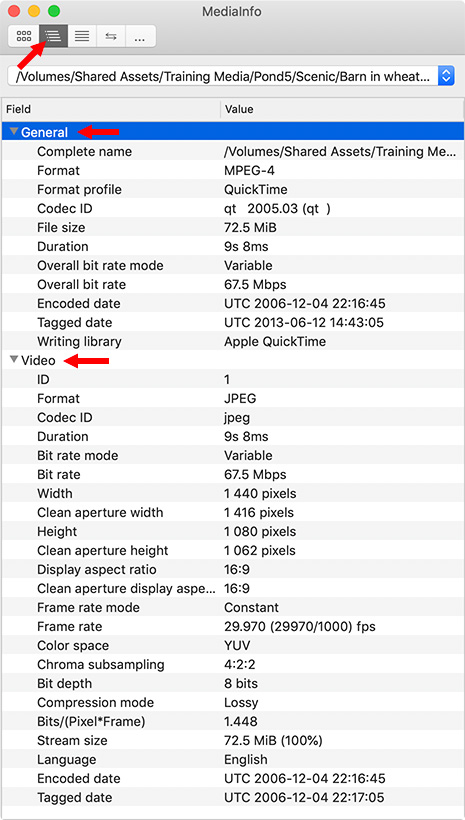 The Tree window (second button at the top from the left) displays metadata in four categories:
General
Video
Audio
Other
As you can see, there is a wealth of technical data about each selected clip. This screen shot shows both General and Video sections.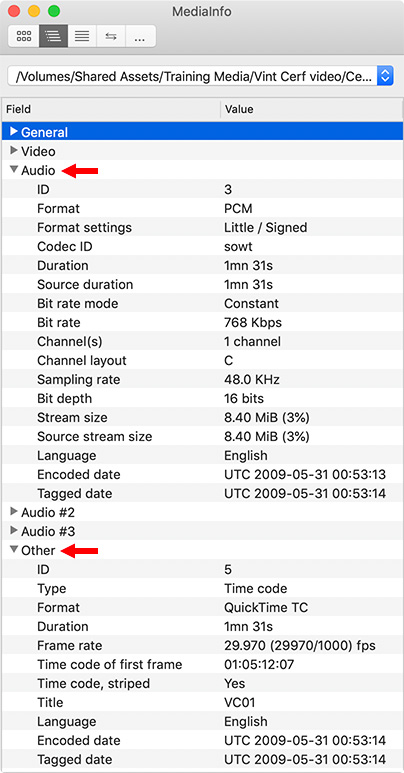 While this screen shows the Audio and Other section display.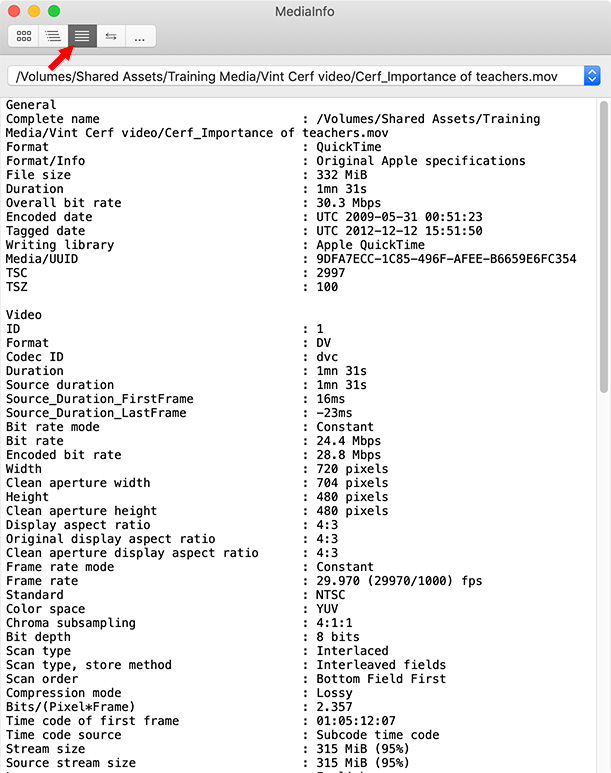 The Text window displays the same information as the Tree window, but this time formatted as text for exporting.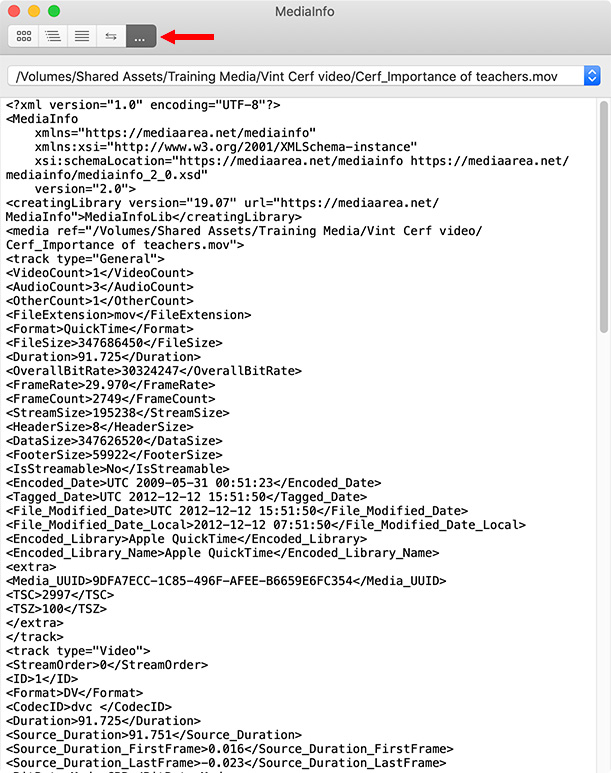 You can choose between 16 different ways to format this data, for example, this is XML.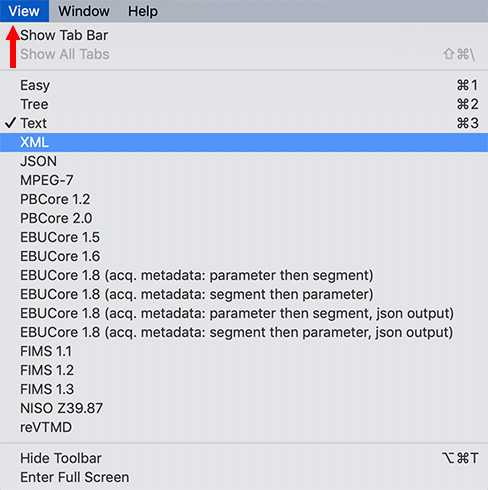 These are the formatting options for export, including clear text.
Most of the time, you will find the information you need by reviewing the Tree window without having to export anything. But, when you need to send someone else specs on the file, the export option is exceedingly useful.
WHERE YOU'LL FIND THIS MOST USEFUL
Where you'll find MediaInfo most useful is answering the question: "What the heck IS this?"  Whether you are trouble-shooting or need to prove the specs of your master file to a distributor, this program makes gathering all this information into one place very easy.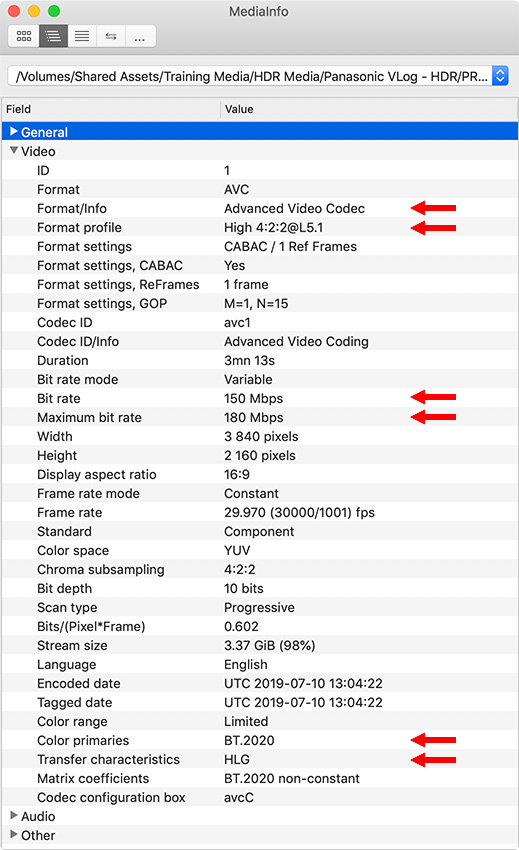 Key stats, for me, include:
Codec
Bit Rate and the even more important Maximum Bit Rate
Frame size (width and height)
Frame rate
Color primaries
Transfer characteristics
For example, maximum bit rate is useful if you are getting dropped frames because this may indicate your storage is not fast enough to play this media. While color primaries and transfer characteristics are essential in matching different clips in an HDR project.
THINGS I WISH IT DID
By mistake, I double-clicked a server in the File > Open dialog. MediaInfo immediately starting importing all the clips on the server. The Cancel button did not work to cancel this activity. I wish it did. The only way to escape this was to Force Quit the app.
There are fields in the XML output which are not displayed in the screen interface; for example: Frame Count. It would be good if the Tree menu would match the export fields.
There are no "Tool Tips" that explain what the five buttons do across the top do. Instead, you need to access them from the View menu.
There are no help files, the program simply refers you to the MediaAlert website.
I wish we had the option to display durations using timecode instead of minutes:seconds:milliseconds.
The screen display cuts off the first line in the Easy tab.
SUMMARY
Given the price, the wealth of information MediaInfo provides – combined with its ease of use – is definitely worth the price for any editor who is dealing with different media from different videographers and trying to make it all match.
---
Bookmark the
permalink
.