Product Review: Marshall Electronics CVM-16 Pro-Style Tripod Stand

Holy smokes! This table-top tripod from Marshall Electronics is amazing!
Sometimes, when you buy something online, it arrives and it's pretty disappointing. Cheap, flimsy plastic. Poor design. Not ready for real-world use. This desktop tripod from Marshall Electronics is the exact opposite. I was stunned by the high-quality of its construction.
Disclaimer: I purchased this product for my own use.
EXECUTIVE SUMMARY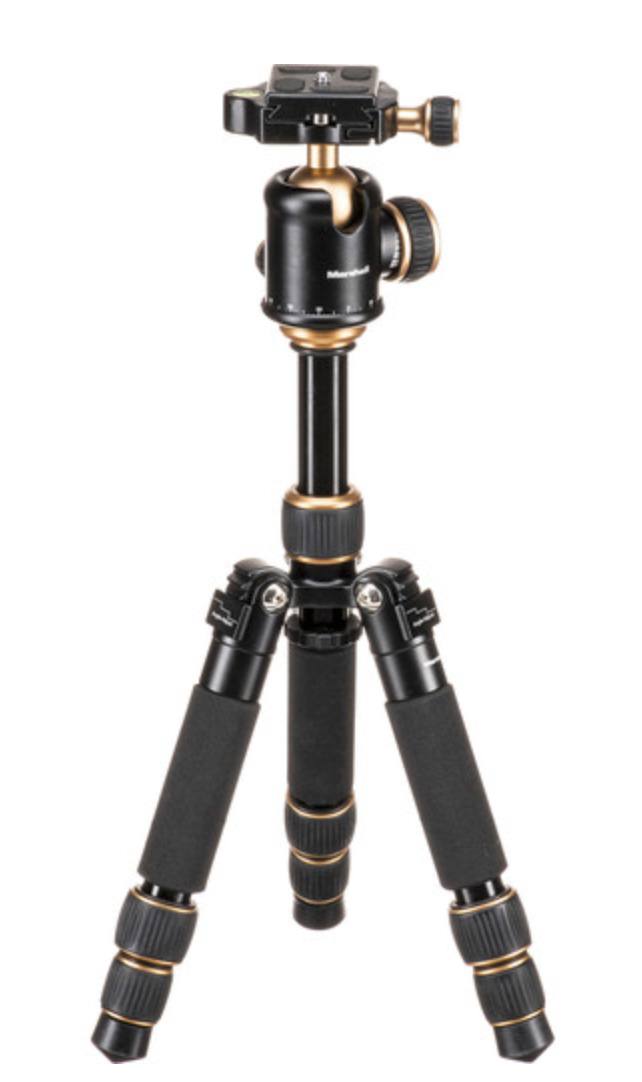 Marshall Electronics is known for its high-quality, special-duty cameras. What I didn't know was that they also make high-quality, special-duty tripods.
The Marshall Electronics CVM-16 Pro-Style Tripod Stand is the most solidly-built, well-thought-out, versatile small tripod I've ever seen. It was designed by people who take photographs for a living. And it's built to last for years.
Constructed out of metal, shipped with its own travel bag, the tripod supports up to 11 pounds, extends vertically from 9″ to 21″, and folds into a 13″ easy-to-carry packet. The legs lock into three different angles. The rubber feet mean it won't skid around on a desk. At their lowest height, the tripod legs occupy less than an 7″ square of space.
Designed for low-angle or table-top use, the Arco-type head is not designed for on-air pans or tilts, but is designed for maximum accuracy and flexibility. Even better, it looks great!
I'm beyond delighted with this device and recommend it without hesitation.
Manufacturer: Marshall Electronics
Product: Marshall Electronics CVM-16 Pro-Style Tripod Stand
Website: B & H Photo
Price: $79.99
NOTE: For some reason, this product can't be found on the Marshall Electronics website.
OVERVIEW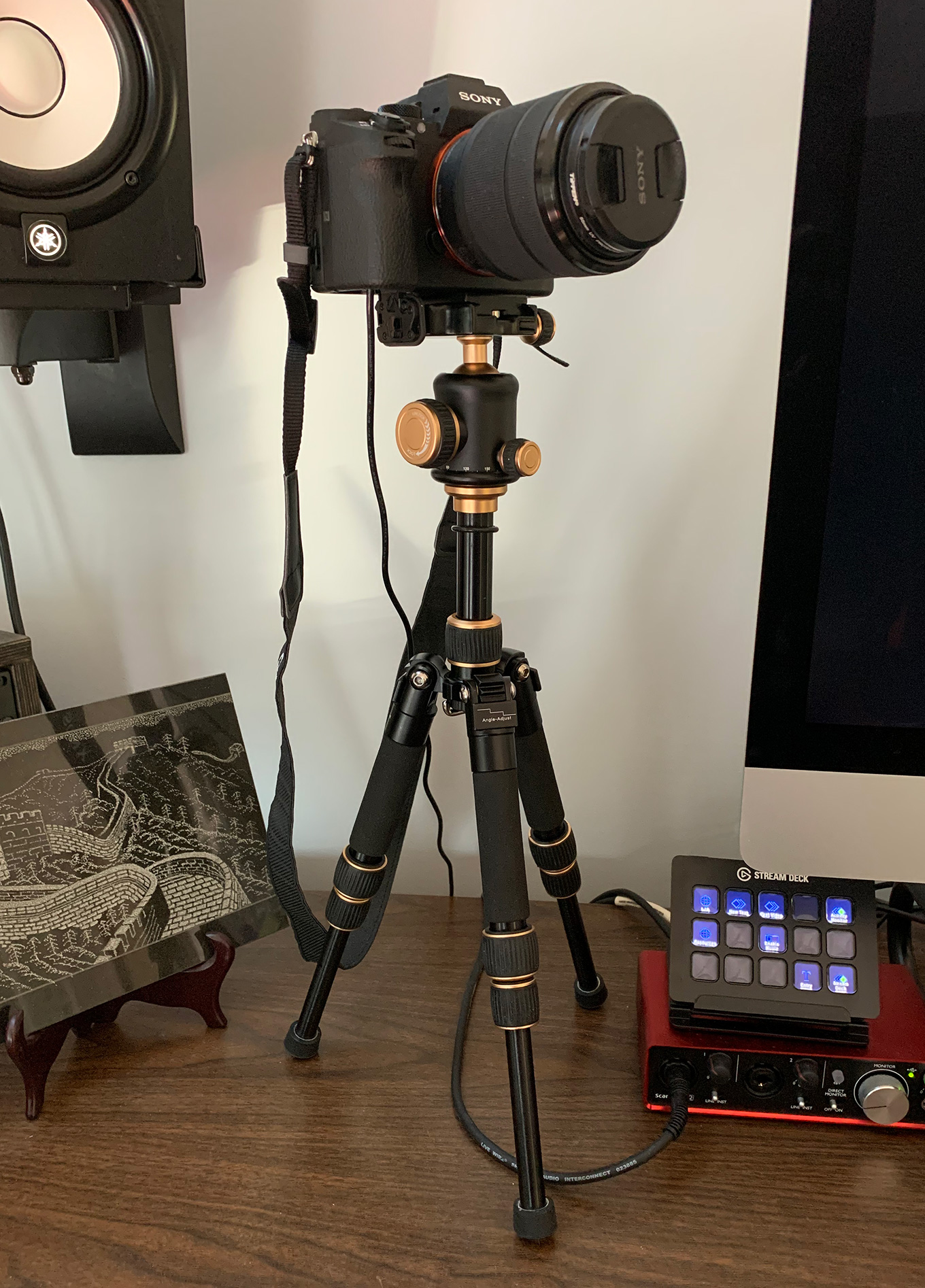 I purchased this because I use a DSLR camera for webcasts and online meetings. The problem is that the camera and lens weighs about 2.2 pounds. I jury-rigged a small tripod for temporary use, but over the weeks I saw it slowly start to crumple because it wasn't designed for that amount of weight.
After speaking with the folks at B&H Photo, I bought this. It was a very, very smart decision.
SPECIAL FEATURES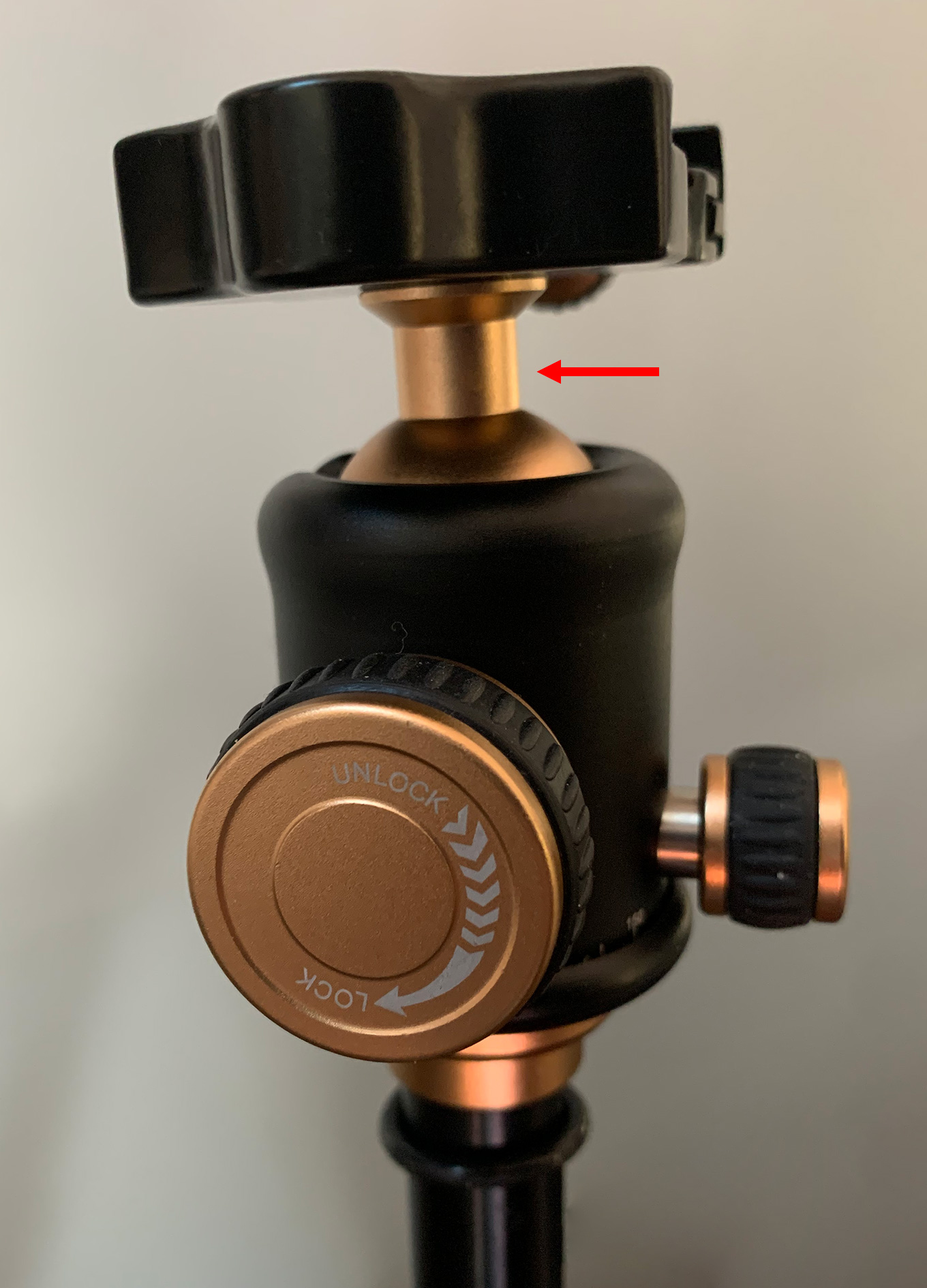 Cheap tripods are made out of plastic. This is made out of steel, with twist-locks that are designed to hold the weight for a long time. The ball joint is solid metal.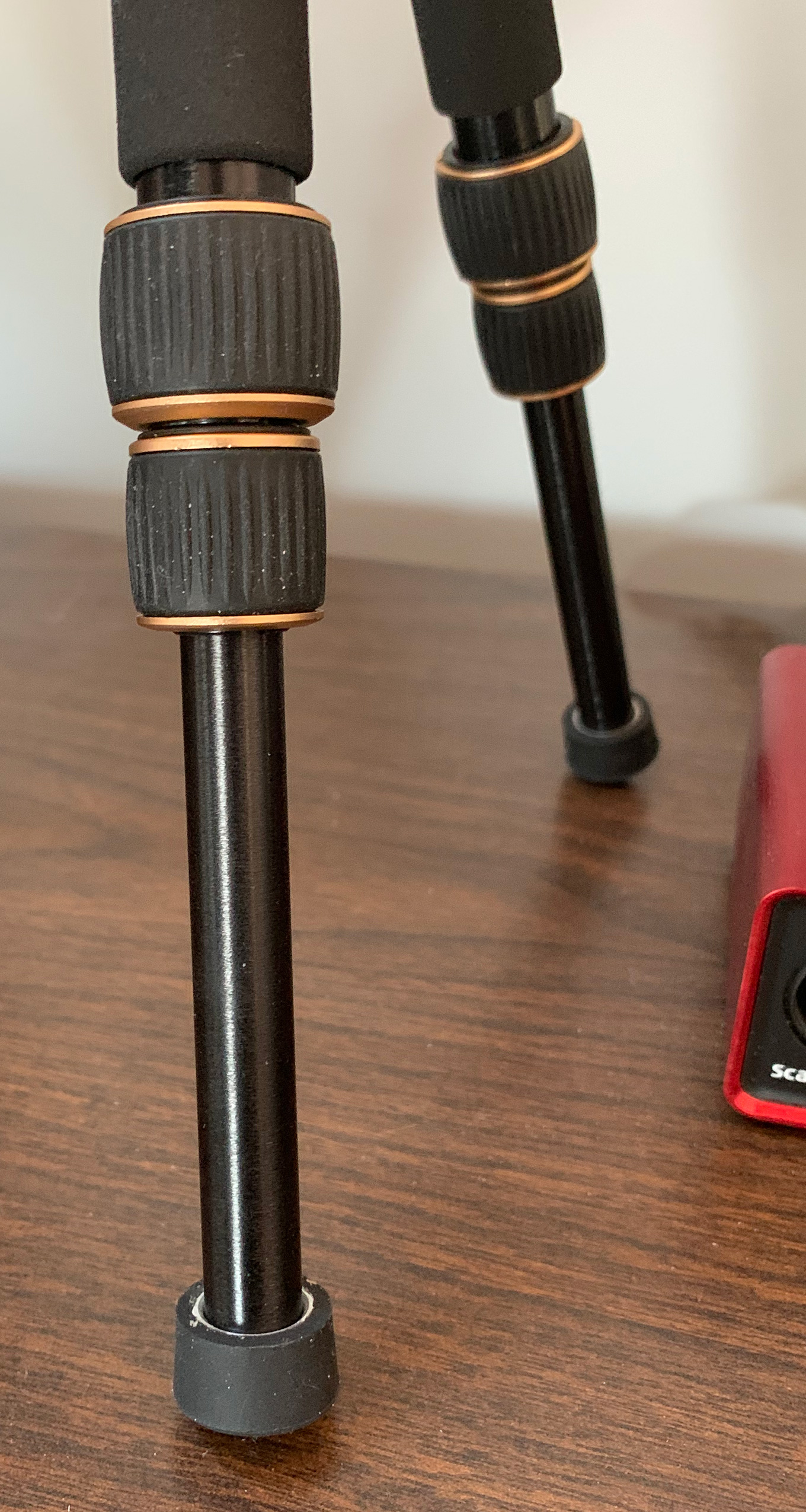 The legs are in three sections, with anti-skid pads on the feet. Each section extends about 3.5″. What I really like is that the height comes from the three legs, rather than a long, wobbly pole on top of a short tripod. Long poles are wobbly. This tripod isn't.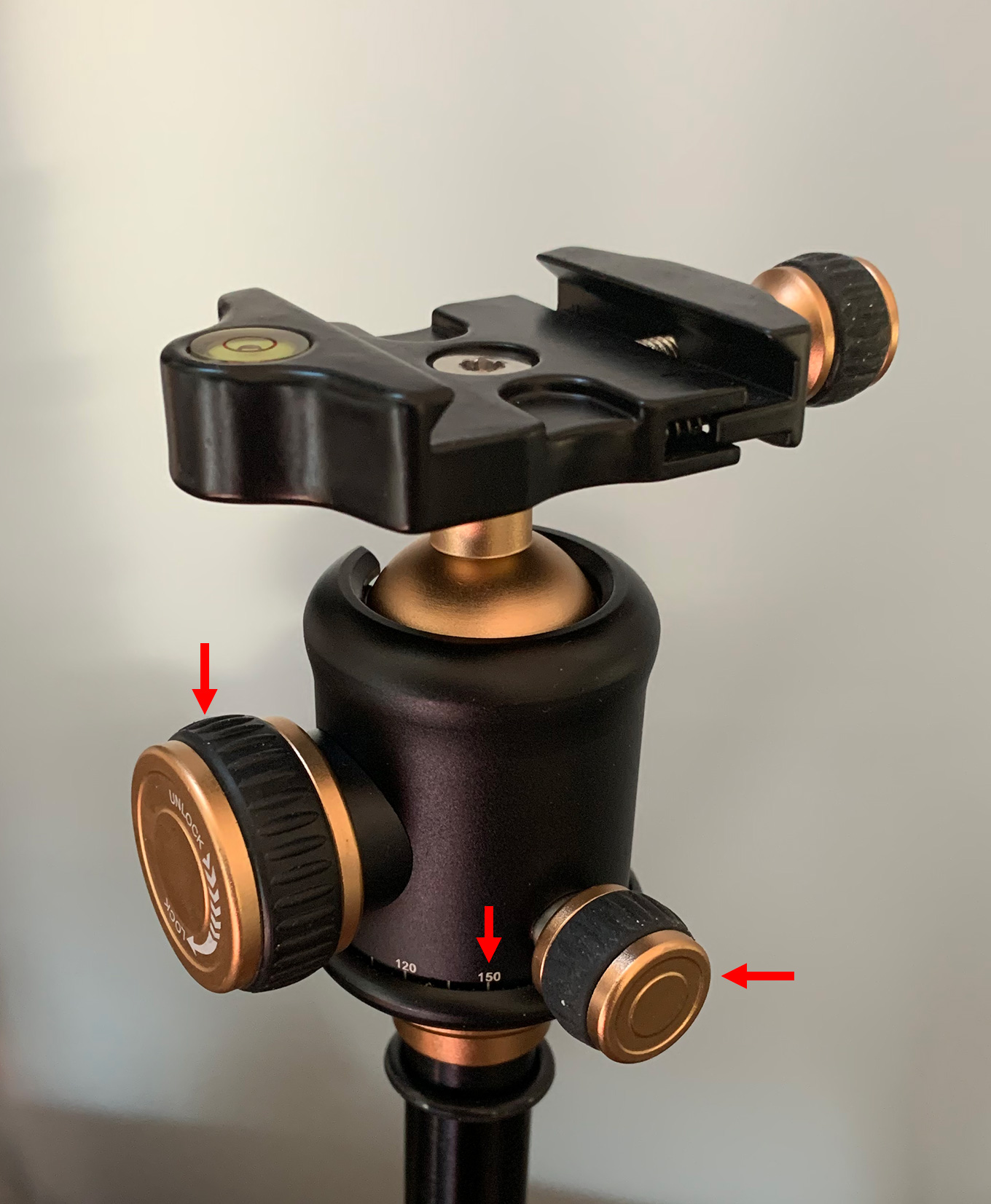 This tripod is designed to hold a heavy camera steady for long periods of time. It isn't designed for live moves like pans or tilts. The rotation of the head is marked in degrees, so you can find the same spot again (center red arrow). The small knob (right red arrow) is a pan lock. The big knob (left red arrow) unlocks the ball head so you can swivel, tilt, pan, even switch the tripod to vertical.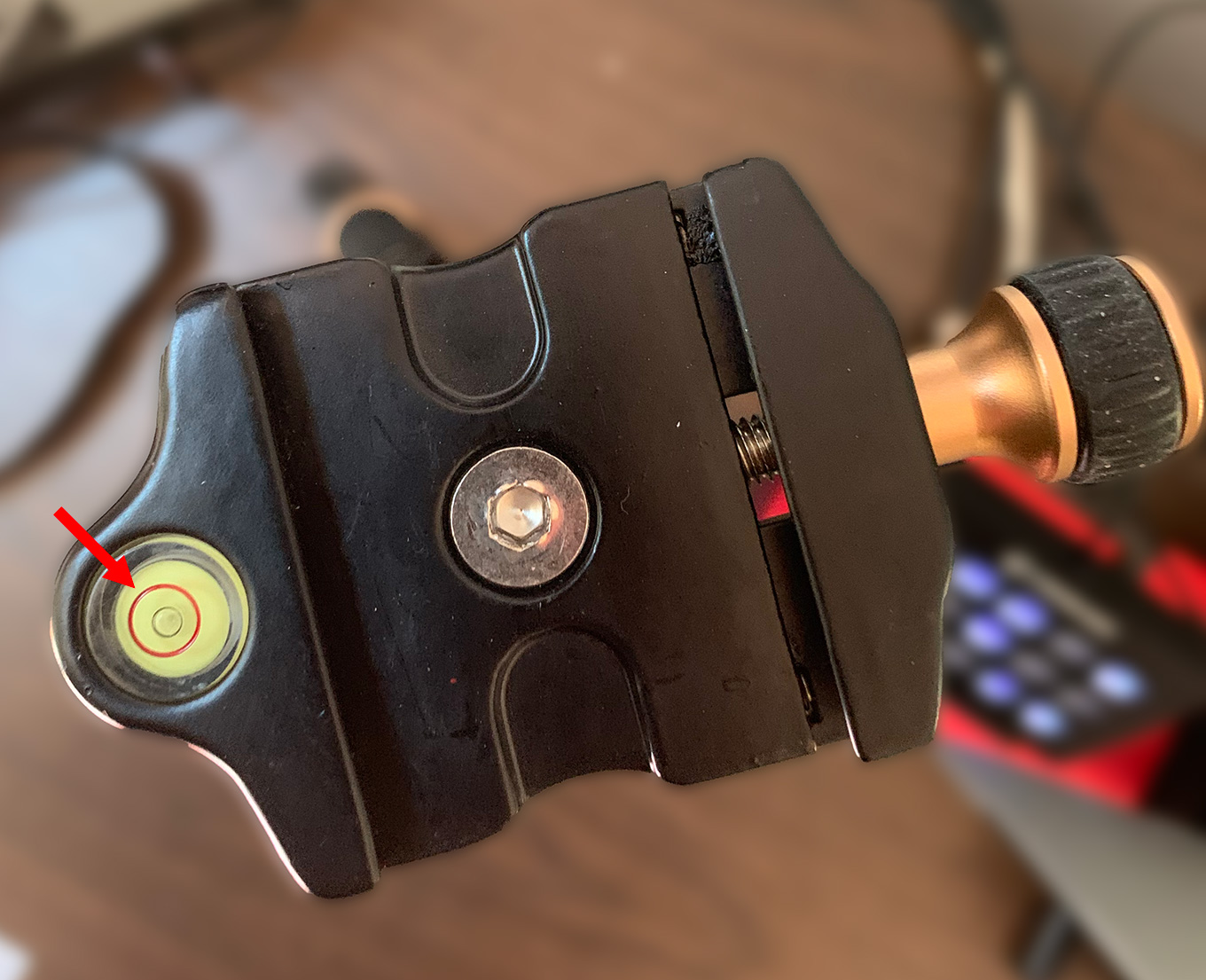 The top of the head has an easy to read bubble so you KNOW the tripod is level. The camera sled slides in easily and the thumb screw (right) tightly locks it into place.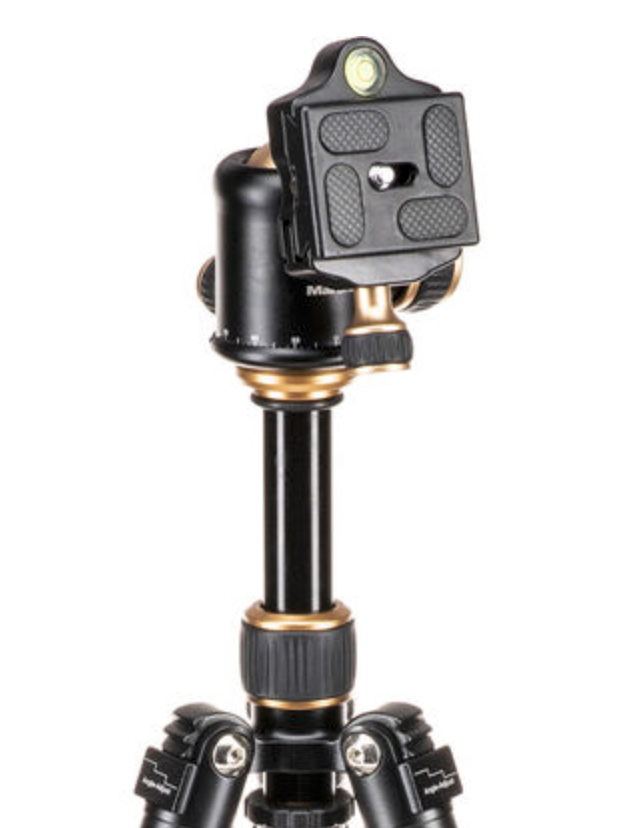 The center column adjusts up and down about 3″ so you can get exactly the height you need. (Note the twist lock at the bottom of the vertical riser.) As the photo illustrates, the camera support tilts to support vertical mounting.
NOTE: For my webcasts, I need the base of the camera exactly 17.5″ up from the desktop. This tripod makes setting that height easy.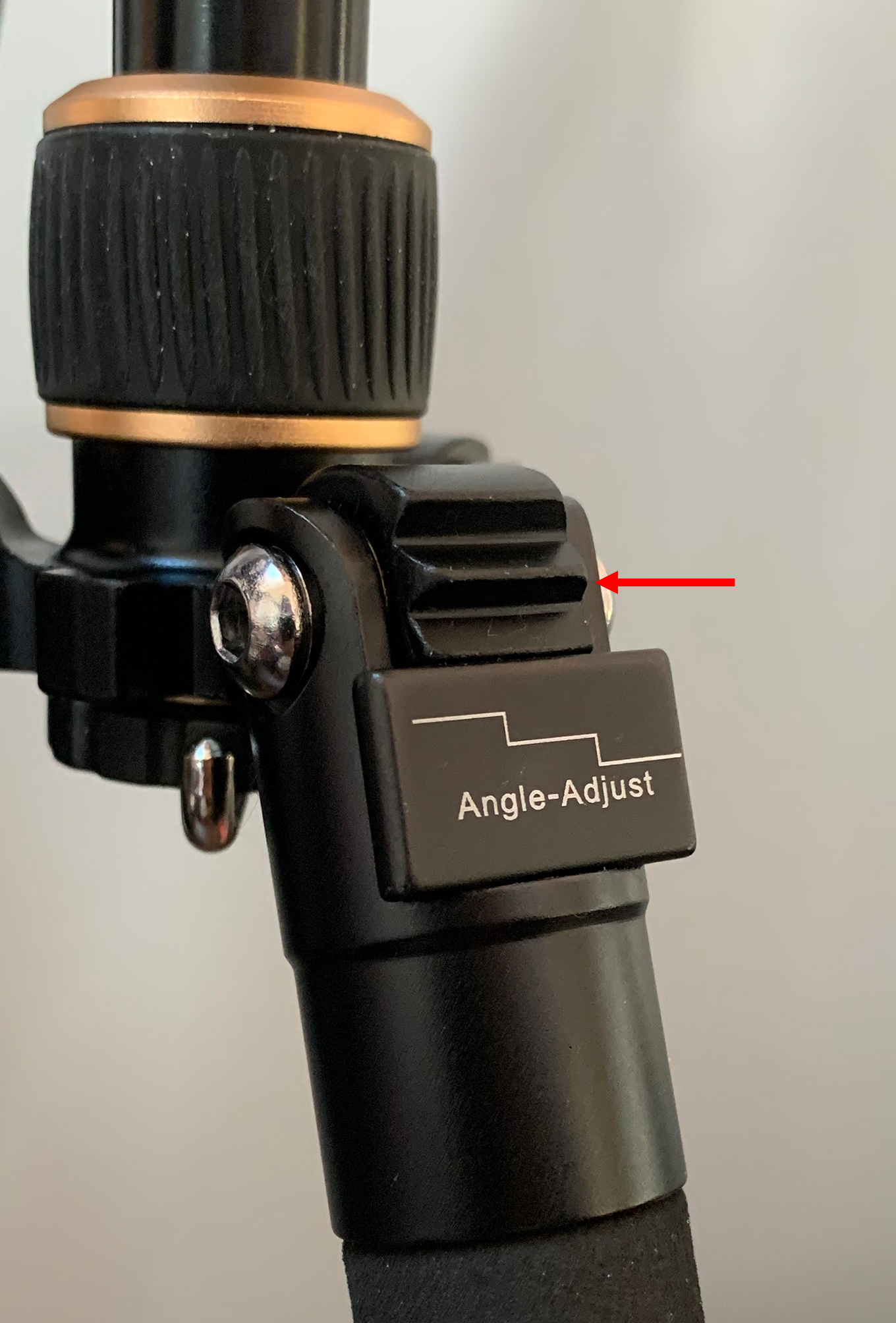 Each leg locks into one of three spreader positions using this clever latch. This prevents any leg from spreading, even a little.
SUMMARY
I wasn't expecting a tripod this carefully-designed and well-built. Marshall Electronics CVM-16 Pro-Style Tripod Stand is designed for heavy-duty, long-term use. And it makes me feel good every time I look at it. This is a lovely piece of work.
---
Bookmark the
permalink
.