Product Review: Lumecube Edge Lights

[Read my product review disclaimer here.]
Over the last year, I've become a fan of the small lights from Lumecube. My first set was the now-called "Work From Home" bundle. These battery powered lights come with both tripods and suction cup mounts, last for a couple of hours, and provide a range of white light from 3200K to 5600K.
NOTE: You can read my review of them here.
The problem with battery-powered lights, though, is that they only last for an hour or two, depending upon intensity. Recently, I've hosted several online events that lasted for 3-4 hours, The batteries emptied before the program was done and things got dark.
So, I went back to Lumecube to see if they had any AC-powered lights. They do and I bought one: the Edge light.
EXECUTIVE SUMMARY
The Edge light is an AC-powered, LED light designed for mounting to a desk and provide illumination for video calls and live streaming. It can be used to illuminate faces for video or task lighting for a desk. It is powered by 112 LEDs in a circle around the edge.
Measuring about 6.25″ in diameter, this highly-maneuverable soft light is color adjustable from 3200K to 5600K. It's brightness is adjustable in 1% increments from 0 to 100%. It has a CRI accuracy of 97.
It clamps to any desk having at least a 1″ edge, with a maximum thickness of 2.5″. The black mounting arm bends in three places and pivots in two. It extends to a maximum height of about 37″.
The unit comes pre-assembled and is well-built. The stand is metal, the pivots are solid and light is even. My only complaint is that, unlike their battery lights, there's no display that indicates color temperature or intensity. This makes it hard to match color temperatures between lights.
I like this light and will probably buy a second.
Manfacturer: Lumecube
Product: Edge Light
Website: https://lumecube.com/products/edge-desk-light
Price: $119.00 (US), discounts are available.
MY EXPERIENCE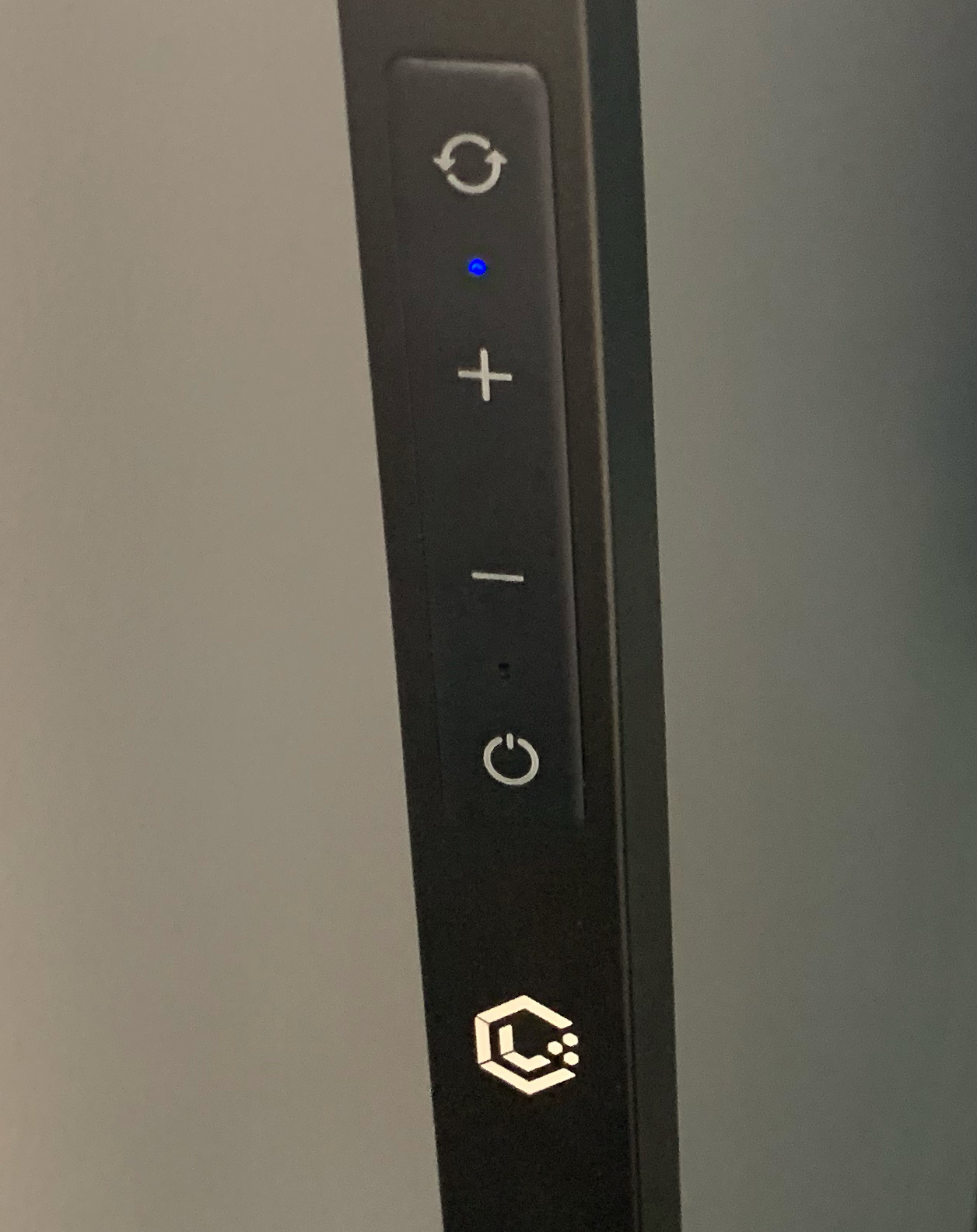 The unit was well-packed and fully assembled. All I needed to do was plug-it in.
The controls adjust quickly and easily just by sliding my finger across them. No buttons to push. The top button switches between color temperature and brightness control. The Plus/Minus buttons make the adjustments.
The bottom button is the on/off switch. Because the power switch is separate from the dimmer/color temperature switch, once you have this unit set, you can turn the light on and off without changing any settings.
After using Lumecube's battery-powered lights for over a year, I was disappointed that the Edge light did not display color temperature or intensity. This makes it hard to match colors between lights. Also, if you have more than one light, it is not possible for one light to control light or color levels on both.
The built-in diffuser creates a soft light, but, if you need something softer, the light itself easily swivels to bounce off a white card.
The mounting bracket that attaches to the desk is made out of fairly thick metal. I'm not subjecting the light to any abuse, but I really don't expect the clamp or mounting stand to break. There's good tension in the pivot points, so that once you bend them into position, they stay there – no twist locks or screws necessary.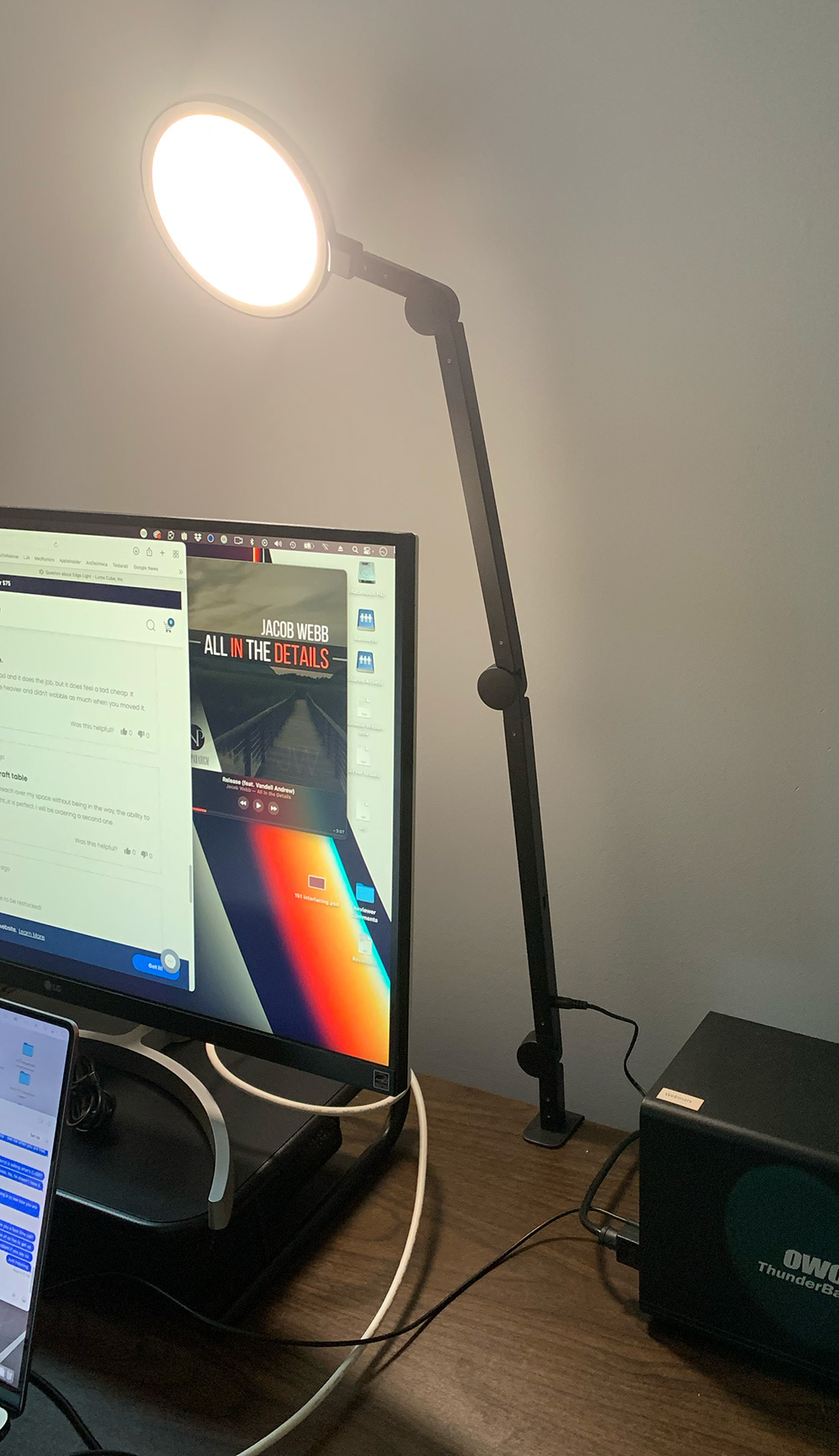 It is high enough to reach over my raised 27″ second monitor with no problems.
The power cable plugs in near the bottom of the mounting pole and there's about 6′ of cable to the small power brick that plugs into the wall. As an added bonus, there's both a USB-A and USB-C power connection on the pole, which I use to power the other light's battery.
SUMMARY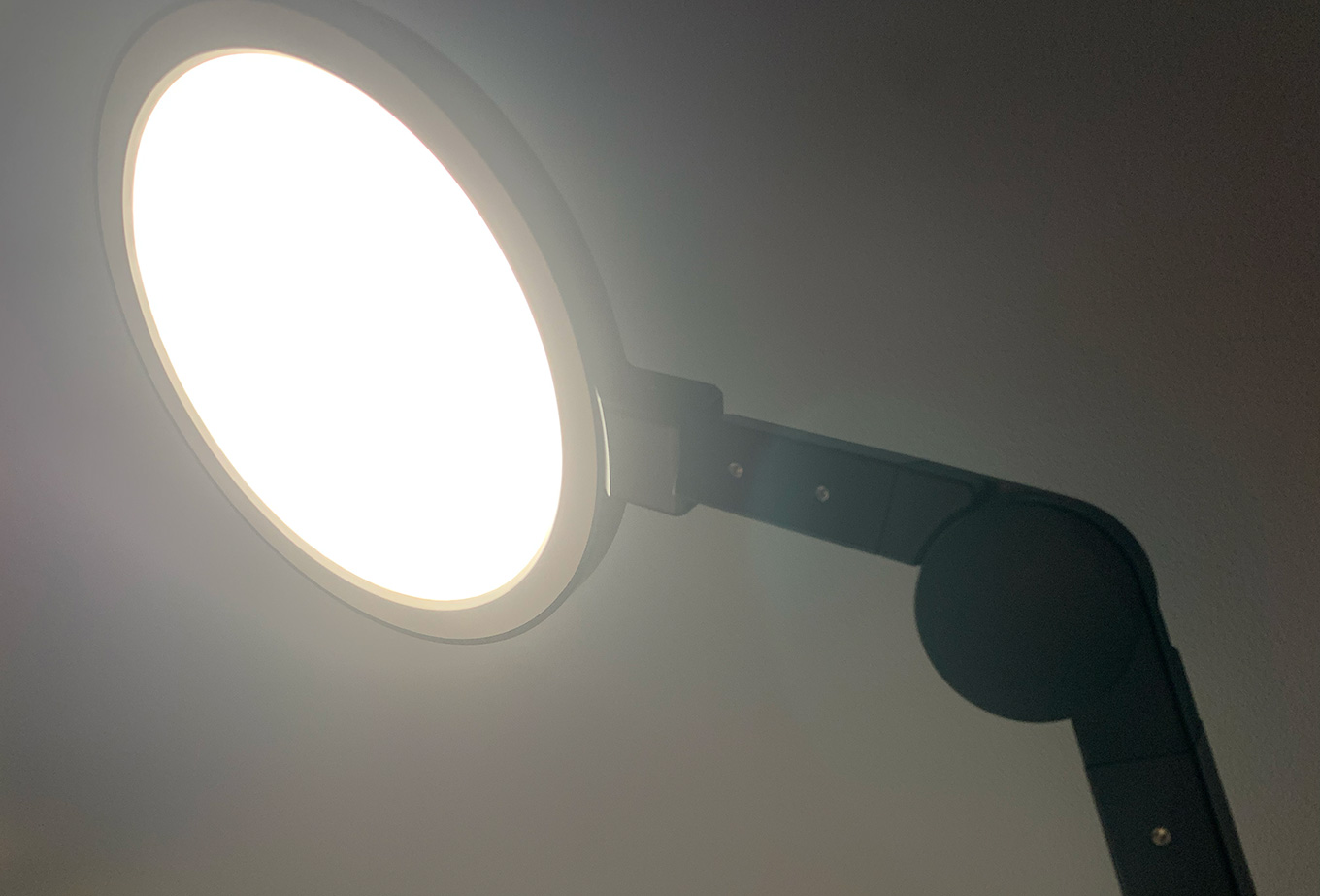 There are cheaper soft lights out there, but I like the quality of the Lumecube Edge light. It is well-built, easily adjustable and floods a medium-sized area with clean, soft light. I miss the color temperature and intensity read-outs, but the overall build and light quality of this fixture means you can set it up and expect to use it for several years.
I've only owned this for about a month, but everything I've seen in using it so far reassures me this was a good purchase.
---
Bookmark the
permalink
.