Product Review: LG 27″ UHD 4K Display (27UL600-W)
[UPDATED Nov. 28, 2020, with tips I've learned after using this monitor for a year and half. They are posted at the end. Also, read my product review disclosure statement.]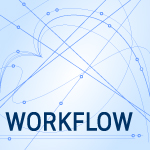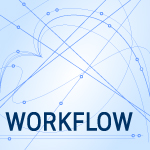 It was a sad parting. When I upgraded my computer from a 2013 iMac to a 2017 27″ iMac, I also made the change from Thunderbolt 2 to Thunderbolt 3.
For all my external storage, a TB 3 to TB 2 adapter solved the problem. But, not for my trusty Apple Cinema Display. While it still worked perfectly after all these many years, it did not work with my Thunderbolt 3 iMac.
NOTE: After this article was published, Sjoerd told me:
Larry, if you did use for instance this adapter https://www.amazon.com/Amiroko-DisplayPort-Adapter-Thunderbolt-Compatible/dp/B07G9VP8FH, you could still use your Cinema LED Display.
So, I needed to get a new monitor. After extensive online research it came down to the Apple / LG UltraFine 4K Display, sold by Apple, and the LG 27″ UHD 4K Display sold by a variety of outlets.
I picked the LG 27″ UHD 4K Display. Here's why and what I learned.
NOTE: In the interest of disclosure, this monitor was not a loaner. I bought it.
EXECUTIVE SUMMARY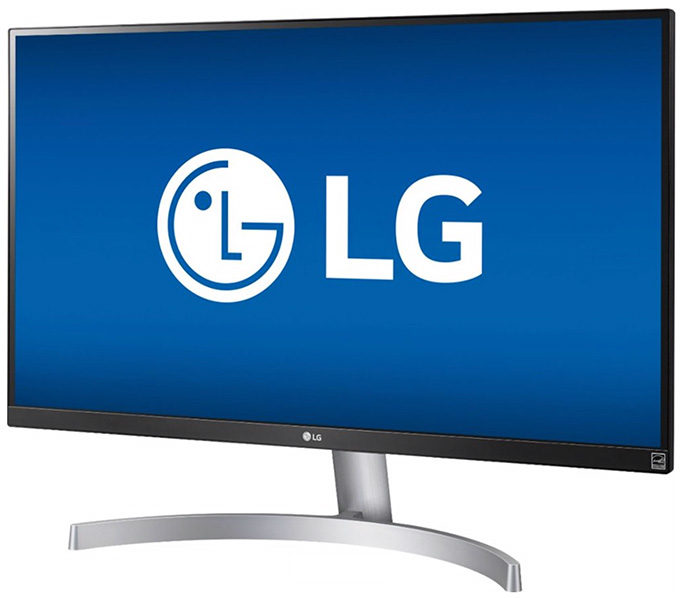 (Monitor images courtesy LG.)
LG makes lovely display panels. Colors are clean, resolution is crisp, the image holds up extremely well, even when compared to the 27″ iMac it is sitting next to. In fact, I ran the Apple Display calibration software when I first connected the display. It was right on, no adjustments were needed.
NOTE: I compared this monitor to seven others that Best Buy had on display. There was no comparison, the LG had richer colors, deeper blacks and crisper detail.
The stand is both curved and wide, running about 2/3 the width of the entire display. While stable, the stand makes it awkward for the monitor to share space with other devices on a desk. However, when powered on, the stand essentially recedes into invisibility, so that all you are looking at is a lovely image.
The only disadvantages to this monitor is that it connects via HDMI, which requires a converter cable for all iMacs, and all adjustments are made using a multi-purpose toggle switch at the bottom center of the bezel.
Manufacturer: LG
Website: www.lg.com/us/monitors/lg-27UL600-W-4k-uhd-led-monitor
Model: 27″ 4K UHD IPS LED Monitor (27UL600-W)
Price: $429.99 (US)
SETUP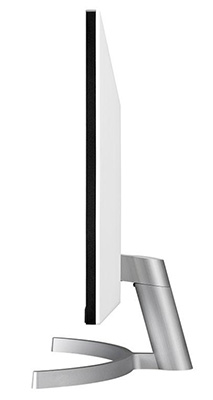 Assembly required attaching the stand and connecting the HDMI and power cables. The entire process took 15 minutes; I timed it. You'll need a Philips screwdriver to attach the stand. However, even though the printed instructions are cryptic, you won't have any problems assembling this.
The unit ships with two cables. One for DisplayPort and the other a traditional HDMI cable. iMacs require a converter from Thunderbolt 3/USB C to HDMI. Best Buy had three different versions priced from $45 to $69. I bought one from Belkin for $50.
There are two HDMI ports on the back of the monitor. On power up, the monitor automatically figures out which one is connected. No driver or other software installation is needed.
PHYSICAL APPEARANCE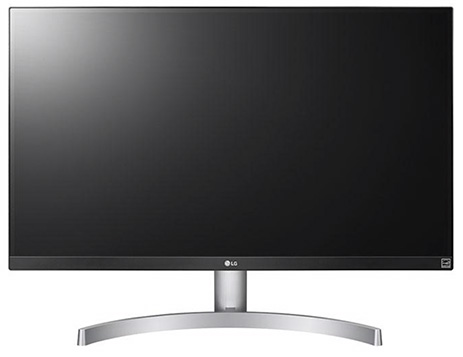 Well, truthfully, the world's most beautiful bezel and stand is pretty useless if the monitor doesn't make good images. Fortunately, the monitor makes lovely pictures. The case is plastic, but doesn't feel "cheap." The front of the display is edge-to-edge glass, with 1/4″ black edges. The stand is silver and feels like a heavy-duty plastic.
It looks perfectly fine to me. I plan to use this as a display, not a piece of furniture.
OPERATION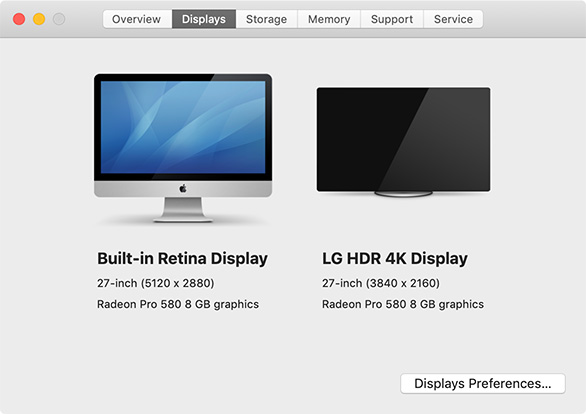 When you first turn your Mac on, the monitor does not turn on. The power switch is located on the underside of the case, immediately under the LG logo.
This switch allows you to:
Turn power on or off
Adjust settings
Select between ten different image "modes"
Select one of three inputs: HDMI 1, HDMI 2, DisplayPort
The default settings at power on are pretty near perfect, I just turned the brightness down a bit because my editing suite is pretty dim.
Your sense of color may be different than mine, which is fine. There are several controls you can adjust to make this look the way you want.
NOTE: One of my favorites is "Return to Initial Settings" which allows you to recover in the event you've so totally confused this monitor that nothing looks right.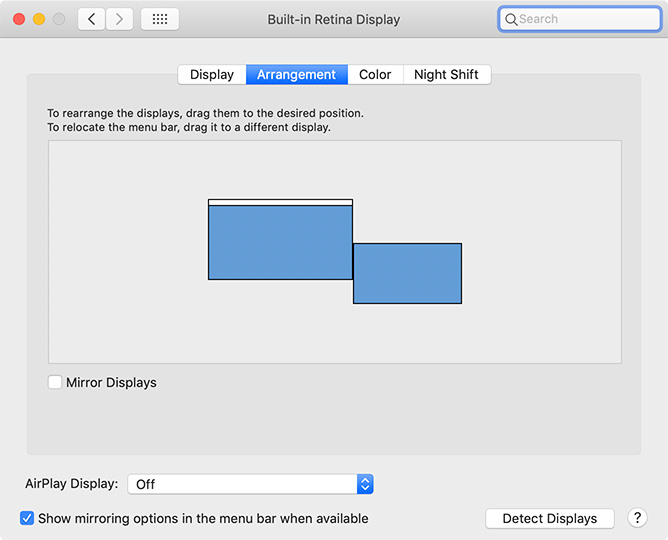 System Preferences > Display > Arrangement makes it easy to indicate the physical position of the monitor. Scrolling the mouse from one monitor to the other is flawless.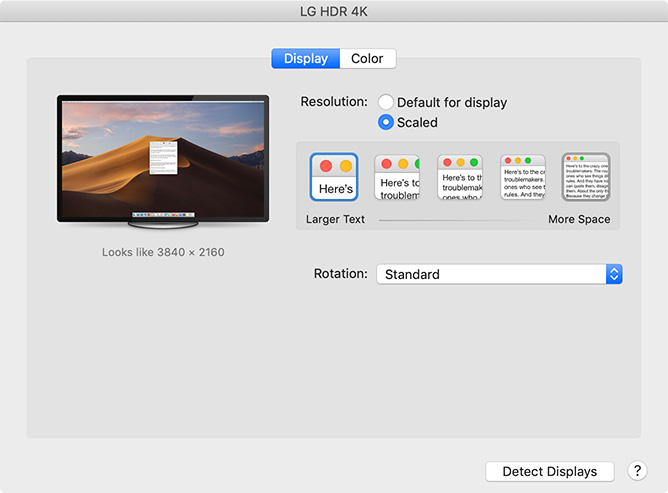 The total image area is 3840 x 2160 pixels, which equals a UHD display. However, it defaults to Retina Display behavior which means that it changes the screen resolution to 144 ppt, then pixel doubles a 1920 x 1080 image. This makes text much easier to read, without, as far as I can tell, damaging image quality.
In fact, I was surprised to see better image resolution on this monitor than on my iMac.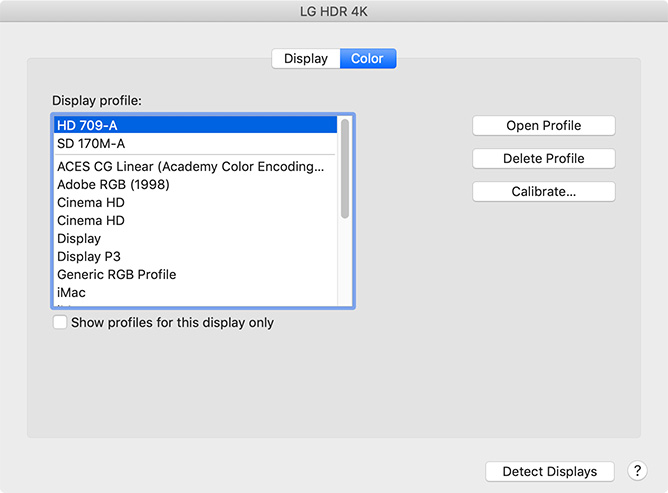 In addition to changing settings using the on-screen monitor controls – which can't be screen captured, or I would show them to you – you can also adjust and calibrate the monitor using System Preferences > Display > Color.
This calibration works the same as every other Mac-compatible monitor, which is what I would expect, except that you adjust the monitor using the toggle switch on the monitor itself, not software controls.
TECH SPECS
LG describes the monitor as: IPS with sRGB 99%. This means that "this monitor, with 99% coverage of the sRGB spectrum, is a great solution for photographers, graphic designers or anyone looking for highly accurate color." (LG website)
Here are some other key specs:
Screen size: 27″
Number of colors: 1.07 billion
Refresh rate: 60 Hz
Contrast ratio: 700:1 (minimum) 1000:1 (typical)
Anti-glare surface
Aspect ratio: 16:9
Viewing angle: 178°
If you mount the monitor vertically, say for display advertising, the image can be rotated using a software control. However, while the stand can be tilted vertically, it can't be rotated
The monitor does support VESA mounting. It does not have an internal speaker, though it does have a headset jack.
The LG webpage lists more details if you want to go into the specs in-depth.
WHY THIS MONITOR?
I spent a couple of hours debating between getting this monitor and the Apple version. The Apple version connects via Thunderbolt 3, provides more ports on the back, and is fully controlled through software, rather than the combination of the Display preference panel and the control switch on the monitor.
But the Apple monitor has the same resolution, very similar display specs and costs $250 dollars more. Neither this LG nor the Apple monitor are "HDR reference" monitors like the upcoming Apple Pro display.
What I needed was a monitor that provides high-quality still and video images in an affordable package. If the Apple monitor was $499, it would be a much harder choice. But, for the money, I am both impressed and pleased with the LG monitor.
UPDATE – NOV. 28, 2020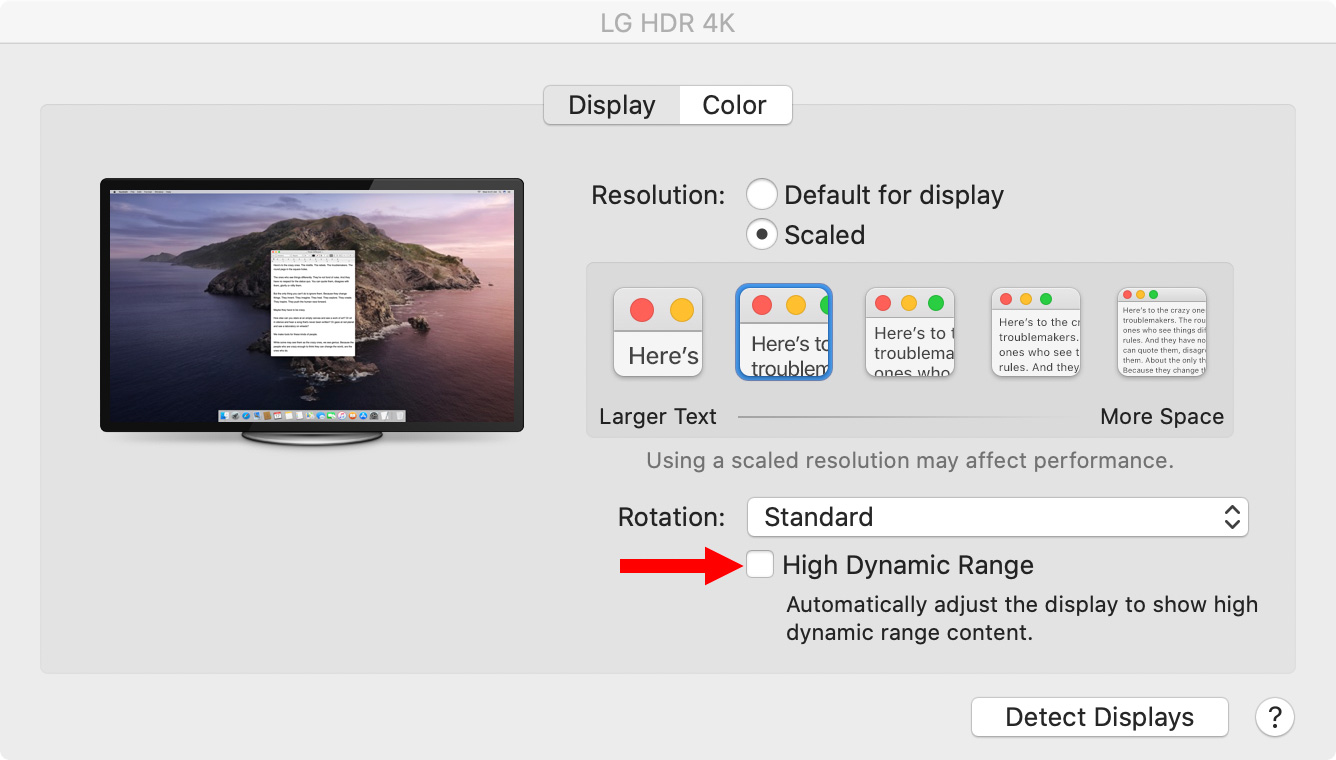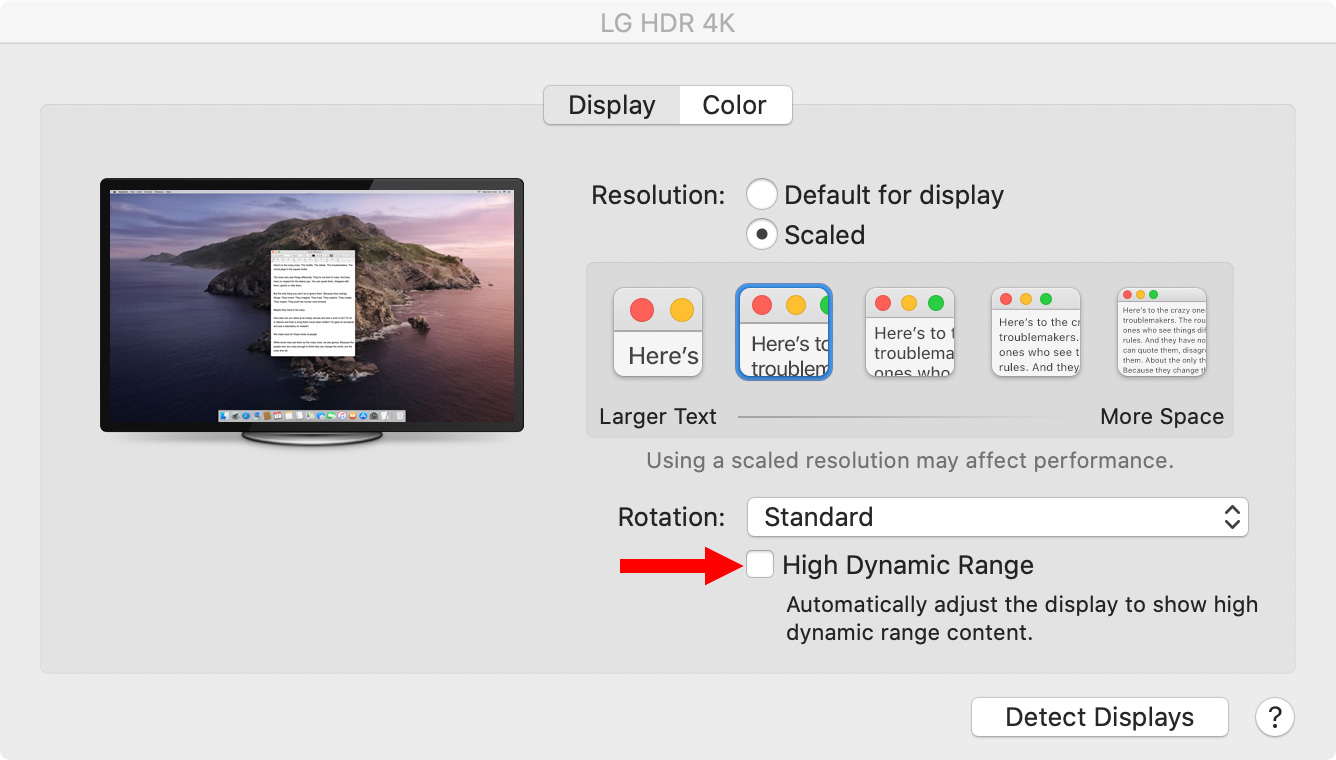 I've been using this monitor for a year-and-a-half and I'm still very happy with it. It's been problem-free the entire time. But I've discovered two quirks you should know about:
Sometimes, after re-booting the computer, the monitor is heavily over-saturated. To fix this, open System Preferences > Display and turn the HDR checkbox on, then off. This resets the monitor and the images look great. (I have not used the monitor to view HDR material.)
While the monitor resolution is 4K, I get the best-looking images by scaling the resolution down slightly to 2560 x 1440. This also means that application menus are clear and easy to read.
If I only used this monitor to view images, I'd probably run it at its full 4K resolution. But menus look too tiny and are very hard to read at that size. Scaling it somewhat smaller helps a lot.
SUMMARY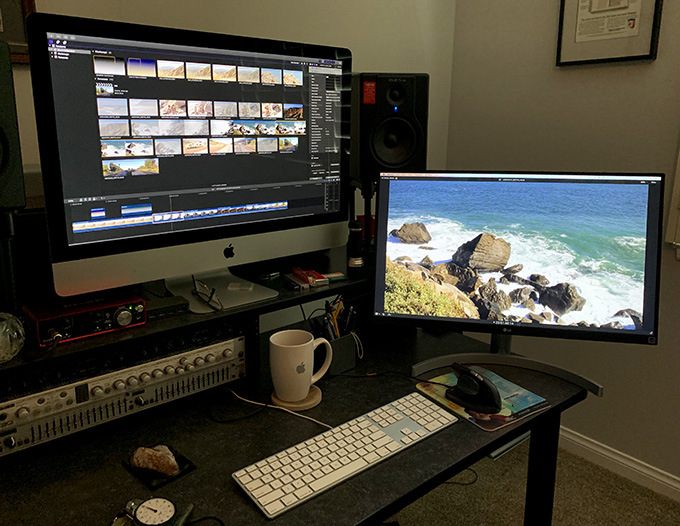 I like this monitor. I don't play games, so the refresh rate is fine. The colors are lovely. The resolution is crisp and shows me I need to improve my ability to focus an image.
Another thing I really like about this monitor is that it runs cool. It doesn't get hot and it doesn't radiate heat. In summer, in LA, I appreciate that.
I wish the stand were a bit smaller, but I love the fact that it curves back, which allows me room to move the mouse, rather than take up the entire desk with the stand.
Using this as a second monitor for both Premiere and Final Cut works perfectly and both HD and 4K images look great. If you are looking for a reasonably-priced monitor, that provides great looking images, the LG 27″ UHD 4K monitor (27UL600-W) is an excellent choice. If I were given the option to buy it again, I would.
---
Bookmark the
permalink
.