Product Review: iRig Pre 2 – Simply Well Done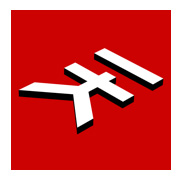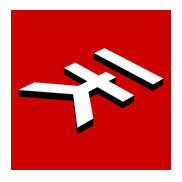 [ Please read my Product Review Disclosure Statement here. ]
The iRig Pre 2 is a microphone preamp designed for portability and high quality. It converts any professional microphone using an XLR connection into an analog signal via a shielded stereo mini plug that can plug into most computers, DSLR cameras, audio recorders, older mobile phones and the Blackmagic Design ATEM Mini series of products. This input flexibility is one of its big advantages.
NOTE: While this can plug into any mobile device that has a headphone jack, most iPhones these days use lightning connectors. Those require the iRig Pre HD. Here's my review of the iRig Pro HD.
The folks at IK Multimedia sent me a unit for a couple of weeks to review. Here are my thoughts.
EXECUTIVE SUMMARY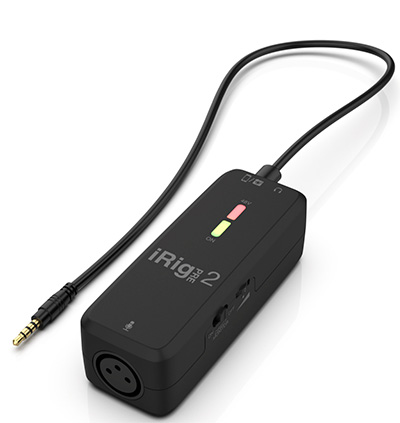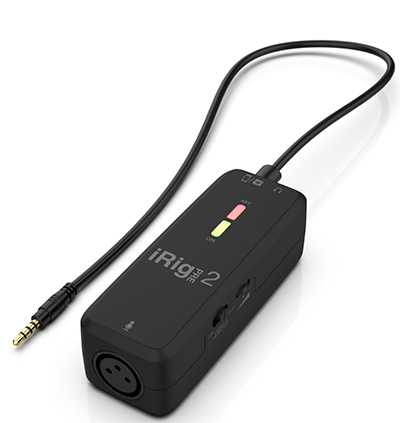 Powered by two AA batteries (supplied with the unit), the iRig Pre 2 is a microphone pre-amp for professional mics using XLR connectors. It handles both dynamic and condenser mics, and can supply 48 volt phantom power if needed.
It has one XLR microphone input, a shielded 1/8″ mini-plug at the end of a 17″ (43 cm) cable and a 1/8″ stereo plug. It even comes with a velcro strap so you can quickly attach this to a tripod or camera. Controls include:
Power
Gain
Phantom power (48 volt)
Monitor on/off
Headphone gain
Two LED lights indicate power and phantom power status. The IK Multimedia website says that phantom power from fresh batteries should last about 7 hours. Without phantom power, batteries should last for about 20 hours.
The iRig Pre 2 does not digitize your audio. Instead it provides a pre-amp for professional mics then delivers that as analog audio to a separate recording device.
The iRig Pre 2 is designed for people who need to record audio outside the studio and don't have the ability to brings lots of gear. It is light, easy to use and delivers on its promise of connecting any professional mic to your computer or audio recording device. Plus, it's a great price.
My only caution is to avoid sharply knocking the unit when you are recording.
Manufacturer: IK Multimedia
Website: https://www.ikmultimedia.com/products/irigpre2/
Product: iRig Pre 2
Price: $49.99
SETUP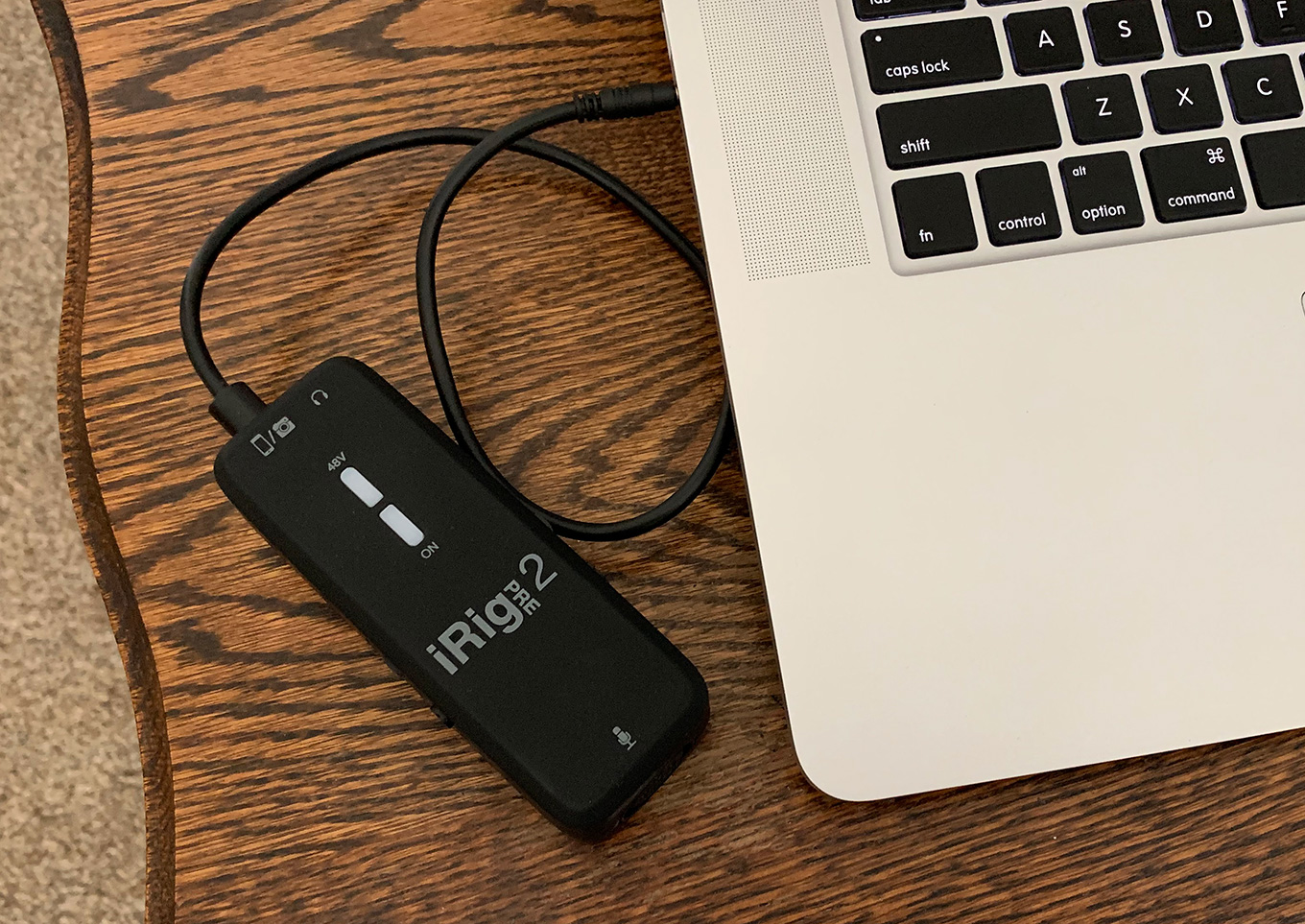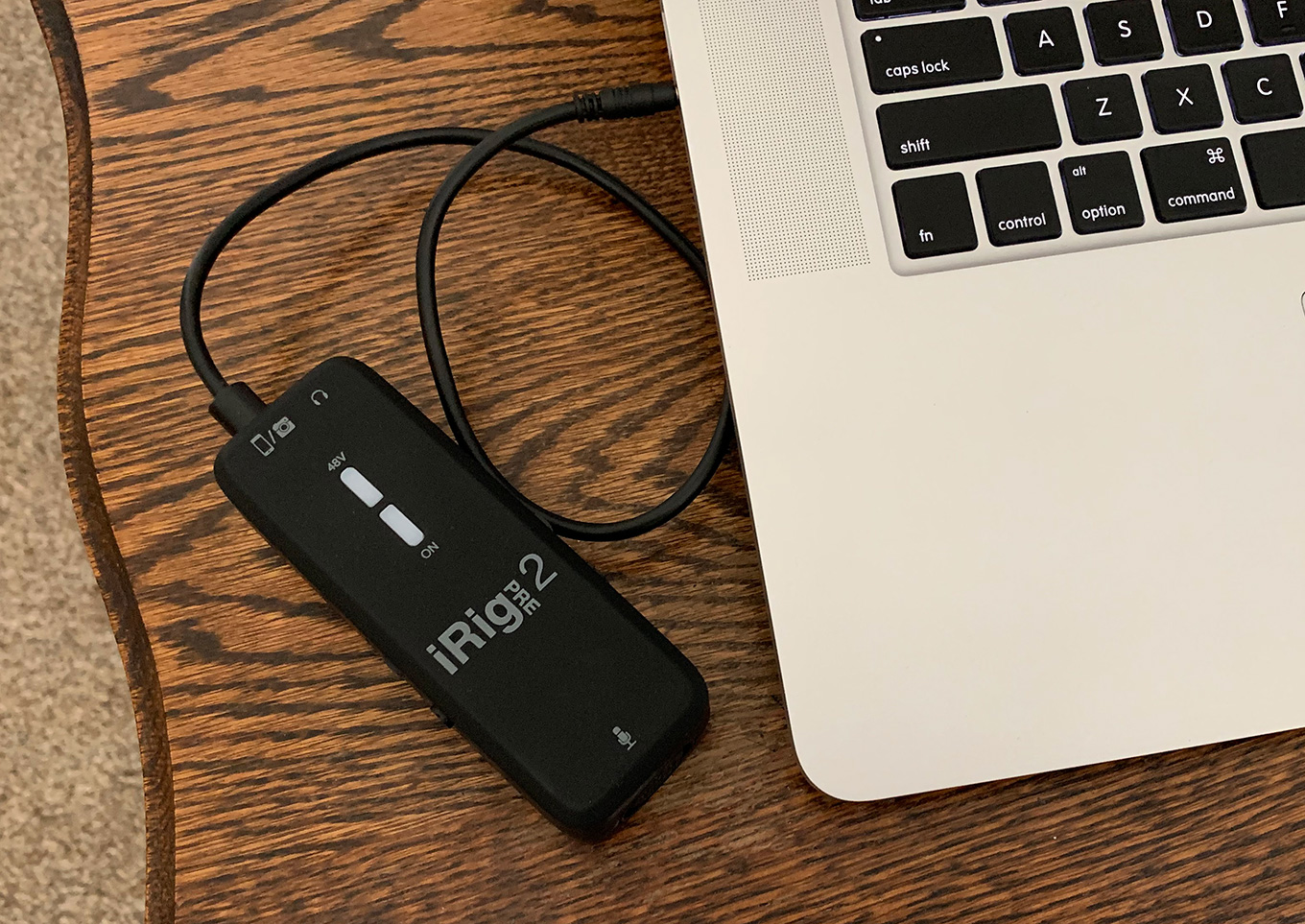 The iRig Pre 2 comes protectively packed in a cardboard box. Inside is the unit, a velcro strap, two AA batteries and a simple user guide.
Plug the batteries into the back, connect the audio cable into your computer, older phone or audio recorder, connect a mic and you are ready to go.
There is no software or driver to install to make it work.
OPERATION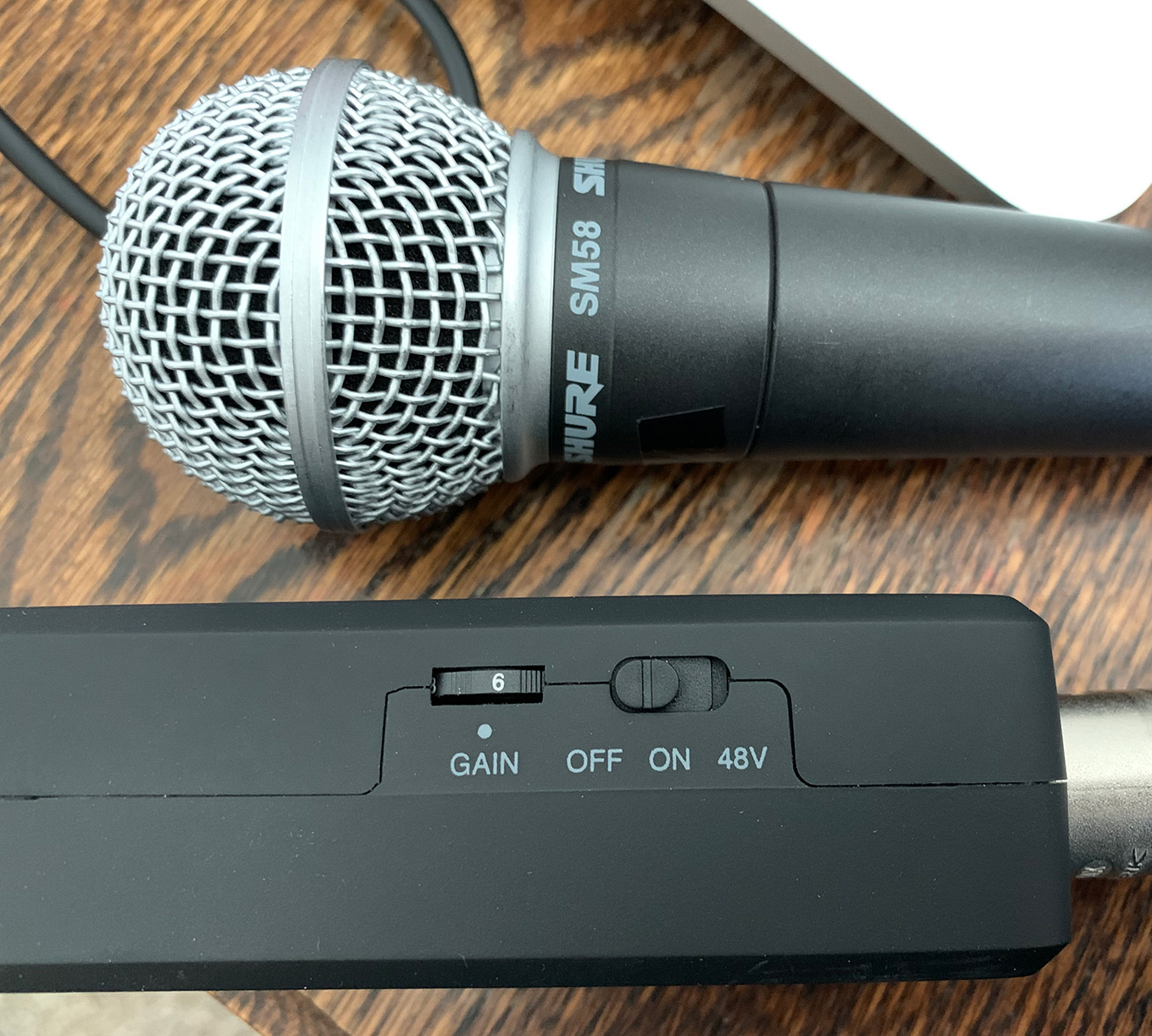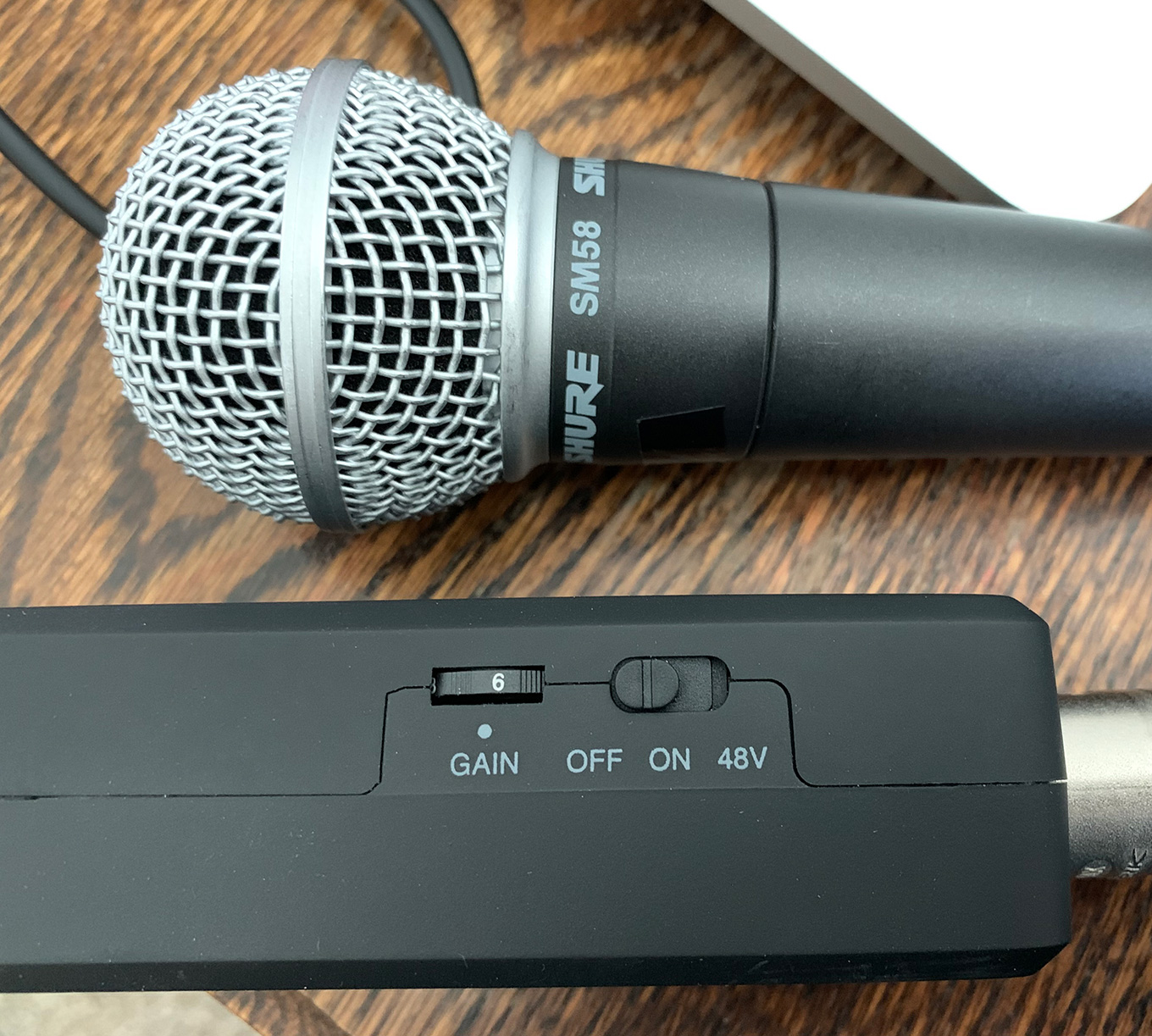 Turn the power on and adjust the gain. I used a Shure SM-58 mic (one of my favorites) for this review. As a dynamic mic, it doesn't require phantom power. However, as you can see from the screen shot above, phantom power is available from a single switch.
NOTE: Running time with phantom power off is about 20 hours. With phantom power on is about 7 hours.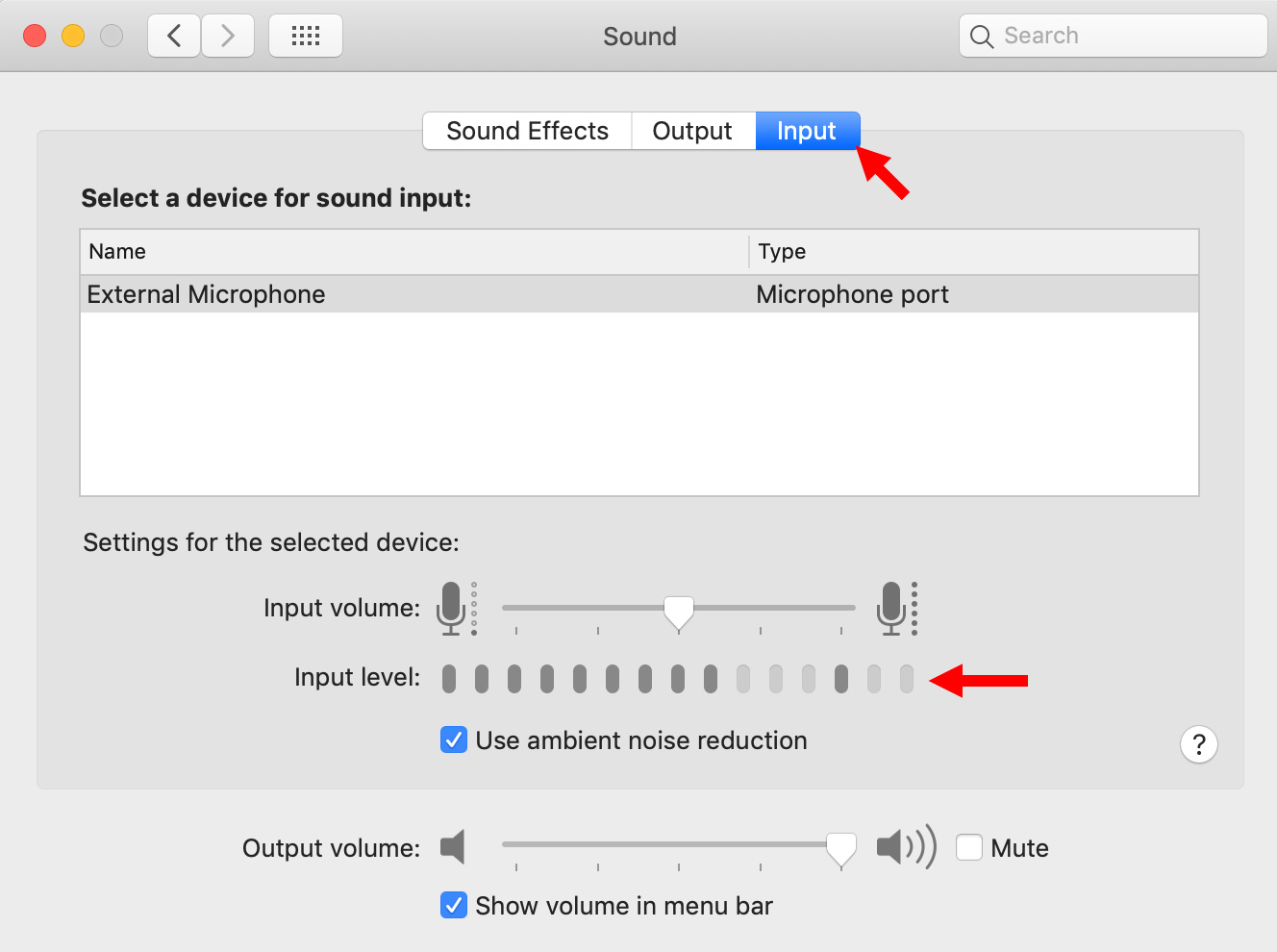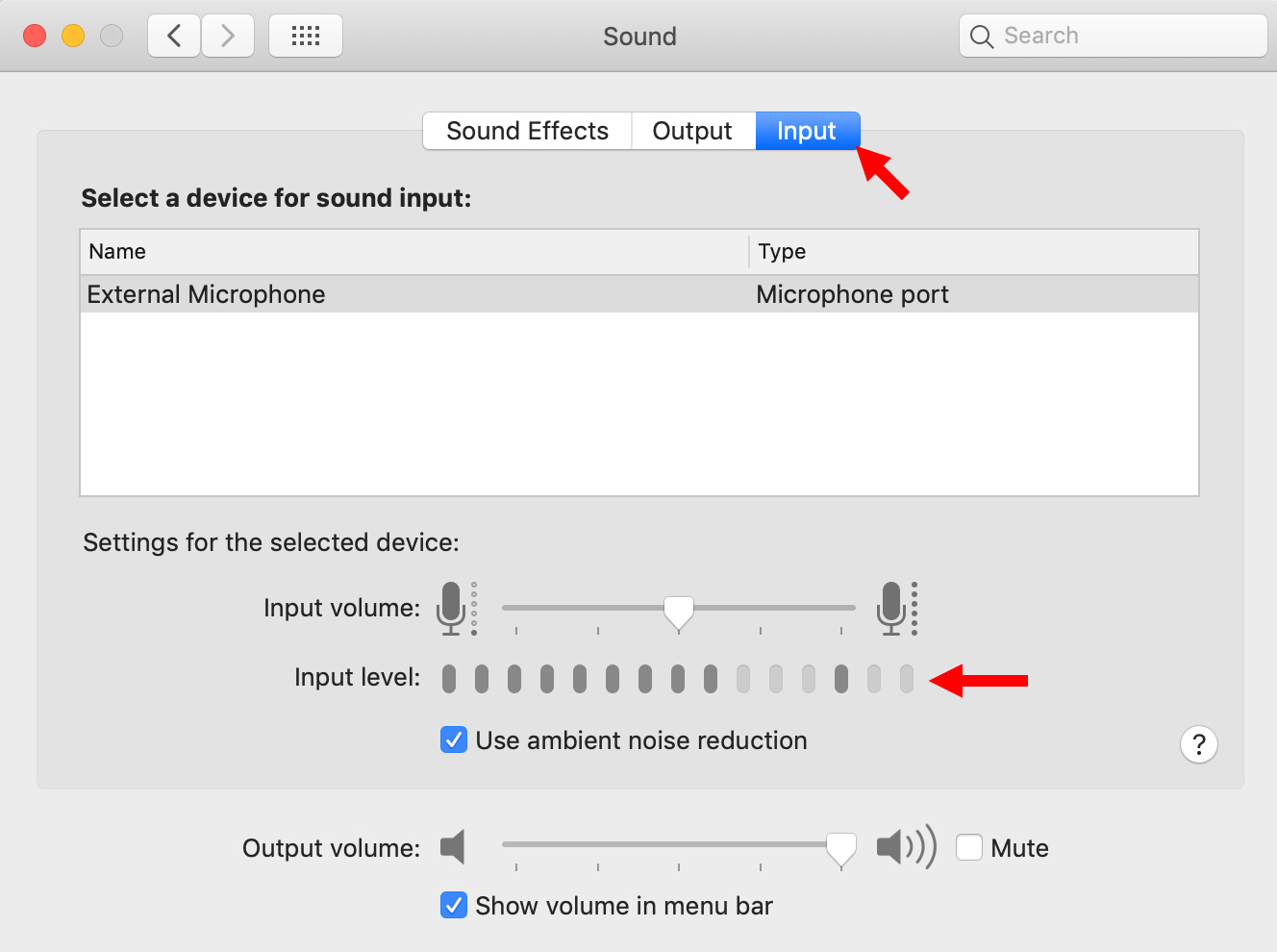 If you are connecting to a computer, open System Preferences > Audio and make sure the external mic is selected. (it won't identify as an iRig, simply an external mic.)
Talk into the mic and be sure the dots along the bottom are jumping (lower red arrow) to reach at least 3/4 the way across the screen. For my tests, the Shure required the Gain set to 6 out of 10. So, there's more gain available for softer mics or voices.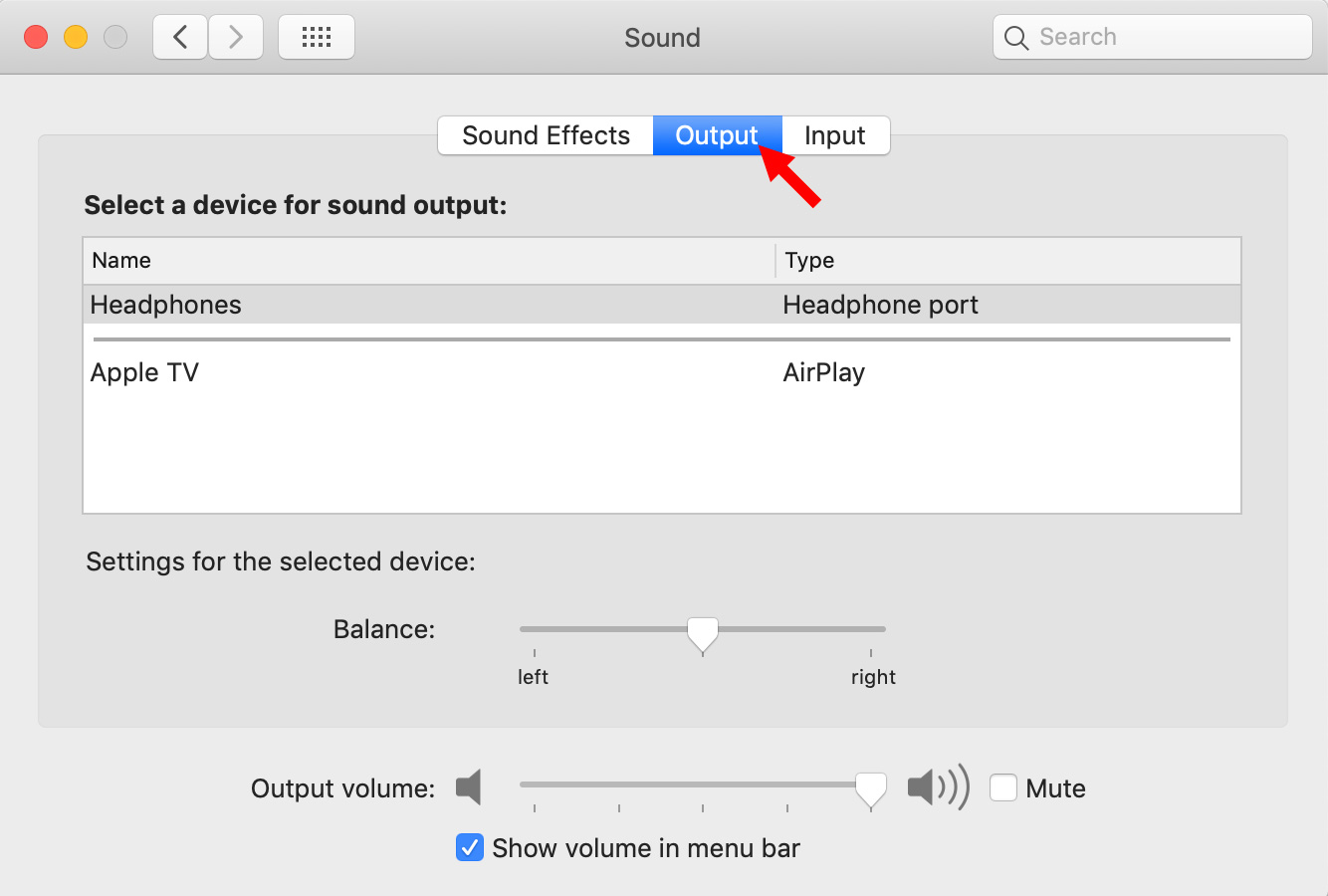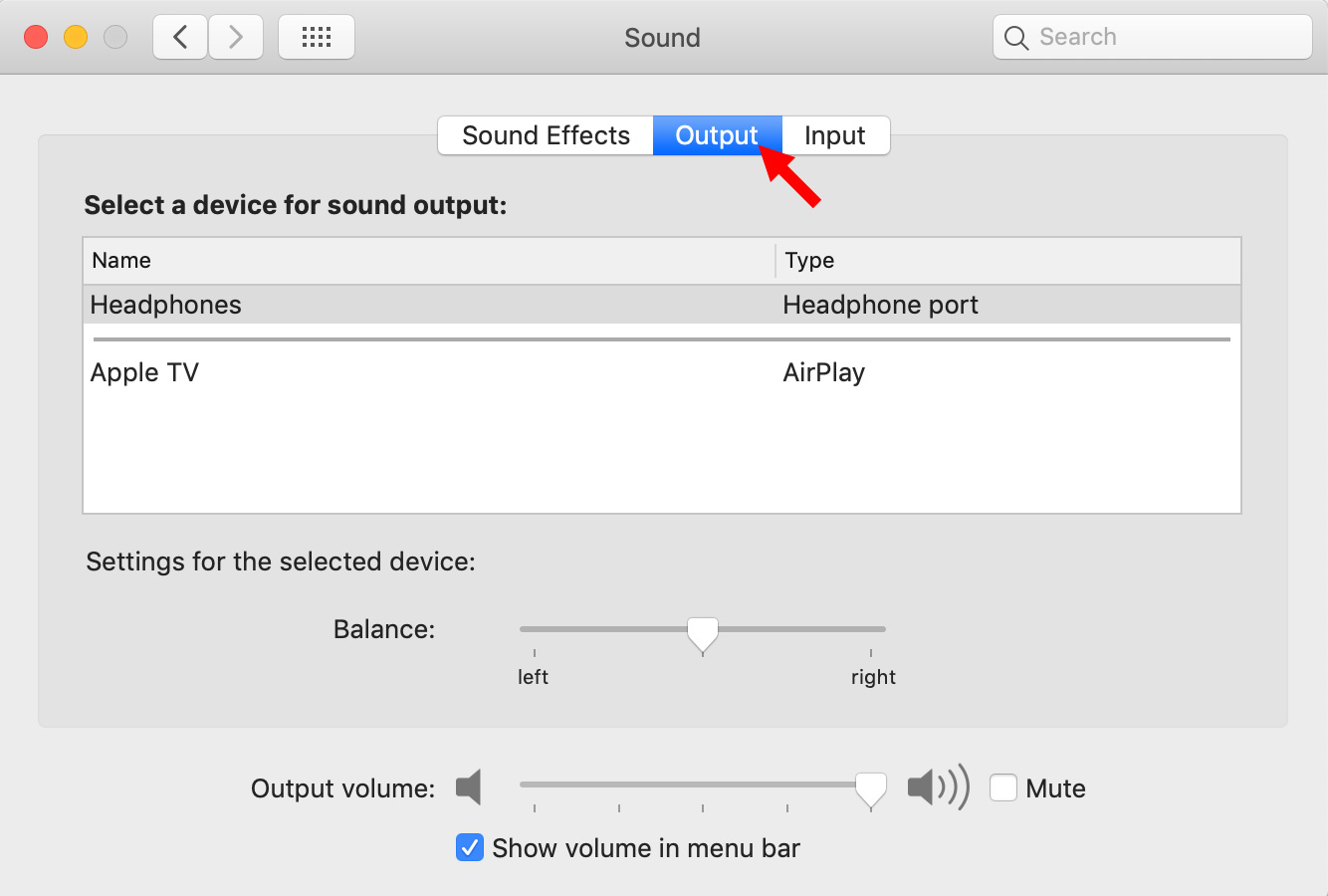 Next, make sure the output is set to Headphones. This means the iRig can monitor your audio using the built-in headphone jack.


With the Gain set to 6 I was able to get nice, clean audio recorded around -12 dB with no problems. (Screen shot from Adobe Audition.)
ISSUES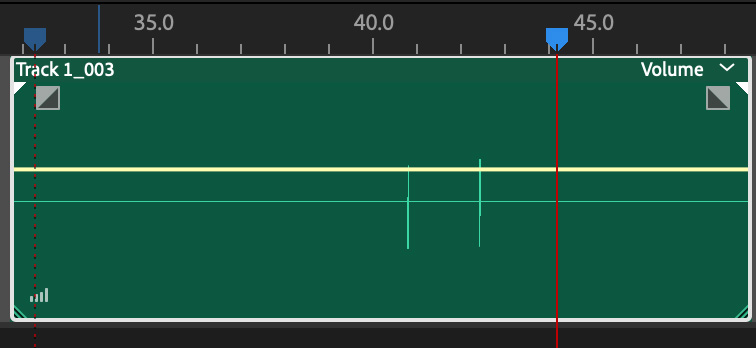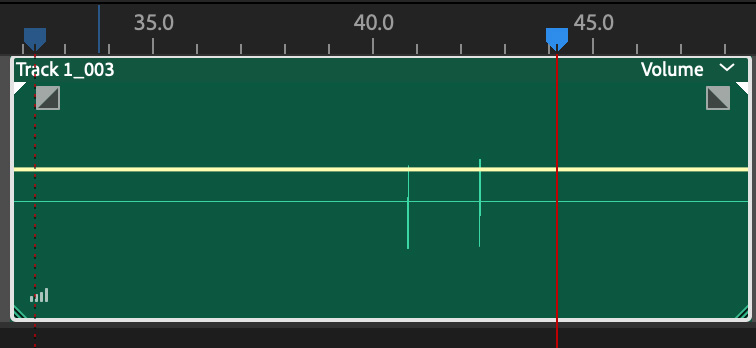 Though the unit is designed to be portable, it is a good idea to make sure it doesn't get sharply tapped. When I tapped it on the table, these two waveform pops occurred.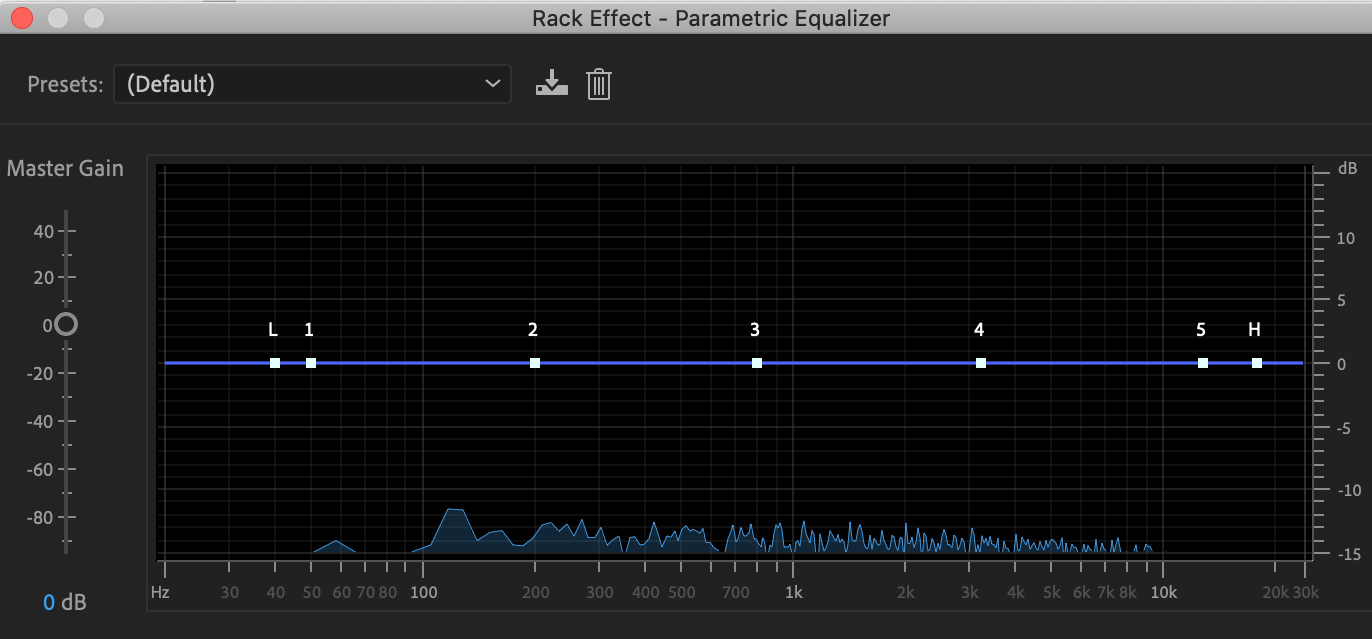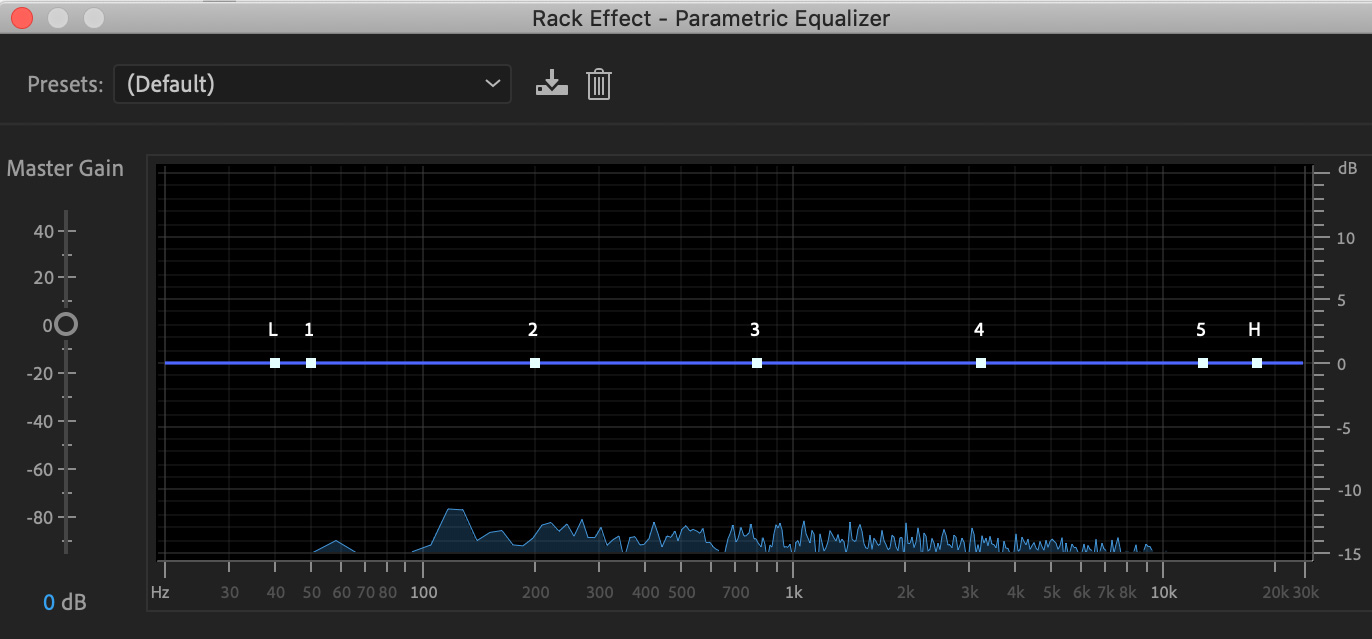 The unit is a bit noisy. With no mic connected, it has a noise floor of about -80 dB. You won't notice this if you are on location with lots of ambient sound, but it is noisier than a device designed for the studio should be. For location work, this low level of noise is not a big deal.
SUMMARY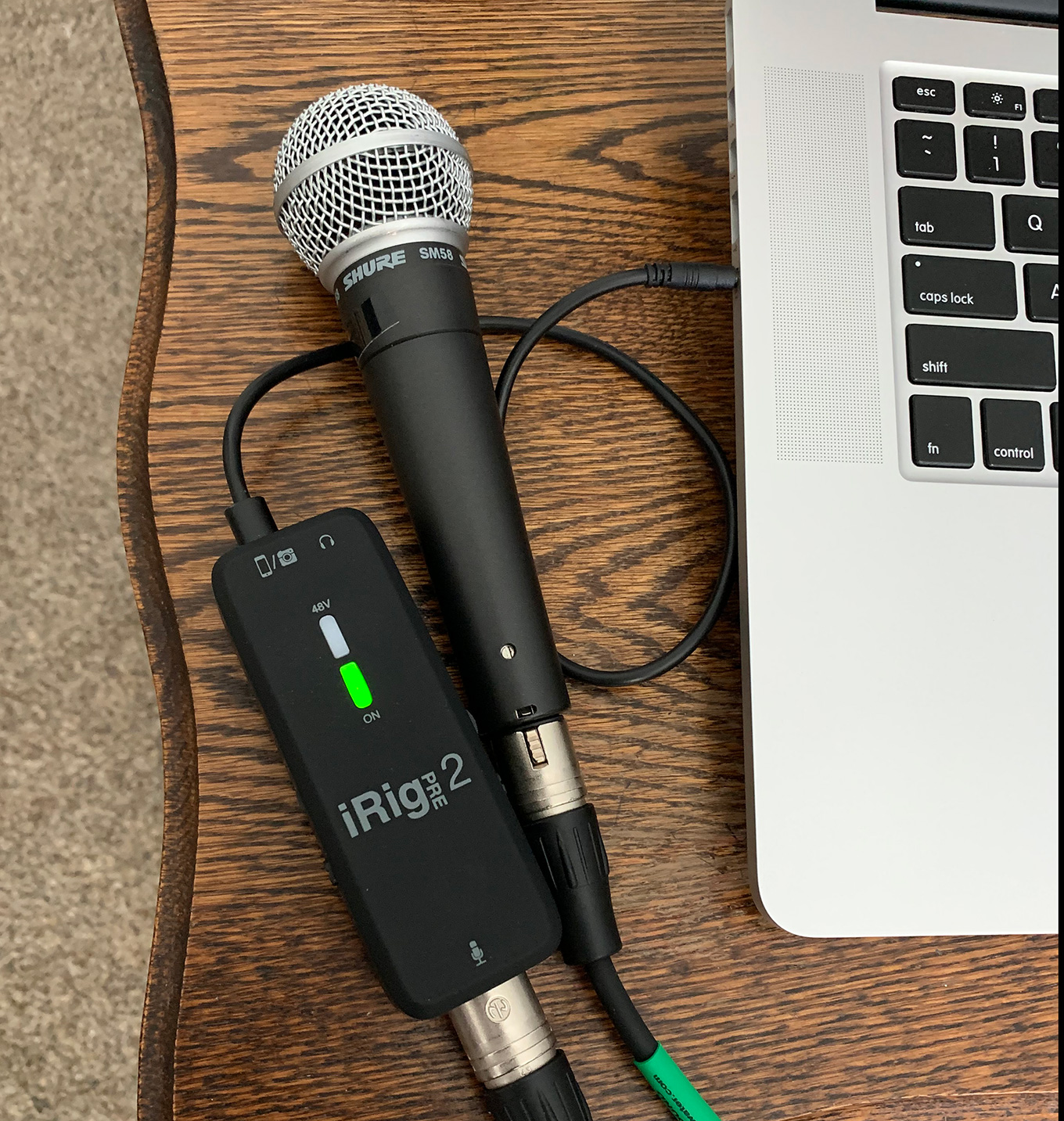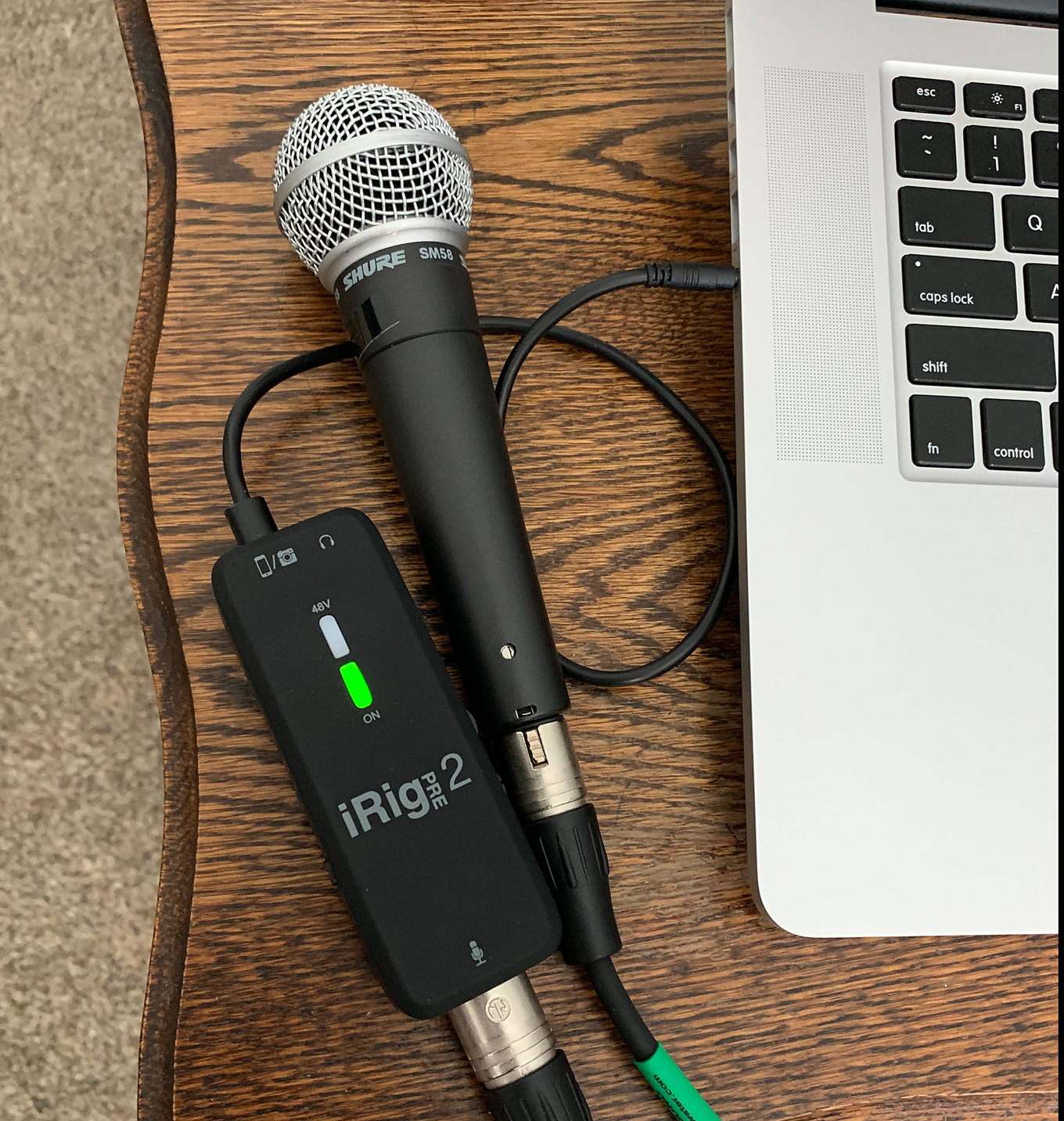 Would I use this for a studio interface? No. Would I recommend it for location work? Yes. Especially given its price.
The iRig Pre 2 does what needs to be done: provide a high-quality audio interface between your recording gear and the best microphones available today. Easy to set up, light-weight and easily portable, the iRig Pre 2 lets you record the sounds you want, wherever you go.
---
Bookmark the
permalink
.