Product Review: HighPoint Technologies 3614A RAID [u]

[ Please read my product review disclosure statement. ]
[ Updated Aug. 26, 2015, with a response from HighPoint.]
[ BIG Update: HighPoint Technologies addressed every major concern in this review. Read my updated review here.]
The folks at HighPoint Technologies asked me to review their RocketStor 6314A Thunderbolt 2 RAID system. So, they loaned me a unit for a couple of weeks to examine.
EXECUTIVE SUMMARY
The RocketStor 3614A RAID is an attractive unit marred by impossible-to-use installation software, inaccessible support, and inaccurate and incomplete user manuals. This seems to be a classic example of a company that has been successful selling into the enterprise market not doing its homework before selling to creative professional users. Since this unit is sold only through dealers, it is expecting its dealers to make up for bad decisions made in the home office.
Product: RocketStor 6314A
Manufacturer: HighPoint Technology
MSRP: $699 without drive – sold only through dealers
Website: http://www.highpoint-tech.com
UPDATE 8/26/15): I received an email today from the RAID product manager at HighPoint today stating: "After reviewing your suggestions "Things that need to be fixed", we begin to get a better picture of what information is needed for professional creative users to use our products. We take criticism seriously. Our top management has committed to fixing the issues you detailed by October. We would like you to re-review the unit then."
Larry replies: I am very impressed that management listened to my concerns and is taking action to fix them. I told HighPoint that I would be delighted to review the unit again in October when these problems are resolved."
BACKGROUND
"HighPoint Technologies, Inc. has been a pioneering force in the storage industry for over two decades. We design, manufacture and deploy the industry's most comprehensive range of quality, high-performance, and affordable storage solutions for Microsoft Windows, Linux, Mac OS X, and FreeBSD platforms.
"The RocketStor 6314A is an affordable, professional grade hardware RAID solution with an "open-box" approach to storage applications. This allows customers to tailor storage for their specific platform and application on the fly, and use their choice of SAS or SATA RAID and NAS Class hard drive or SSD, from established brands such as HGST, Seagate, Toshiba and WDC; all for hundreds less than conventional storage solutions!
"The stylish, brushed aluminum chassis features dual 20Gbps Thunderbolt ™2 ports and four removable hot-swap bays , which support any 2.5" or 3.5" Enterprise /NAS class SATA / SAS Hard Drive or SSD, and up to 32TB of total Storage Capacity in Hardware RAID 0, 1, 5, 6, 10 and JBOD configurations!" (Descriptions provided by HighPoint Technologies.)
This four-drive system supports up to 32 TB of total storage, depending upon the drives selected and RAID configuration. Another cool feature is that this unit shuts down whenever the computer goes to sleep, you don't need to turn it on or off.
SYSTEM SETUP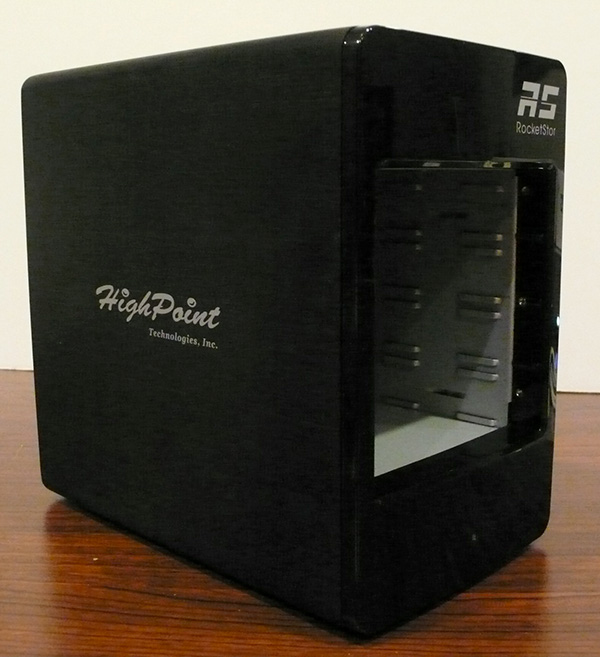 The RocketStor 6314A RAID (hereafter called the "RocketStor") arrives as an empty chassis supporting up to four drives, along with four drive sleds. When HighPoint asked me how I wanted the RAID configured, I told them to send me the RAID as it would be shipped to an end-user.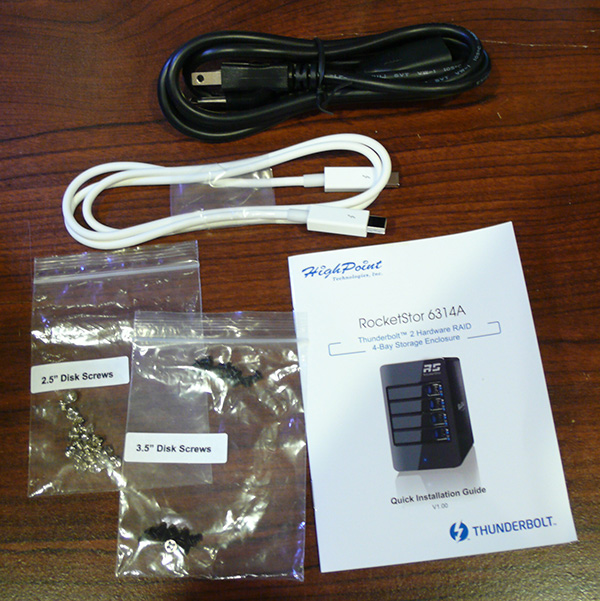 So, in addition to the chassis, HighPoint included a power cable, Thunderbolt cable, screws for mounting drives to the drive sleds (the unit supports both 2.5 and 3.5-inch drives, and a small installation guide.
In my case, the four Toshiba 5 GB drives were already mounted to the drive sleds, but not installed in the chassis.
NOTE: As an aside, I really like that the system does not require a wall wart, the power supply is included inside the chassis itself.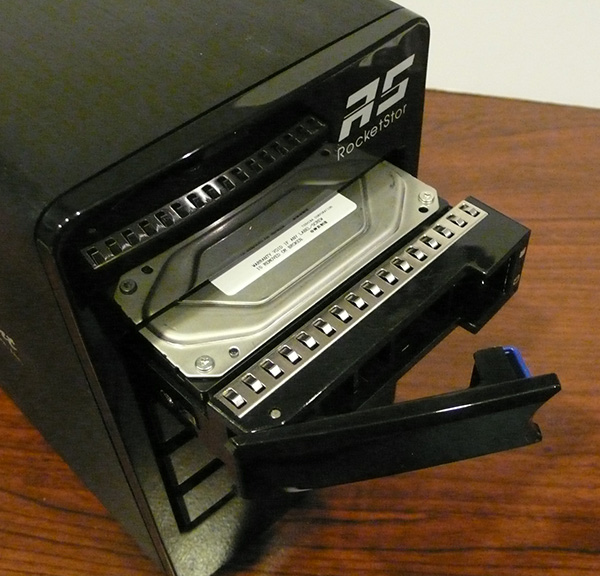 Installing the sleds is fast and easy, with a lever that quickly locks them into place. I liked the feel of the construction and the smooth operation of the levers.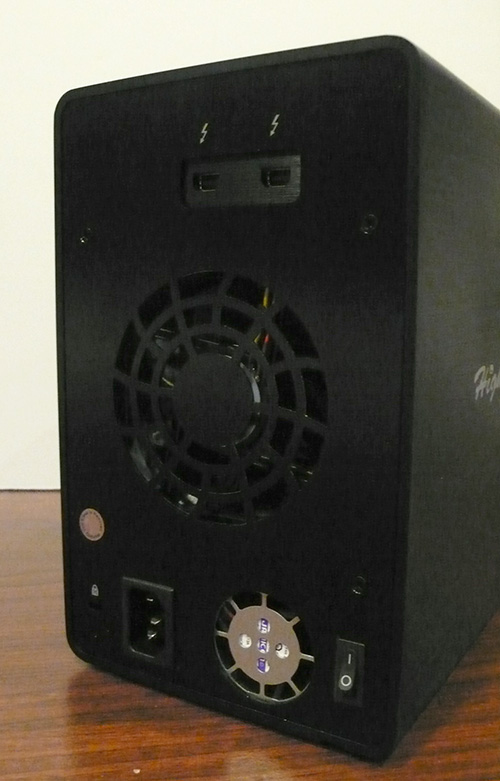 The back of the unit has two Thunderbolt 2 ports, power plug, and two fans – a big one for the drives and a small one for the power supply. This second fan impresses me a lot – power supplies tend to heat up and having a dedicated fan is a smart decision.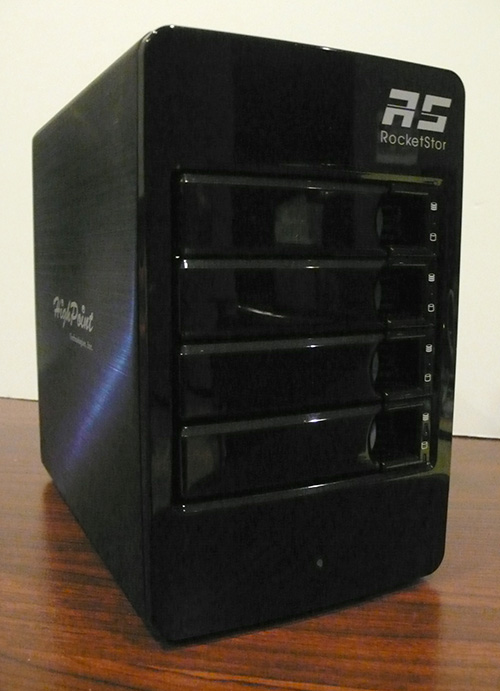 The whole unit looks very nice on a desktop; about six inches wide, eight inches high and eight inches deep. It is easy to carry around from one desk to another, even with drives installed; though I would not describe this as a "portable" unit."
INSTALLATION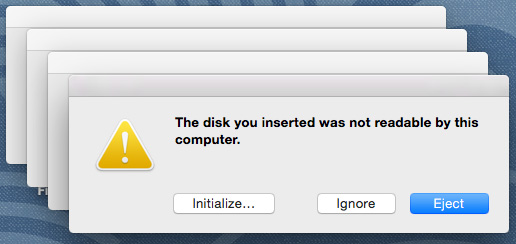 When I powered up the unit, after connecting power and the Thunderbolt cable, I got the above error messages. These appear whenever an unformatted hard disk is attached to the computer. Not to worry… yet.
The printed User Guide included with the unit told me to verify that the correct RAID controller was installed and operational.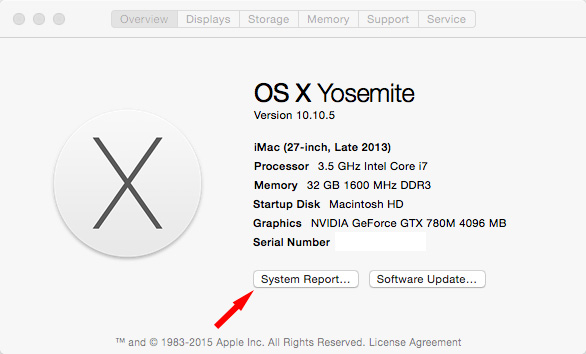 To do this, go to the Apple logo > About This Mac, and click System Report.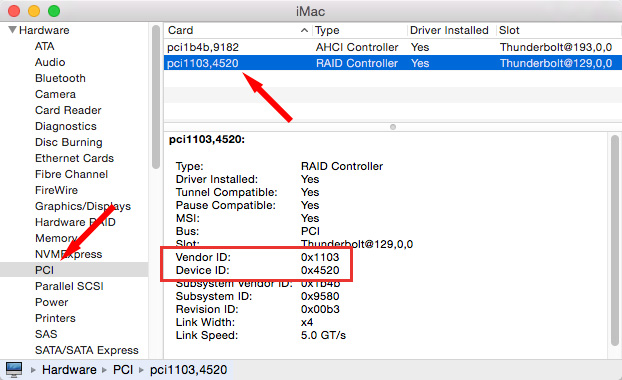 Here began what became a series of disconnects. The top image is from the User Guide, showing the name of the RAID controller. The bottom image shows the System Report on my iMac. The RAID controller does not appear.
However, the Vendor ID and Device IDs match, indicating that the RAID controller is installed and running. But the User Guide does not describe how to use these two IDs to verify you are OK to continue.
The User Guide asks me to download the "HighPoint RAID Management" utility from their website. However, it says to go to the "Product" page. This is incorrect, it's on the "Resource" page and the URL HighPoint provides is wrong. It is actually:
http://www.hptmac.com/series-rs6314a-resources.php
At this point, installation goes from awkward to impossible.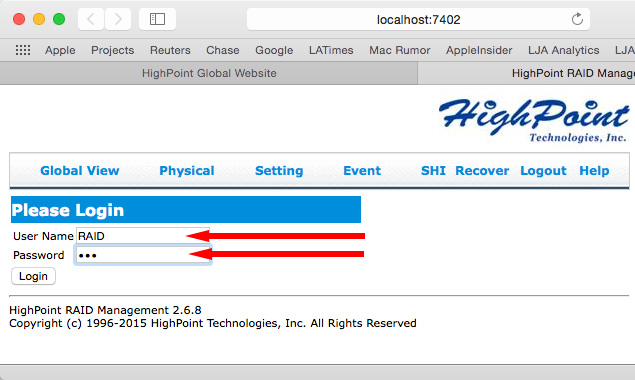 The Management utility requires a user name and login to access. However, the user name (RAID) and password (hpt) provided in the User Guide don't work.

I can't get in to configure the RAID.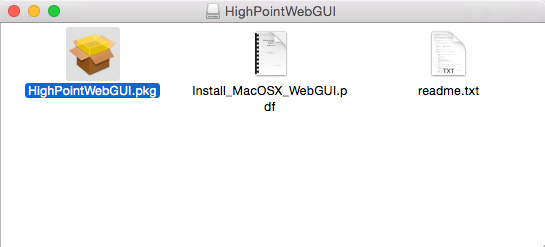 Not a problem, there's also a ReadMe text supplied with the utility; they've probably corrected the log-in there. Nope. Login is never mentioned; not once in the text file.
Hmmm… perhaps just a typo that is corrected on their Support pages.
THE SUPPORT BLOCKADE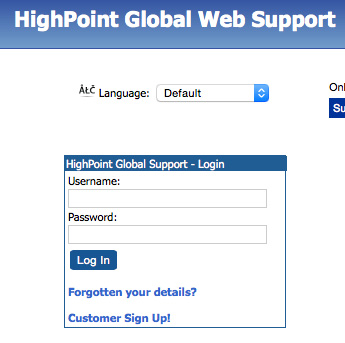 HighPoint requires a log-in to access support. Um, why? Are there secrets in support that need to be kept from the market?
OK. I create a new user account; enter all the required fields and leave the other 20 fields empty. At which point, I'm now a registered customer, except…
I still can't access support because I need a user name and password, which does not appear, nor is it referenced, when I'm registering as a customer. Instead, I discover that it gets emailed to me.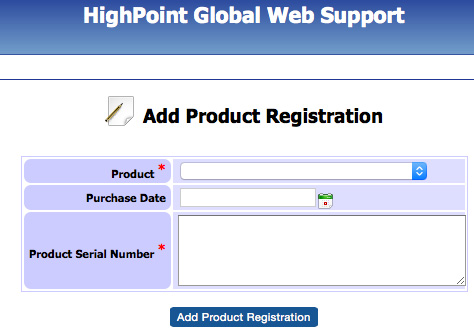 OK, have the login creditials, BUT, I still can't access support because I need to register my product; which I can't install, yet. So, as you can see above, I need to enter the information for my RAID.
Adding a product. Hmmm… need to add a serial number. Which is on the bottom of the system and the system is running. Sigh. Power off the system to avoid damaging the hard disks and turn it over to read the serial number.
I've now added the product name, purchase date and serial number EXACTLY as printed: RS6314A 1527M3M00046. And the registration failed, saying the serial number field can't be blank. It isn't blank – it EXACTLY matches the label on the bottom of the unit.
Dead in the water. Again.
I can't register the product, which means I can't access support, which means I can't get the correct user name and password to install the system, which means I need to figure out a different way to get this hardware to work.
THIS IS STUPID!!!
If the HighPoint RAID Management software is necessary for the installation of the product, then WHY??? is it password protected? Turn off the passwords. Let me install the unit and give me the option to enable passwords in the future. This is a direct-attached unit sitting on my desktop, it is not hidden away in some remote machine room.
Because of this one stupid decision, I have a hardware RAID that is little more than a doorstop. Not to mention a corporate support system which goes way out of its way to prevent customers and potential customers from accessing necessary product information.
This is short-sighted, restrictive, unnecessary and stupid. And you can quote me.
USER GUIDE NOTE
The PDF User Guide that ships with the HighPoint RAID Management software, which I can't access, goes into detail about how to install the software, but does not say one word about how to configure the RAID.
Nothing. Figuring out configuration is left totally to the user. The problem is, as you'll discover, the only way to configure this RAID as a RAID 5 or 6 is to use the HighPoint RAID utility. RAID 0 provides the fastest performance, but RAID 5 is a much better choice for most editing tasks.
NOTE: There is a Help system built into the Management software. But that only helps if you can actually access it.
PLAN B – DO IT YOURSELF
After turning the RAID system right-side up and powering it on, I went to Plan B: Read the Onscreen Instructions.

Remember those four error messages that appeared the first time I powered up the system. This time, I ignored the printed user guide that shipped with the RAID hardware and simply clicked "Initialize."

This opens Disk Utility. Click the word RAID at the header then…

Drag the four hard disks which have nothing indented on the left side into the big white block on the right. For example, in the screen shot, notice that the 4 TB G-RAID with Thunderbolt has an indented line under it? This means it is formatted and able to accept data.

Either before or after dragging, give the RAID Set Name a name and be SURE to select Striped RAID Set. This configures a RAID 0, which is very fast. Mirrored RAID Set configures a RAID 1 which is very slow. (Unless you need the data redundancy that RAID 1 provides, say as a DIT operator on set.)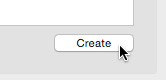 Click the Create button to configure the RAID.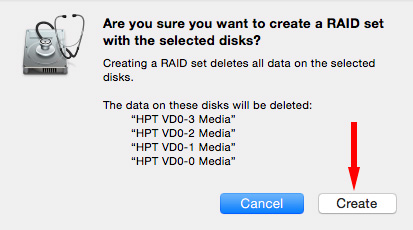 Accept the warning and click Create. Creating the RAID itself takes less than one minute.

Determine if you want to use the RAID for Time Machine. I have a separate drive for Time Machine and don't use drives that I plan to use for Media as Time Machine drives.
POWER UP NOTES
The blue lights on the front panel, in fact the entire front panel, are attractive and work as you expect.
The fan is exceedingly noisy – whether because we were unable to get the WebGUI to work properly or lack of software control or a problem with the unit. But this is the noisiest RAID I've looked at in a long time.
NOTE: When powering the unit up for a second time, the fan noise dropped significantly. It is still noisier than a 2-drive G-Tech RAID, but MUCH! quieter than during installation. I'm not sure what caused the louder fan noises. Because I can't access the WebGUI software, I don't know if there's a control setting for this.
TESTING PERFORMANCE
Because we used Disk Utility, we have created this system in its fastest configuration: RAID 0. Let's measure the speed.
NOTE: Remember, all hard disks and RAIDs are at their fastest when they are empty.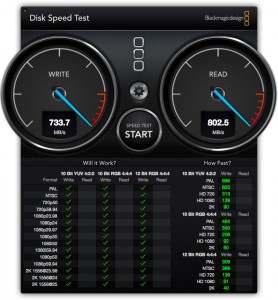 [Click to see larger image.]
Using the Blackmagic Design Speed Test utility, the HighPoint RAID delivers fully acceptable performance for a four drive system in a RAID 0 configuration. As you can see from the screen shot, this unit supports editing and playback of all video formats up to 12-bit depth 2K.
This is about the best performance you could expect from a four-drive system composed solely of spinning media hard drives. Keep in mind that RAID 5 speeds will be about 20% slower and RAID 6 will be about 40% slower. However, I can't test these configurations.
THINGS THAT NEED TO BE FIXED
The RocketStor 6314A RAID, from HighPoint Technologies, has the potential to be a worthwhile addition to all the high-performance direct-attached storage available for media editing. But the folks at HighPoint have some significant work to do:
They need to actually test their software from a new user point of view to be sure that new users can access the software. It is inexcusable that the user name and password would only be provided in one location AND that it would be wrong.
Support for new users, especially FAQs on installation, should not be password locked. Why is the company afraid to provide free support over the web?
Entering the serial number exactly as printed on the product label should not return an error message.
The fan needs to be much, MUCH!!! quieter. (In fact, I had to turn the unit off to continue writing this review – the noise was too distracting.) Though, to be fair, turning the RAID off and on seems to have reset the fan back to an acceptable noise level. Except, after leaving the unit running for a while, the fan switched back to "high-noise"level. Something is out of whack with the fan.
The screen shots in the printed user manual for verifying the RAID controller need to be accurate – or a description added explaining how vendor ID and device ID can be used to verify that the correct RAID controller is installed. Don't assume that end users are engineers and somehow "know this stuff."
If operational software, such as the HighPoint RAID Management tool, is necessary to install and operate the RAID, the company needs to bend over backwards to make sure it works properly. Personally, I would disable password protection for installation and have the end user enable it, if they feel the extra security is necessary.
The RocketStor may be a really good unit, but the company can't get out of its own way to make it usable. Unnecessary roadblocks in support, installation and documentation make this a unit to avoid, not adopt.
SUMMARY
All too often, companies that sell technology into the enterprise assume that selling to consumers requires the same set of tools and support; just in greater volumes. They don't. Consumer and non-IT professional products need clear, accessible instructions during installation, fast and easy access to support, and manuals that are clear, accurate and complete.
HighPoint has failed on all these counts – they may have a great product, but it is impossible to install properly.
If you are looking for high-performance, direct-attached storage for media editing, there are much better options than the RocketStor 3614A. However, once HighPoint gets these internal organizational problems fixed, I'd be interested in retesting this unit.
It might actually be worth buying at some point in the future.
---
Bookmark the
permalink
.