Product Review: G-Technology G-SPEED Studio RAID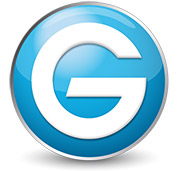 I've had the pleasure, over the last few months, of testing storage systems from Promise Technology, OWC, Arica, Drobo, and others.
However, the RAID 5 system from G-Technology was the one I was really looking forward to testing. Announced at NAB 2014, G-Technology released its latest high-speed hardware designed for video editing: G-SPEED Studio (RAID). This four-bay unit supports Thunderbolt 2 and can be configured as RAID 0, 1, 5, and 10.
NOTE: Here's an article the explains different RAID levels.
EXECUTIVE SUMMARY
The G-Technology G-Speed Studio RAID is dead easy to setup, delivers speeds suitable for just about all editing, looks gorgeous and is from a company known for its support for video editing and media creators.
The downside to this unit is that it is somewhat noisy, large, difficult to reconfigure and expensive.
Website: www.g-technology.com
Capacity: 24 TB, using four 6-TB Hitachi enterprise drives
MSRP: $3,599.95 (Prices start at $2,199.95 for 12 TB)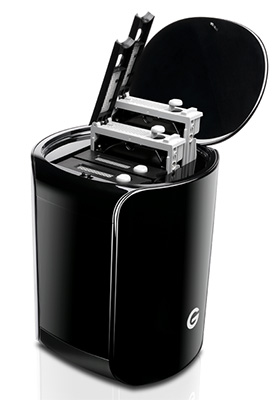 NOTE: I tested the G-SPEED RAID on a 2012 iMac with 16 GB of RAM running Thunderbolt 1. Given that this RAID does not exceed the bandwidth of Thunderbolt 1, I would not expect any difference in speed if this were connected to a Thunderbolt 2 system.
INITIAL SETUP
This stylish RAID is designed to complement the new look of the Mac Pro. Both are glossy black. Both are cylindrical. Both break the mold of what storage or computers "should" look like. (The image on the right comes from G-Tech.)
The unit arrived in a lovely cardboard box, packed with G-Tech's usual attention to detail. The drives were pre-installed. All that was necessary was to connect the power cord and the Thunderbolt cable.
NOTE: The Thunderbolt spec says that we can connect up to 6 devices on one Thunderbolt port with no loss in data transfer speed.
Well, when the G-SPEED arrived, I found myself with six Thunderbolt devices all in the same place at the same time. And, yup, they all worked with no significant drop in speed.
Cool.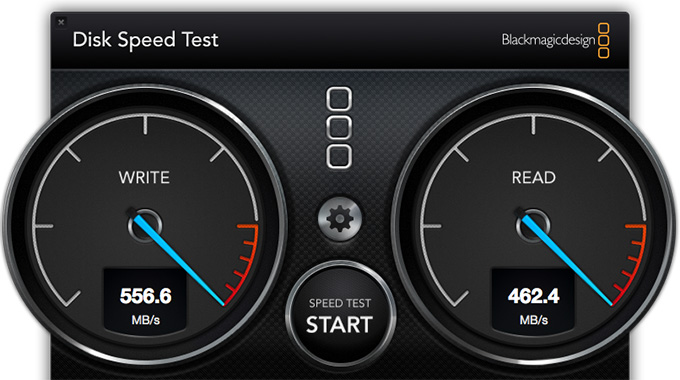 As soon as I plugged the unit in, I tested the speed. These are the results, using the Blackmagic Design Disk Speed Test. For four drives configured as a RAID 5, this is some blazing speed. Normally, I would expect speeds between 300 – 360 MB/second.
If all you want is high-speed storage, with a no-hassle setup, stop here and go to work. The G-SPEED meets the bill.
NOTE: I learned something recently about the Blackmagic Disk Speed Test program. When using it, you need to be sure that you are measuring the speed of the drives and not just the disk cache. To do this:
Let the test cycle at least five times.
Be sure to set the stress level to 5 GB, which is the default. Bigger files provide more reliable tests.
Don't believe the initial speed reading. Wait until the speedometer settles down.
Also, the Speed Test does not currently calculate an "average" speed. So, some variation in test results should be expected. I would expect variations around 5% to represent equal speeds.
RAIDS AND STORAGE
There's a trade-off when formatting multiple hard disks into a RAID. If you want protection in case a drive dies – called "data redundancy" – you need to reserve some of the total storage capacity for "parity data." This is data about your data and allows the RAID to safely rebuild the data from a bad drive when you insert a new drive.
For a RAID 5, this "reserve" is equal to the total storage of one drive. For this unit, I had four 6 TB drives creating a total capacity of 24 TB. Since this was formatted as a RAID 5, 6 TB was then reserved for parity data, resulting in a total accessible storage of 18 TB.
This is totally normal and how all RAID 5 systems work. I'm just letting you know where that extra storage space went.
MY REACTIONS
My editor, Mike, and I used this drive as part of our regular editing for a week. During that time, we never had a problem with performance. This system was plenty fast for our work: editing ProRes 4444 files for hour-long shows.
At most, we had three streams of video playing at once. And, measuring performance using Activity Monitor, we never needed more than 50 MB/second during editing. Most of the time we were using around 30 MB/second. In other words, this system has speed to spare for most types of video editing.

We frequently copied files from a RAID 0 (also from G-Tech) to the G-SPEED. In those situations, we saw data transfer rates around 250 MB/second; which was the limit to how fast those RAID 0's could go. Since our media files were huge, any boost in speed was welcome.
However, both of us were struck by how noisy the G-SPEED was. While not objectionable, the G-SPEED alone was louder than the combined noise of three other RAID systems all running on the desk. The fan was the principal culprit, but the hard drives themselves were noisy.
Also, the hard drives spent a lot of time clicking and "talking" to each other; even when no data transfers were taking place. Other RAID units didn't do this. Again, not objectionable, but distracting.
As you will read below, while the unit worked perfectly out of the box, configuring the RAID for other tasks took a LONG time – roughly an hour per TB of accessible storage. (In my case, 18 hours for an 18 TB array.)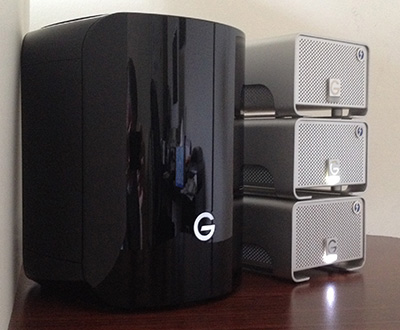 And, while the unit is lovely, it is also big; as tall as three stacked G-Tech Thunderbolt RAID 0s.
BOOSTING PERFORMANCE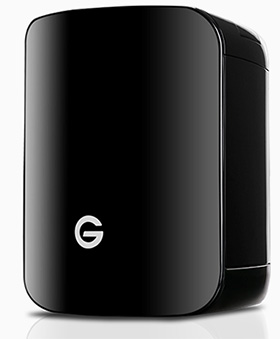 While the initial setup was dead easy, I was curious. A RAID, like a hard disk, slows down as it fills up. A way to prevent this is to create two partitions on the RAID:
One for high-speed data, which is the first partition you create
One for slower data, which is the second partition you create
There isn't a good reason, that I know of, to create more than two partitions on a RAID that will be locally-connected to a computer.
So, I decided to partition the G-SPEED into two sections and measure the speed. It was at this point that things got a lot more complex.
In order to create partitions, or manage the RAID in general, you need to download the G-Speed Utility from the G-Tech website. The utility is free and G-Tech provides clear instructions in their setup guide on where to go and what to download.
What I discovered is that the G-SPEED uses a hardware RAID controller. This provides faster performance than a software RAID controller, but it takes MUCH longer to reconfigure the RAID.
For example, to change partitions or RAID configurations requires rebuilding the RAID. This rebuilding process takes about one hour per terabyte of accessible storage. So, on this system, it took about 18 hours to rebuild the RAID. And, during this review, I needed to rebuild it three different times.
A CONVERSATION WITH G-TECHNOLOGY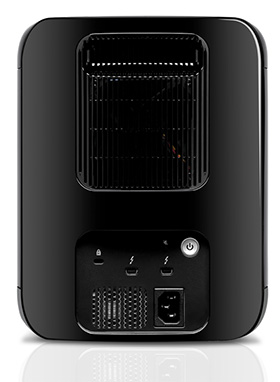 To learn more about what's going on, I had an email conversation with Greg Crosby, Product Line Manager at G-Technology. (I've edited this a bit for clarity.)
Larry: The G-Speed comes pre-configured for RAID 5, but using a single partition. What's the best way for non-programmers to create a two-partition RAID?
Greg: The G-SPEED Studio Software Utility is able to manage the device and can be used to create multiple Disk Arrays under the RAID controller.
Partitions can be created using Disk Utility, which is shipped as part of the Mac OS. [Dividing the RAID into two partitions: 80% and 20%] is a way to optimize the [RAID] for performance throughout the complete capacity of that volume. To create a Partition, open "Disk Utility" and select the Storage Device, in this case the G-SPEED Studio. There will then be tabs, one called "Partitions" where you can create up to 16 partitions.
For example, a 16TB Solution in RAID 5 has 12TB working storage. One partition would be 80% or roughly 9.6TB and the 2nd would be the remaining.
Larry: The G-SPEED also has the G-Tech Utility. Are you recommending we use Disk Utility which Apple ships with the OS, or the G-Tech Utility?
Greg: G-Technology recommends installing the bundled G-Technology Assistant utility and the G-SPEED Studio R utility even if you do not plan to make any changes to device configuration. The applications are useful for monitoring the system and receiving firmware updates. Additionally, the utility is necessary if you plan to change the enclosure's default RAID configuration [to something other than RAID 5] or if you will swap out any of the pre-installed hard drives. It also enables storage maintenance capabilities and other background activities.
The two utilities have different purposes. The G-SPEED Studio Utility would be the primary tool and the Disk Utility (Operating System) would be secondary.
To create partitions within a Volume or Logical drive you would use Disk Utility. Disk Utility would also give you the ability to change the file system based on partition, i.e. HFS+, FAT32 or exFAT.
Through the G-SPEED Studio Utility you can create two Logical Drives or volumes. In the example below I have created two volumes on my G-SPEED Studio 24TB with 18TB total capacity in RAID 5. One Logical Drive is 14.4TB and the second is the remaining 3.6TB. Each Logical Drive shows up as it's own volume and can be partitioned using Disk Utility.
Larry: As I look around the G-Tech utility, I see two terms that I don't know. What is Media Patrol and PDM?
Greg: Media Patrol is a routine maintenance procedure that checks the magnetic media on each disk drive. If issues are identified, it initiates other procedures (PDM) to help manage or protect your data.
And PDM – Predictive Data Migration (PDM) is the migration of data from a suspect disk drive to a spare drive. PDM is similar to rebuilding a disk array, but unlike in rebuilding, PDM automatically copies your data to a spare drive before the drive fails and your logical drive goes "critical." PDM can be triggered automatically by Media Patrol.
PARTITION SPEED TESTS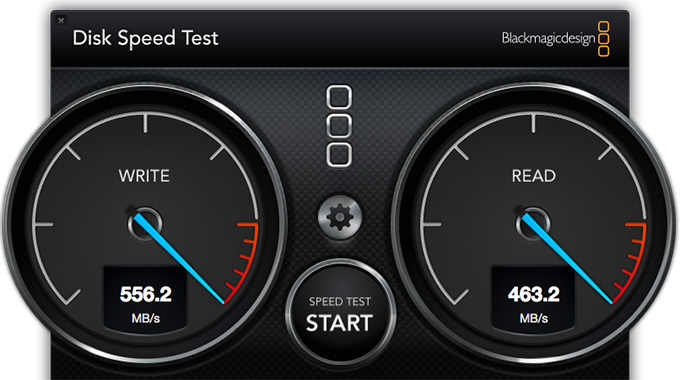 After partitioning the RAID, here is the speed of the fast partition. It is virtually identical to the single partition system. However, unlike the single partition, it won't significantly slow down as the partition fills up.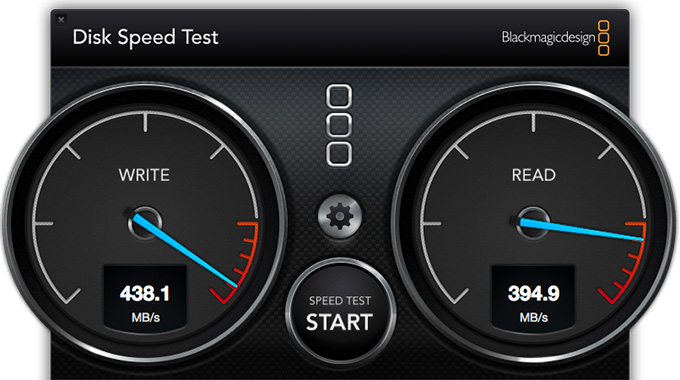 Then, I measured the speed of the slower partition. Whoa. The speed drops about 20%.
However, to put all this speed in perspective, a single stream of 720p ProRes 4444 is about 30 MB/second. ProRes 422 is about 18 MB/second. The speeds this drive provides would support about 17 streams of ProRes 4444 or 28 streams of ProRes 422. In other words, for most of us for most of the editing we are doing, these systems are plenty fast.
A TOUR OF THE G-TECH UTILITY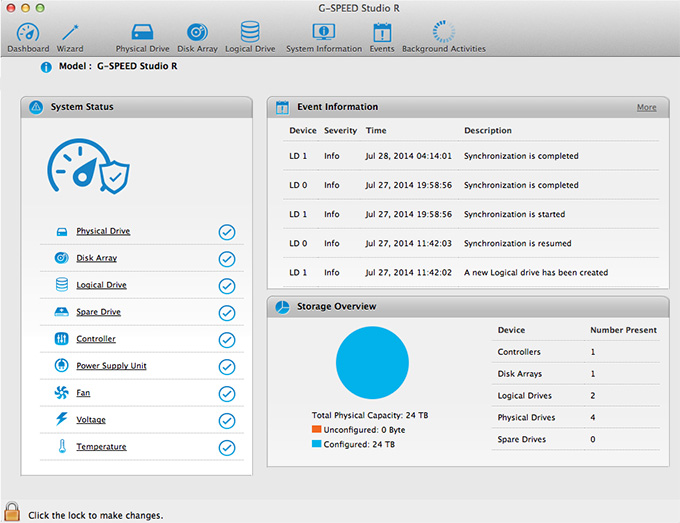 The G-Speed Utility, which is available for free as a download from G-Technology's website, is a full-featured RAID utility that allows you to monitor the status of your RAID, along with making changes such as changing RAID levels, replacing bad hard drives, verifying data integrity, and much more. This is the main Dashboard.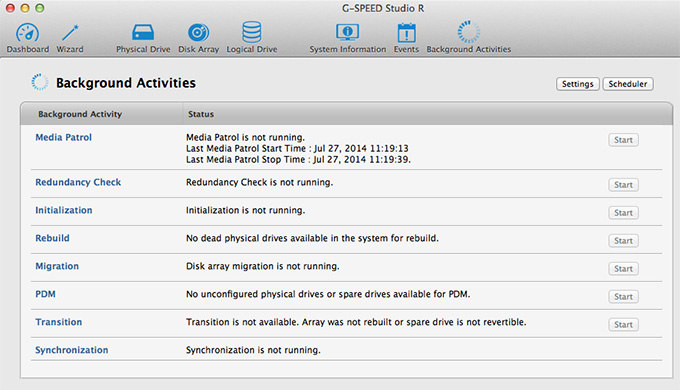 This shows all currently running background activities. Most of these don't need to be running for normal operation.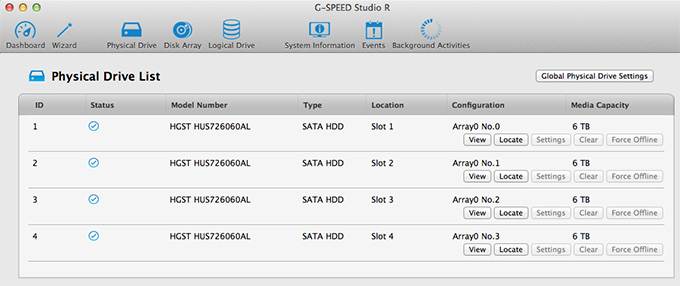 This shows that I have four drives installed in the unit.

Configured as one group of disks, called a "Disk Array."

Which is then formatted into two partitions. (Again, I did this to test the speed of two partitions vs. a single partition.)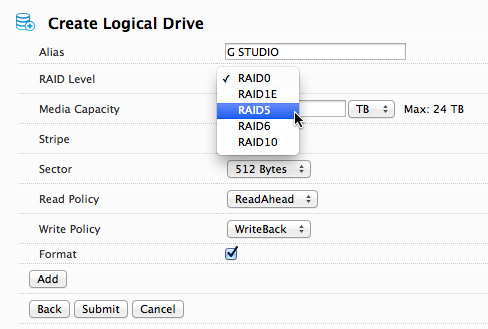 We can use this utility to create RAID 0, 1, 5, 6, or 10 configurations.

We can use a Wizard to modify a RAID. (Remember, the G-SPEED works out of the box, you do NOT need to do this unless you want to make changes to the standard configuration.)
The Wizard can create a new RAID with a single mouse click, or allow you to get deep into configuring a RAID to meet very specific technical criteria. My strong suggestion is to chat with G-Tech's tech support before making changes – just to be sure you are headed in the right direction.
The only problem with reconfiguring a hardware-based RAID is that once you make all your settings, the drives all need to "re-sychronize." This process takes about 1 hour per accessible Terabyte. (It may be slightly faster on a new Mac Pro.) This meant that whenever I made a change, it would take 18 hours for the system to resync.
SUMMARY
The G-SPEED STUDIO RAID is a lovely unit. It is fast – probably the fastest four-drive RAID that I've tested. Its enterprise-class drives mean it is likely to be reliable. And its from a company that specializes in storage for media.
But, it is somewhat noisy, large, difficult to reconfigure and expensive. I like it, but it could be better.
---
Bookmark the
permalink
.