Product Review: FCP X ImageExporter

Last week, Adam Teale, wrote to say:
"Back in 2013, you reviewed FCP X ImageExporter. I just wanted to let you know that I have done a rewrite of the app that works with the latest version of fcpxml (1.7)."
So, I bought a copy and gave it a try.
EXECUTIVE SUMMARY
Here's what's written in the Mac App Store:
Do you need to export a lot of images from your Final Cut Pro timelines but you aren't so excited about sitting there and manually doing it?
Well, simply place some markers in your FCP X timeline, export an FCPxml file, and fcpxImageExporter will do the rest!
Export at source resolution, sequence resolution or a custom resolution. Currently exports to jpg, png and tiff, but doesn't support exporting image from compound clips, text or image with filters applied.
But the application feels rushed to market, is filled with typos and needs more testing.
Developer: Adam Teale
Mac App Store: itunes.apple.com/us/app/fcpximageexporter/id1018641037?mt=12
Website: http://adamteale.com/apps/fcpximageexporter/
Price: $4.99 (US) (Introductory offer: $3.50 US)
HOW IT WORKS

In Final Cut Pro,  put a marker (shortcut: M) on every frame that you want to create as a still frame.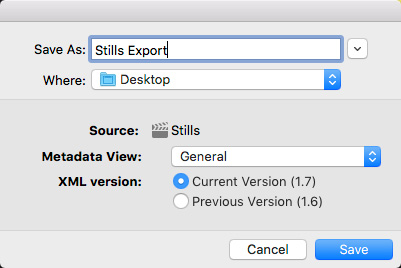 Choose File > Export XML, give the file a name and store it somewhere you can find it.
Launch FCPXImageExporter.
Either drag the XML file into the XML data box at the top left, or click the top button to navigate to and select the XML file.

Create a folder in the Finder where you want to store the exported stills. Then, either click the Output folder button or drag the folder into the Output Destination Path text box.
NOTE: Based on my experience, clicking the text buttons will probably be more reliable.

The software can export either a JPG, PNG or TIFF image. For the highest quality choose PNG or TIFF. Most of the time, for stills, I use PNG.
NOTE: The two grayed-back versions are reserved for a future update.

You can set the frame size of the exported stills to match:
The source media
The project frame size in FCP X
Or a custom size you specify here
Again, for highest quality, choose Media Src, though if you are using non-square pixel aspect ratio media, you'll must use the Sequence setting.

Optionally, you can add a prefix to every export; for example, to identify them for a specific project.
When you are ready, click the Export button.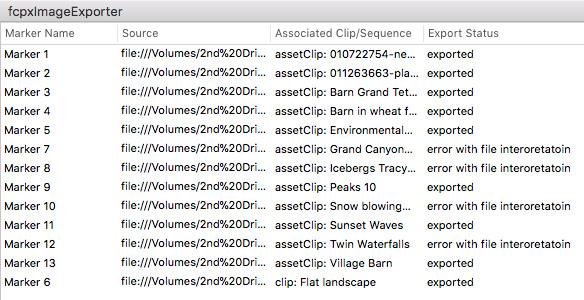 The process of exporting is very quick. The system generated ten stills in less than a second. Far faster than doing this same task inside FCP X.
However, it reported errors and could not generate stills for Motion JPEG A or Motion JPEG B files, which are often used in stock footage libraries.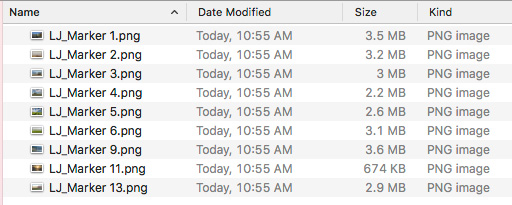 It COULD generate stills from files using the following codecs:
Apple ProRes
Photo-JPEG
HDV
H.264
AVC1
It probably supports other formats, but these were all the codecs I had on hand to test.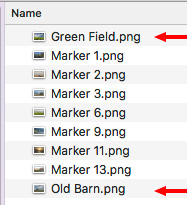 Another  feature I like is that the file name of the still uses the marker name you entered in Final Cut Pro X.
LOTS OF COMMENTS
FCP X ImageExporter reads the XML file for the marker location, then locates the source file and exports a still frame from the source file at the timecode location of the marker. Because it isn't actually exporting the sequence, this software can't read any effects or inspector settings that are applied to the clip.
It is very fast, fairly simple to use, and does what it says it will do, mostly. However, it is not yet ready for prime-time, the application feels VERY rushed to market.
First, it is riddled with typos, bad grammar, poor capitalization and, in general, gives the feeling of being hastily assembled and not proofed. Even the description in the Mac App store can't spell Final Cut Pro X correctly. There's no excuse for these kind of obvious mistakes.
Second, if you are working with SD footage or HDV footage, FCP X Image Exporter makes no effort to correct the aspect ratio. All your images will come out squished. If you are shooting video that uses a square aspect ratio, this isn't a problem. But, for legacy footage, it is.
NOTE: This can be overcome by sizing your images to match the Sequence.
Third, the application needs a help file that describes which codecs and image formats are supported, as well as flag those codecs that have non-standard aspect ratios.

Another problem I ran into was that though the Status indicated "Ready for Action," the Export button would not activate. There was no indication of what was wrong or what I needed to do to fix this problem.
NOTE: To activate the Export button, I used the two buttons at the top to reset both the FCPXML file and the output folder.
Finally, it doesn't remember any custom settings you've applied. It always resets back to JPG and Media Src. At a minimum, it should default to PNG to retain image quality.
If you are currently shooting HD or 4K media composed of square pixels in a common codec like ProRes, this app should be OK. However, FCP X ImageExporter would benefit from additional testing, proof-reading, Help files and an accurate Status indicator.
---
Bookmark the
permalink
.