Product Review: EditReady from Divergent Media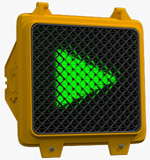 [ Read my disclosure statement on product reviews here. ]
ClipWrap, from Divergent Media, is legendary amongst video editors for its ability to repackage AVCHD and HDV media into formats that are much friendlier to edit.
However, on June 28, 2016, Divergent Media announced it was officially retiring its popular ClipWrap application; and absorbing its features into the brand-new EditReady application. EditReady includes all of the features and capabilities of ClipWrap – and adds significantly more value for filmmakers – all for the same price.
With the new release, the team at Divergent Media sent me an evaluation copy to use for this review.
EXECUTIVE SUMMARY
The days of shooting, editing and exporting a single video format for a project are long gone. We are awash in competing video codecs and standards. EditReady is designed to take camera native files and convert them into a common format (called a "mezzanine format") prior to editing, allowing you to standardize on one video format for editing and mastering.
EditReady is a transcoding utility for video files. It will rewrap or transcode any MXF, MTS (AVCHD), M2T (HDV), MP4, or QuickTime (MOV) file and convert it into Apple ProRes, Avid DNxHD/HR, or H.264 output.
It supports popular editing formats – ProRes, DNxHD and rewrapping – and non-linear editors: Final Cut Pro 7, Final Cut Pro X, Avid Media Composer, Adobe Premiere Pro, and Apple iMovie. It also supports applying LUTs (color Look-Up Tables) to your footage prior to conversion.
Key features include: changing clip metadata, including timecode, file renaming, format conversion, batch processing and an easy-to-use interface.
The software ships with a 31-page PDF user manual and a free trial is available.
Product: EditReady
Developer: Divergent Media
Website: www.divergentmedia.com
MSRP: $49.95 (Upgrade pricing is available for ClipWrap users)
BACKGROUND
I've been writing about video compression and testing compression speeds for a long time. Video compression is a necessary evil; very few people understand it and even fewer enjoy doing it. However, compression is a necessary and vital part of video production today.
EditReady is designed to convert files prior to editing into a single, high-quality video format. While you can use it at the end of the process to create files for YouTube et al, that is not how it was designed.
This conversion process, called "transcoding," allows you or an assistant to optimize files without tying up an editing system.
"EditReady accepts files in the QuickTime MOV, MP4 and M4V formats, as well as MXF files from most cameras that record to the MXF format. In addition, it supports files in the AVCHD and HDV formats, which generally use the M2T, MTS and M2TS extensions. In general, if a file plays in QuickTime Player (for MOV/MP4/M4V files) or VLC (for MXF, M2T and MTS files), it'll play in EditReady." [EditReady User Manual]
GET STARTED
EditReady must be purchased from the Divergent Media website. When first downloaded, it runs in Trial mode, allowing you to compress the first minute of a file. Purchasing the software provides a serial number which is used to unlock the software.
Installation was straight-forward and took me about a minute and a half.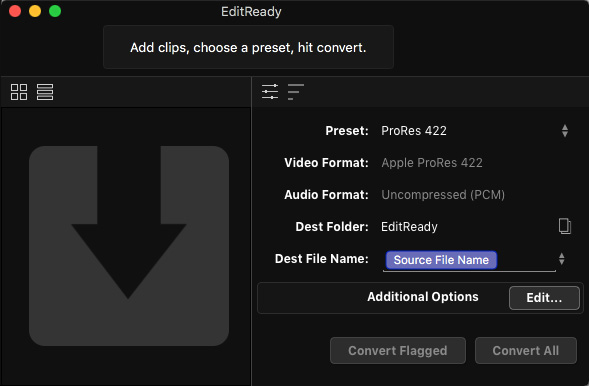 Here's the opening screen, which can be resized as necessary.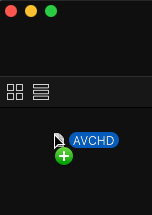 To import files either use File > Open or simply drag the files or folders into the left panel. Here, I'm dragging a folder containing 26 AVCHD/MTS files into EditReady. Note that I'm dragging the entire folder, not just individual clips.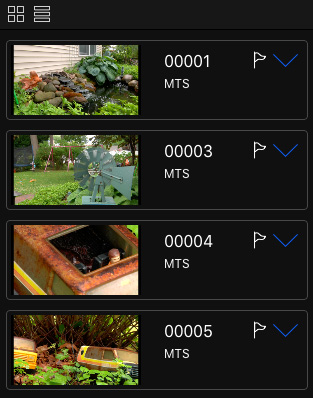 You can display the footage as either a list or thumbnails. (These images courtesy of Joe Centeno and his backyard.) This is the list view.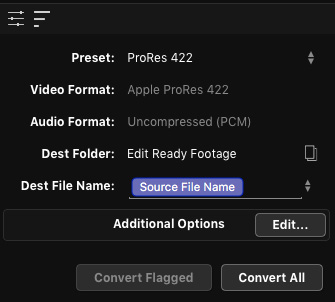 The default transcode settings are set to ProRes 422, with uncompressed audio.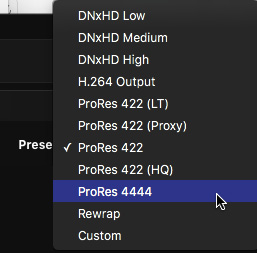 However, there are eleven preset output options. Remember, EditReady is designed for prepping files prior to editing, not final compression before distribution. For this reason, the presets are optimized for editing.
I really like that the default setting for audio is uncompressed. This is a very smart choice.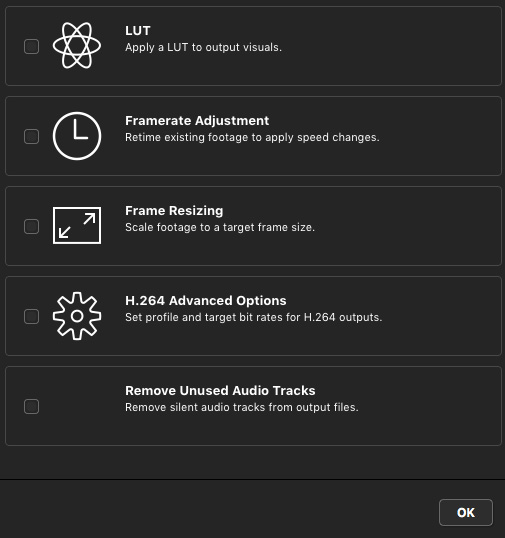 Clicking the additional options Edit button allows you to apply a LUT to the footage prior to conversion, retime footage, scale footage, adjust H.264 settings or remove unused audio tracks.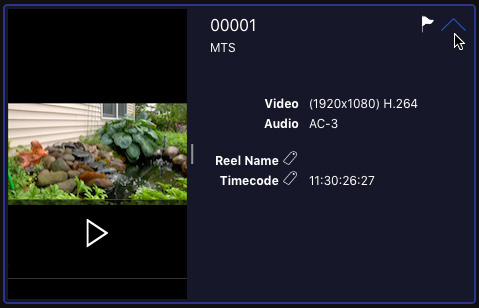 You can learn more about a clip by clicking the triangle icon in the top right corner.
TRANSCODING
To test the speed of transcoding, I'll time how long it takes EditReady to convert these  26 clips into ProRes 422 using a 2014 27″ iMac with 32 GB of RAM.
EditReady was finished in exactly three minutes.
Apple Compressor could not open these files, though Final Cut Pro X could.

Importing these files in Adobe Media Encoder generated this error message. Installing the Dolby codec took seconds…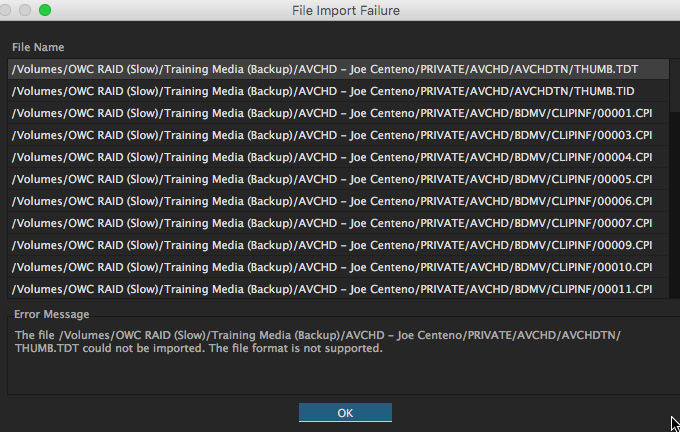 Then this error message appeared. I've never seen this before, but I assume this is AME ignoring the metadata associated with each source clip.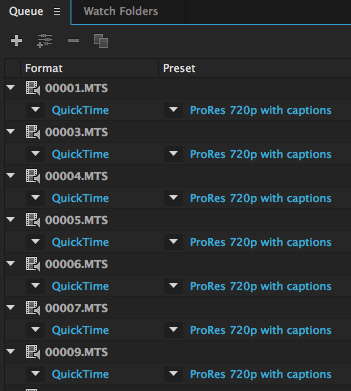 Unlike EditReady, which has one transcode setting that applies to all the files, AME has one setting per each clip. This is more flexible, but if all you need to do is prep your files for editing, resetting this setting takes time – especially if you have a lot of clips to transcode. This can be especially irksome if you had the wrong setting applied when the clips were imported.
NOTE: It took me longer to reset all these compression settings and repoint the destination than it did for Edit Ready to transcode these files.
Final results:
Edit Ready: 3:00 minutes for all 26 files
Compressor: Could not open the files
AME: 8:03 minutes, AFTER changing the settings and destinations
SPECIAL NOTE ON FINAL CUT PRO X AND PREMIERE PRO
Both Final Cut Pro X and Premiere Pro CC can open and edit these files natively. FCP X can also automatically transcode them into ProRes 422 in the background while you are editing. Why should we consider using EditReady?
There are three potential answers:
You don't, if you are a solo shop and happy with your current speed and workflow.
You do, if you have an assistant who can prep files for you without tying up your editing system. This also includes renaming files, applying metadata or making initial decisions on which files to transcode.
You do, if speed is important to you. There is no question that editing ProRes or DNxHD files will provide faster rendering and exporting in your NLE, while allowing greater range in color grading than editing AVCHD or H.264 files natively. By off-loading the transcoding process to a separate computer or assistant, the editor is able to focus on editing while files are being prepped for the edit.
A NOTE ON LUTS
"Click the "Add LUT" icon to apply a LUT to your file during playback. This allows you to quickly preview any conversions you'd like to apply. Keep in mind that LUTs can be compute-intensive, particularly on 4K files. Slower computers (or computers with slower graphics cards) may have trouble with realtime playback." [EditReady User Manual]
OTHER COOL STUFF

The converted file name can be altered using a template consisting of the source file name plus any combination of: automatically incremented clip numbers, creation date, image dimensions OR you can add additional values from your file's metadata to the file naming scheme. For example, a Reel name or even the folder the file is stored in.
This ability to selectively use any of the metadata associated with a  clip as part of the file name is a big deal.
You can easily monitor the conversion status of each clip – green is done, blue is in-process. Conversions can be paused or canceled using a menu option, though an on-screen "ALL STOP" button would be helpful for panic situations.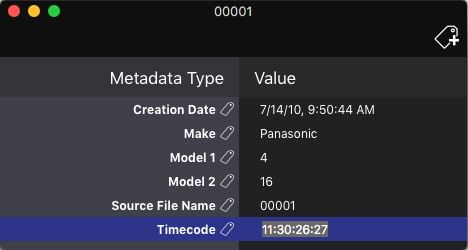 EditReady includes a metadata editor which allows you to change metadata associated with each clip or globally for all clips. A HUGE benefit of this is that you are able to change the starting timecode for a clip before converting it!
Metadata may include camera settings like F-Stop, Iris, and Shutter, as well as items like Location (if your camera has GPS), media serial numbers, or even diagnostic data.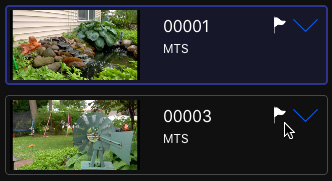 You can flag clips – say as a "Favorite" – then change metadata only for flagged clips, or just convert the flagged clips. This means that you can quickly select which clips to convert without wasting space on clips you'll never use.
You can open multiple EditReady windows so you can compress files from different sources using different settings all at the same time.
EditReady also supports full-screen mode, though on a 27″ iMac its a bit over-whelming.

EditReady is not a resource hog. The CPUs were busy, but I still had plenty of available CPU power during conversion for other applications to use.
NOTE: The reason the CPU load is so low is that EditReady uses QuickSync hardware acceleration, which is part of the Intel chipset. This section of the chip does not report its usage in Activity Monitor. Because of this EditReady is able to maximize performance, while the general purpose sections of the CPU are still idle for use by other processes.

Edit Ready is very RAM efficient, leaving plenty of overhead for other software.
AN INTERVIEW WITH MIKE WOODWORTH
Mike Woodworth is the CEO and Lead Developer for Divergent Media. As I was writing this review, I sent Mike a few questions to learn more about EditReady. Here is his response.
Larry: We already have a number of video compression utilities, why did you create EditReady?
Mike: We surveyed the market and found the compression tools that existed focus on general purpose transcoding. From the popularity of ClipWrap, we knew there was a market for tools tailor made for workflow specific use cases. More and more cameras are shooting in heavily compressed interframe codecs that are poorly suited for editorial. In addition, its becoming rarer to work on a production with a single camera make or model – we're seeing multiple camera types, frame sizes and codecs being intercut. We wanted to make a tool for quickly converting a pile of disparate footage into a single clean, organized, well named, edit-ready format. So we set about trying to make a transcoder/ re-wrapper tool for prepping footage for editorial.
Larry: Who do you see as the principle market for the software?
Mike: We target professional and prosumer video creators. People who plan to edit their content, produce dailies, make H.264 layoffs for the web.
Larry: Does this replace ClipWrap?
Mike: Yes, we've ported all the camera support from ClipWrap. As an added bonus, a newer foundation which leverages GPU based color science and hardware accelerated encode and decodes gives us a 3x speedup for HDV and AVCHD content. Add in thumbnails, preview, metadata editing, and LUT-based color correction, and we think its an excellent replacement for ClipWrap.
Larry: For people that already own Adobe Media Encoder or Apple Compressor, what do they get with EditReady that they don't already have?
Mike: The advantage of making such a laser-focused product is how simple we can make the process. The UI is designed to make it super easy to take disparate source media and transcode everything into a single format for editing. This can save users a ton of time and frustration fiddling with settings. In addition, we've added other prep-for-edit tasks such as metadata editing and review.
Larry: For people who refuse to read manuals, what secret tip about the software should they know about?
Mike: I think the features people are most surprised by are the things EditReady does for you automatically. Compression software has traditionally barraged users with settings and options they have to properly configure given their source media to achieve a quality output. Because we do all of that automatically based on the metadata we parse within the source media – without user intervention – its common for customers to assume we are somehow more basic than other apps.
In a similar vein, many users are not aware of our camera file parsing. If you drop a folder of camera original clips onto the app, EditReady will automatically join spanned clips into a single seamless movie.
Larry: Is there a quality difference, or just a speed difference, when using EditReady compared to other compression software?
Mike: It depends which apps you are comparing us to. Many of the other transcoding solutions have subpar color science or unlicensed ProRes implementation. We make sure we aren't altering your image during transcode, and that we choose a code path that preserves the most information and color detail possible for your source and destination formats.
And by choosing the newest foundation to build upon, we are able to achieve this while also being the fastest tool on the market.
Larry: Can EditReady be automated; i.e. droplets or watch folders or batch lists?
Mike: We don't offer droplets or watch folders out of the box, but we do have command line support for all the functionality. So users can roll their own workflow automations.
Larry: What feature are you most proud/excited about in EditReady?
Mike: Users are always amazed how fast EditReady is. Both the speed of actual file transcodes, and how quickly they can launch the app and setup a batch to transcode. We really pride ourselves on how painless we make the process.
SUMMARY
I am impressed with EditReady. While I haven't tested its speed extensively, it feels very fast. It is ideally suited for organizing the mess of video formats that every editor faces on a daily basis into something manageable for their video editing software.
EditReady is a fast, flexible, simple to use video converter, created by the same folks that created ClipWrap. If you are looking for a tool to help speed your editing, provide greater flexibility with clip naming, change the timecode of a source clip, or simplify media management, you need to take a long look at EditReady.
---
Bookmark the
permalink
.