Product Review: Drobo 5D3 Direct-Attached Storage [u]

[ Read my disclosure statement on product reviews here.]
[ Updated June 4, 2018, with two notes from Drobo in the Speed section. ]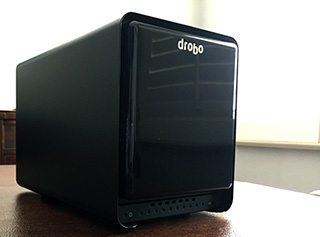 We all know that we need to backup our data. But, we also know that most people don't.
You don't by a Drobo for performance, you buy it for security. And expansion. And ease of use.
I've purchased, or reviewed, storage from close to two dozen companies and Drobo is unique in how they describe, promote, package and deliver their products.
Every storage vendor sells storage, sometimes technically-challenging-to-set-up storage. When you open the box from Drobo, you've found more than storage – you've found a friend.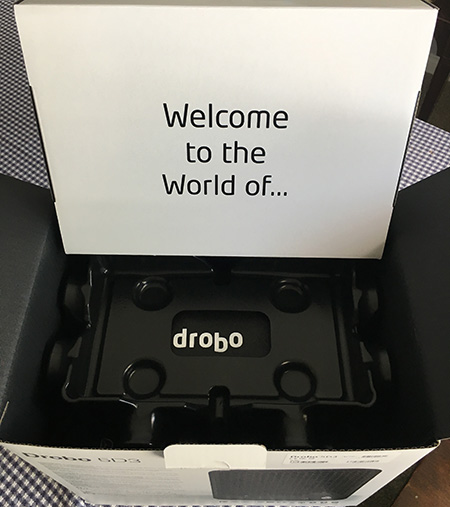 (Drobo says "Hello!" better than anyone, except possibly a Mac.)
Drobo is designed to make backups non-threatening and easy. No one in storage does better packaging than Drobo. The only company that comes close is Apple. And, like Apple, the whole point of their packaging is to make you feel good about technology.
Which, when you think about it, is pretty amazing.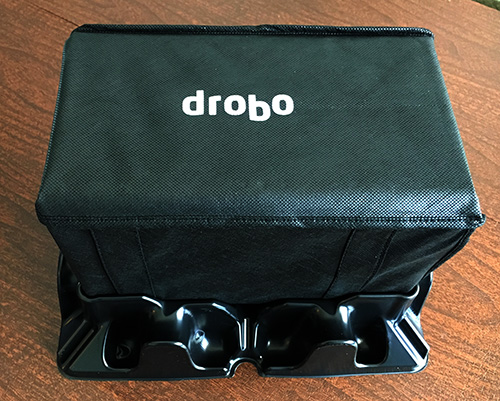 (The Drobo comes carefully wrapped in its own protective cover, which turns into a fabric carry-bag with handles. Cool.)
But, if we don't consider sheer performance, what can we use Drobo storage for? Surprisingly, quite a lot. Recently, the Drobo team contacted me about reviewing their latest direct-attached storage for Mac: the 5D3. I've reviewed lots of Drobo units over the years, so I was immediately interested.
They very kindly loaned me a new 5D3 for this review. Then, it took me a week to get drives for the unit, because the 5D3 ships without drives. Now that I have all the pieces in place, let me tell you about this new storage system.
EXECUTIVE SUMMARY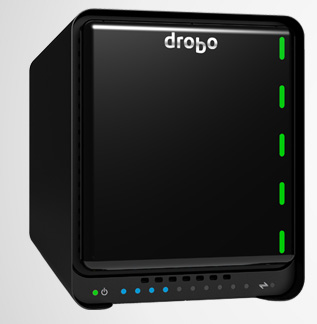 Drobo designs storage systems which are easy to setup, highly flexible and highly expandable with reasonable performance. The 5D3 is the definition of "hardware appliance."
You can get systems which are faster, but you can't find a system which is easier to setup or use.
The 5D3 connects to a Mac with a cable that is Thunderbolt 3 (Mac-side) on one end and USB-C (Drobo-side) at the other. Power, from an external power supply, provides 12V DC current.
Another excellent design thought is that while the Drobo uses a USB-C port to connect to the computer, it has two additional Thunderbolt 3 ports on the back to allow daisy-chaining additional devices or monitors; Drobo specifically mentions supporting additional 4K monitors.
You don't buy a Drobo solely for performance – though its performance isn't bad; instead, you buy it for ease of setup, ease of operation, flexibility in accommodating drives of difference capacities, expandability in allowing you to add drives at any time without sacrificing data or performance, and its reliability for sitting quietly in a corner, keeping all your files backed up and safe.
Product: Drobo 5D3
Manufacturer: Drobo
Website: http://www.drobo.com/storage-products/5d3/
Price as tested: $699 (US) for an empty enclosure without drives
Warranty: 2 years (excludes hard drives)
A COMPARISION TO RAIDS
Drobo is different from just about all other storages systems (which is a fancy word for "RAID") in the market. Why? Because a "normal" RAID:
Does not support using drives of different capacities without wasting drive space
Does not support adding additional drives to the RAID without reformatting the RAID and erasing all existing data
Drobo supports both these options – in what Drobo calls "BeyondRAID" – easily. As well, all drives are hot-swappable; which other RAID system support as well.
SETUP AND DROBO DASHBOARD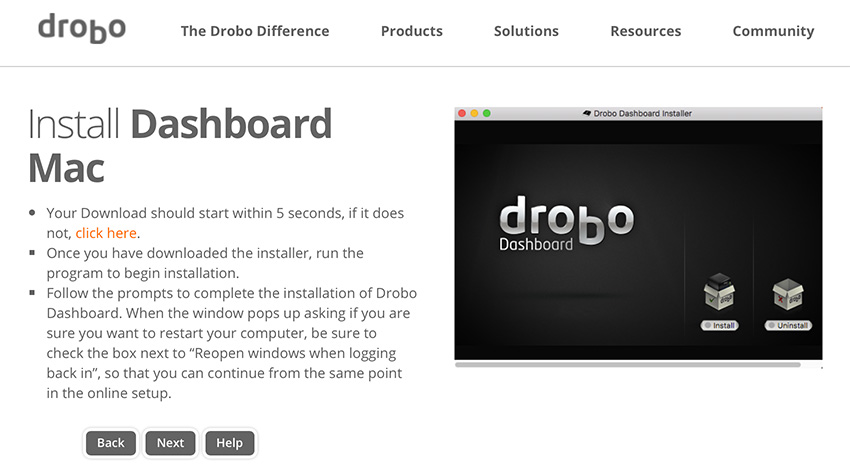 (Click image to see larger view.)
The first thing you need to do when setting up a Drobo is visit the "Get Started" pages on the Drobo website. They are well-written, copiously illustrated and make setting up a system straight-forward.
After installing the drives, which just slip in no sleds required, you need to install Drobo Dashboard.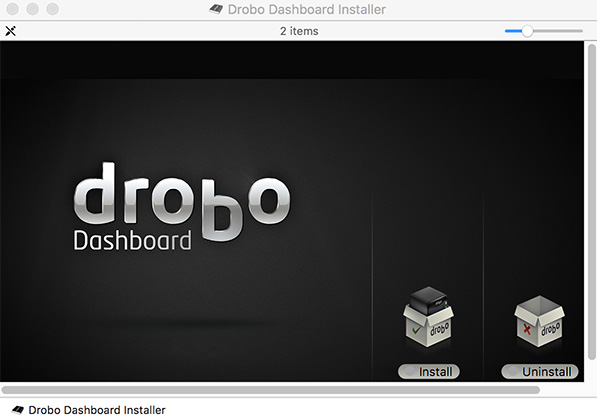 Drobo Dashboard is the software that configures and manages all Drobo systems. Once installed, it can be accessed from either the Applications folder or the menu bar.
Installation requires 28 MB of storage space on your boot drive. Because it is installing a system extension, you'll also need to allow it using System Preferences > Security. The whole process was straight-forward and took less than five minutes.
After installation, you'll need to restart your computer.

NOTE: The setup instructions require us to register our system, but the registration page does not appear in Drobo Dashboard. While there is a warning that the Drobo requires activation, there is no indication of how to activate it.
Ah. It just requires waiting. About two minutes after Drobo Dashboard starts, the Activation screen appears. It will be necessary to wait for it.
Once Drobo Dashboard is installed (which also includes an automatic update, if necessary, for the device firmware)) the system begins initializing the drives. The duration of this process will vary depending upon the number and size of the drives. I decided this was the perfect time to go get another cup of tea.
NOTE: Drobo was done before my tea. It took about four minutes to initialize.
After initialization is complete, the drives need to be formatted. On the Mac, Drobo only supports HFS+ (which is what I would expect). During the formatting process, Drobo asks if you want to use it for Time Machine. If this unit is used as a backup system, enabling Time Machine is a good idea, but it is not required if you are using the Drobo for something else.
NOTE: During formatting, Drobo will ask you to size your volume, with a default setting of 64 TB. Sizing should ALWAYS be larger than the sum of the capacity of the drives you plan to use. Ultimately, this Drobo will have five 8 TB drives in it, so I just left the size at 64 TB. There is no harm in picking a size larger than the total capacity of your drives.
The reformatting process, with two drives, took about a minute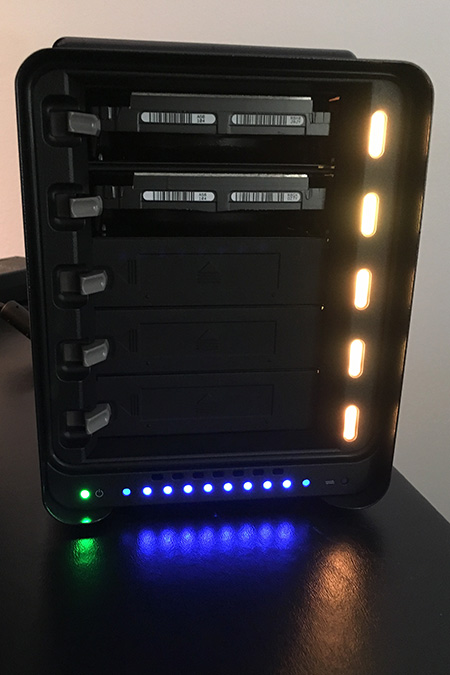 (Inside a Drobo. The front cover attaches magnetically, which makes installing drives trivial.)
If I wasn't writing this article, from taking the unit out of the box to fully operational took about 20 minutes. And, with the help of Drobo's "Get Started" website, was very easy.
With past Drobos, I always added all the drives at once. This time, I added them one at a time because I wanted to see the differences in performance, as well as how long it took for Drobo to integrate the new hardware
When a new drive was inserted, it took the system about 20 seconds to recognize it was there. After that, there was no reconfiguration or reformatting. It just worked. For those of us who have waited more than a day for a RAID to rebuild, this configuration speed was close to instant.
SPEED TESTS
Because the Drobo is so easy to expand by adding hard drives, I decided to test the speed of the system based on the number of drives installed.
NOTE: For this test, I'm using brand-new WD Red 8 TB NAS drives at 5400 RPM.
2 DRIVES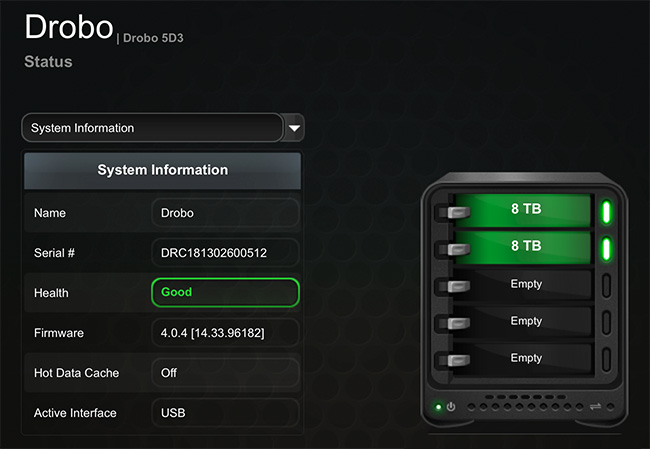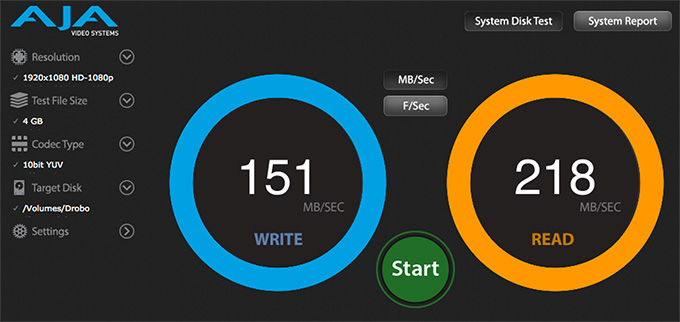 When there are only two drives, Drobo configures itself as a RAID 1, which means that if one drive dies, all your data is safe.
For a two-drive RAID 1 system, these speeds are what I expect and adequate for most SD editing.

With three or more drives, the 5D3 configures itself as a RAID 5, with the option to switch to RAID 6 (checking this checkbox enables RAID 6 configuration).
NOTE: Here's an article that explains the different RAID levels.
3 DRIVES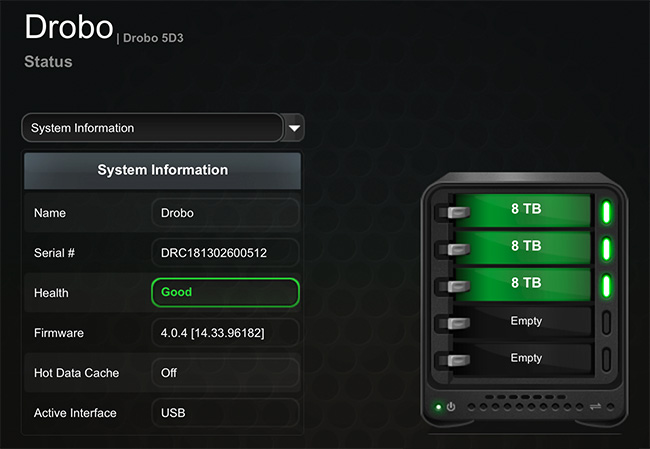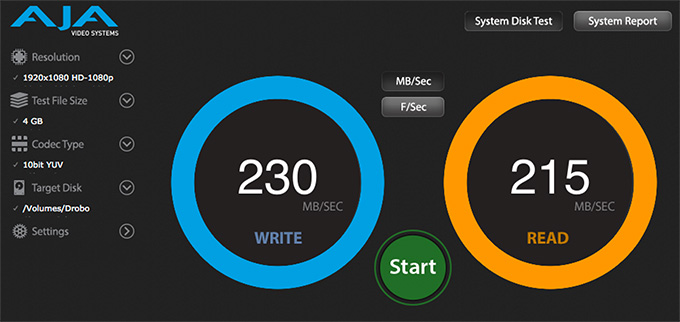 After adding a third drive – which was ready for use in about a minute – I reran the tests.
Data transfer speed improved, but, compared to systems that are optimized for speed, these speeds are on the slow side.
NOTE: The 5D3 has an option to add an mSATA card as a high-speed cache. I did not test with this card installed.
4 DRIVES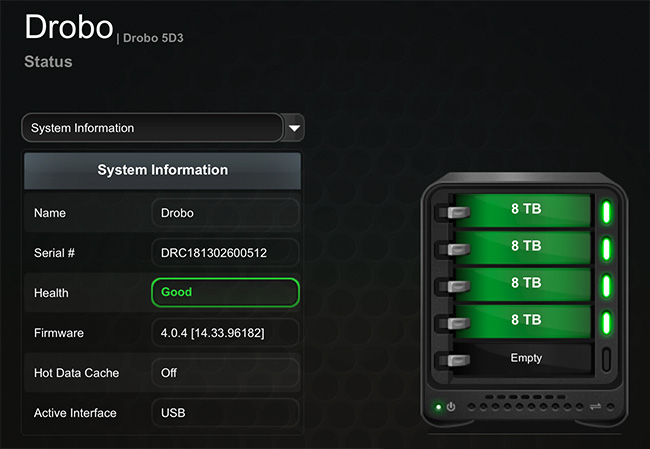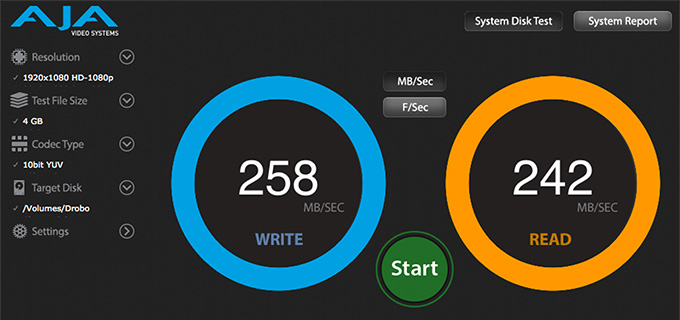 After adding a fourth drive – which was ready for use in 35 seconds, because I timed it – I reran the tests.
Again, speeds improved slightly, but we are starting to reach a top-end limit.
5 DRIVES
After adding the fifth, and final, drive – because the 5D3 only holds five drives, I reran the tests.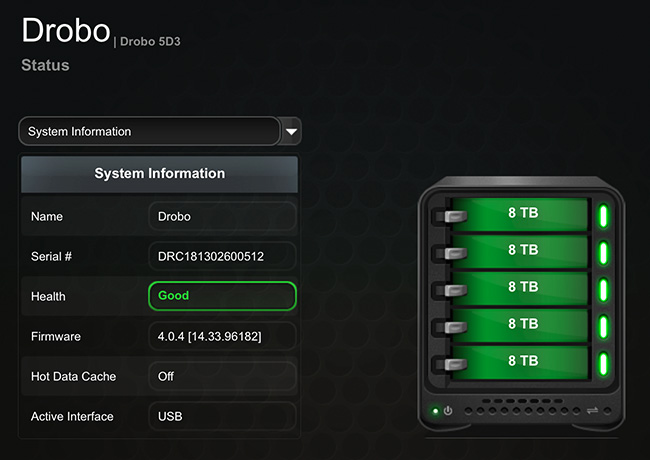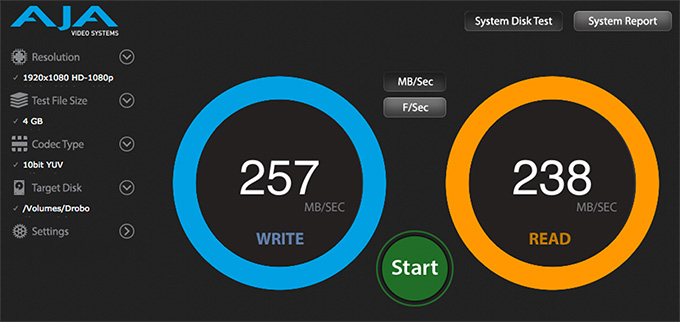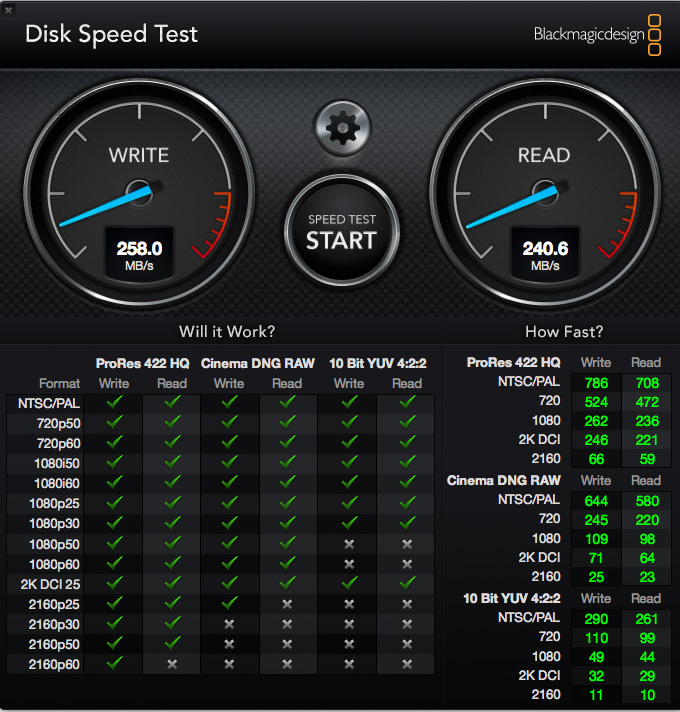 Essentially, once you have three drives, the speed of the system doesn't change significantly.
Notice that even though the bandwidth is "only" 250 MB/second, this is more than fast enough to edit every version of ProRes up to 2K, and almost all versions of HD media, including HDR.
NOTE: However, I would not recommend the Drobo 5D3 for extensive multicam or Raw editing.
REFORMATTING
Now that all the drives were installed, I reformatted the Drobo to see if that would affect performance. Reformatting took less than a minute and  there was no speed benefit to reformatting the system after adding a drive. Which is reassuring, because reformatting a drive with data on it is always a laborious process.
UPDATE – June 4, 2018
After this review was published, Drobo sent me the following two notes regarding system performance.
Thanks again for the review. We took a look at it and wanted to clarify some things:
Because you used 5,400 RPM drives, you received low read and write speeds. If you use 7,200 DAS drives such as Seagate Barracuda Pro, you would have received around 500 MB/s Read and 300 MB/s Write speeds. Also, these numbers would go up even more if you use an mSATA card. Basically, the [rotational] speed of the drives is the limiting factor in performance. The good news is that with the 5,400 RPM drives, you hit what is possible for that configuration.
Although we do compete on ease of use and simplicity and not necessarily performance, we do have some bench marks on 4k and above video editing. We will be publishing a blog post soon on that as well since we have had several other questions about the optimal configuration for 4k and up video editing. I'll send that to you when it comes out.
Larry adds: Thanks for the additional clarification. I didn't have 7,200 RPM drives to use in testing. However, I think the 500 MB/second Read speed is at the high-end of performance expectations. Keep in mind that as any spinning media drive fills with data, its performance will slow down. This is not a Drobo issue, but the way all spinning media works.
OTHER NOTES
I have two comments about the Setup Guide:
It needs to provide clearer instructions on when and how to start Drobo Dashboard, as well as how to access it from the Menu bar.
It also missed explaining that once you download Drobo Dashboard, you need to start the application to complete the rest of the installation.
As soon as I started Drobo Dashboard, it was like saying hello to an old friend. The default settings are all excellent, but for those of us who like to tweak, Dashboard makes it easy.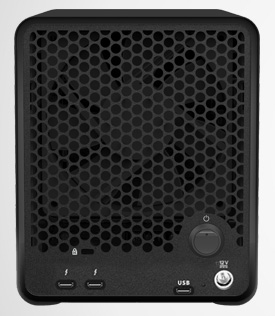 The system is quiet. The noisiest components are the hard drives. The included 3-foot (1 meter) cable does not allow moving the unit very far from your computer. However, unless you are in a noise-critical environment, the sound of this system won't bother you. In an office, you'll never notice its running, except for the lights on the front panel.
The power cord is easy to disconnect from the back of the unit. While it won't slip out on its own, it is too easy to disconnect. It would be nice if Drobo provided an optional way to prevent the power from being pulled.
However, reading further on Drobo's website it says that "every Drobo includes battery backup technology to protect data in memory or cache. When power spontaneously goes away, Drobo moves any in-flight data to onboard flash in your Drobo, so it will be protected and moved to your disk drives once power is restored. This ensures your important information is safe and sound. Even better, your battery recharges itself and is designed to last for the life of your Drobo." (Drobo website)
The 5D3 includes a built-in Accelerator Bay "an mSATA card holder (mSATA card not included). Our patented, Accelerator Cache technology keeps a copy of your most frequently accessed data to deliver blazing-fast speeds. The accelerator cache will dramatically speed up loading large photo libraries and other I/O intensive operations, smooth out your workflow and optimize your productivity." (Drobo's website). I did not test the speed of this unit with an mSATA card because I don't own any mSATA cards.
SUMMARY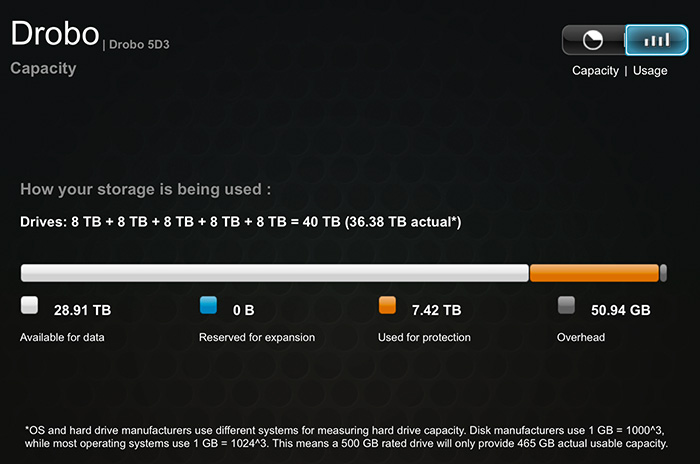 If you are looking for pure speed, Drobo is the wrong choice. But that isn't how Drobo designs its systems. They are designed for people that need more storage for backup, or want expandable storage, and don't want to hire a tech to set it up. And, at these speeds, backups won't take long for even large files.
You can start using Drobo with two drives. If one drive dies, your data is safe.
You can add one or more drives, even drives with different capacities – as your budget permits – and Drobo instantly adds it to your your total capacity. And, if a drive dies, your data is safe.
You can change a smaller capacity drive for a larger one and Drobo uses the extra capacity. Still better, your data is safe.
Drobo is designed to keep your data safe, to provide an easy way to make and keep backups, and to act as your friendly storage appliance.
Drobo offers something more important that speed: it provides peace of mind, knowing that you have a place to keep your backups that is easy to access, easy to use and easy to upgrade. And fast enough to easily handle even very large files.
Would I use the 5D3 for editing 4K HDR media? No. Would I use it as the backup system to my editing system? Without a doubt, yes.
---
Bookmark the
permalink
.