Product Review: Archive Media Using BRU PE [u]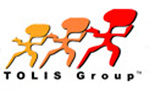 [ Please read my product review disclaimer here. TOLIS Group was a sponsor of the Digital Production Buzz in 2014. ]
[ 12/21/15 – Updated throughout with corrections from TOLIS Group.]
Archiving is one of those tasks that everyone puts off until we run out of excuses. First, because we are too busy. Second, because we don't understand it. And, third, because it takes too long, costs too much and is too difficult to learn.
NOTE: The difference between backups and archives are that backups are short-term and archives are long-term.
BRU PE (Producer's Edition) from TOLIS Group is designed to simplify archiving so that you can safely protect your assets without becoming a rocket scientist. While this software is most often bundled with LTO hardware, if you already own an LTO drive, you can purchase the software separately.
EXECUTIVE SUMMARY
BRU PE provides a straight-forward method of transferring any digital file from hard disk to LTO tape. It can handle hundreds of thousands of files, run essentially unattended – except for changing tapes – and find any file, or group of files, you need to restore from tape back to your hard disk.
It provides a simple drag-and-drop interface for non-engineer creative types, with an advanced menu for techies that want more control over how tapes and files are handled.
It bypasses the LTFS file system for performance and reliability reasons, runs on Windows, Linux, Mac, and most other Unix operating systems and supports all current and former LTO and other format tape drives.s.
BRU PE is a solid performer with a 30-year track record. Even better, the free trial always allows restoring files from tape, even if the trial period has expired.
If you are looking for fast, reliable and easy to use archiving software, BRU PE needs to be on your short list.
Product: BRU PE
Developer: TOLIS Group
Website: TOLISGroup.com
MSRP: $499 (US) – 30-day free trial available; restoring files from tape can be done from the free trial
LTFS vs. Non-LTFS

Back in 2010, the LTO Consortium (Quantium, HP, Tandberg and IBM), which controls the LTO format, released a software driver solution for current LTO-5 and newer drives called LTFS (Linear Tape Filing System). What this did was allow an LTO drive to act like a hard disk by appearing directly on your desktop, so you could drag files on or off the tape, similar to how we drag and drop files onto a hard disk.
The benefits of LTFS, especially on Windows, are obvious – it allowed an LTO drive to act like a very, very slow hard disk. You could open it, see what files were on it and move files onto it.
However, on the Mac, LTFS is, at best, a very mixed blessing. That's because the Finder writes a small invisible file inside every directory it opens; sort of like "Kilroy was here." The problem is that tape drives only write new data at the end of a tape. This means that as soon as you open an LTO tape on a Mac, the tape shuttles to the end of all recorded data to write that small invisible file. Then, it shuttles back to show you the files that are stored inside the tape.
Open a folder and, poof, the tape is shuttling again. And again. And again. (And, no, Apple did not fix this in El Capitan.) This constant shuttling makes using LTFS for the purpose it was designed totally unusable on a Mac.
BRU PE predates LTFS and because LTFS has very limited benefits on a Mac, BRU PE doesn't use it. Instead it uses it own proprietary method of writing data to tape – a system that's been tested in real-life for decades.
NOTE: There is software that successfully uses LTFS for archiving on the Mac; "PreRoll Post" from Imagine Products comes first to mind. Here's my review of that software.
WHY LTO TAPE

Hard disks are great for fast access to plenty of storage. But hard disks are not cheap, especially when compared to magnetic tape, and hard disks are not designed for long-term storage.
Tape is.
There are are a number of tape formats, but the current leading contender is LTO (Linear Tape Open) Technology. Created, supported and continuously upgraded by an industry consortium of Quantum, HP, Tandberg and IBM, the LTO format is clearly defined, with a roadmap extending out more than a decade.
Drives are physically manufactured by HP and IBM and repackaged by dozens more. Tapes from any LTO drive manufacturer can be read by any other. The format is designed for longevity, compatibility and inter-changeability.
LTO tapes are designed to last for about 30 years, assuming they are stored in a cool, dry place free of excessive dust and humidity. (This is essentially the same treatment required for video tapes, for those old enough to remember them.)
The only downside to LTO is that the drive format changes every 2-3 years. New formats read two formats back, which means that about every 8-10 years, you'll need to purchase a new LTO drive and migrate your tapes to the new format.
NOTE: This is why LTO tape is considered an "actively managed" format – you can't just create a tape, then store it on a shelf for 100 years.
Personally, of all the magnetic tape archive options, I like LTO the best.
NOTE: An entry level LTO-5 drive starts around $2,800. This article used an LTO-6 drive from mLogic which costs about $3,599. LTO-7 drives, which are the latest version, will start shipping in January; pricing starts around $5,000.
WHAT IS BRU PE
"BRU Producer's Edition™ from TOLIS Group provides easy, drag-and-drop asset data archival and restore operations. The BRUsetta Stone feature provides complete deliverable information including the BRU software required to recover the contents of the tapes.
"BRU PE integrates industry-essential features such as automated asset gathering for applications such as FCP X, Adobe Premier Pro CS6/CC, and others, as well as providing drag and drop backup and restore using CMX3600 EDL files, and exported XML project files. Studio and production detail metadata is tracked on a per job basis and provides an easily scannable QR code for media management. BRU PE's Doubler Mode™ provides simultaneous creation of archives and client deliverables."
NOTE: BRU has the ability to archive Final Cut Pro X and Adobe Premiere projects directly. I didn't test it for these tasks, as I was interested in archiving 4.5 TB of data from a variety of projects.
"Film, broadcast, music industry professionals now have a reliable, flexible, and easy-to-use solution to protect key creative digital assets regardless of their level of computer technical knowledge. BRU PE also delivers a clear and easy-to-follow workflow for photographers and graphic designers as well. (Quotes from: TOLIS Group website)
INSTALLING BRU PE
BRU PE is easily installed from either the free trial, or purchasing the software from TOLIS Group or any of its many dealers. (BRU PE is not available in the Mac App Store.)
The trial is fully-functional, with the ability to restore files from tape extending even after the trial expires.
ARCHIVING FILES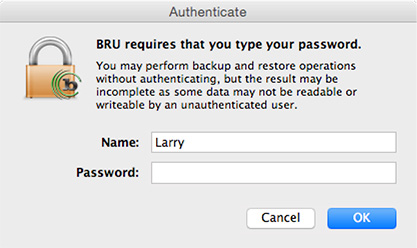 When you first start BRU, it requests that you authenticate as an Admin user. This is so it can properly record all of the filesystem details of the data that you'll be backing up or archiving.  You may also operate as a non-Admin user, but some filesystem data will not be included in the process and some files may not be included due to permission restrictions.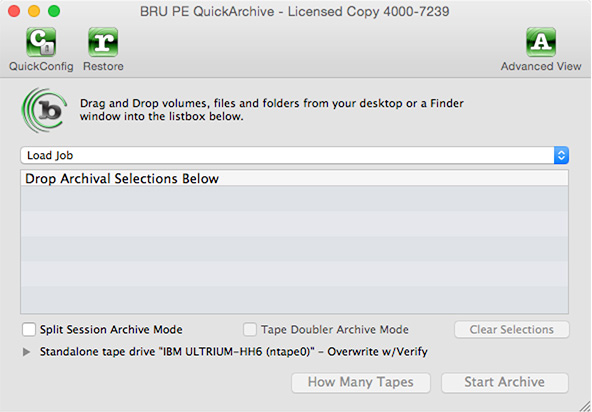 When the application opens, the Quick Archive window is displayed. If all you want to do is drag, drop and archive, this screen is all you need.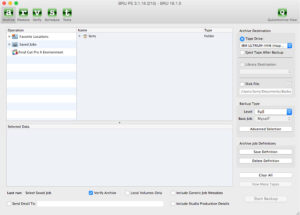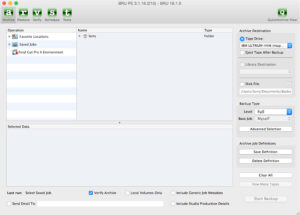 However, if you want more control, click the Advanced button in the top right corner and the Advanced Archive screen is displayed. (Click the image to see it at full size.)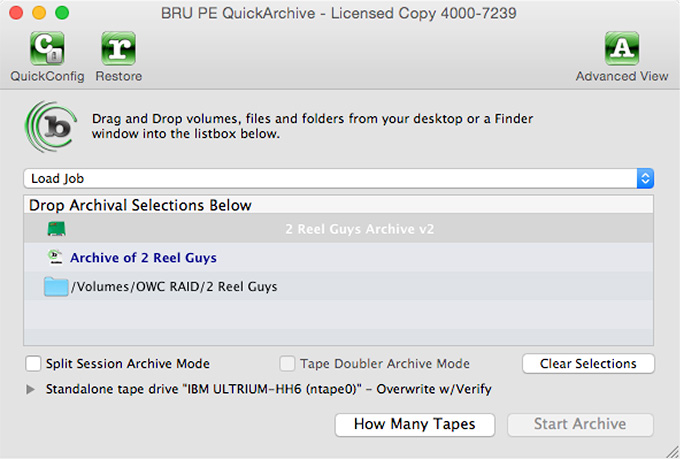 Select the files you want to archive from a server or hard disk, then drag them into the Quick Archive window.
NOTE: LTO-6 drives transfer data about 160 MB/second. I strongly recommend collecting all the data you want to archive to a local RAID before transferring to tape. This allows you to organize files before laying them to tape as well as providing the best performance.
Name the archive, which you'll need to reference later for finding and restoring files.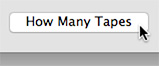 Then, click the How Many Tapes button to allow BRU to determine how many LTO tapes will be needed for the archive.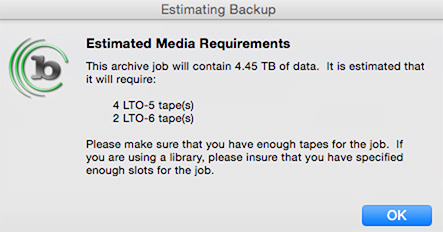 NOTE: In my case, I found that BRU actually needed three tapes, though it said it would only require two. This puzzled me, since LTO-6 tapes should hold 2.5 TB of data per tape. I'm not sure why the difference existed.
Insert a blank LTO tape into the drive, click the Start Archive button and walk away. Archiving terabytes of data takes a long time (~4.4hrs/tape) – even though LTO-6 writes data at about 160 MB /second – and the process is fully automated; except for changing tapes.
Tim Jones adds: "In addition to standalone drives that require manually changing tapes when you're storing more data than can fit on a single tape, there are many automation solutions available including TOLIS Group's ArGest TGL family of libraries.  BRU PE supports up to 50 slots and 2 tape drives in a single library.  Therefore, if your budget allows and your storage requirements exceed more than one or two tapes in a session, an automation solution can simplify media management over the long term."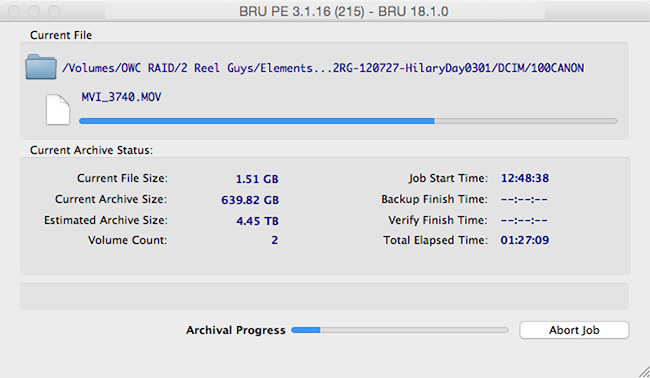 BRU starts the archiving process and the on-screen displays keep you informed.

When a tape is full, BRU ejects it from the drive and prompts you for a new one. (If this is in the middle of the night, which it was for me, the software waits patiently for you to come in the next day and switch tapes.)
After a while, BRU finishes its work copying data. Now the really important part starts: verifying that the data recorded on the tape is accurate.
VERIFYING FILES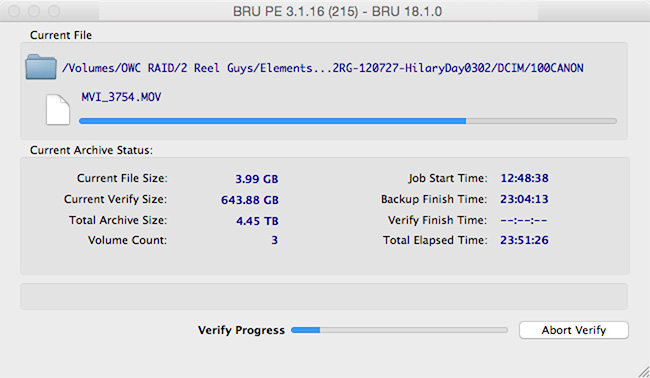 It doesn't do you any good to record your precious files to tape only to discover that the files did not copy properly. To prevent that problem, BRU does a second pass on all your tapes and verifies down to the bit level that the file on the tape exactly matches the file on your hard disk. This second pass takes just about as long as the original writing phase.

If the tape checks out, its ejected. If not, BRU copies any errant files again to make sure that the copy on tape is perfect.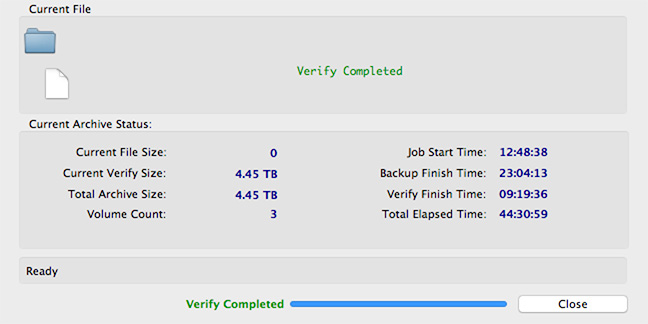 Verification means that archiving takes twice as long as you expect, because you need to do two complete passes across the tape.
NOTE: I have been told that tapes are designed for 40-60 passes in their life, though Tim Jones, CEO of TOLIS Group says: "I'm not sure where you got this number from – we have tapes that have survived literally 1,000's of passes with no reduction in the magnetic properties." Still, you should generally use LTO for storing files that you no longer need on a daily basis.
In my case, I started this on a Friday afternoon and it was done by Sunday morning; though I needed to come back to the office on Saturday and Sunday to swap tapes.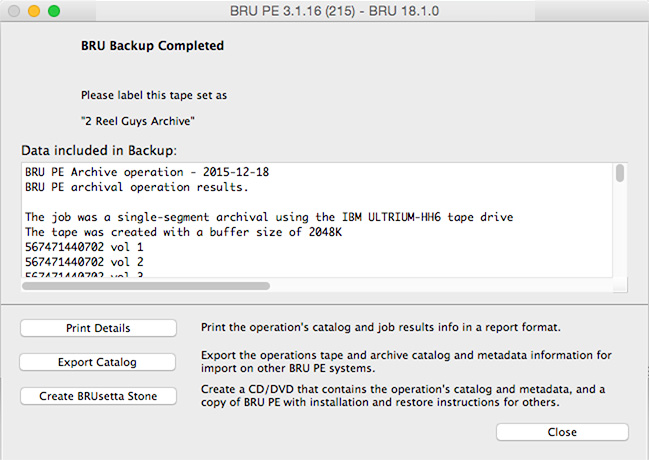 When the backup is complete, BRU pops up a celebratory message, along with three options.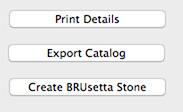 You can print a more formal report, export a catalog as a backup or create a "BRUsetta Stone." This is a very cool feature that puts the catalog and a version of BRU on a DVD such that you can always restore these files at any point in the future.
NOTE: The catalog tells BRU PE where files are stored on your tape archive, as well as allowing searches between archives. BRU PE stores the catalog and tape information both locally and on the tape itself. The print option is aimed more at deliverables to clients or storing the archives where they may need to be audited outside of BRU PE.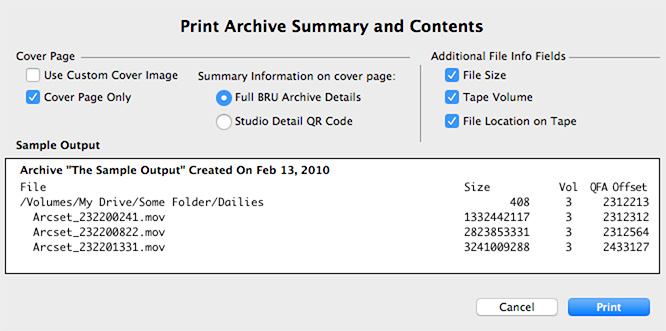 Selecting the print option allows you to either print to paper or create a PDF of what BRU did.
BRU provides a lot more options on creating backups, including the ability to backup Final Cut Pro X libraries. Still, this is a good outline of the basic archive operation.
RESTORING FILES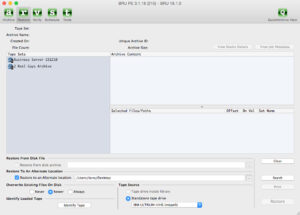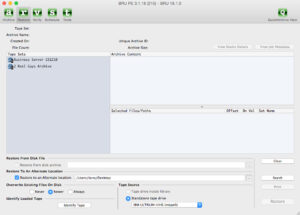 There are many options for restoring files, from a complete restoration of all files on all tapes, to finding and restoring a single file. (Click the image to see it at full size.)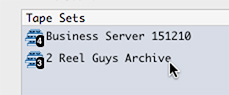 From the list of archives on the left, select the archive you want to search; you can search more than one archive at a time.

Click the Search button in the lower right corner of the window.

Type in the search term – in this case, a portion of the file name – that you want to find.

The number of results from that search are displayed almost immediately. Select the Archive on the left, that you want to view specific results. (Click the image to see it at full size.)

If you search for something with multiple hits, both the number of hits and all the files that meet that criteria are displayed. (Click the image to see it at full-size.)

Check the file, or files, you want to restore from the Search list.

Click the Add Checked option in the lower right corner. Insert the volume (tape) that contains the file(s) you want to restore.

Then, on the main Restore screen, click the Restore button.

BRU PE prompts you for the tape it needs. Then, it shuttles the tape to find the file, and copies it from the tape to the location on your hard disk that you specify.
I wish the process of finding files was a bit more intuitive, but once you know how the system works, you can easily find your stuff.
SUMMARY
Tapes are not particularly fast, but you don't use tape for speed, you use it for security, longevity and ability to protect your assets. Yes, it would be great if LTO drives cost less, but consider how much you'd need to spend to recreate your shoot. LTO tape is a bargain, especially once you've invested in the drive hardware itself. Tapes cost about $35 a piece; and, personally, I recommend Fuji-brand tapes.
I find BRU PE to be fast, informative and reliable. It is relatively easy to use, though its interface is geared more toward an engineer in terms of its layout and design. I recommend you read the manual before plunging boldly into archiving your entire asset library.
When it comes to archiving digital assets, we need a hardware/software combination that allows us to archive any file to tape, verify the recording, protect it over time and easily restore it back to a hard disk when we need it. BRU PE meets all of those criteria.
---
Bookmark the
permalink
.