Product Review: Apple Screenshot

New in Mojave is a utility that captures screen shots called – wait for it – "Screenshot."
When I upgraded to Mojave, I discovered that my long-favorite screen shot utility – Ambrosia Software's SnapZ Pro – no longer worked. This was software I used every day and I mourned its loss.
Then, a reader pointed out this new utility which is included with Mojave. Now that I've been using it for a while, I want to show you how it works.
GET STARTED
Screenshot is already running on your system. Simply type Shift+Cmd+5 and a dotted frame opens on your desktop. (I'd, um, show you but you can't take a screen shot of a screen shot.)
NOTE: You'll find the app itself in Applications > Utilities.

A floating menu appears at the bottom of the screen.
NOTE: While you can't use Screenshot to capture photos of itself, you CAN use Shift+Cmd+3.
The first five icons along the bottom, from left to right, allow you to record a:
Screen capture of the entire window
Screen capture of the selected screen
Screen capture of the selection rectangle
Movie of the entire screen
Movie of the selected window
Select which you want to capture, press Return, and you're done.
By default, the screen shot is saved to the Desktop and also appears as a small icon in the lower right corner.

Double-click this floating icon to open it for annotation and editing without opening Preview.
THE GOOD STUFF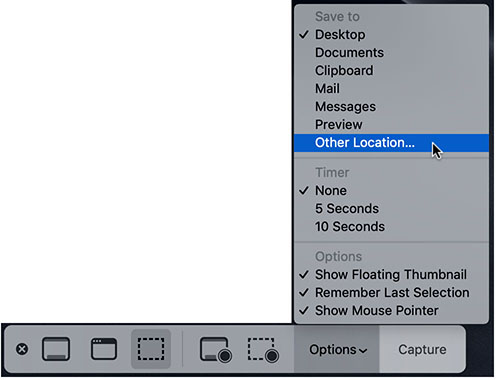 There are two or three button on the right that provide even more options:
Capture is used when you want to capture the screen or a portion of it. Most of the time, pressing the Return key will be enough. But, for timed captures, you'll need to start the timer using the Capture button.
Record only appears when you are capturing a movie of the screen. Since I use Telestream's ScreenFlow, I haven't tested this much.
Options expand what you can do with the software in a variety of useful ways. For example, you can determine where the file will be saved, including the:
Desktop
Documents folder
Clipboard
Mail application
Messages application
Preview
Or the folder of your choice
NOTE: I long ago standardized on a single folder location for all my screen shots. I like that Screenshot allows me to continue to use it.
You can create a timed screen shot of either 5 of 10 seconds. This is the only way to capture a menu and, theoretically, the cursor.
The three checkboxes at the bottom allow you to:
Remember the size of your last selection, which is a feature I use a lot
Display a floating thumbnail of the capture, which you can open and annotate
Capture the cursor
This last feature, however, does not work. I have not found any way using Screenshot to capture the cursor in any screen shot.
THE LIMITATIONS
Screenshot does a good job at what it does, but there are several limitations that may make you want to look for a different utility in the Mac App Store:
It doesn't compensate for the pixel doubling caused by a Retina display. Images need to be scaled to 72 dpi to look correct on a webpage.
You can't set a default file name or sequentially number your screen shots.
You can't change the default keyboard shortcut in Screenshot.
The only way to capture a menu is to created a timed screen capture.
And, regardless of whether "Show Mouse Pointer" is checked, Screenshot is unable to capture the cursor.
SPECIAL NOTE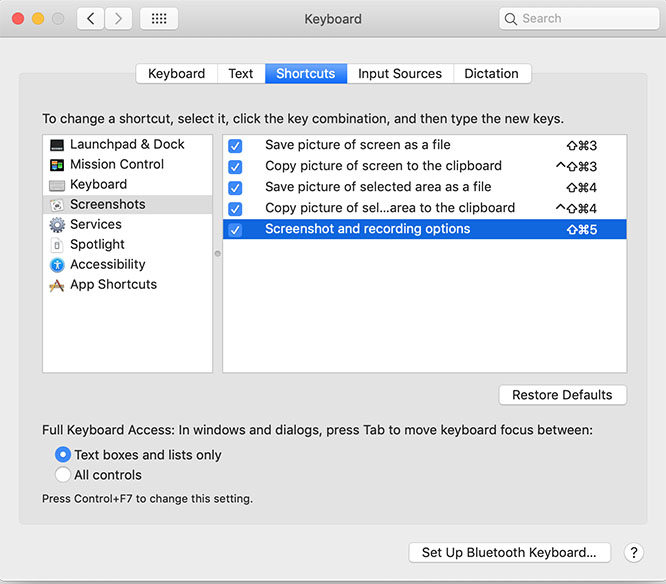 You can change the default shortcut using System Preferences.
Go to System Preferences > Keyboard > Shortcuts
Select Screenshots on the left

In the column on the right, double-click the shortcut you want to change and type the new shortcut. In this case, I changed Shift+Cmd+5 to my personal choice: Option+2.
NOTE: I prefer Option+2 simply because I can type it quickly using only my left hand. You can pick any shortcut that works best for you.
FINAL THOUGHT
There are a number of screen capture utilities available in the Mac App Store. Most seem to focus on creating screen capture movies. Of the remaining utilities, I've looked at several and purchased two. Neither of them have the ability to:
Preset and auto-number file names
Capture the cursor with an active menu under it.
Until I find one that does, I'm using Screenshot.
---
Bookmark the
permalink
.