Product Review: A Better Way to Rename Files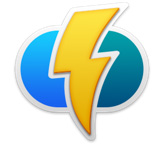 [ Read my product disclosure statement here.]
One of the BIG advantages to using Ambrosia Software's deeply-loved SnapZ screen capture utility is that you could preset file names prior to capturing the screen, or a portion of it. But SnapZ doesn't work reliably in Mojave and won't work going forward.
Apple's Screenshot program – which replaces SnapZ – doesn't support this naming feature. For the record,  Screenshot also doesn't support:
Capturing the cursor (due to a bug)
Capturing an open menu, except using a very kludgy workaround
Dragging the selection area around the screen
Moving the selection area using the arrow keys
Sigh…
BUT! I've found a great workaround – at least for file renaming. It's called: Better Rename 10.
Let me give you a tour. (And, just for the record, I purchased this software for my three computers over a year ago.)
EXECUTIVE SUMMARY
Better Rename 10 is a utility that specializes in renaming files. It's a subset of a larger program called Better Finder Rename 10. First released in 1996, this utility offers a "huge array of [file] renaming options organized into 15 intuitive categories that cover all the text, character, position, conversion and truncation features that you would expect from a great file renamer.
"A Better Finder Rename knows how to extract EXIF shooting date and time information from your digital camera images and exploit them in creating sequence numbers or adding time and date information to the file name.
"Support for all major RAW formats (including JPEG, HEIC, HEIF, ARW, CRW, CR2, THM, NEF, TIFF, RAF, ORF , MRW, DNG, PEF, SRF, etc.) extends this to professional photographers." [Public Space website]
I find myself using this software each week, to create screen shots for my web articles.
Product: Better Rename 10
Developer: PublicSpace.net
Website: www.publicspace.net/ABetterFinderRename/index.html
Mac App store: itunes.apple.com/us/app/better-rename-10/id1063663640?mt=12
Price: $19.99 (US) – A full-feature free trial version is also available.
NOTE: The PublicSpace website provides a variety of other pricing and bundle options.
BIG CAUTION ABOUT RENAMING VIDEO FILES
Be very careful using this, or any utility, to rename video files stored on your camera card. Formats such as AVCHD or XDCAM use a very specific naming convention. Changing those file names risks making those file inaccessible to any video editing software.
In general, never change camera master video file names, only change the names of the folder those files are stored in. If you MUST change file names, experiment with files that you don't care about to see what works and what doesn't.
INSTALLATION
Installation is easy, whether you purchase this from the Mac App Store or the PublicSpace.net website. The Mac App store provides the easiest installation, while the PublicSpace website provides the widest variety of pricing, bundle and licensing options.
Either way, installation takes less than a minute.
MOJAVE SANDBOXING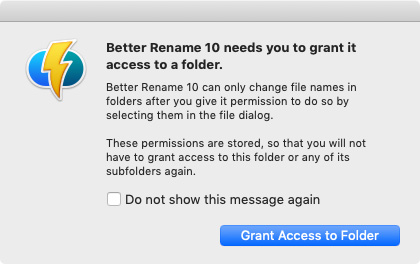 Due to how Mojave (and probably later versions of the macOS) enforce file security, the first time you ask Better Rename 10 to access or change files in a folder, it requires to you grant access to that folder. Most of the time, this is a one-time-only process.
HOW IT WORKS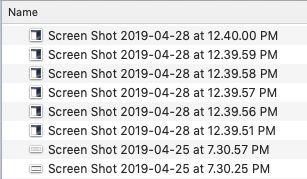 At it's simplest, Better Rename 10 renames any collection of files based upon criteria you select. For example, these are screen shots captured using Apple Screenshot. Sigh… the computer may like these names, but they certainly don't help me.
This is the Better Rename 10 interface. Drag the files you want to rename into the Change box on the right, then set how you want them renamed in the left panel.

For example, here, I'm changing the files from how ScreenShot named them, to a file name that makes more sense to me.
Files are sorted in Date/Time order, with the earliest file listed first. However, you can vary the sort order, which allows you to change the order of how files are named.
What I really like, though, is that the right-hand column displays the file names that I'm about to create so I can make sure my settings are correct BEFORE I change these names permanently.

The software also tracks a vast range of metadata associated with each image. My selected images are screenshots, so there isn't a lot of metadata to work with.

But, when you add an image shot by a camera, a lot more information becomes available.
A CLOSER LOOK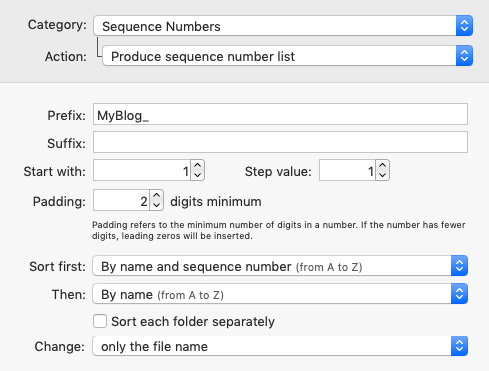 Getting back to renaming files, the left-side of the interface is where the heavy lifting occurs. This is where we design the naming convention for the selected files.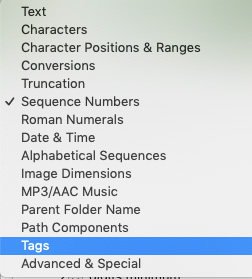 These are the 15 categories we can use for creating new names, and inside each category are a number of naming options.
NOTE: It will be less eye-glazing for you to experiment with the free trial than for me to define each of these categories. Life is too short.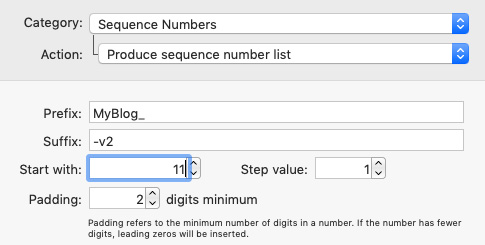 Here, for example, I'm creating a series of files, each starting with "MyBlog_", followed by a sequential number starting with 11 and incrementing by 1, followed by "-v2". (The Sequential category is the one that I find the most useful – at least today.)

Here's what the names look like – before on the left, after on the right.
MULTI-STEP PROCESSING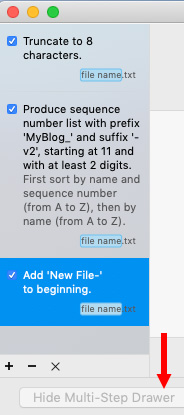 You can also create multi-step workflows. Here, for example, I'm:
Truncating all file names to 8 characters, then…
Renaming the files in a numeric series, then…
Adding "NewFile-" to the front of the new file name.
There does not seem to be a significant limit to the number of steps you can create.
PRESS "GO!"

When you are ready, click the blue Perform Renames button.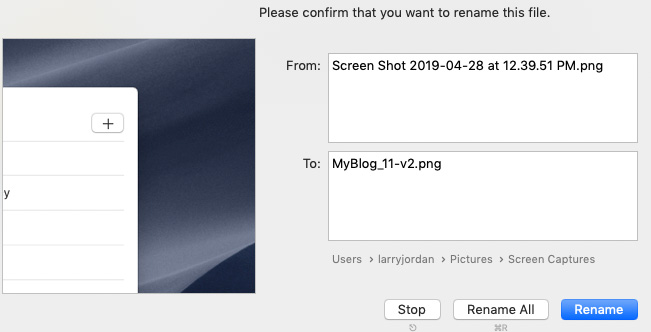 This is the next significant feature. It displays each file with its new name and asks you to confirm that this is what you want. Since file renaming is not undoable, I really appreciate this added safety step.
If you are confident all looks good, click Rename All and seconds later all your files are renamed. Otherwise, click Rename to view each file individually.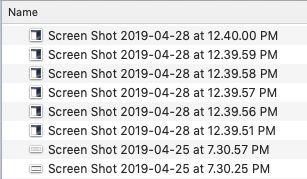 Ta-DAH! (The top screen shot shows the files in the Finder before, while the bottom screen shot shows after renaming.)
SUMMARY
I really like this software. It has thousands of users, been in the market for more than 20 years, meets all of my needs and has power to burn. Plus, it is enormously flexible.
If you are looking for faster ways to get control of your files and file names, take a look at the free trial and decide for yourself. Personally, I bought this for myself a long time ago and it has been saving me time ever since.
---
Bookmark the
permalink
.