Product Review: 1 Beyond StreamMachine 17 (Pro)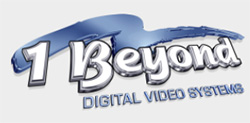 [ Read my product disclosure here.]
Last week, for the seventh year in a row, my podcast – Digital Production Buzz.com – covered the annual NAB Show. This year, for the first time, we added video to our traditional audio-only coverage.
When the folks at 1 Beyond heard that we were planning to provide live video streaming during NAB, as well as post the videos to YouTube for download after the event, they offered to provide their brand-new Stream Machine 17 (Pro) and three PTZ (pan-tilt-zoom remote control) cameras for our use.
This loaner equipment proved to be essential to our coverage; so much so that we listed them as a sponsor during our live shows.
Now that NAB is over and we've returned the gear to 1Beyond, I asked Megan Paulos, our production supervisor, to write up our experiences using this equipment.
EXECUTIVE SUMMARY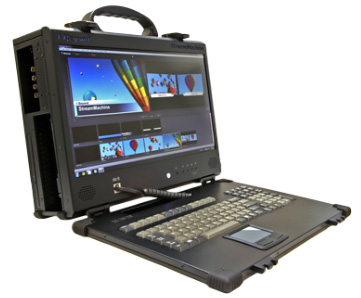 The 1 Beyond Stream Machine 17 (Pro) provides an all-in-one video streaming solution for live webcasts. A single, suitcase-sized box handles all media inputs, video recording, transcoding and streaming. In addition to traditional production gear like lights, cameras and microphones, all that is needed for a live webcast is an Internet connection with a minimum upload speed of 5,000 kbps and access to a CDN (Content Distribution Network). For our coverage, we used FrontLayer.com as our CDN.
Product: 1 Beyond StreamMachine 17 (Pro)
Website: www.1beyond.com
MSRP: Starts at $3,995 (About $12,900 for the unit we used which included a high-performance system, cameras and cables.)
You can see our webcasts using this system at: NABShowBuzz.com.
---
[ Megan Paulos writes: ]
Last week at NAB we created and webcast eleven live 45-minute programs totaling slightly more than twelve hours of live video coverage in three-and-a-half-days. To accomplish this, we used the 1 Beyond StreamMachine 17 (Pro) along with three 1 Beyond PTZ cameras (part of the 1 Beyond CameraBundle).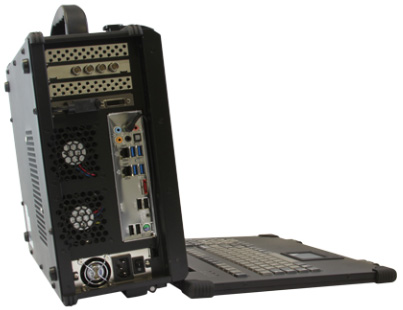 The StreamMachine Pro has a built-in Intel Core i7 12-processor CPU at 12 x 3.4 GHz, 16 GB 1600 MHz DDR Quad Fetch RAM and two 1 TB  Enterprise level hard disks (2.0 TB total capacity) spinning at 7,200 RPM. It has a built-in DVI computer monitor, keyboard and trackpad. There are 4 HD-SDI inputs and 2 DVI outputs for display.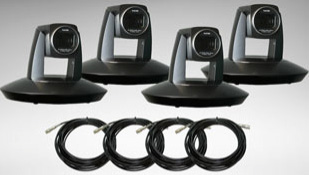 We used three 1 Beyond StreamCamPTZ  cameras with a 1 Beyond StreamCamPTZ  Pan Tilt Zoom Camera Control Keyboard to control the cameras and the 1 Beyond 24-Key Illuminated Control Surface to switch between camera angles.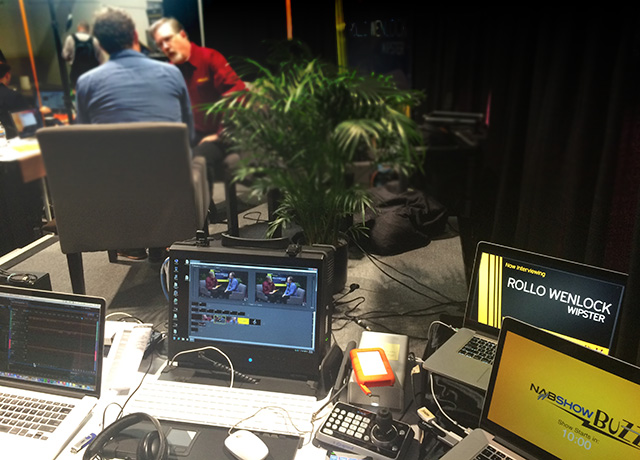 In addition to the three cameras we also attached a MacBook Pro for graphics and commercial playback. This computer also provided separate show timing which Larry used to make sure segments started and ended on time. We used an HDMI to SDI converter to send the signal from the MacBook Pro to the switcher. (As you can see from the photo, the entire production control room – the StreamMachine, four computers, remote controls, communications and a rack of audio gear – all fit onto one six-foot table. Space was REALLY tight!)
COMMENT: 1 Beyond notes that this separate computer was not necessary for commercial roll-ins, as the StreamMachine system could play back commercials and other video content directly into the stream.
Assembling the Stream Machine was a fairly seamless process. We just plugged in the power, flipped the switch and we were ready to go. Hooking up the PTZ cameras, though, got more confusing. We used SDI-Power Combo Cables for each camera. This cable harness branches out into SDI to transmit video signal, a serial RS-485 connector for PTZ control and DC power. The system of cables uses a variety of what looks like heat sinks and terminal blocks. This required assistance from the folks at 1 Beyond to configure correctly (Thanks, Rony!). Initial setup and configuration took a few hours to get working correctly. Now that we know what we are doing, setup with the same gear in a new location would be completed more quickly.
COMMENT: 1 Beyond notes that they see these cable harnesses as an advantage since we would otherwise have to run 3 cables for power, HDSDI and camera control. From 1 Beyond's point of view, the combo cable actually simplifies things: power, control and HDSDI signals are all in one cable bundle instead of 3.  The "heat sink" is actually a power regulator that is provided since power degrades over long cable lengths and to ensure good power at the end of a long cable, we provide this as part of our cable kit.
Larry adds: From our point of view, the cable harness is a good thing, but the cable connections are confusing and complicate setup; especially if the gear needs to move quickly between locations.
The StreamMachine comes with Telestream WireCast loaded onto it. Within WireCast we added each camera as an input and then assigned it a keyboard shortcut. Adding the keyboard shortcut allows us to use the control surface to simplify switching between cameras.
The Control Surface enables us to preset camera positions which meant the PTZ cameras were pretty straightforward in use, while still allowing a lot of flexibility in framing and composition. Using the remote control for the PTZ cameras allowed one person to act as cameraman, technical director and graphics operator. (Our second tech handled all audio mixing and recording.) With a very limited amount of space and staff, this made our lives easier.
We sent a stereo audio program feed from our audio mixer to a FocusRite Scarlett audio interface which plugged into the StreamMachine via USB. In WireCast we added the Scarlett as an audio source.
During each show we recorded ISO feeds of each of the three cameras, a switched program feed, streamed our audio/video feed live to Frontlayer.com (read how this is configured here) and streamed a separate audio feed to Mixlr.com for those listeners who didn't have the bandwidth to watch the video stream. During the live feed, in addition to animated opens, bumpers and commercials, we also added animated lower-third graphics for guests and a spinning logo watermark in the bottom corner.
Because we knew we would have all these elements active at the same time, we got the highest-performance StreamMachine that 1 Beyond offered.
During a live show, the CPU averaged between 75% and 90% capacity. The majority of live shows went off without a hitch, although we did have one live show in which WireCast quit in the middle. At this point we did not have a CPU activity monitor running on the StreamMachine so we aren't positive about the cause but we suspect it is due to overloading the CPU. From that point on we monitored the CPU load more closely  and we didn't have any other problems with the system for the rest of the week.
Overall, the system worked great and the workflow was completely manageable. The most fun was that we were broadcasting from a trade show that covered the broadcasting industry. It was a long and taxing week but we enjoyed every minute of it!
Larry adds: The StreamMachine system is compact, powerful, and once we understood how everything hooked together and configured, our team created some great programming in very little space and even less time. Thanks 1 Beyond for sharing your system with us.
---
Bookmark the
permalink
.