Product Review: 1 Beyond Copy Utility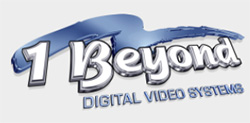 [ Please read my Disclosure Statement on product reviews.]
Last week, I reviewed the 1 Beyond ThunderTape 2 LTO-6 tape system. As I mentioned then, while this system comes with LTFS, LTFS in itself is not the best idea when you need to save files to tape, or restore a file from tape.
So, in this review, I want to discuss the utility software which 1 Beyond ships with the unit to simplify file management.
UPDATE – Aug. 24, 2014
After I published this review, Rony Sebok, product marketing manager for 1 Beyond provided a number of very useful comments. I'm including them throughout because they supplement what I wrote and further explain what this software was designed to do.
I also agree with Rony on why this software is necessary and the best way to use it. Thanks, Rony!
EXECUTIVE SUMMARY
Tape storage is not the same as hard disk storage. The units operate differently. Features we take for granted on a hard disk are not supported on tape. Part of learning how to use tape backups is understanding what tape can and can't do well. Tape is excellent for long-term storage. It is very poor at doing anything fast.
The 1 Beyond Copy Utility, which is bundled free with the 1 Beyond ThunderTape 2 LTO system, provides speed and capability which improves on the native LTFS format. However, while it makes finding, recording and accessing files easier, it is not designed as an archive utility. The software has no ability to remember or find files which are not stored on the currently mounted tape.
Like the ThunderTape installation software, the 1 Beyond Copy Utility would benefit from a rewrite making it more user- and Macintosh-friendly. Help pages are minimal, with most still under construction. The interface is cryptic and non-Mac-standard. The utility allows far more control over files on the hard disk or recorded to the tape than is safe for most users; though this additional capability may benefit power users. In a couple of cases, media transfers can be canceled without the user being notified that files were not backed up.
Still, the 1 Beyond Copy Utility does an excellent job of finding, recording, and accessing files – once you know how it works.
Publisher: 1 Beyond Inc.
Price: Free, ships with the 1 Beyond ThunderTape 2 system
Website: www.1beyond.com
UPDATE FROM RONY
1 Beyond supplies the Copy Utility with ThunderTape 2 to give an alternative to using the Finder for simple operations like browsing the contents of a tape and for copying/renaming/moving files on tape. Normally, the Finder would be your logical choice, but the Finder is not friendly with tape. Customers who initially tried to use the Finder got very frustrated and were incredibly relieved when we introduced them to this copy utility.
Over 50% of our PC LTO customers do not use any other software for tape backups than Windows Explorer (no archive software, no asset management software). So, we wanted the folks on the Mac to have an option that doesn't cost anything but makes LTFS usable at this level on the Mac, as well.
When you want to share data on tape with other organizations that don't use the same archive software you do or who don't have the same asset management software – there is no need (and sometimes its an impediment) to use your archive software to make a copy of the tape. Why? Because you don't need to track the contents of tapes sent out-of-house, you just want to make a simple copy.
When we've done LTO copy jobs for local Post-houses who don't own their own LTO equipment, we've used the 1 Beyond Copy Utility, not any other tool — because it's a straightforward copy of data to tape with no additional book-keeping.
WHAT IT DOES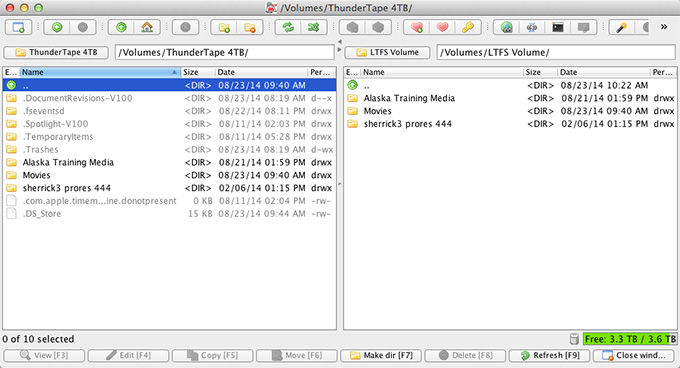 The 1 Beyond Copy Utility is a rebranded version of muCommander, a lightweight, cross-platform file manager with a dual-pane interface. It runs on any operating system with Java support (Mac OS X, Windows, Linux, BSD, Solaris…).
Here's a partial list of features from their website:
Virtual file system with support for local volumes, FTP, SFTP, SMB, NFS, HTTP, Amazon S3, Hadoop HDFS and Bonjour
Quickly copy, move, rename files, create directories, email files…
Browse, create and uncompress ZIP, RAR, 7z, TAR, GZip, BZip2, ISO/NRG, AR/Deb and LST archives
ZIP files can be modified on-the-fly, without having to recompress the whole archive
Tabbed navigation
Universal bookmarks and credentials manager
Multiple windows support
Full keyboard access
Highly configurable
Available in 27 languages : American & British English, French, German, Spanish, Czech, Simplified & Traditional Chinese, Polish, Hungarian, Russian, Slovenian, Romanian, Italian, Korean, Brazilian Portuguese, Dutch, Slovak, Japanese, Swedish, Danish, Ukrainian, Arabic, Turkish, Catalan, Belarusian and Norwegian.
Free Software (Licensed under GPL)
The LTO world is slowly coming out from the back-rooms of IT into the modern world of less-sophisticated media users. This utility is a great example of where archiving technology has been, as well as an example of how far it still has to go.
INSTALLATION NOTE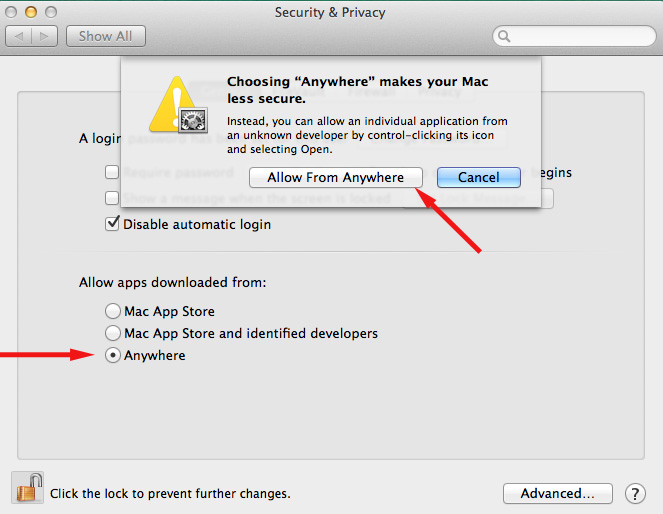 Because this Utility is not available from the Mac App Store, you need to install it from the 1 Beyond website. This means we need to change security preferences for installation. Prior to installation, open System Preferences > Security and change the setting to allow installing software from Anywhere.
Once installation is complete, reset this back to its default setting of Mac App Store. It is potentially dangerous to leave this preference set to Anywhere once installation is complete.
NOTE: Changing this setting is only needed for installation, not operation.
WHY WE USE IT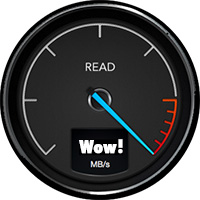 In a word: speed. Accessing files using LTFS, while it looks as though we are accessing files in a similar fashion to a hard disk, the speeds of tape are MUCH slower.
In fact, the file directory is stored in one location – the LTFS Index – while the files are stored in a different location. This means that the tape needs to first wind through the index to display what files are available, then wind, again, to the location of the file. All this extra searching takes time – time that is measured in minutes, not seconds.
What the 1 Beyond Copy Utility does is make searching for files stored on tape using the Utility really fast. Then, when you decide which file you want, the tape only needs to travel to that file location. Minimizing the excessive file shuttling of the Finder saves a TON of time!
UPDATE FROM RONY
The file index of what files are on an LTFS tape is read into memory when the tape is mounted on both Macs and PCs. You do not need 1 Beyond's copy utility for this. But, whereas on a PC, where Windows Explorer will let you browse the contents of a tape without shuttling the tape back and forth (just using the file index that was read into memory) we found that the Finder on the Mac was causing tape movement in a way we hadn't experienced on PCs)
Others, unfamiliar with PC's, proclaimed that LTFS was unusable on the Mac because of this limitation of the Finder. They complained of excessive tape shuttling and no one realized that wasn't a problem with LTFS, but the Finder. The Finder tries to write book-keeping files to the tape when all you are doing is browsing the contents. This causes the tape to shuttle back and forth and takes time.
1 Beyond had a lot of experience with LTO on the PC before entering the Mac market, so we saw how efficiently it could work. Many tasks could easily be done with Windows Explorer without the need for any other software; specifically, sharing data between organizations on LTO tape and simple backup jobs.
So, 1 Beyond wanted to offer a utility that would allow folks on Mac to do what folks on PC do with Windows Explorer. That's why we offer this utility. As soon as the Finder has an option that is more tape friendly, we'll recommend that people use that for simple copy/move/rename tasks.
The benefit of the 1 Beyond Copy Utility is that it lets you see what's on a tape instantaneously as you drill down folder by folder – because, unlike the Finder (and more like Windows Explorer on PC), it only uses the info that is already in memory.
GET STARTED

Tapes must be formatted and mounted before we can use them. If a tape does not appear on the desktop, refer to last week's product review to learn how to format and mount a tape.
To get ready for this article, I copied about 200 files requiring about 348 GB of storage to the tape.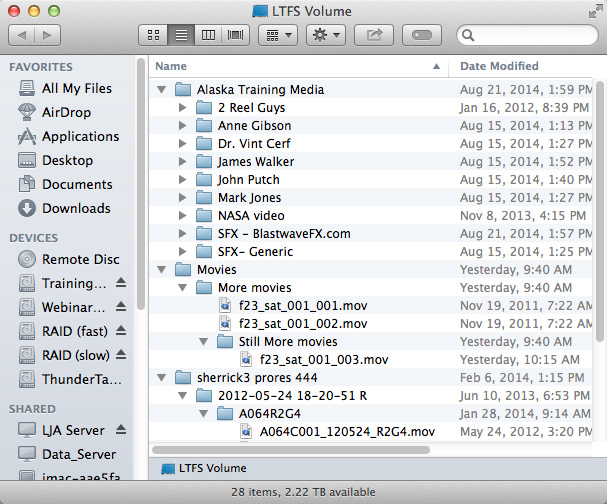 NOTE: As an aside, to illustrate the limitation of LTFS twirling open the three folders in this window, then displaying the files contained in them took slightly more than four minutes for the tape system to display. Doing the same thing using the 1 Beyond Copy Utility took only seconds; as fast as using a hard drive.
It is this performance hit in finding files that the 1 Beyond Copy Utility seeks to fix; the speed improvements it provides can be measured in minutes.
The speed of copying files to or from tape will be the same, because copy speed is based on how fast the system can record to the tape. Utilities like the 1 Beyond Copy Utility don't speed up recording or playback. They speed the amount of time it takes to display a file list and to position the tape to access a file.
NOTE: Because of how files are stored on tape, QuickLook is not supported. You can't press the space bar and see the contents of a file stored on tape.
SOME EXAMPLES
As an example of the speed benefits in using this utility, with LTFS it took 5.5 minutes to copy a 1 GB file from tape to the desktop: 4 minutes to find the file and position the tape and 1.5 minutes to copy it. Using the 1 Beyond Copy Utility, the whole operation took 15 seconds.
In another example, LTFS took 10 minutes to find and copy a 55 GB file to the desktop. Using the Utility took 9 minutes.
UPDATE FROM RONY
In my mind, the significant comparison in "copy time" between the Finder and the 1 Beyond Copy utility is not in "copy time" at all. As you said, the copy time is determined by the speed of the source drive and the LTO-6 tape speed.
The MAIN difference between using the Finder and using the 1 Beyond Copy Utility for basic browsing of a tape and simple copy/rename/move operations is the BROWSING time. The time it takes for you to see, in the Finder window (or in the Copy Utility window) the file you wish to copy or the folder you want to copy to)
Navigating using the Finder takes a LONG time. Navigating using the 1 Beyond Copy Utility is instantaneous.
HOW IT WORKS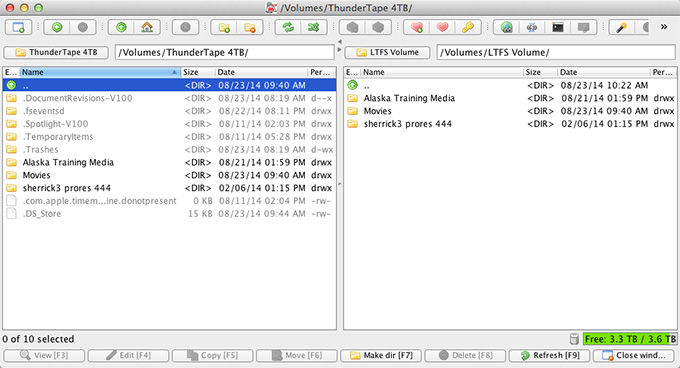 The left pane displays the stuff you want to move. The right hand pane displays where you want it to go. (Panes are interchangeable, should you want to move right to left.)
Buttons along the bottom provide quick access to common functions, along with F-key equivalents.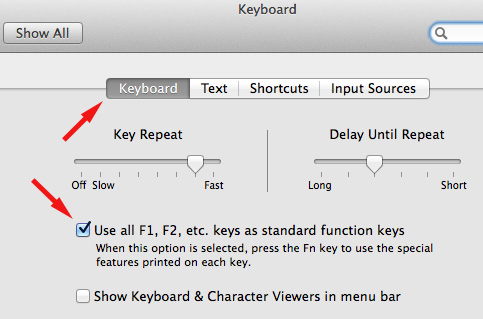 NOTE: F-keys are turned off by default on the Mac. To enable them, open System Preferences > Keyboard and check the top checkbox on the Keyboard tab.

There are also buttons on the top. The only two that I've used are the green dot on the left and the gray button to the right of it. These are the "Go Back" and "Go Forward" buttons. The rest aren't needed for archive operations.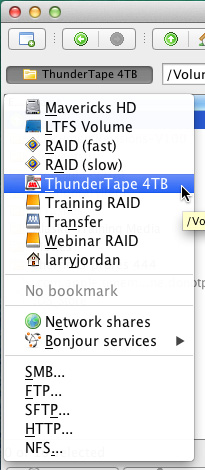 From the pop-up menu on the left, select the drive containing the media you want to copy to tape. In this case, I've staged my media on the optional built-in 4 TB drive of the ThunderTape 2.
Once you've selected the drive you want, double-click folders as necessary until you find the media you want.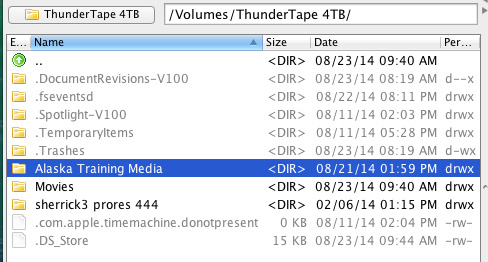 Here is where this utility shows its geek history. This pane not only shows media files, but all Mac OS "hidden" files (files with a name starting with a period), as well as permission settings for these files. We should not be messing with hidden files or permissions on a regular basis.
NOTE: Copying hidden files will often result in cryptic "File Exists" error messages.

Select the files you want to move. You can select a file by highlighting it and pressing the Space bar. This selects the file and moves to the next file. Or Shift-click to select a range. However, Command-click to select a non-contiguous group of files does not work.
Again, illustrating its technical roots, selected files are highlighted in red. To me this indicates that I did something wrong, but, in this case, I did something right.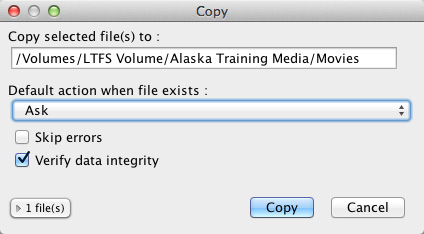 To copy files, you can click the Copy button at the bottom, which displays this dialog.
NOTE: Verify data integrity is not checked by default. If you use this dialog, I recommend checking it.

Or, you can drag the selected files from the left to the right window. This bypasses the Copy options dialog, but does not allow you to specify verifying data integrity.
NOTE: LTO-6 uses dual read/write heads, which means the tape system verifies that writes are correct by immediately reading the data recorded to tape and comparing it to the data that was sent. If there;s an error, the system rerecords the data in a different spot on the tape.
MONITORING A COPY
Activity Monitor does not monitor tape operations. However, we can get a sense of how fast the unit is working by monitoring Disk reads or writes.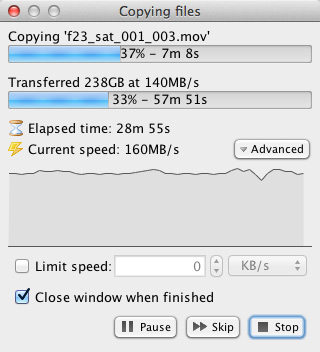 Even better, though, when we copy files using the dual-pane interface of 1 Beyond Copy Utility, it displays a status report of the copy operation. However, this window is more than a bit confusing. While it shows the current file copy status, notice that there are three different clocks – none of which display the same time or percentage?
BIG NOTE: Closing this window by clicking the red "stop" light in the top left corner cancels the copy operation without any warning that copying has stopped. Leave this window open during all copy operations.
RETRIEVING A FILE
There are two ways to retrieve a file from tape and place it back on the hard disk:
Display the contents of the tape in one of the panes (I generally use the right pane to display the tape unit, but it really doesn't matter), then drag it from the tape to the desktop.
Display the contents of the tape in one of the panes, then drag it from one pane to the next.
While dragging to the desktop is faster to do, dragging from one pane to another is better, as the Utility displays a panel showing the status of the file transfer.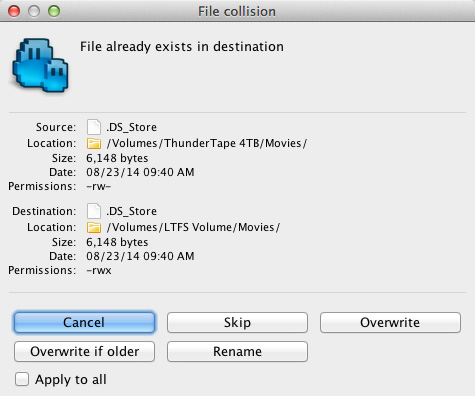 If you attempt to copy a file to a location where that file already exists, the Utility will warn you.
SUMMARY
First, it is critical to understand that the reason to use tape is long-term archiving, not high-speed access. Tapes are generally recorded overnight, when speed is not an issue. And, once files are recorded to tape, you shouldn't need to access them very often.
LTO tapes should be part of your backup and archiving process – once your business grows sufficiently to afford the purchase price of the hardware. It is not a good idea to rely solely on hard disks and RAIDs for media archiving.
There are three components to effectively use an LTO tape system:
The tape hardware system itself
Utilities, such as the 1 Beyond Copy Utility, that allows you to find files on a tape
Archiving software that tracks what files are on what tape and allows you to find a single file, regardless of what tape it is stored on.
The 1 Beyond Copy Utility is a very useful file management utility, but overly complex and non-intuitive. In fact, it borders on intimidating, which is not what you want when all you want to do is copy or retrieve a file. However, it makes using LTFS on Macintosh systems fast and useful, without wasting time in excessive tape shuttling.
---
Bookmark the
permalink
.