Premiere Pro: Thoughts on Using Productions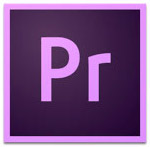 Last week, my webinar presented a close look at the new Productions panel in Adobe Premiere Pro. (Adobe released it as part of their April, 2020, updates.) I've been thinking about this feature a lot since it's release.
Productions were introduced by Adobe as a collaboration feature. But, even if you are a solo editor, there are significant benefits when using Productions.
OVERVIEW
A Productions folder is a special folder on your storage that holds projects, or sections of larger projects. This folder can be used by a single editor or a team of editors. Because of how it is designed, you can move and share media between projects without duplicating it.
Also, because of how it is designed, it allows you to work on very large projects in pieces – for example, acts or scenes – to minimize project file size and maximize the performance of your system.
Based on working with this feature for a week, I don't see any downside to using Productions even as a single editor working with smaller projects. There is a lot to like here.
Productions don't require Internet access and they don't require you to load any media into the cloud.
Media and projects both live on local storage, for solo editors, or shared storage on a local network for teams.
Productions work with any Creative Cloud license, unlike Teams, which requires a special license; though Adobe is offering a free Teams license from now till Aug. 17, 2020.
HOW PRODUCTIONS WORK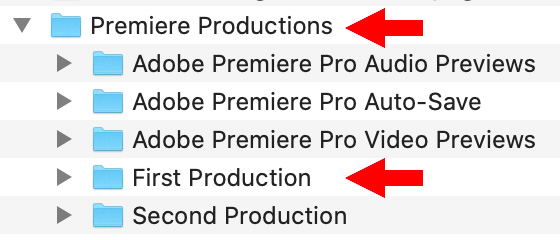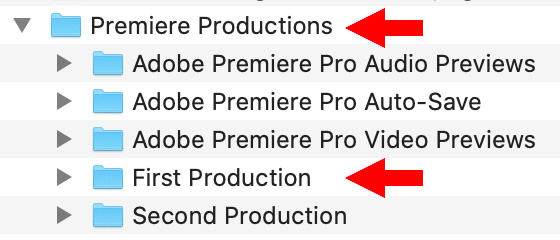 Create a folder on your storage to hold production folders. This initial folder isn't required, but I like how it keeps me organized. In my example, my containing folder is called: "Premiere Productions." You can call this folder anything you want.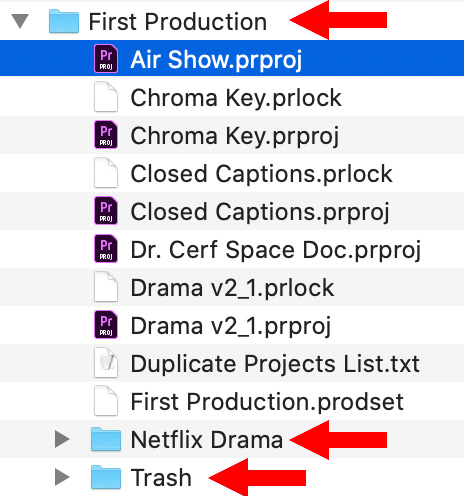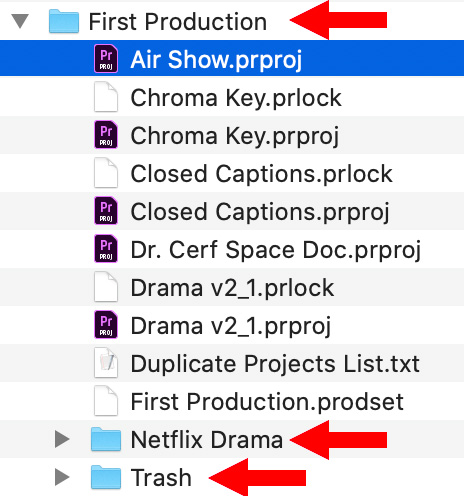 Inside this containing folder, use Premiere to create as many production folders as you need. In my example, this is called "First Production" – again, you can call it whatever name you like. You can create as many production folders as you want, however, you can only have one production folder open at a time. There is no limit to the number of projects stored inside one production folder.
Inside a production folder you can only store projects. This is important! Media and other files must be stored outside the production folder. But, when you think about it, most of us are used to storing media in separate locations from our projects.
In the screen shot above, there are project files; lock files, which determine which editor has ownership of the file; a show folder, which contains projects related to a Netflix drama, and a Trash folder, where projects are moved when you decide you no longer need them.
NOTE: When you trash a file in a Production it is not erased, it is simply moved to this folder. Once moved here, you can decide what to do with it later.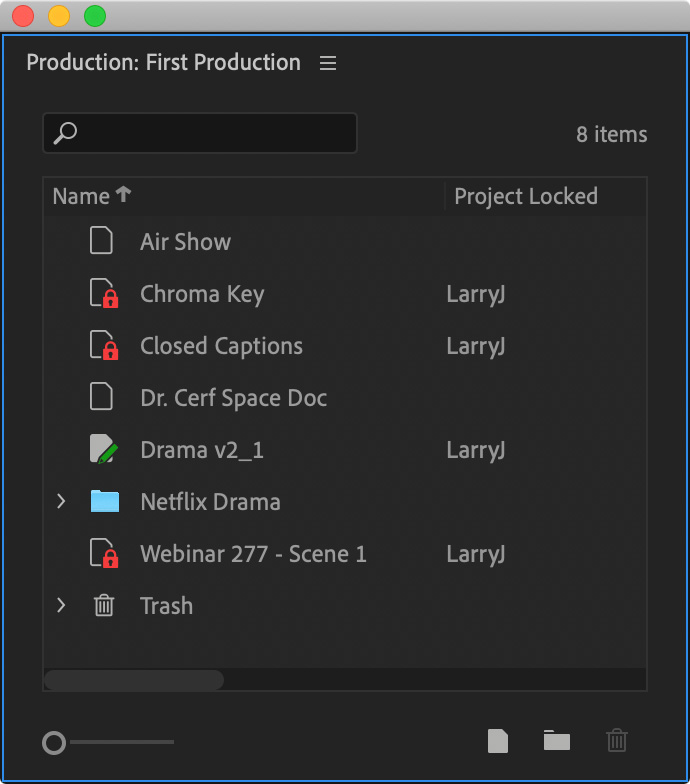 The Production folder – First Production, in my example – is exactly reflected in the Production panel in Premiere.
Open rectangles indicate projects that are closed.
Solid rectangles, like "Drama v2_1" are projects that are open.
Red locks indicate read-only files.
Green pencils indicate files that you can read and write.
If you are a solo editor, you can ignore all of these – you'll have read-write access to everything anytime you need it. If you are part of a team, these prevent you from stepping on someone else's work.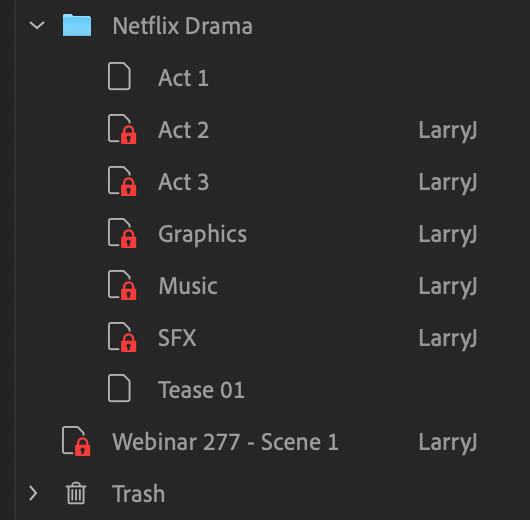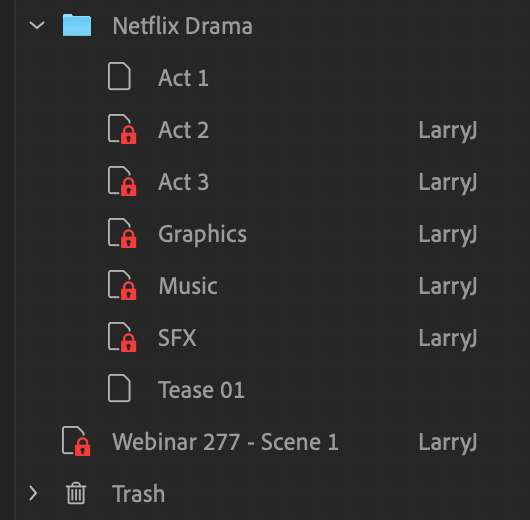 The reason I recommend solo editors look into Productions is illustrated in my Netflix Drama folder. Rather than create a single massive project, I created a project for each act, plus separate projects for graphics, music, and sound effects.
Rather than import all of these supporting elements into every act – making the project file unnecessarily big and unwieldy – whenever I need a graphic, I open the graphics project, select what I need and move it into the appropriate act.
NOTE: Here's an article on how to move clips between Premiere projects.
If you are editing a series, with common graphics, you can create a single graphics (or music or sound effects) project and access it for as many different projects as necessary without duplicating your files or work.
Open the "master music project," select what you need, then close it. No wasted effort or storage space. This is a big deal.
MASTER CLIPS AND CLIP REFERENCES
In the past, whenever we added a clip to a project, Premiere would create a master clip in the Project panel. Every clip in the timeline needed to link back to a master clip in the Project panel. As I moved clips from one project to another, these master clips were duplicated, taking up room and adding complexity.
With Productions, there's now only one master clip stored in whichever project you first added the clip. As you move the clip, the Productions folder tracks the clip back to that single master clips. This reduces complexity and allows greater freedom to move clips around.
To move a clip, drag it.
To copy a clip, creating a new master clip, choose Edit > Duplicate, then drag the duplicate.
Adobe spends several pages in their Workflow Guide (see below) describing the advantages of this.
So, with my Netflix drama, I can create massive projects of just sound effects or music or graphics, but only open them when I need to pick something. This means that most of the time, I'm not tying up memory or project files with clips that I will never need.
EDITING
The part I like best about Productions is that once you open a project and start editing, everything is exactly the same. You don't need to keep the Productions panel open.
Productions simplifies organizing, storing, finding and accessing your projects. Once you have one or more projects open to edit, close the Productions panel to get it out of your way. Then edit as normal.
A FEW CAUTIONS
Productions are not designed for cloud services, such as Dropbox, Google Drive or VPNs. Projects and media need to be locally accessible.
Be sure both the shared storage and local workstations are synced for time. A good idea is to make sure both are using the same network time server.
Premiere preferences need to be changed to support Productions. The Workflow Guide explains what you need to know.
If you are working as a team, delegate one person to handle all ingest – from cards or tape. This simplifies assigning appropriate metadata during import.
You can convert any single, Shared or Team project to a Production, but you can't convert a Production to a Team Project. You can also convert a production project to a standalone project by dragging it out of the Productions folder. A potential reason to do this is to share the project file with a remote editor.
SUMMARY
Productions are a nicely implemented feature that benefit just about all Premiere editors. It helps us better organize our projects, reduce project size, reduce project complexity and, for those that need it, supports improved collaboration.
I had fun working with it so far and look forward to making it a regular part of my Premiere editing routine.
EXTRA CREDIT
---
Bookmark the
permalink
.