Premiere Pro CC: Gain vs. Normalization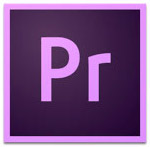 There is a non-obvious dialog that I want to show you in Adobe Premiere that makes setting audio levels fast and easy. And, along the way, I'll explain a technique you can use to avoid distortion and still have great sounding audio.
DEFINITIONS
The first and most important rule about audio levels is:
Audio levels must not exceed 0 dB during export for any reason. Doing so causes distortion and bad audio, which can't be easily fixed – if at all.
NOTE: Many times, during editing, audio levels may exceed 0 dB because you aren't always paying close attention to audio. Damage to your audio does not occur until export.
In this article, I'm going to use two terms a lot:
Gain. This is a setting that determines the audio playback level of a clip or track.
NOTE: We use gain, volume, level and loudness almost interchangeably; though there is a subtle difference in meaning between them. For this article, I'm using gain.
Normalization. This is a setting that raises the gain of an entire audio clip, or selected group of audio clips, by the same amount such that the loudest peak in the clip, or selected group of clips, does not exceed the maximum level you specify.
Yeah, I know, that second definition is a doozy. But it does a lot and its worth learning about.
SETTING GAIN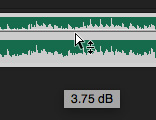 As most of us know, the easiest way to set gain is to drag the audio "rubber band" inside an audio clip up or down. (To make it easier to see the rubber band, I added the cursor arrow in the screen shot above.)
This works fine – EXCEPT, remember that rule above that states that audio levels can't go above 0 dB? Well, how do you know that you haven't increased the audio gain so much that it creates distortion?
NOTE: You can also adjust levels using Effect Controls. As long as you don't add keyframes, the result is the same as if you were dragging the audio rubber band. And keyframes are outside what I want to cover in this article.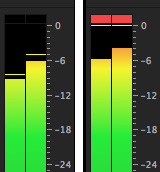 Right. We watch the audio meters. As long as the bouncing meters stay below 0 dB we are safe. However, if the red clip light above each audio channel lights, that means that the audio is too loud and will create distortion during export.
This system works fine – except that we need to play the entire audio clip to be sure that levels are safe – there's no easy way to jump to a timeline location where the audio mix is too loud.
In other words, this works but it takes time to verify that levels are OK.
SETTING GAIN – FASTER
There's a faster – though much less obvious – way to set gain: use the Gain Dialog.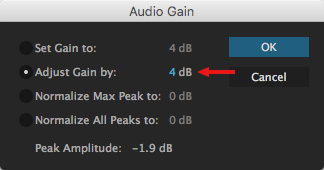 Select the clip, or clips, for which you want to adjust the audio gain and type G. This opens the Audio Gain dialog.
There are four choices here:
Set Gain to. This adjusts the gain for all selected clips to the amount you specify. (This is also called setting an "Absolute" audio level.) For example, if the current audio setting is – 4 dB and you set the Gain to +4 dB, the new audio setting will be +4 dB.
Adjust Gain by. This adds or subtracts the value you enter here to the current audio gain setting of the clip. (This is also called setting a "Relative" audio level.) For example, if the current audio setting is – 4 dB and you adjust the Gain by +4 dB, the new audio setting will be 0 dB.
These two settings are, essentially, faster ways to drag the audio rubber band up or down. In both cases, they set the audio level for the entire clip by the same amount. And, in both cases, they don't pay any attention to whether the setting you just dialed in might cause distortion.
These are very helpful, especially in making global adjustments to a group of clips. But, at their core, they are simply faster ways of doing what you were doing manually.
THE POWER OF NORMALIZATION
The huge benefit to normalization is that it takes into account the loudest portion of each clip BEFORE it sets audio levels. This means that, using normalization, it is impossible to raise the gain of the selected clip(s) so much that they distort.
NOTE: While normalization prevents against distortion in a single clip, it does not prevent distortion caused by a mix that's too loud.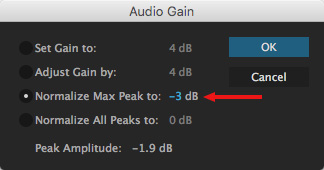 Normalize Max Peak to. This alters the gain of ALL selected clips by the same amount such that the loudest peak of all the clips is set to the amount that you specify. This setting maintains the relative volume between all the clips.
Normalize All Peaks to. This alters the gain of EACH selected clip by different amounts such that the loudest peak in each clip is set to the amount that you specify. This evens out the levels of all selected clips so that they all have about the same volume.
In this example, the bottom line says that the loudest peak in the selected clip, or clips, is -1.9 dB.
For me, "Normalize All Peaks to." is the truly powerful setting. Select all clips, type G, set a normalization level and click OK. Poof. In an instant, all the selected clips are close to the same level.
I have two rules that I generally follow when I'm normalizing levels for a video project:
If I have a stand-alone clip that is not part of a mix, for example a speaker talking, I'll normalize to -3 dB.
If the selected clips are part of a mix, I'll normalize to -4.5 dB to allow room for the mix.
My final mixes tend to create peaks that hover between -3 and -6 dB. This generates loudness levels around -20 dB.
Normalization is a really fast way to set levels quickly and know that they are not going to distort.
LIMITATION
Normalization has one big limitation – it can't tell the difference in a peak caused by someone talking excitedly and a cough. So, if you have a soft-spoken individual who coughs, normalization is going to adjust levels based on the cough, not on the overall levels of the person talking.
NOTE: This is a BIG benefit of using a Limiter filter, which I write about here.
SUMMARY
When speed is everything, and distortion is not an option, normalization can wrangle all your selected audio clips and even out their audio levels in a heartbeat. Limiter and Multiband Compressor filters will do a better job of evening out audio levels within a clip, but nothing is faster at setting safe levels across clips than normalization.
---
Bookmark the
permalink
.