Premiere Pro: Adjustment Layers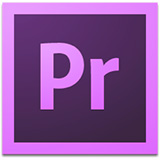 One of the exciting new features in Adobe Premiere Pro CS6 is adjustment layers. These first appeared in Photoshop, then migrated to After Effects. Now video editors have access to them in Premiere.
Basically, an adjustment layer allows you to add one or more effects to a single "entity" that can affect a range of clips stacked in multiple layers. And, by adjusting the effect controls in the adjustment layer, you affect all the clips covered by that adjustment layer.
Also, adjustment layers are better than nests because they can be applied to portions of clips, and you still see all the clips in your Timeline.
CREATING AN ADJUSTMENT LAYER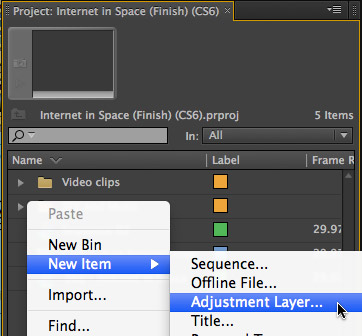 Adjustment Layers need to be created before they can be applied. To create an adjustment layer, select File > New > Adjustment Layer. (You can also right-click inside the Project Panel, as I illustrate here.)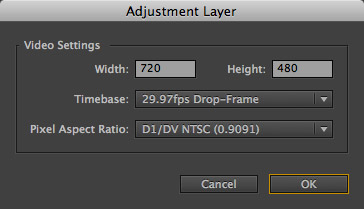 The Adjustment Layer dialog opens, with defaults set to match the current sequence settings. Normally, you would just accept the defaults and click OK.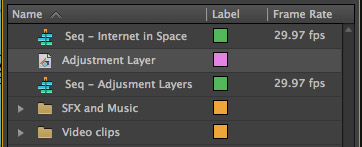 The new adjustment layer appears as a clip in the Projects panel. At this point, it acts like a clip. You can rename it, if you want, then edit it into the Timeline.
ADDING EFFECTS

For instance, here, I renamed it to "Adjust Layer: Desaturate." Now, granted the magenta color is a dead giveaway that this is an adjustment layer, but I like adding the effect to the name of the layer so I can quickly see what it is supposed to be doing. (Naming these, by the way, is totally optional.)
Notice that I made a point to put the adjustment layer ABOVE the clips I want it to affect. And this illustrates the key advantage to adjustment layers: all the clips underneath the layer are affected by it. Any clips above it – for example the "barn Grand Teton" clip – or outside of it – like the start of the sequence – are not affected by it.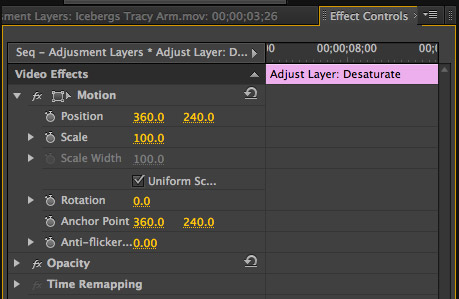 Select the adjustment layer and, in the Effects Controls panel, adjust what Final Cut Pro would call the Motion tab settings: Position, Scale, Rotation, etc.
To apply a non-Motion effect to the layer, go to the Effects panel and apply the effect you want. In this case, to keep things simple, I'll use: Effects panel > Video Effects > Image Control > Black & White to desaturate all the images on all layers underneath the adjustment layer.
NOTE: With adjustment layers, just as with clips, you can change their duration, Timeline position, apply and modify multiple effects, add keyframes, and so on.

You can even add transitions to adjustment layers, though, depending upon the effects applied to the layer, the transition may behave differently from one applied to a clip.
To delete an adjustment layer, simply select it and press Delete. When you delete a layer, all the effects attached to that layer are also deleted.
SUMMARY
Adjustment layers provide a new level of flexibility and control of effects in your projects. Whether it is something as simple as desaturating a bunch of clips, creating subtle textures with blend modes, or combining multiple effects into a full-blown visual tour de force, adjustment layers can make your effects creation a lot easier.
---
Bookmark the
permalink
.