Playing with 4K Video on an M1 MacBook Pro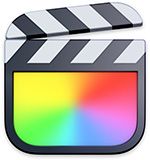 Apple brags about how the new M1 Max CPU can play multiple streams of 8K ProRes video in real-time. But that's using a fully-loaded system. I wondered: How well does a new MacBook Pro with an M1 Pro CPU handle 4K media in Final Cut or Premiere Pro? What I learned was: Pretty darn well!
NOTE: I continue to be grateful to Terry Holland of Northeast Drone Video (www.NorthEastDroneVideo.com) for sharing several 4K drone media clips. His images are lovely and it is fun to play with 4K media.
FINAL CUT PRO 10.6.1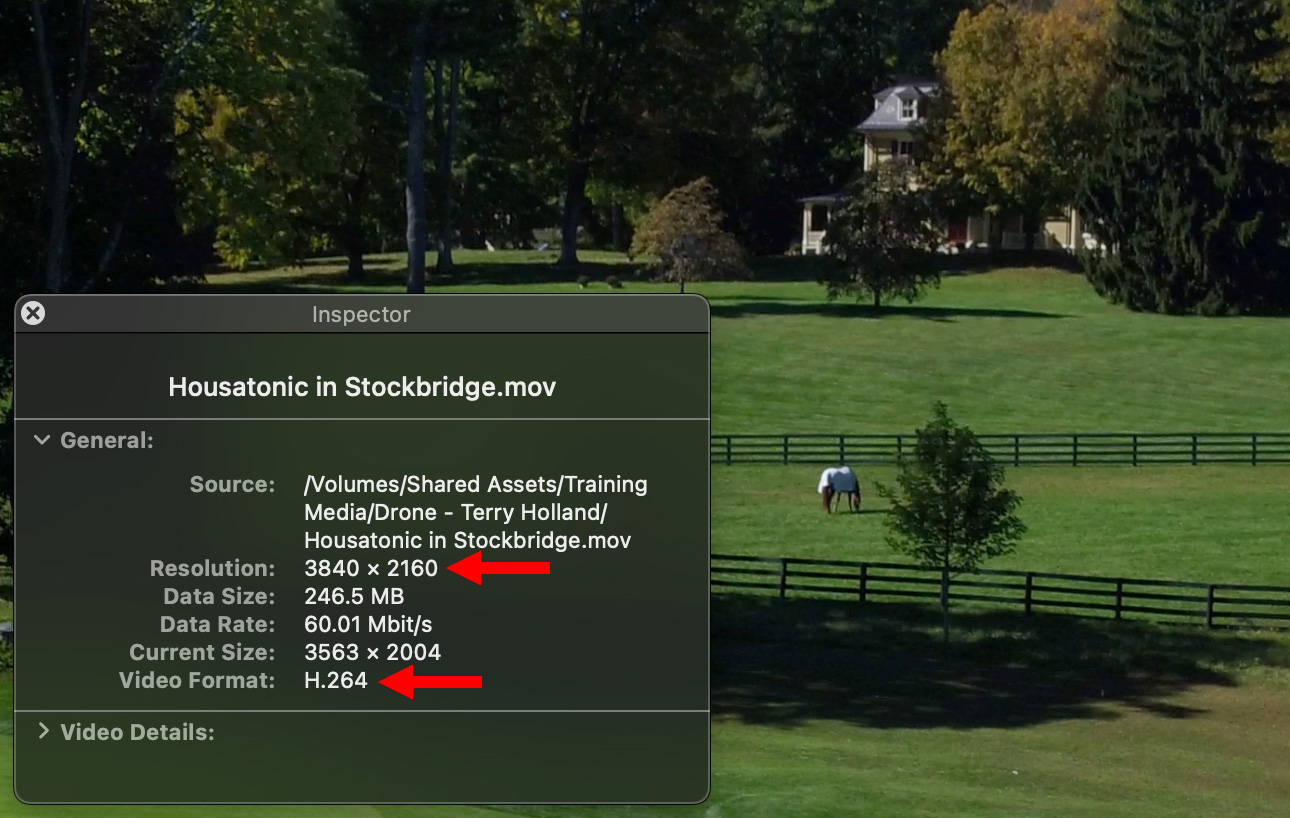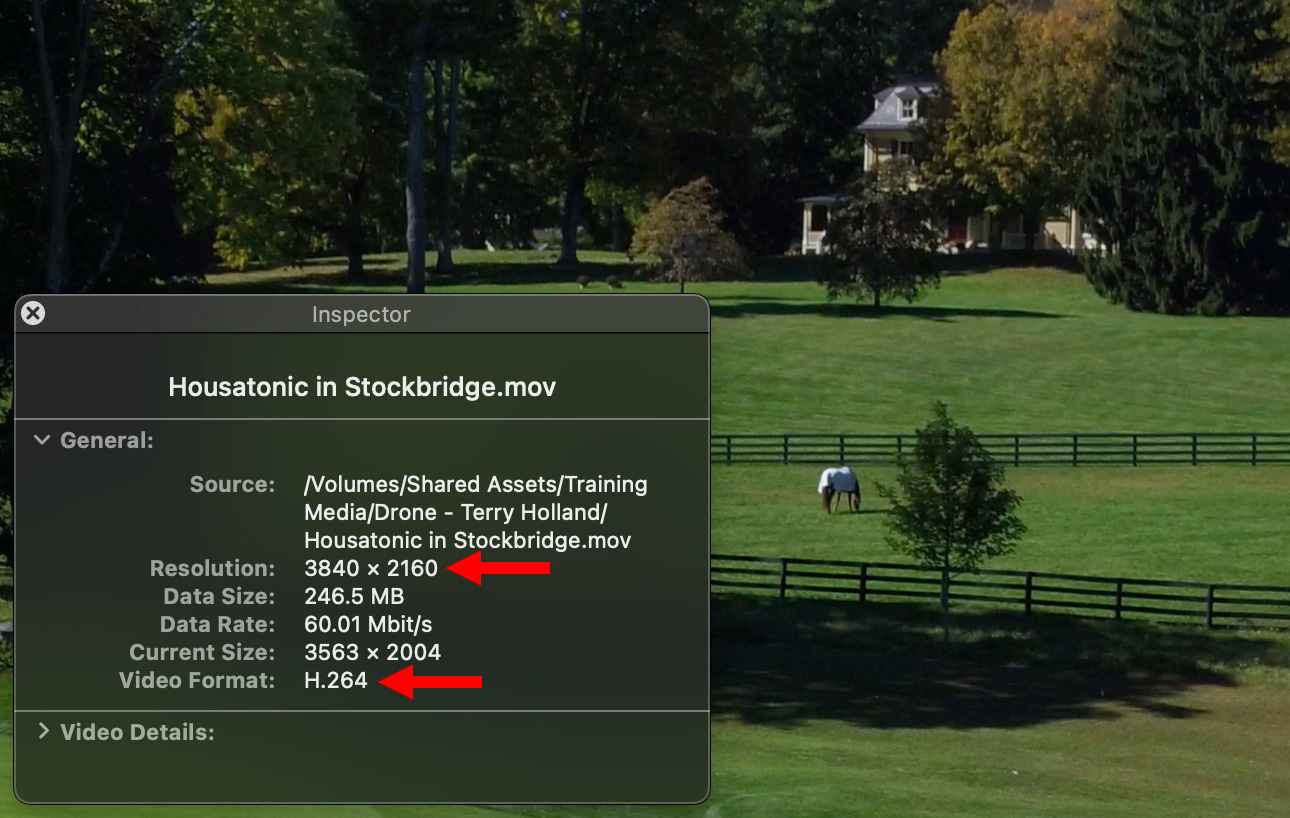 Terry sent me six drone clips ranging in length from about 30 seconds to two minutes. Each was 3840 x 2160 and compressed using H.264; which, as we all know, is a highly-compressed, often difficult to play media codec.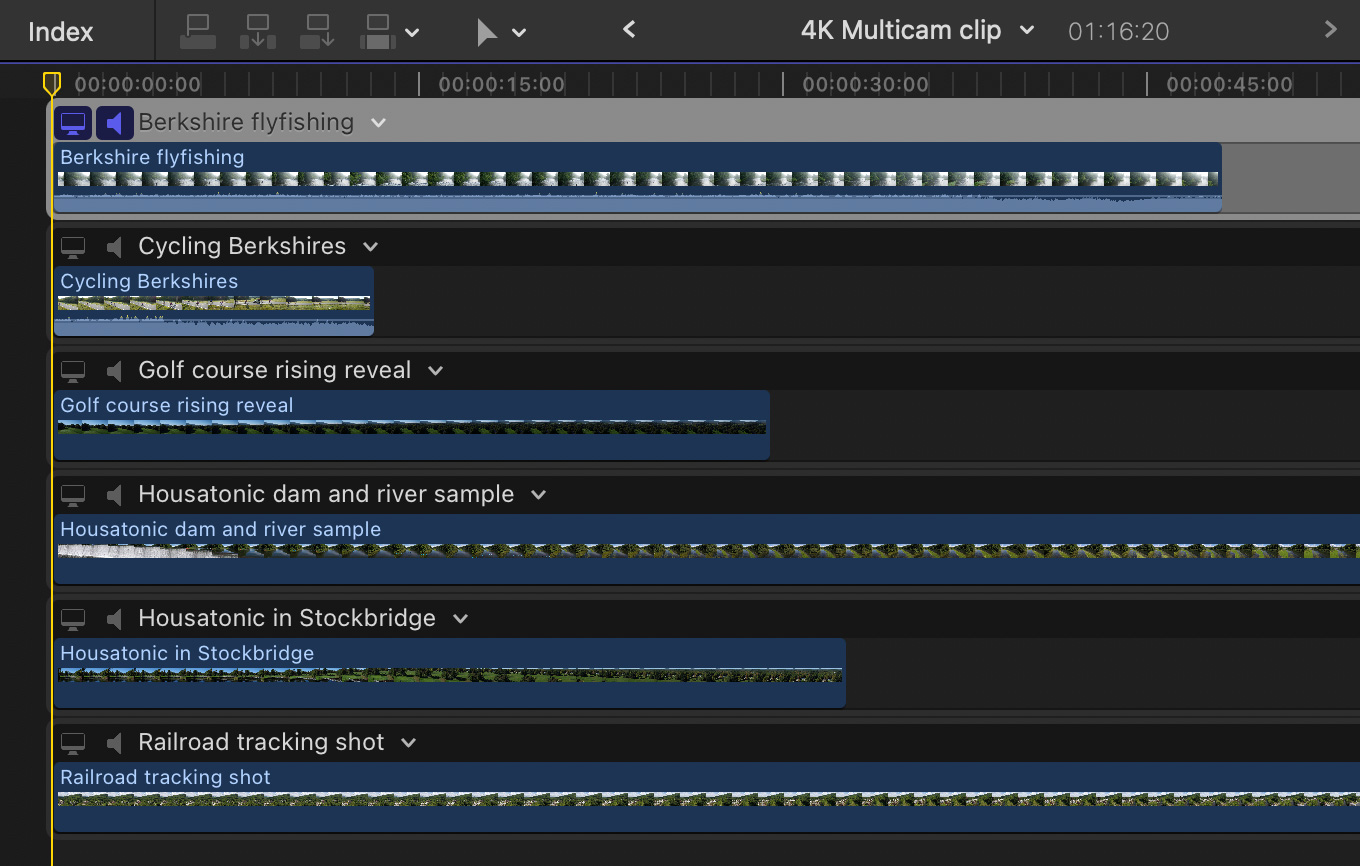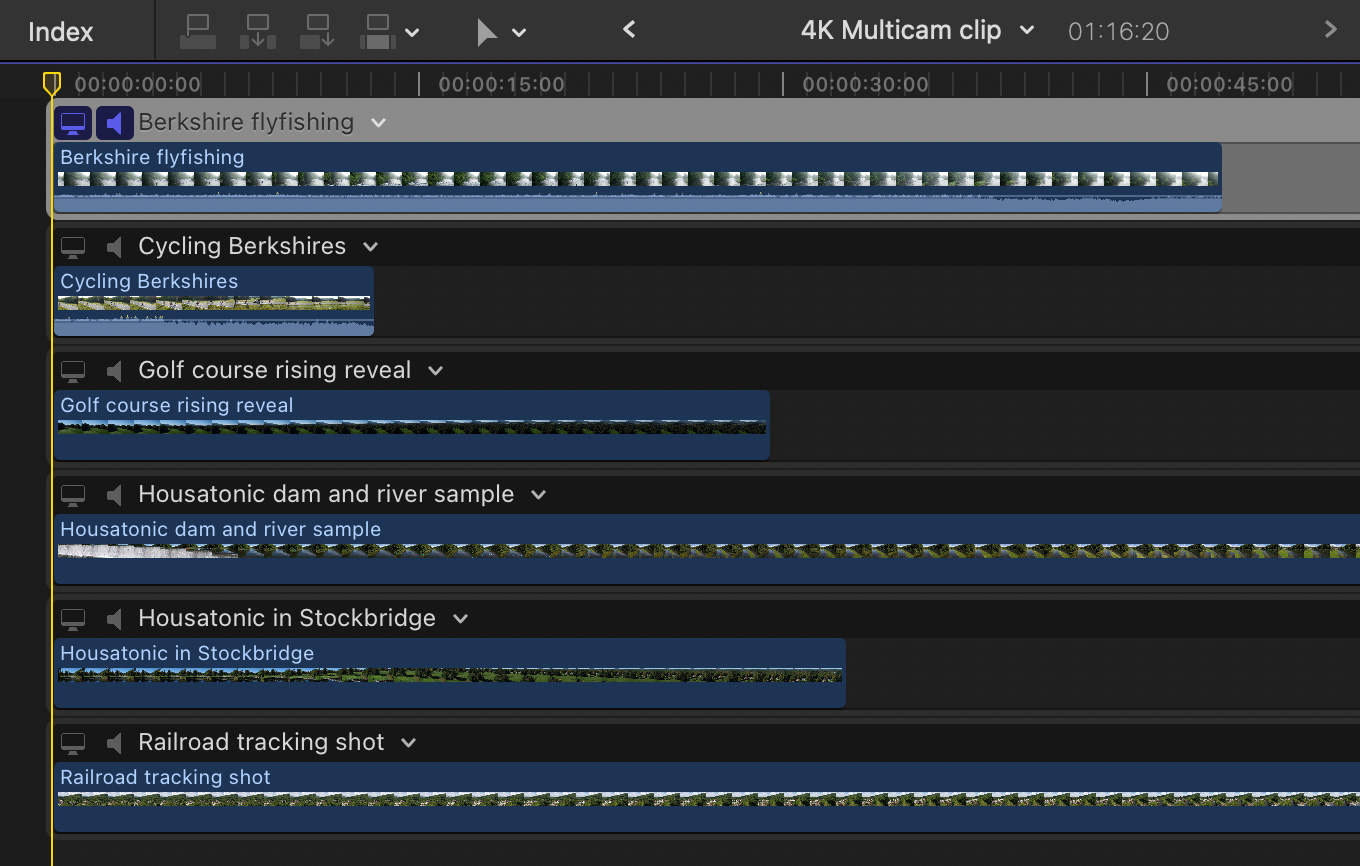 I built these into a six angle multicam clip, synching all of them on the first frame. (Because these were totally unrelated clips, neither timecode nor audio would match.)
NOTE: Unlike a "normal" timeline, which plays each clip one after the other, a multicam clip plays all the clips it contains at the same time. This puts a much larger load on the CPU, as well as the data transfer speed of your storage. While there is no "technical" limit to a multicam clip, for practical purposes, the number of clips you can playback at the same time depends upon the maximum transfer speed of your storage.
Multicam clips are a great way to test the overall performance of your system.
When I pressed the spacebar in Final Cut, everything played perfectly. Which, when you think about it, is pretty amazing. Final Cut was processing 49,766,400 pixels per multicam frame. (That's 1.5 billion pixels per second!) Sheesh!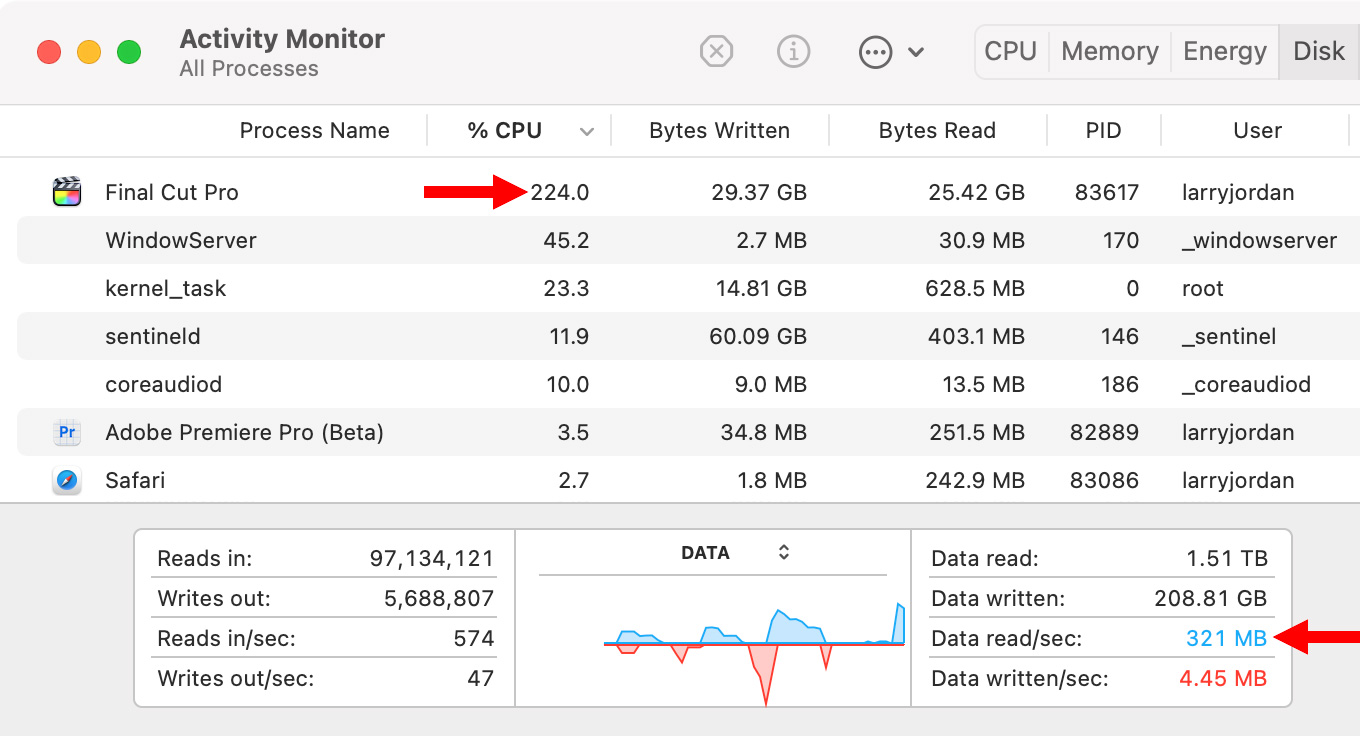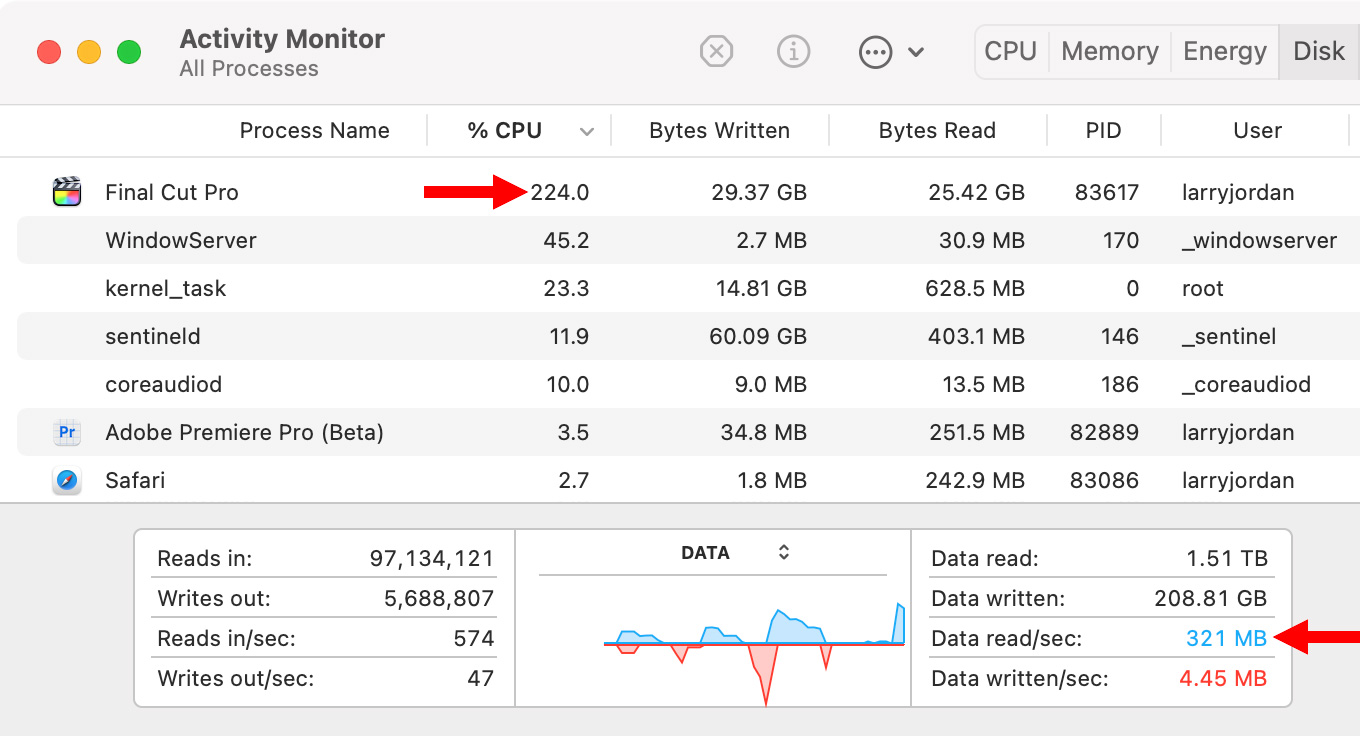 I saw data transfer rates over 300 MB/sec, though the processors were only running at 224%.
NOTE: The processor percentage is calculated at 100% per core.




The processors were fully occupied (top) from time to time, but, most of the time, they weren't (bottom). As well, the playback on the MacBook monitor seemed perfectly smooth.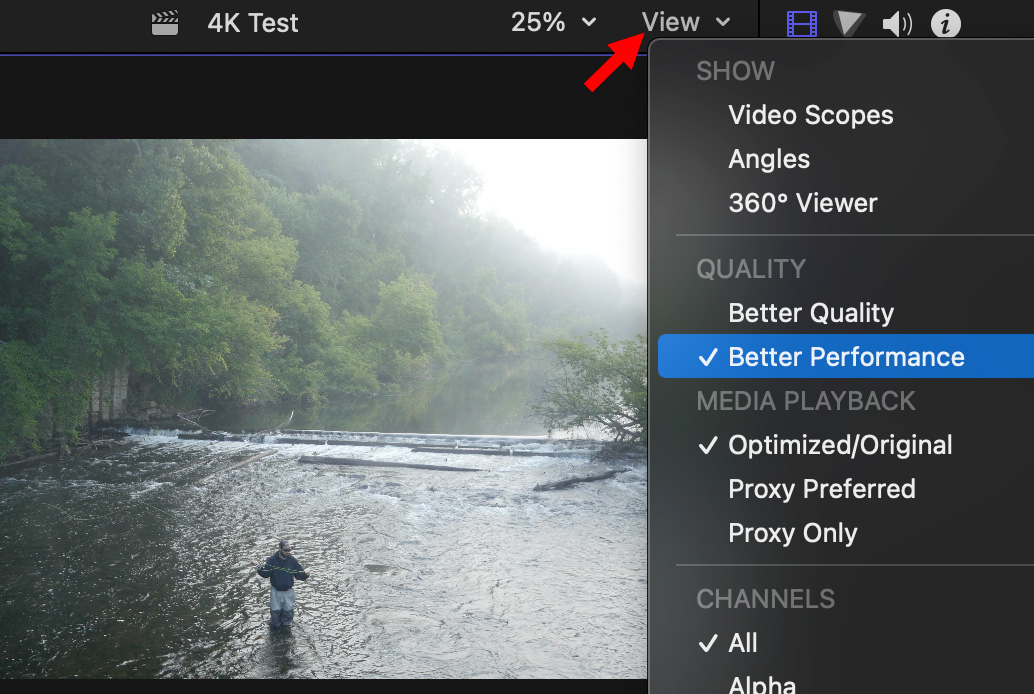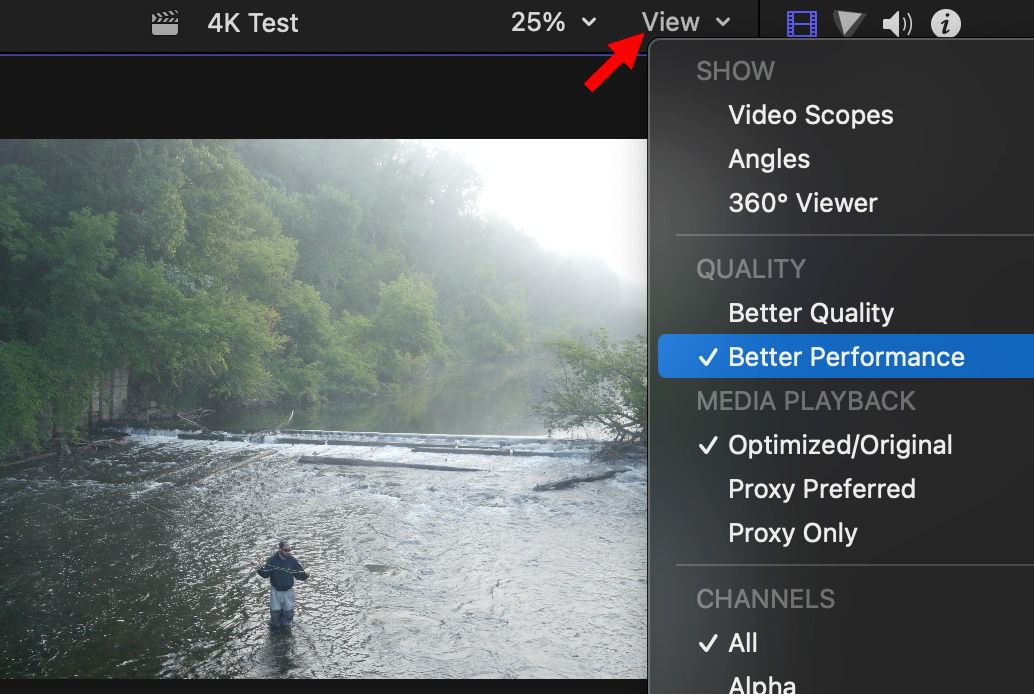 NOTE: By the way, I didn't see any significant difference in data transfer rates when displaying the image either for Best Quality or Best Performance. Both played smoothly.
PREMIERE PRO
Next I wondered what happens if I create the same multicam clip in Adobe Premiere Pro? The answer is, essentially, the same.
From what I could tell, Premiere cached the clips into RAM, because it did not not have the same data rate flowing from storage. However, it did put a higher load on the CPUs.
NOTE: I looked at the data transfer rate for both Disk and Network, and both were less than 50 MB/sec, which is why I suspect files were cached into RAM.
However, I did notice a slight choppiness during multicam playback that did not appear when I viewed the same clips individually in the Source monitor. This stuttering, which seemed like frames were being dropped, appeared whether I had the Playback Resolution set to 1/2 or 1/1. It also appeared whether the sequence was rendered or not.
NOTE: However, this choppiness went away when the multicam clip was flattened or after I exported the movie. In both these cases, the movie played smoothly. So this seems to be a display issue.
My guess here is that Adobe needs to do a bit more tuning for the M1 clip. But, while noticeable, I don't consider the slight stutter to be objectionable, because it is easy to prove that the clip plays smoothly by simply watching it in the Source monitor. And the output is fine.
SUMMARY
If you are wondering whether one of these new laptops can handle your edit, I was reassured that this less-than-fully-loaded M1 MacBook Pro handled things just fine.
EXTRA CREDIT
Here's an article that describes the system I purchased and provides guidance on spec'ing your own system.
Here's an article that compares the speed of an M1 MacBook Pro to earlier Mac computers.
---
Bookmark the
permalink
.