Pick Fonts for Emotion and Power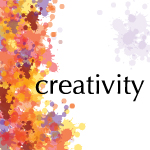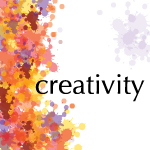 Helvetica is a very boring font. Not because it is poorly designed, but because it is overused.
NOTE: Helvetica was designed in 1957 by Max Meidinger as a "neutral typeface that had great clarity, no intrinsic meaning in its form and could be used on a wide variety of signage." (Wikipedia). Linotype named the design "Helvetica" in 1958.
Emotion is a key element of many of the stories we tell in pictures. We spend hours thinking about sets and costumes and lighting – all to convey a feeling – yet miss the obvious emotions that can set a tone right at the beginning of our project by picking the right fonts.
While a study of typeface design can fill a book – and, in fact, has filled many – here are some key ideas to think about.
TYPES OF FONTS
There are four broad categories of fonts:
Serif
Sans Serif
Script
Speciality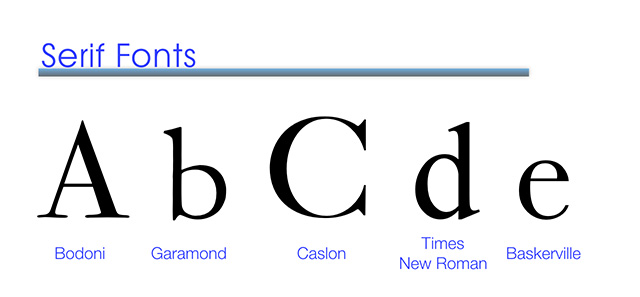 Serif fonts have little "feet" at the ends of each character. This aids the eye in moving from one glyph (letter shape) to the next.
These letterforms originated with the Romans carving words into stone.The outlines were first painted onto the stone, then the stone carvers followed the brush marks adding flares at stroke ends and corners, creating serifs.
For example, look at the feet at the bottom of the "A" or the jaws of the letter "C." Another attribute of serif fonts is the different thickness in the character shape, easily seen in the letter "e".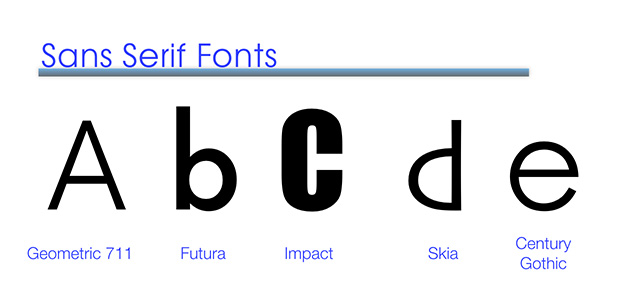 Sans Serif fonts are, surprisingly, fonts without the little feet. ("Sans" means "no" – therefore, no serif.)
Notice how clean each letterform is, no feet, with very even widths across the entire glyph. Compare the letter "e" in Baskerville (serif) to Century Gothic (sans serif).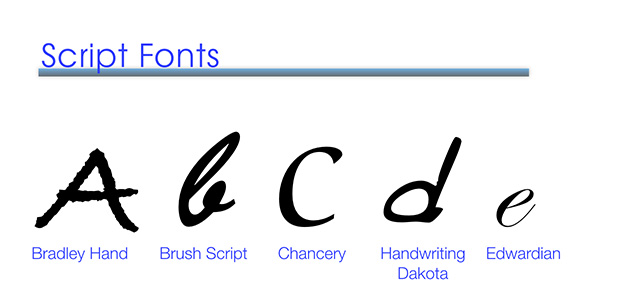 Script faces are designed to look like they are hand-drawn. Some are very formal, while others are very casual.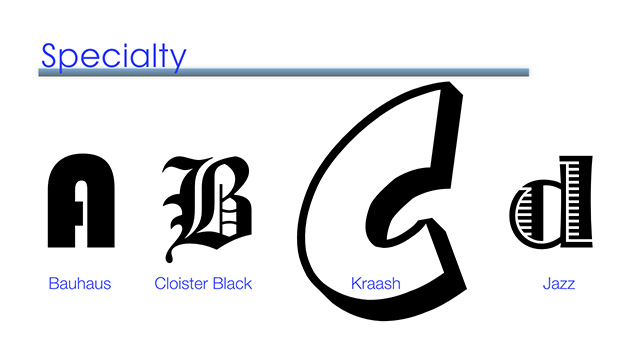 Specialty faces are very egocentric – they purposefully call attention to themselves – as you can see here. These fonts are designed to leap off the page, grab you by the throat and shake you until you pay attention.
Subtle, they are not.
MONOSPACE VS. VARIABLE
There's one other characteristic of fonts worth considering: letter-spacing. Those of us "of a certain age" may remember mechanical typesetting machines called "typewriters." (Yes, these primitive machines did exist – I used them for years.)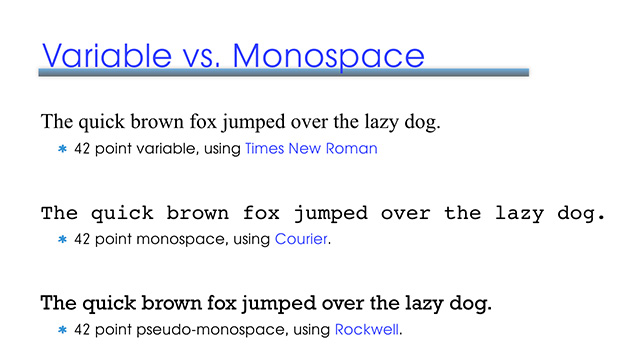 Here are examples of monospace, where each letter is the same width (similar to a typewriter), variable, and pseudo-monospace. Rockwell emulates the look of a typewriter, while still saving space on the line.
The big advantage of monospace is that it is easy to create type with a mechanical device like a typewriter. However, variable fonts cram more letters into the same amount of space, saving paper for books, or making the text easier to read on screen.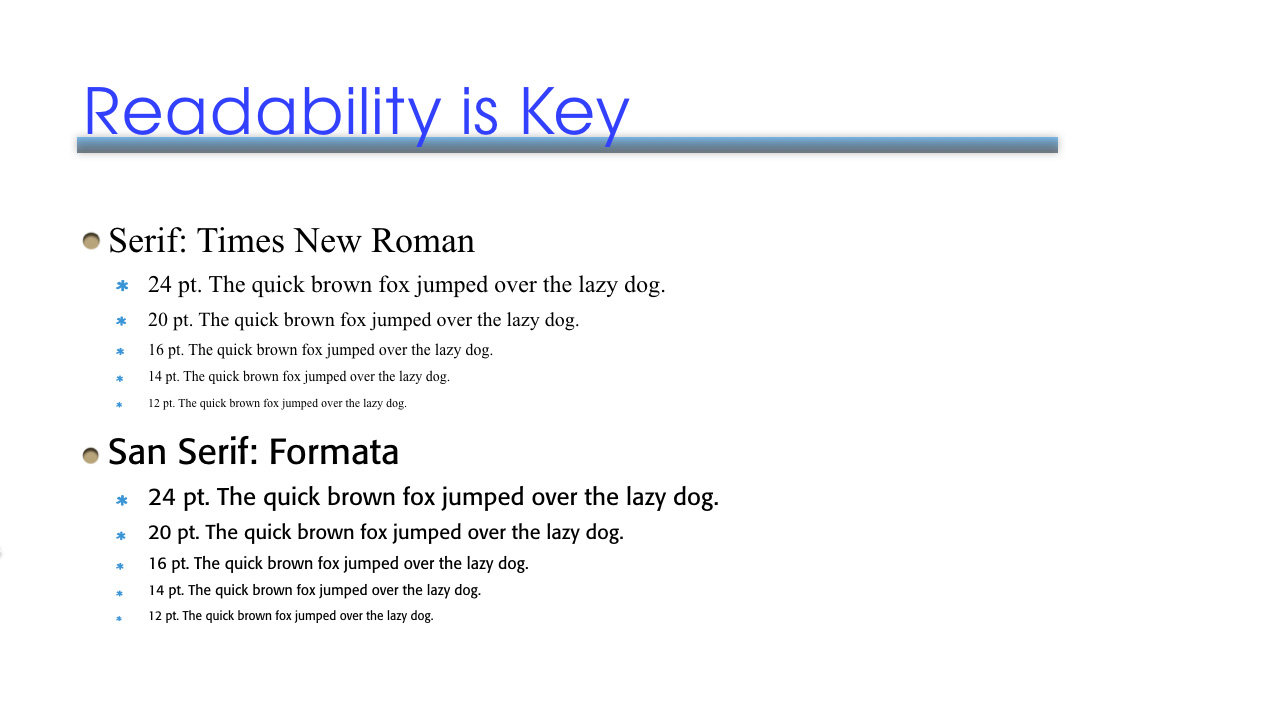 (Click to see a larger version of this image.)
Here's what I mean by readability. Notice how you can read sans serif fonts more easily at smaller point sizes than serif fonts. When it comes to video, this readability makes a big difference.
EMOTIONS OF FONTS
Talking about the "emotions" of fonts is a lot like talking about the emotions of color – there is a lot of room for interpretation. Still, there are basic emotions that apply to each of these four groups.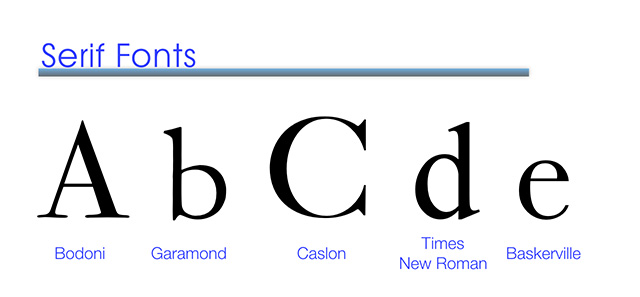 Emotions that we associate with Serif fonts include:
Tradition
Respect
Reliable
Comfort
Typefaces in this category include:
Bookman Old Style
Century Schoolbook
Garamond (used in larger point sizes)
Baskerville (used in larger point sizes)
Times New Roman (used in larger point sizes)
Trajan (used in larger point sizes)
There are many others, which you can spot easily browsing through a font menu
Personally, I don't recommend Times New Roman. Like Helvetica, it is over-used and very hard to read at smaller point sizes. Trajan is nice, but only exists as all caps.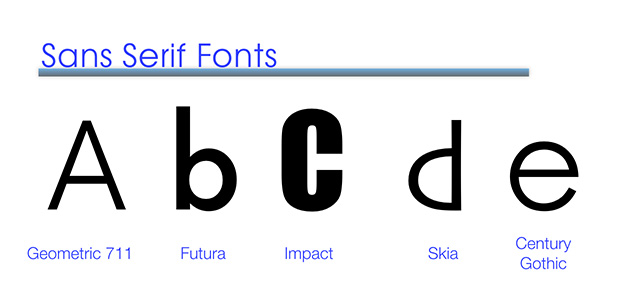 Emotions that we associate with Sans Serif fonts include:
Stability
Objectivity
Clean
Modern
Strong
Progressive
Chic
Typefaces include:
Franklin Gothic
Myriad
Formata
Futura
Century Gothic
Geometric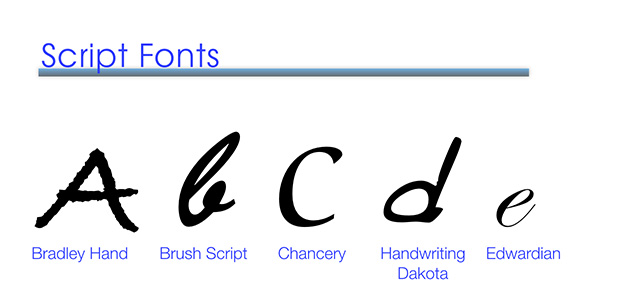 Emotions that we associate with Script fonts include:
* Elegance
* Formal
* Affectionate
* Creativity
* Personal / Personality
Typefaces include:
Edwardian Script (used in very large point sizes)
Bradley Hand
Handwriting
Noteworthy
Brush Script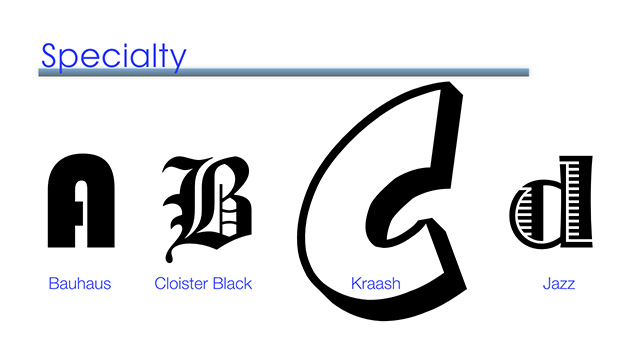 Emotions that we associate with Specialty fonts range widely because there are so many different designs to choose from. These should be used in large point sizes only, and limited to main titles.
Typefaces include:
Bauhaus
Cloister Black
Kraash
Jazz
And just about every free typeface on the web…
USING FONTS
Keep in mind that video, when compared to print, is low resolution. A half-page high quality magazine ad is roughly 56 megapixels. An HD video image is about 2 megapixels. There isn't a lot there. This means that ornate typefaces will not look as good in video as they do in print. Additionally, because text in video is only up for a few seconds, legibility is critically important.
Text in media needs to be selected both for its emotional content and its ability to be read quickly.
Here are some ideas to consider when choosing a font:
Pick a font from a category that reflects the emotion you are trying to convey
Generally, sans serif fonts will read more quickly in video than serif
Use fonts with relatively even weights for the strokes in the letter-form
Use fonts that contrast with the background
When in doubt, pick a font for its clarity and readability
We have more design leeway with full-screen titles than lower-thirds.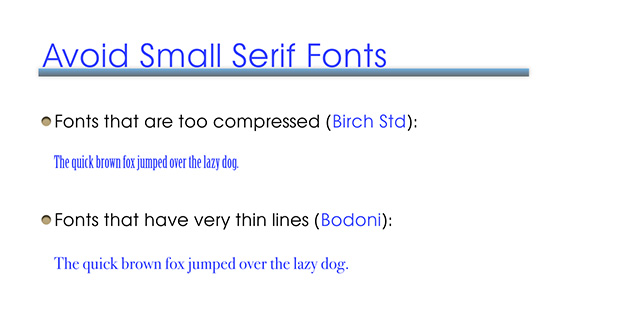 If you are animating text, bring the text in from the right edge. In most western countries, we read text from left to right. By animating from right to left, you give the audience an extra second or two to read the text before it disappears.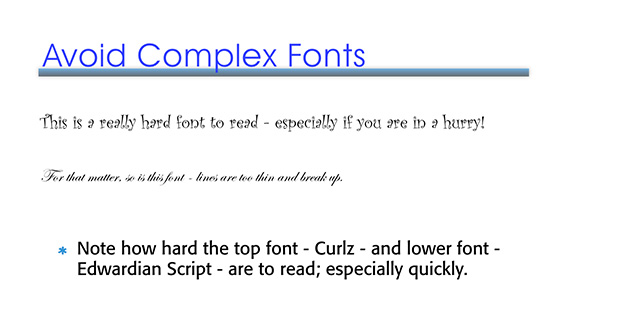 Another cool psychological tip is that things seem easier to do when the instructions are easier to read.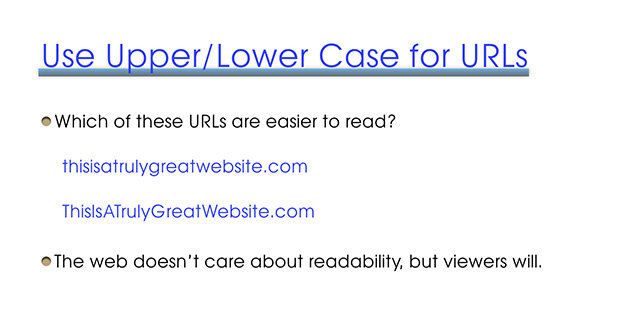 Some producers are trigger-happy, they want text on screen as briefly as possible. But, think about this for a minute, we use text to tell the audience something that they can't learn any other way – like the location of a shot or the name of a guest.
There is no value to the audience in having text flash on and off screen so quickly they can't read it. You've been staring at this title for weeks, they only get a few seconds, give them a chance to actually READ it!
I prefer to hold lower-third titles for 6-8 seconds
For longer blocks of text, hold it on screen long enough for you to read it out loud twice.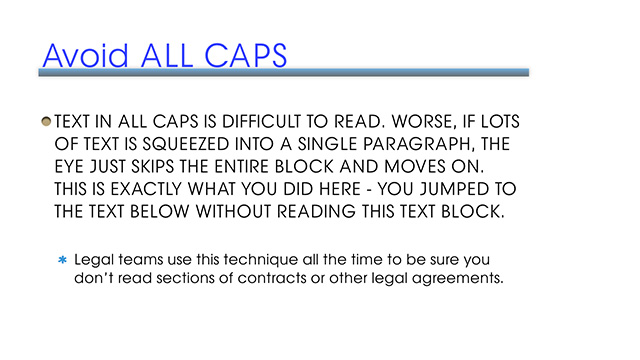 See, you just skipped over this text. Why? Because it is in all caps. No one reads text in all caps. Be very, VERY careful putting any text you want the audience to read in all caps.
SUMMARY
Typeface design is a fascinating subject. With so many fonts to choose from, and each one carrying its own emotional values, both you and your audience will benefit by expanding your font horizons and experimenting with something new for your next project.
---
Bookmark the
permalink
.