Optimize Compressor 4.3 to Burn DVDs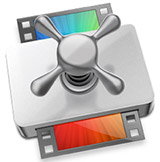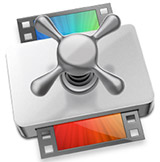 While there are currently a few issues with burning DVDs using Compressor 4.3.0 that Apple is looking at, in this article I want to share a few tips with you that will improve your results when burning DVDs using Compressor.
COMPRESSION
Compressor 4.3 automatically sets the bit rate for compression to 7.65 mbps. This is not a bad option. However, if you need to squeeze a bit more material onto a DVD: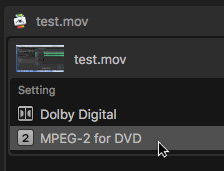 Select the MPEG-2 compression setting that's applied to your clip.

In Inspector > Video change:
Average bit rate to 5.5 mbps
Maximum bit rate to 7.2 mbps
That should fit about 90 minutes of material to a single layer disc.
SPEED
Reader Sharon Steele reports that burning a DVD is about 50% slower than Compressor 4.2. I have not been able to verify this independently, so your milage may vary. I expect Apple to improve this in future updates.
CHAPTER MARKERS
Sharon also reports that there is a changed behavior in how chapter markers are displayed.

"In the [Job menu of the] older Compressor 4.2, the box "Use chapter marker text as subtitles" is checked. I get a momentary Chapter name in the upper left hand corner when I forward to the next chapter, but I do NOT get continuous chapter name at the bottom of the screen. That is what I want.
"In the new Compressor 4.3 when the box "Use chapter marker text as subtitles" is checked, I get a continuous chapter name at the bottom of the screen. I need to uncheck this box to get the wording at the bottom of the screen to go away. The default [settings] seems to be different than before and I did not expect them to be."
AUDIO
As in prior versions, when creating Dolby audio for a DVD, Compressor applies audio compression to your mix, which frequently changes your audio levels.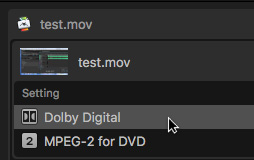 To make sure that Compressor does not change your mix, select the audio compression setting (Dolby Digital) that's applied to your movie (see screen shot).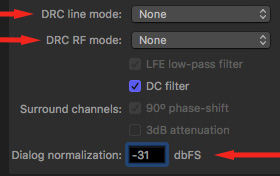 Then, in Inspector > Audio change:
DRC line mode to None
DRC RF mode to None
Dialog normalization to -31 dBFS
That turns off Dolby's audio compression and your mix will sound the way you expect.
SUMMARY
Compressor 4.3 has improved its DVD templates with more options. If you burn DVDs and haven't looked at the latest version, it is worth checking out.
One caution: Adding watermarks in Compressor 4.3.0 does not work. I'm expecting that to get fixed in the next update.
---
Bookmark the
permalink
.