New Look: Lesspain Software Updates Kyno

Kyno is a media management, screening, logging, organization and transcoding application for anyone working with video and images. It supports a wide variety of industry-standard formats and integrates seamlessly with Adobe Premiere Pro and Apple Final Cut Pro X.
Last week, it was updated to version 1.2 with a host of new features:
New formats: Supported formats now include ProRes MXF, DNxHR, Olympus and Fujifilm RAW image files, Apple Core Audio, Hap video, AVI ultrasound, and FRAPS for gaming captures
Final Cut Pro X overhaul: A complete rethinking of the FCPX export workflow
Transcoding improvements: Option to add handles when batch-exporting subclips, and increased flexibility handling file timestamps and timecodes across all export, transcoding and rewrap operations
Simplified batch subclip export: Users can now define the content they wish to extract when going through large amounts of footage faster and easier than ever before.
Robert Krüger, managing partner at Lesspain Software, commented to me in an email:
"This update comes a little more than two months after our 1.1 update. On top of a large number of general improvements and bug fixes, this release brings a few notable big points. For workflows involving subclipping, transcoding or rewrapping Kyno now offers a number of powerful new options for professionals dealing with large amounts of footage in their projects. Transcoding now allows for handles (i.e. extra space for adding transitions in the edit) to be added automatically when exporting subclips, even in batch operations. The handling of batch subclip export has become even easier than before allowing the user to select the wanted portions either using in/out points or by defining subclips. This feature is especially useful for people dealing with footage where only very small portions of clips are actually used, which is very typical for documentary work, drone or action cam material or long interview takes. To complete these export/transcoding/rewrap improvements, there is now greatly increased flexibility regarding the handling of file timestamps or timecodes in all of these operations.
"Final Cut Pro X users will be very interested in this release as it features a complete overhaul of the FCP X export workflow. To cater to different preferences of professionals out there, the way Kyno translates its metadata to Final Cut Pro metadata is now configurable in virtually every aspect. E.g. people who prefer working with keyword collections, can use those for time range metadata whereas people preferring favourites, can use them for things like QC comments or interview transcriptions. This way Kyno offers the best of both worlds, i.e. traditional metadata and FCP X metadata in a flexible and powerful workflow, adding value to Final Cut's already powerful metadata features and being easier and faster to handle than ever before after the FCP X export user interface has been completely restructured.
"The new formats that Kyno understands as of version 1.2 are Prores MXF, DNxHR, RAW image files from Olympus and Fujifilm cameras, Apple Core Audio, HAP video, gaming captures using the FRAPS codec, and for medical nerds or expecting parents AVI ultrasound videos."
A VERY COOL WORKFLOW
Things that I really like about Kyno are its speed and ability to display the contents of multiple folders at the same time. This is something we can't do in either Premiere or Final Cut. This makes searching multiple folders, or even an entire hard disk, all at the same time fast and easy.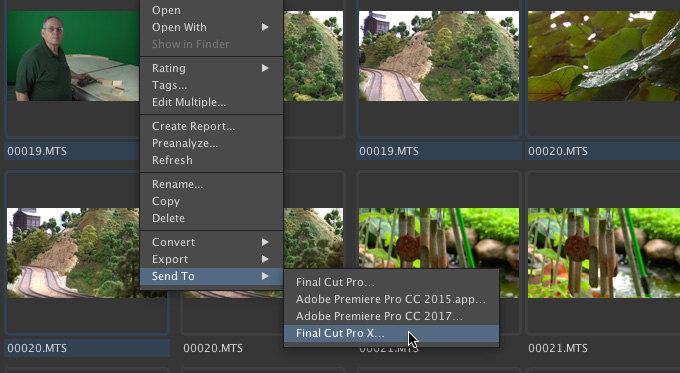 (Images courtesy: Joe Centino and Model Railroad Builders.)
Here, for example, I've selected four clips, stored in different folders and with duplicate file names. Moving these selected images into Final Cut, or Premiere, is dead easy.
Right-click (Control-click) any of the selected images and choose Send to > Final Cut Pro X. (You can also send these to FCP 7, as well as current and earlier versions of Premiere).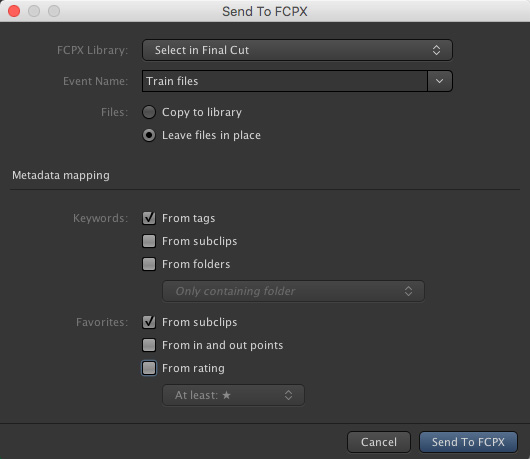 You can either add the clips to an existing library or create a new one. As you can inside Final Cut itself, you can import or link to the files, decide what to use for keywords, and create Favorites from a variety of options.
Click "Send to FCP X," and the application will automatically start Final Cut, create a new library or open an existing one, then import the clips.

Notice that even though the source media clips all had the same name (00027.MTS), each of the clips was imported successfully and given a unique name inside FCP X.
If Final Cut is running, the import process only takes a few seconds; otherwise you need to wait a bit longer for the application to launch.

The process is similar, though with fewer export options, when sending files from Kyno to Premiere Pro.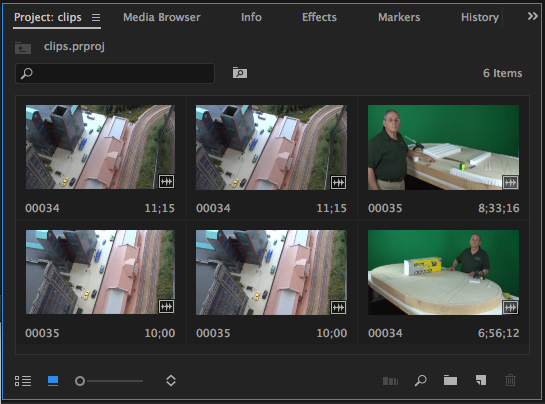 And, with Premiere, it is equally speedy and handles clips with duplicate file names with aplomb.
LOTS TO LIKE
You can use Kyno to convert (transcode) media from one format to another, without using Compressor or Adobe Media Encoder.
Kyno supports creating subclips, which are shorter clips that reference media stored in longer clips.
You can tag and rate clips in a variety of ways to simplify searches, while its search capabilities are stunning for both speed and versatility.
Here's an article I wrote about the first version that provides more details on its search and subclipping capabilities.
SUMMARY
Kyno is the most full-featured media management system I've ever seen. It has a 14-day free trial and, at $159 (US), it has a price that won't break the bank.
The update is free to registered users and can be accessed from within the application using Kyno > Check for Updates.
EXTRA CREDIT
Here are the full release notes for this version.
---
Bookmark the
permalink
.