FCP X: New Features in FCP X v10.0.4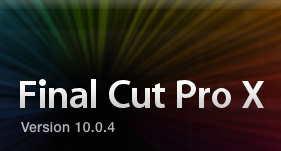 Just before the 2012 NAB Show started, Apple updated Final Cut Pro X to version 10.0.4. With all the chaos in the industry that NAB represents, I haven't had time to do more than write a blog about the new features.
In this article, I want to illustrate some of  the new features in this version of FCP.
THE NEW STUFF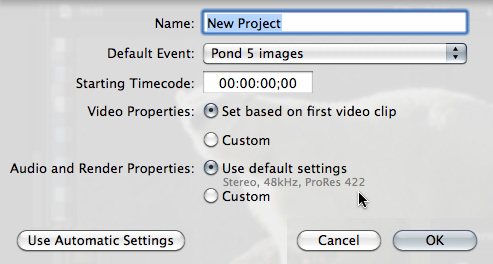 For me, one of the biggest is a changed default. When creating a new project, the default audio setting is now Stereo, rather than Surround. Its a small thing, but it means that I don't need to adjust the settings when creating a new project – the defaults are now fine. You can see that highlighted in the screen shot above.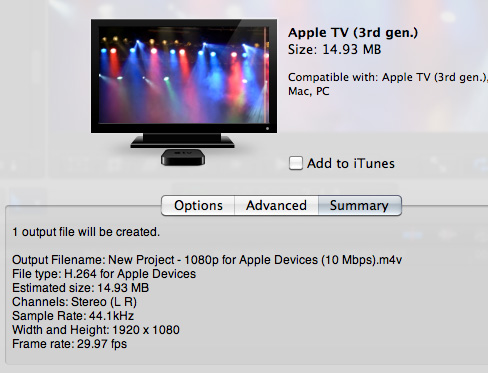 Apple added support for 1080p video as part of the Share menu for Apple Devices.
You can't see it in a menu, but Apple improved the stability of monitoring video on external devices, such that Apple no longer considers video monitoring a "beta" feature. As well, the performance of viewing multicam output on external monitors is improved.
At NAB, AJA, Blackmagic Design, and Matrox all showed Thunderbolt-connected devices that take the output from FCP X and convert it for display on a standard HD video monitor.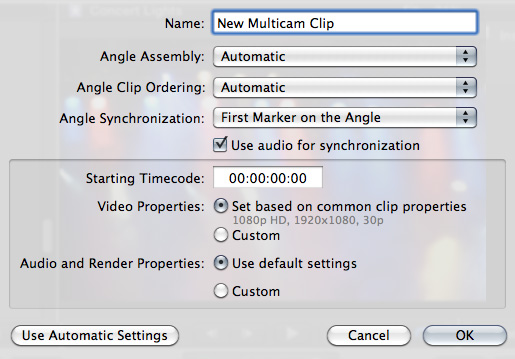 Apple also improved the reliability of syncing multicam clips. I experienced this in creating several multicam clips where I tried to sync clips based on audio alone. I never found it reliable.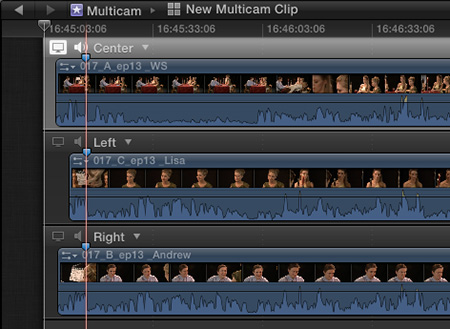 Now, the process seems to work faster and better. For now, I tend to let FCP X try to sync first, then, if that fails, I fall back on using Markers.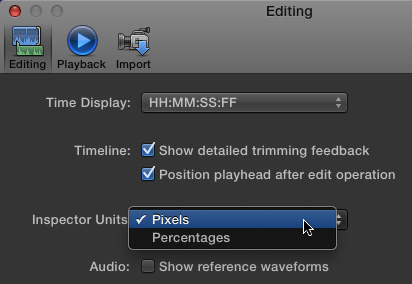 There's also a new preference setting, which allows you to specify whether you want the Inspector to display pixels or percentages, in those settings where that is a relevant choice.
MOTION
A wide variety of performance and stability improvements were made to Motion, including repairing a bug that affected a lot of third-party developers. The good news here is that anything that's done in Motion ultimately benefits Final Cut Pro, because they share the same effects engine.
At NAB, I talked with a number of developers who are now able to move forward on creating plug-ins for FCP X, now that some of the initial problems with XML export and Motion parameter controls are fixed.
COMPRESSOR
The good news with this update is that Apple improved using a Mac Mini as a compression node so that you can off-load compression to a separate computer.
You can read all Apple's release notes in my blog: Apple Updates Final Cut Pro, Motion, and Compressor
Let me know if you find any other new features.
---
Bookmark the
permalink
.