Motion 5: Text on a Path [Video]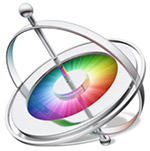 Motion 5 is the effects engine behind Final Cut Pro X. However, Motion is a very powerful, highly-capable motion graphics package in its own right.
In this short, six-minute video tutorial, I'll show you how to animate text on a path in Motion 5. Along the way, I'll illustrate how to change the texture of the path and the timing of the animation. (By the way, this process is similar in Motion 4, so if you own that earlier version, this tutorial will be helpful as well.)
NOTE: This is an excerpt from Webinar #80 on Paths, Mattes, and Masking in Motion 5. You can buy the complete webinar and download it now from our store or get all my training via my new subscription membership.
TRT: 5:32 — QuickTime HD movie
---
Bookmark the
permalink
.