Motion 5: Publish Effects Settings to Final Cut Pro X [Video]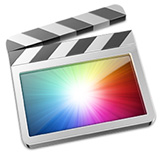 [This is an excerpt from our latest webinar: Integrating Motion 5.1 with Final Cut Pro X, which you can download from our store. You can also access all our Final Cut Pro X training by becoming a subscriber.]
One of the most powerful features in Motion 5.1 (and Motion 5) is the ability to publish effects parameters in Motion that you can adjust in Final Cut Pro X.
Now, this sounds both complex and scary. However, it is neither. On the other hand, it is not easy to find or figure out. In this short video tutorial, watch as Larry Jordan shows you how this technique works. Even better, you'll also learn that this is not difficult to do on your own — which gives you an unlimited ability to create effects, both simple and complex, that can easily be customized in Final Cut Pro X.
NOTE: This technique applies to all versions of Motion 5.
---
Publish Motion Effects Settings to Final Cut Pro X
TRT: 5:46 — MPEG-4 HD movie
NOTE: This video may not play inside FireFox, please use a different browser.
Visit our website to see Final Cut Pro Training & more!
---
Bookmark the
permalink
.