Motion 5: Motion-track Particles [Video]
Motion 5: Motion-track Particles (Video)
[This is an excerpt from a recent PowerUP webinar: Effects Cookbook for Motion 5, which you can download from our store. You can also access all our webinars by becoming a subscriber.]
Sometimes, its the little things that make a difference.
In this video tutorial on Motion 5, I show you how to motion track a particle system on a moving background. Specifically, I'll add some hot steam to a polar bear's breath, to make it look like its cold outside.
One of the things I've discovered about Motion is that there are a lot of little effects that we can easily create that make a big difference to our projects. Discover the difference a little touch can make.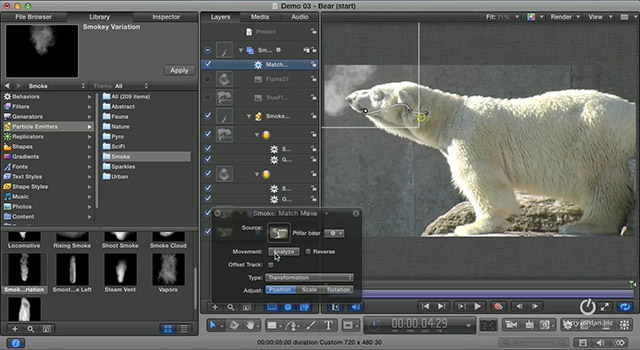 ---
Motion 5: Motion-track Particles (Video)
TRT: 5:28 — QuickTime HD movie
NOTE: This video may not play inside FireFox, please use a different browser.
Visit our website to see Final Cut Pro Training & more!
---
Bookmark the
permalink
.