Motion 5: Convert Motion Project for FCP X [Video]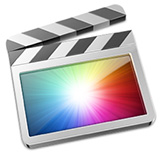 [This is an excerpt from our latest webinar: Integrating Motion 5.1 with Final Cut Pro X, which you can download from our store. You can also access all our Final Cut Pro X training by becoming a subscriber.]
A Final Cut Pro 7 feature that was lost with the release of Final Cut Pro X was the ability to directly open Motion projects in Final Cut. Actually, that feature is not lost, but modified in the latest release of Motion. And, if you don't know where to look, you'll never find it, because the options are well hidden.
In this short video tutorial, host Larry Jordan, explains what you need to know to convert Motion projects – even from earlier versions of Motion – so they can be opened in Final Cut Pro X.
NOTE: This technique applies to all versions of Motion 5.
---
Convert a Motion Project to Open in Final Cut Pro X
TRT: 5:41 — MPEG-4 HD movie
NOTE: This video may not play inside FireFox, please use a different browser.
Visit our website to see Final Cut Pro Training & more!
---
Bookmark the
permalink
.