Motion 5: Add an Animated Background to a Title [video]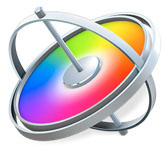 [This is an excerpt from a recent on-line video webinar: "Create Animated Lower-Third Titles in Apple Motion 5" which you can download in our store, or as part of our Video Training Library.]
The best way to learn something is to get started. And, if Motion is something you want to learn, this webinar is a great way to start.
Join host Larry Jordan for this introductory webinar on using Motion 5 to create custom animated lower-thirds for Final Cut Pro X projects. We start at the beginning by modifying an existing Final Cut Pro X template in Motion then sending it back to Final Cut; from there we animate text using behaviors, add backgrounds and, in general, discover a variety of ways to create eye-catching titles.
Along the way, we'll:
Explain key Motion terms
Take a tour of the Motion interface
Send a template from Final Cut to Motion, then bring it back
Create a variety of animated titles and lower-thirds
Discover how to use background drop-zones and animated backgrounds.
If you want to learn Motion, but haven't been able to learn it on your own, this is the perfect session to get you started.
In this short video tutorial, you'll learn how to add both a solid color and animated background behind a text title.
---
Add an Animated Background to a Title
TRT: 4:46 — MPEG-4 HD movie
Our website offers lots more video training in our store.
---
Bookmark the
permalink
.