Apple Motion 5.3: Use and Modify the Play Range [video]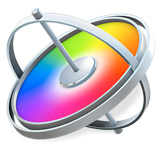 [This is an excerpt from a recent on-line video webinar: "Dive Deeper Into Apple Motion 5.3" which is available as a download in our store, or as part of our Video Training Library.]
DESCRIPTION
Whether you use Apple Final Cut Pro X, Adobe Premiere Pro CC, or any other video editing software, you can create high-quality motion graphics using Apple Motion. Last week, we began a five-part series on the latest version of Apple Motion – v.5.3. This week, in Part 2, we build on that foundation and head deeper into the application.
Whether you are new to Motion, or just want help figuring out where everything moved, this session is for you. This session covers:
The Inspector
Add and Adjust Filters
Additional Library Content
Drawing Tools
Intro to Masks
Intro to Particles
Tips to Fix Problems
In this short video excerpt, Larry Jordan shows how how to use and modify the Play Range for rendering and playback in Motion 5.3.
---
Use and Modify the Play Range in Apple Motion 5.3
TRT: 3:47 — MPEG-4 HD movie
---
Our website offers lots more video training in our store.
---
Bookmark the
permalink
.