Looking Back At NAB 2012

Last month's NAB Show was memorable for many reasons, but in this write-up, I wanted to reflect on what we learned creating our coverage of the event for the Digital Production Buzz.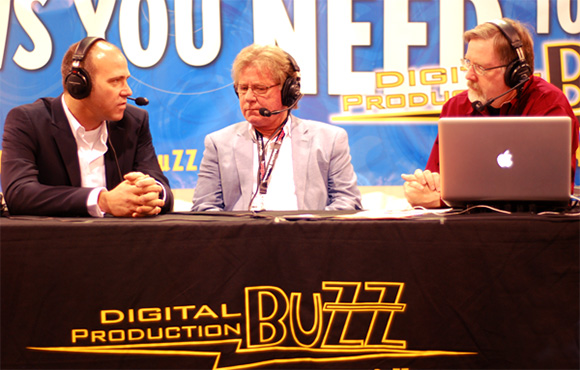 Just to summarize, we took a crew of 15 people and recorded more than 100 interviews in three days. From this we creating eight Special Reports spanning more than 10 hours of programming, and posted more than 80 interviews to the web.
To make all this happen, we essentially built a broadcast studio on the trade show floor. You can read about what we did here.
WHAT WE LEARNED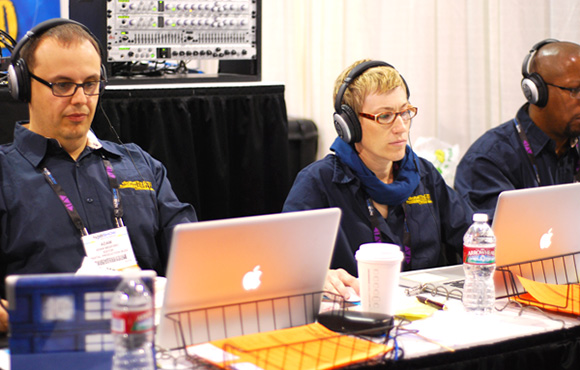 In general, our guest handling and workflow were fine – very smooth and very little confusion.
One of the workflow decisions we made before the show proved to be one of the smartest. We tracked all our interviews using paper, rather than a database.
We printed an orange tracking sheet (you can see them in the photo above) filled with guest information prior to the start of the show. Then, that piece of paper followed the interview around our booth – from guest reception, to me for the interview, to traffic, to the editor, to social media, to web posting, to final completed entry in the master database.
It was easy to take a quick glance around the booth to see where projects were stuck, or an editor was overloaded. We could determine the status of any interview in an instant. Sometimes, the simplest way really is the best.
Having someone to manage traffic – the flow of interviews and files from one position to the next was life-saving. Having one person responsible for knowing the status of every file is invaluable. (The fact that Megan was up to the challenge was even more valuable!)
As The Buzz continues to grow in size and visibility in our industry, we had companies demanding to be interviewed. This is a good thing, but it sure makes for a heavier workload than we expected.
Next year, we are bringing two more audio editors and two more laptop workstations.
THOUGHTS ON THE SOFTWARE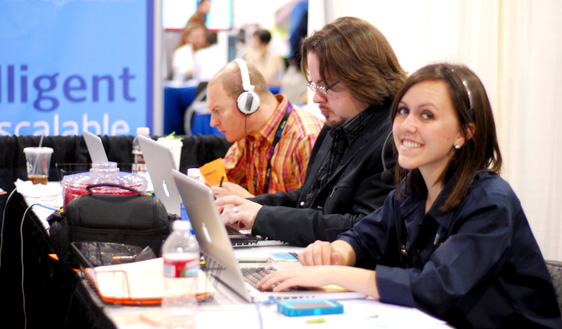 We decided to live on the edge and – with Adobe's permission – use a prerelease version of Adobe Audition CS6 for all our recording and editing.
It worked flawlessly, once we got the team trained. For my write-up on Audition, read this blog. And here's a link to the Audition video training that I provided to our staff.
THOUGHTS ON THE GEAR
There were several successes and a few problems from a technical point of view.
The first success was Adobe Audition.
The second was the audio recording setup. We got a good sound with the Alesis audio board going into the Aphex preamps. However, I want to continue tweaking our sound for next year to get it to sound a bit more like NPR.
The ClearCom Tempest intercom unit worked flawlessly. We originally planned to use it to talk with our production runners that were racing around NAB tracking down guests. However, for the first time ever, guests arrived at our studio on time and without being hunted. Very nice. We ended up using the system for in-booth communications where it worked great.
I really liked the clarity of sound on the ClearCom and the folks at ClearCom came by the day before we opened to make sure everything was setup properly. They were great and I have no complaints.
Where I do have complaints is with our network. I was trying to get by on a G-5, so that I wouldn't have to invest in another Mac Mini server. Next year, I'm investing. We really needed a dedicated server, with quick storage to make this network run properly. A better server is first on my list for next year – if the computer infrastructure isn't working, no one is happy.
We also want to experiment next year with video streaming – a lot of great products were announced this year that make this very attractive. I am hoping to add this next year.
SUMMARY
All-in-all, our planning paid off. We had a great team of workers and the technology held up under some very demanding conditions for the entire show.
Now, I can't wait till next year to see how we can make our coverage even better!
Feel free to ask questions.
Larry
---
Bookmark the
permalink
.