Larry's New Audio Studio

The move to our new office and audio studio is well underway. And, in this article, I wanted to share with you what we are doing and the gear we are using to produce the weekly edition of The Digital Production Buzz.
Even better, you can hear it for yourself this Thursday, when we take the new studio and all its gear live on the air for "The Buzz."
THE STUDIO
What makes our studio so exciting, at least to me, is that we are using the same facility that DTS did when they first started out; 15-20 years ago. The acoustical treatment alone is amazing. Plus, it has a built-in control room, which they used for digital projectors and we are using as the nerve center for the show.
It is a very, VERY cool space – and I'll show you pictures once we finish getting ourselves organized in another week or two. (There are, ah, a few too many wires running around the floor to make photogenic pictures possible.)
However, even though the room is a mess organizationally, it is in great shape acoustically. We just needed to add some gear. Here's what we added and how we are using it.
STUDIO GEAR

Audio starts with a good mic, and The Buzz uses Electro-Voice RE20 studio mics. The thing I like about these is that they have a very warm, yet clearly defined sound. And they don't degrade if we move a bit off-axis. Since both Mike Horton and I are using computers throughout the show, we also need something with good off-axis noise rejection.
NOTE: I'm running three applications on my computer during the show: a custom-designed Filemaker database containing the show guest list, script and research, generated by our producer, Cirina Catania; the live chat where listeners can ask questions and comment on the discussion which is available on the Buzz website during the show – www.digitalproductionbuzz.com – and an internal iMessage chat between the producer, two hosts and control room which we use to make sure we are all on the same page – mostly.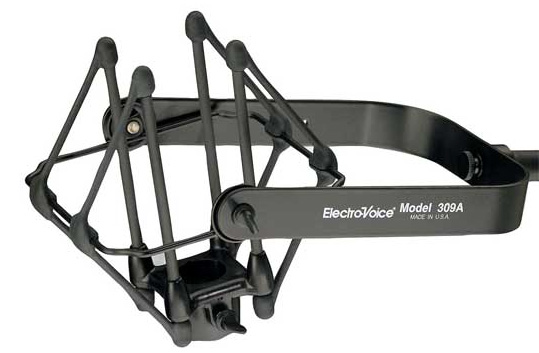 To minimize bumps and banging, we hold our mics using EV 309A Suspension Shock Mounts. We are currently experimenting with both desk stands and booms, and haven't yet made a final decision. The key, for me, is what gives us the best sound without getting in our way.

From there, the mics are pre-amped in an Aphex Channel. This provides pre-amp, and audio shaping such as parametric equalization, de-essing and limiting. Both Mike and I have, shall we say, strong "s's," plus we are using the EQ to take out some bottom end muddiness.

Each mic then goes into a new Behringer S-16 Digital Snake. The thing I like best about this unit is that rather than send a thick audio cable through the wall, 16 inputs and 8 outputs can be carried over a single, shielded Cat-5e cable.
While I have MAJOR issues with the very limited support and totally inadequate documentation that Behringer provides (as I wrote about here), once we figured out the basics of the system, I'm very pleased with how the Snake simplifies getting signals from the studio to the control room.
CONTROL ROOM GEAR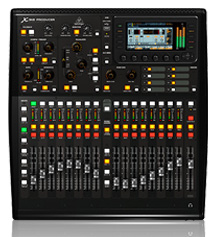 At the other end of the Snake is a Behringer X-32 Producer mixing console. So far, we have the console working, but have not begun to figure out all that it can do.
NOTE: If you sense that I'm annoyed with Behringer, you would be correct. While I am pleased with the board, I have a very hard time recommending them to anyone else who is not already well-versed in digital audio mixing and doesn't expect to use the manual. Behringer should be embarrassed about their support.
The Buzz, currently, uses ten audio inputs:
4 studio mics (mono)
2 telephone lines (mono)
1 Mac Mini playout server for opens, closes, bumpers and commercials (stereo)
1 MacBook Pro with backup music and bumpers; "just in case" (stereo)
We are also adding the new "Talk Show" box from NewTek in a couple of weeks, to allow us to handle Skype calls. I'll let you know how that integrates into our system after we get it.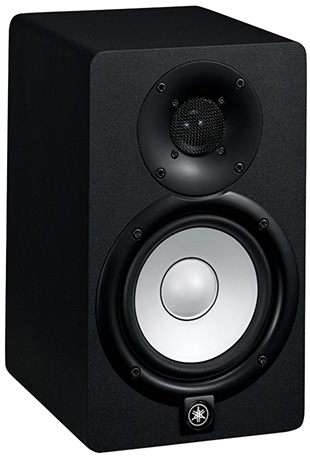 We monitor everything using a pair of Yamaha HS-5 powered monitor speakers.
We create two mono mixes of the final show. One split is sent to a Mac Mini for streaming to the web. We recently changed streaming servers and are now using a service called "Mixlr." We are impressed with the simplicity of their interface and their support for both mobile and desktop devices. The audio quality is excellent, from all reports.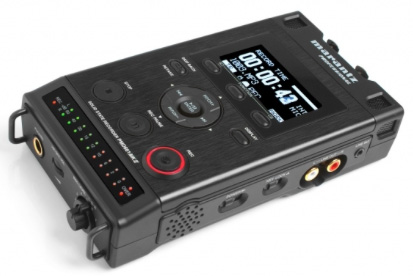 The other split goes to a Marantz PMD-661 digital audio recorder which records the show. This allows us to clean up any errors we made during the show, then we post the recorded version to the web. Shows are posted an hour after the live event to both the Buzz website and iTunes.
SUMMARY
You can judge the sound for yourself by tuning into The Buzz this Thursday night at 6 PM Los Angeles time, or download this week's show from iTunes. Here's the link.
Oh, and in case you were wondering, we bought and paid for all this stuff with our own money. I don't like getting free gear — too many potential strings attached.
As always, I'm interested in your comments. And I'll keep you informed as we continue to build-out our system.
---
Bookmark the
permalink
.