Kyno Adds Significant Features in 1.6 Update

Lesspain Software released a significant update to Kyno over the weekend, masked by a modest version number change. Here is a "First Look" at some of the new features in Kyno v1.6.1.
Kyno, published by Lesspain Software, is an all-in-one media management application that provides:
Ingest-free media management – it reads the data directly from your disks, no import required
Clip preview and labeling (some call this "metadata tagging")
Transcoding between a wide variety of audio and video formats
The software runs on both Mac and Windows systems.
NEW FEATURES
Here's a partial list of the significant new features in this version:
Checksum verified copying and backup of native camera media files
Frame.io integration
RED RAW R3D Support
HEVC (H.265) rewrapping to QuickTime .MOV files
Metadata Export and Import
Paste and Rename to simplify batch copy operations
Other workflow enhancements
Here's the full list of what's changed.
COPY AND VERIFY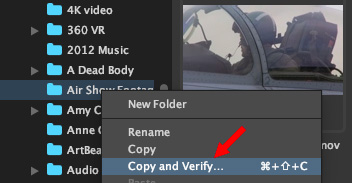 As with most things in tech, copying files using the Finder is a trade-off. The Finder is optimized for speed. It copies a file, makes a quick check to be sure things copied OK, then considers the job done.
However for on-set work, where potentially tens of thousands of dollars in production costs rest on perfect copies, speed is not the critical component. Accuracy is. What Kyno does is copy the file, then calculate a "check-sum" for both the source file and the copy. This number allows precise verification that the copy exactly matches the source file. While it won't check for soft focus or bad acting, it can verify that the two files are identical.
The good news is that this prevents creating file errors at the very start of post-production. The bad news is that this takes about twice as long as copying the file itself; which is why the Finder bypasses this step. We are impatient users.
"People who have come to appreciate Kyno as their central hub in workflows from camera to NLE or delivery can now use the same application they use for on-set preview and organization also to make sure all their precious media has been secured bit-by-bit from their camera cards using industry-grade checksum verification using the media hash list (MHL) standard." (Kyno website)
FRAME.IO INTEGRATION

Kyno 1.6 introduces integration with collaboration and review platform Frame.io, giving teams an incredibly efficient workflow for dailies review. For example, screen, annotate, reduce material in Kyno, then upload to Frame.io in a few clicks. At which point team members can review and communicate.
NOTE: This feature is currently only available on request for teams larger than 10. Contact the developer to learn more.
RED RAW SUPPORT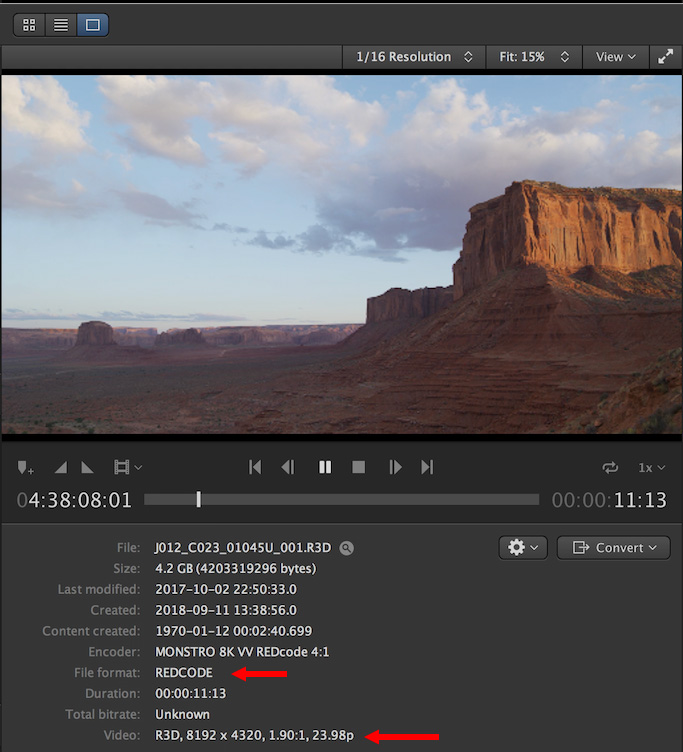 (Image courtesy of Lesspain Software)
This really only needs to be mentioned, but when do I get the chance to show an 8K RED RAW image as part of a tutorial?
OTHER WORKFLOW ENHANCEMENTS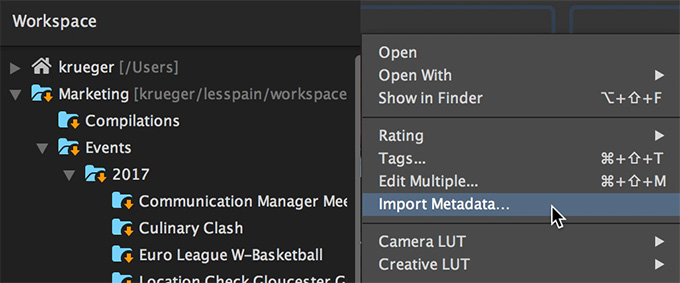 (Image courtesy of Lesspain Software)
"It is very common for teams to work on several copies of the same high-resolution material, sometimes in different geographic locations working on removable drives instead of a central storage. The new metadata export/import functionality allows those teams to collaboratively edit metadata like markers, tags, descriptions etc. and export the metadata for other team members to import and merge with their local metadata in a workflow that resembles a reconnect/relink step known from popular NLEs. Feedback from our beta testers and direct network have been, that this can be a game-changer in any dynamic production environment." (Kyno New Features)


(Image courtesy of Lesspain Software)
"The new "Paste & rename" function allows users to employ Kyno's powerful naming engine in batch copy operations in one step making ingest processes and post-shoot material organization even faster.
"The naming engine now retains a global counter across naming/transcoding/export operations, making it easy to repeatedly apply a naming preset to a single file or multiple files with an incrementing counter. You can always reset the global index before applying the naming preset.
"Kyno's popular "next/previous" clip browsing functionality now retains player settings for audio track and playback speed, making batch review of your rushes as convenient as it should be." (Kyno New Features)
SUMMARY
Kyno is a powerful, flexible and easy-to-use media manager with a powerful transcoding and preview engine at its heart. I should also mention that Kyno's integration with Adobe Premiere is especially noteworthy.
Lesspain offers a 30-day free trial for both Mac and Windows systems.
EXTRA CREDIT
---
Bookmark the
permalink
.