Keep Yourself Copyright Legal
Keep Yourself Copyright Legal
[ This article first appeared in my blog on May 1, 2012. It is reprinted here to make it easier to find. ]
This article was inspired by two questions from Jerry Thompson. He first asked whether the extra media shipped by Apple for Motion and Final Cut Pro X was royalty free, and, second, why was YouTube flagging legitimately licensed music as a copyright violation?
IS APPLE'S MUSIC ROYALTY FREE?
I've always "known" that additional media shipped by Apple was royalty-free, but now that Jerry asked, I couldn't prove it. So, I contacted Apple. Apple replied: "In the End User License Agreement (EULA) it states that you can sell your material which uses the content files just not the files themselves. "
Here's how to find the specific agreement.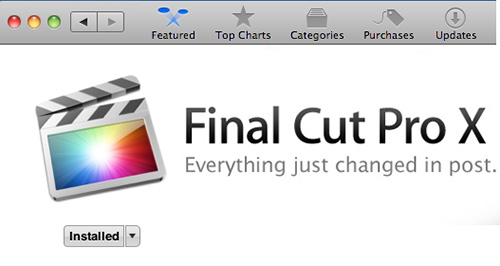 1. Open the App Store.
2. Search for and select Final Cut Pro X, or Motion. In this example, I'm using the license agreement for Final Cut Pro X.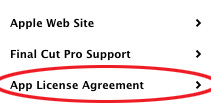 3. Click the App License Agreement text button in the top right corner of the App Store.
3. Scroll down to Section 2: Permitted License Uses and Restrictions. In Paragraph B, it states: "…you may use the Apple and third party audio file content … on a royalty-free basis to create your own original soundtracks for your film, video, and audio projects."
As the text in the EULA is not selectable, here's a screen shot of the applicable section.

So, if you need to prove to a client that you have rights to the material from Apple that you are using, you now have the proof.
YOUTUBE AND COPYRIGHTED MUSIC
However, Jerry also pointed out a second problem. YouTube has a warning message that is emailed to you when you are posting copyrighted material.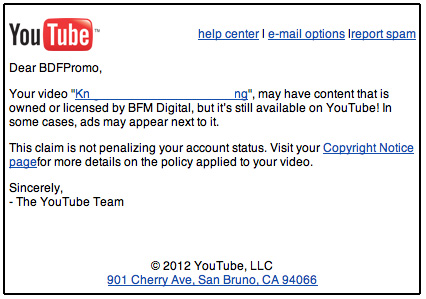 This message is particularly embarrassing if you send a completed project to a client, only to have them get this flag when they post your project to YouTube. It makes us look like musical thieves or cheapskates, even when we have properly licensed the content.
To understand why this warning message exists, we need to go back into the murky history of YouTube. YouTube was founded in February, 2005, by three former PayPal staffers. It began solely as a video sharing site and it exploded onto the web. People started posting everything – including copyrighted music.
The major music companies – Universal, EMI, Capital, Warner, Sony, et al – became seriously alarmed at the amount of copyright infringement YouTube represented and threatened legal action. In response, YouTube created Content ID, which is a means to digitally identify copyrighted music which was uploaded as part of the video into YouTube.
According to Wikipedia, "in June 2007, YouTube began trials of a system for automatic detection of uploaded videos that infringe copyright. The system, which became known as Content ID, creates an ID File for copyrighted audio and video material, and stores it in a database. When a video is uploaded, it is checked against the database, and flags the video as a copyright violation if a match is found. When this occurs, the content owner has the choice of blocking the video to make it unviewable, tracking the viewing statistics of the video, or adding advertisements to the video."
YouTube provided three options to resolve these infringements:
1. Have the poster remove the video from YouTube
2. Allow ads to be placed on the video, where the ad revenue is split between YouTube and the record company; and, in a few cases, with the video poster.
3. Replace the audio using Audio Swap. This is a feature that YouTube provides that "swaps out" (replaces) the copyrighted music with other music that YouTube obtained the rights to.
NOTE: Audio Swap was originally seen as a way to resolve copyright disputes. However, with over 150,000 tracks in the YouTube library, this has become a way for various artists and music companies to license their music and make money from it.
WHERE THE SYSTEM BREAKS DOWN
This system of Content ID and Audio Swap work fine for music that is owned and licensed by one company – think the major record labels. However, it totally breaks down when working with music licensed to multiple sources – think royalty-free music.
"YouTube's Content ID system is kind of a big mess," said Jared Van Fleet, Artist and Customer Development Manager for Pond5. "It was designed with the primary intention of protecting the copyrights of major studios and record labels, and it does that effectively. However, in so doing, it also creates major headaches for an enormous section of the media-making community."
In royalty-free music, the composer sometimes licenses the music to a variety of different companies. In this instance, YouTube's Content ID recognizes that the music is copyrighted, but has no ability to recognize where the track came from. In other words, you can be the legal purchaser of royalty-free music, with a license to use it in your production, and YouTube will flag this as a copyright violation.
Actually, this isn't an issue of copyright violation, per se, but rather a confusion of who has properly licensed the music for distribution. The problem is that whatever action is taken next is entirely up to the person that holds the copyright, not licenses the copyright. Theoretically, in the example above, if BFM Digital decides at any time to block distribution of their musical content, they can do so, and (as the message states) it is up BFM Digital, not the person that licensed their music, whether or not to monetize the video through advertising.
Giving that decision-making power solely to the copyright holder, while failing to provide proper checks to ensure the accuracy of those claims, is also what results in absurd cases like this, where Rumblefish effectively removed a man's video from YouTube based on a music copyright claim, even though the video didn't contain any music at all; just the sounds of birds chirping.
Major royalty-free music organizations, such as SmartSound, Pond5, and others, are working with YouTube to resolve this, but the issue is so complex that, for the time being, YouTube has not provided a way to reconcile the source and rights of the music without contacting the person who has posted the video. As one person told me: "It is truly the wild, wild west out there."
The problem is that Content ID improperly flags licensed music as a copyright infringement – leading to embarrassment for producers and editors that have legitimately licensed their music from a reputable company.
"It's important to note," said Kevin Klingler, CEO of Smartsound, "that not all tracks trigger this issue. Usually it should only happen with certain tracks that have been licensed to other parties under conflicting license conditions. SmartSound, for example, has thousands of tracks in its library, but this conflict only happens to a small percentage of them."
That said, as more music artists look for ways to maximize their revenue on their creations, this is likely to grow. The good news is that, as it does it will put more pressure on YouTube to address this issue once and for all.
WHAT CAN YOU DO?
So, here's the short answer. You cannot prevent YouTube from emailing you that your music violates copyright. But you CAN send a copy of your music license – a receipt of purchase – to YouTube with a request that they remove the ads and remove the Content ID flag.
Here are some helpful links:
YouTube's Copyright Center offers a variety of information describing what they do and what you can expect:
www.youtube.com/t/copyright_center
SmartSound, which is one of the leading sellers of royalty free music and has quite a bit of experience at dealing with YouTube, has posted an FAQ that shows what they will do and how they will help you navigate this when it does happen:
www.smartsound.com/support/link.php?action=detail&id=305
Share your thoughts on how this should work with YouTube. And, as always, I'm interested in your opinion.
Larry
---
Bookmark the
permalink
.