Introducing Drylab: Tools for Production

The email was pretty innocuous: "Larry, we believe our company and digital tools offering for filmmakers might be of interest to your readers." Smile… I've heard that before. It seems like every week, a new "solution" is announced to will revolutionize media production.
However, behind that email was Drylab, a new company that is expanding beyond its base in Norway and upgrading to version 3. Focused on scripted productions, Drylab makes tools to help scripted production teams make better film and TV, while reducing costs and overhead.
Focused on the dailies workflow, Drylab "allows the director and creative team to have access to all takes in seconds, on their iPhone, iPads or web browser, quickly, easily and cost-effectively. With or without wifi, with or without Internet. Drylab will allow the team to collaborate effectively. This increases creative control, saves time and money, and provides perfect flow." (Drylab)
Their website lists over 50 productions that have used their software, include last summer's "Catch 22," directed by George Clooney.
The software, available as subscription only, features four programs:
Set Report. Collects manual metadata while shooting, while improving metadata quality and consistency. Designed for Script Supervisors.
Drylab Creator. Receives clips and metadata from camera & metadata from Set Report. Upload to Cloud and distribute locally on-set. Designed for DITs.
Drylab Viewer. Allows you to find any clip, from anywhere on iPad, iPhone or Web. Designed for anyone needing access to dailies.
Admin. Creates and manages production, permissions and settings. Designer for IT team.
A fifth tool, called "Rough Cuts" is coming "soon." Designed for directors, it allows viewing dailies, then selecting and assembling a rough cut.
Operating systems: Mac/iOS
Developer: Drylab
Website: https://www.drylab.io
Pricing: $270 per month, plus $65 per shooting day.
A free 30-day trial is available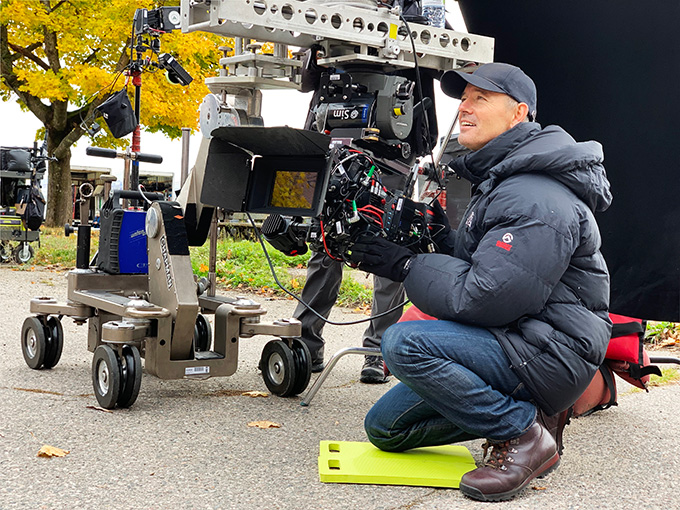 To learn more, I sent the following questions, via email, to Cinematographer and Founder John Christian Rosenlund, he's in the photo above, filming "The Middle Man" in Canada."
Larry: Why did you invent Drylab?
John: We have been offering Drylab to creatives for a couple of years now. Drylab was even nominated for a technical OSCAR in 2018. Our first Hollywood production was George Clooney's mini-series "Catch-22" for Paramount and Hulu last year. The system is in daily use by Norwegian and Scandinavian filmmakers already. Digital transformation of the industry has come pretty far up here already. We are filmmakers ourselves and needed better tools to help us keep up with the increasing demand for faster turnover speed, more complex productions, bigger TV series with multiple seasons, several directors and director of photography. Since the birth of filmmaking, many tools have been made to simplify lighting, better cameras and grip equipment. But for the directors, there are no tools to help them stay on top of and in control of the enormous amount of content in the new TV drama landscape. Drylab helps the director produce high quality scripted productions faster, smarter and with less mistakes and overtime costs.
We had tested out all "similar" solutions but they are not as useful in the creative process. Drylab is a digital dailies system that is designed by creatives for creatives. It allows you to find and watch all your clips and takes on set, while shooting, on your iPad and iPhones, in mere seconds. No other tool allows you to consult earlier takes so quickly, ensuring a perfect flow and less mistakes in later takes. It's like a "Google on Set." When shooting scene 38, it takes only seconds to consult scene 37 which might have been shot months earlier. A big difference with Google though – Drylab is not dependent on the Internet. Drylab's advanced technology works perfect with and without internet.
Larry: What problems were you trying to solve?
John: As filmmakers ourselves, we want to create, review, collaborate and progress on budget, while ensuring that the director's creative vision for the production is easy to explain and review for the team, among the producers and in the editing room. Drylab allows this to happen quickly and smoothly. Streamers such as HBO Europe oversee a lot of original productions, and are using Drylab while filming their series "Wilderness," with excellent feedback.
It is not that complicated to build solid tools and a workflow for productions with unlimited budgets. Drylab was invented in one of the most expensive countries in the world – with small film and TV budgets. Our goal has been to build a system that works for both bigger Hollywood projects and those smaller budget productions, adding creative and economical value to the production. Everybody wants to crate better and save money.
Larry: What products are you offering and do we need all of them for the system to function?
John: Drylab is a software as a service offering (SaaS) and you can register to test it and use it from www.drylab.io You need no extra hardware to use it, but you need Silverstack for backup and ingestion, and a MAC computer to run it on set. This is usually the DiT's computer. You can use it on set only using local wifi, and if you want to have access off-set, you need to upload to The Cloud via secure Internet connection. Many of our directors enjoy bringing their production with them – to hotels – home – and continue to review progress and plan ahead.
Larry: The workflow you posted to your site indicates that we need to use Silverstack for ingest. Why?
John: Silverstack is probably the most reliable backup solution used by most of the DiT's around the world. Drylab is fully integrated with Silverstack and automatically works in the background. When set up correctly, Drylab does not steal any time from the DiT's already demanding shooting day. Instead of "doing the job twice," Drylab's integration with Silverstack reduces the DiT's workload dramatically and makes it possible to get everything done within in the hours of a normal working day. Again, in a high-cost country as Norway, there is no money for overtime.
Larry: There are a LOT of other "Daily Workflow" software tools on the market, some from very established vendors. Why should a producer consider Drylab?
John: Our users that have experienced other offerings praise our unique user interface and its simplicity. Our system is built to be "creative friendly" and always accessible on and off set. We are creatives ourselves, so that is always important for us.
Most vendors' software tools have been designed to fulfill the producers' needs and the crew sitting in offices with permanent access to a computer and fast internet connection. Drylab also keeps the producer in mind, but the most important focus for us is to help the creatives create better, faster and because of this – make better films and save money for the producer. Drylab works on set when it happens, within those seconds when important decisions are made. Most systems around have latency, they have little or no metadata connected to the files and are available hours (or days) after wrap. Important decisions that relate to today's shoot can't be fixed when the location is wrapped and moved to next location.
Some systems focus on admin control, others on post-production, while only Drylab offers fast and safe access to all clips, anywhere, to help creatives make even better content from set to post and beyond.
Larry: How does it work?
John: It is a straight forward process. First, you secure your content, by backing it up in Pomfort's Silverstack. If you use Drylab´s own app, Set Report for Script Supervisors (already used by more than 6000 users all over the world), Silverstack merges those script related metadata files with the picture file. If you want to involve advanced on set color grading or LUT´s many choose to run clips through software such as Resolve.
After backup, merging of metadata to the picture file and color grading, Silverstack then transcodes both picture and metadata files (script notes and camera related metadata). Drylab Creator then automatically starts to share the files to iPads, iPhones and computers, to authorized users and viewers – on and off set based on your dedicated setup.
Larry: How do you get around the problem that media files are very big, while Internet speeds are very slow?
John: As mentioned earlier, we know by own experience as filmmakers that the most beautiful locations have bad or no internet connection at all. Thats why Drylab works perfectly on set without Internet access. It works like this; The project works locally on set and distributes Dailies on a local network for the crew only. When the DiT gets back to the hotel at night, she uploads the project to the cloud and everybody else get access to the dailies. That is why productions filming in the Arctic and on mountain tops still have used Drylab with great success.
A very new exciting tool we are working on is the possibility to communicate clips, do rough edits on set and share high quality images safely with the editor only with the help of standard mobile communication. It maybe sound like magic – and it is.
Larry: Because this relies so much on metadata, do we need to dedicate a team to describing each clip before uploading?
John: We absolutely try to avoid that. As we come from a world of smaller budgets there is no money for an additional team dedicated to metadata. Based on feedback from script supervisors, we realized a growing trend that crews don't read paper or simple PDF based script reports anymore. Classic paper based script-reports are outdated and not suitable in the fast moving digital workflow.
Script Reports have very important information and we use it to increase efficiency. So, one of the first tools we developed was Set Report, a dedicated iPhone/iPad app, used by more than 6000 users all over the world. A script report os, as you know, tightly connected to scene numbers, day, shot/take and tags.
Everything we do on a film or TV production is based on a script and its related scene number.
Timecode and file names are for geeks, not for creatives…
For Drylab, it is important to relate the Dailies with the script report and the timeline of your story. The combination of always available script reports and camera metadata directly connected to your dailies is very powerful. Our search engine in Drylab Viewer makes it possible for you to find any shot within seconds. You can automatically sort your dailies based on scene order, best take only etc. The power of Script related metadata is a big part of the heart of Drylab. If you are not lucky enough to have a Script Supervisor that uses Drylab Set Report, no worries. There is a simple and efficient workaround for adding metadata in Silverstack. Silverstack can import reports and metadata also from other digital script app. vendors. You can also write metadata in Silverstack directly. It is important for Drylab to save time for the team, not add extra manual labor.
Larry: What resources should we allocate to enabling this system, in terms of computers, staff time and software?
John: You just need a Mac, typically the DiT Mac, a local wi-fi (and ideally internet connection). You don't need extra staff – on the contrary we see that experienced Drylab users require less staff as Drylab solves some of their previous manual operations.
Larry: Since productions are short-term projects, why did you go with a subscription-pricing model?
John: You pay as you use it. You pay per shooting day and per month you want to have access to the software. We see most want to keep it all through post-production phase as well. We can also do annual deals for larger production companies with many scripted productions throughout the year. We are quite flexible on payment model. You can also test it for free when visiting www.drylab.io (We can offer your readers a special rate for first production – just email us at info@drylab.io and add "Friend of Larry Jordan" in the subject line.)
Larry: (A quick aside. I don't accept compensation for these links, just so you know.) What happens when our subscription expires?
John: We store it as long as you subscribe. When you end your subscription, we delete your content from our servers.
Larry: What are the users saying?
John: We have excellent feedback from users. The system is easy to use, and very little training is needed. Once they have tried it, they keep returning. Creatives travel across the world and work on new projects with new teams and bring Drylab with them. That is why we are currently in daily use in markets outside Europe as well, in remote locations, such as Brazil and Canada. Our users are impressed with our flexibility and support, such as our willingness and ability to create new features as needed. We have several new features launching also this year. We also visit some industry events, next up is "Sundance Film Festival".
Larry: If you were to write a one-paragraph commercial for Drylab, what would you say?
John: Drylab is a unique software solution for film and TV production that makes innovative, high-quality tagged dailies, with searchable metadata, available to the director and creative team in seconds, on and off-set, with or without Internet connection.
– – –
Larry adds: Learn more here: https://www.drylab.io
---
Bookmark the
permalink
.