Help! Final Cut Pro Freezes When Updating a Library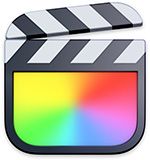 Andy, from Fort William, in Scotland, sent me the following tip.
(Email #1)
Over last weekend I decided I had to update my iMac to MacOS Monterey 12, which then required that I update FCP to 10.6.
I opened FCP and first thing it wanted to do was update the Library that I'm currently editing (the "fcpbundle file"). At which point, FCP froze. It froze every time I try to load any edited work from October.
I closed FCP and then double-clicked one of the bundle (Library) files – FCP opened up and started to update the file – I can hear the external drive working the files – and then it froze!
Is there a solution to this unbelievable waste of time – I've used Macs all my adult life and this upgrade is a disaster for me so far.
Larry adds: With technical problems like this, I referred Andy directly to Apple Support and asked him to let me know what the solution was. Here's his answer.
(Email #2)
I thought you would like to know that Apple support was very good. They explained that when first importing existing library files into FCP 10.6, the process can take quite a while to complete if the files are large. My library file was 260GB!
What I was looking at on my screen at the top of FCP (the Background Tasks window) was the status of importing the library which showed a blue bar which looked to me like it had completed the process and that the revolving Mac disk on the screen which loads when an app has crashed was showing. I then typed Option + Cmd + ESC to display the Force Quit window which showed that FPC had frozen.
What I learned was that it hadn't frozen, it was just taking a long time to process my files.
What Apple said I should have done was to disconnect my external drive, restart the iMac, open FCP and then switch on my storage drive where the library file is – and then WAIT.
The library was safely updated and now I am back with all my edited videos from the past 4 years.
Larry adds: Andy, thanks for these detailed notes. The spinning beach ball does not necessarily mean an application has crashed. Simply that it is taking a LONG time to process data. Most of the time, that means a crash, but not always. It is good to know about this problem and the workaround that solves it.
---
Bookmark the
permalink
.