First Look: Rampant Design Tools: FCPX Essentials

[ Click here to read my disclosure statement on product reviews.]
Rampant Design Tools recently released "FCP X Essentials," a collection of transitions, titles and effects that you can add directly to Final Cut Pro X. Recently, they sent me the collection to review.
EXECUTIVE SUMMARY
Rampant Design Tools has built a reputation over these last several years of providing high-quality original effects for all known NLEs designed by award-winning visual effects artists. This collection is focused exclusively on Final Cut Pro X and contains:
27 Transitions
16 Bump and Shake effects
11 Fade and Flash effects
22 Letterbox effects
4 Quick Color Looks
12 Quick Distortion effects
4 Quick Grain Effets
10 Vignette Effects
For editors looking for "that something extra," these effects are easy to use, high-quality and affordable. They also have a really good demo on their website.
Product: FCP X Essentials
Developer: Rampant Design Tools
Website: http://rampantdesigntools.com/rampant-fcpx-essentials/
Price: $29 (US)
INSTALLATION
Installation is straight-forward, but files need to be moved into place by the user. There's no installer with this product. The product is delivered as three ZIP files, one each for titles, transitions and effects.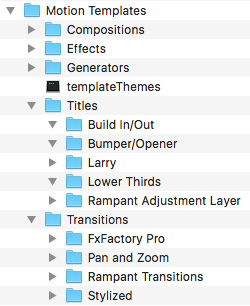 When unzipped, the contents of the three folders need to be copied into one of three folders in [Home Directory > Movies > Motion Templates. There is a demo on Rampant's website showing exactly where to move the files.
NOTE: These files are located in the same location as templates you would create personally when using Motion to create custom effects for Final Cut Pro X.
PUTTING THIS TO WORK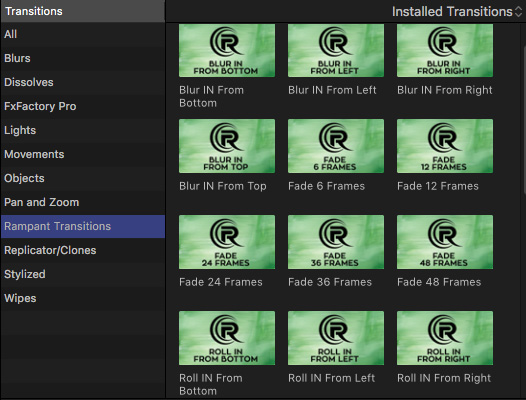 Applying a transition is as easy as applying any other FCP X transition: Select the Rampant category in the Transitions browser, then double-click a transition to apply it to all selected edit points or clips.
NOTE: I was especially impressed with the Shuffle effect; it slides in multiple images from the direction you specify, starting with a blurry image and rapidly focusing the image. It is impossible to show in a still image, but very cool when played back.

A missing feature in Final Cut Pro X is adjustment layers. Rampant supplies one with Essentials, allowing you to add an effect to the adjustment layer that then applies to all clips below it.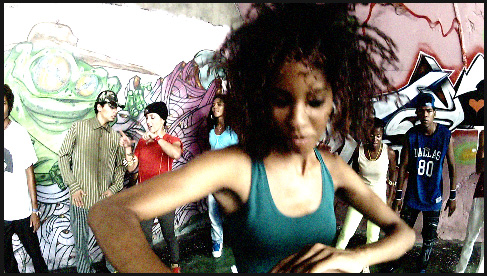 (All images courtesy: Amy "Catfox" Campion (www.AnticsPerformance.com)
For example, here is an image with added film grain, increased contrast and decreased saturation.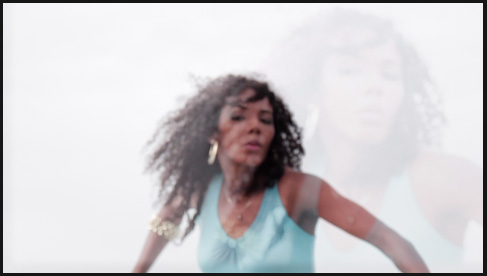 Or a double exposure…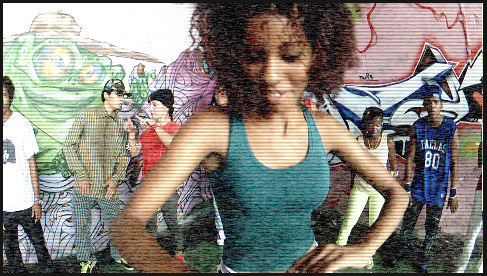 Or TV noise…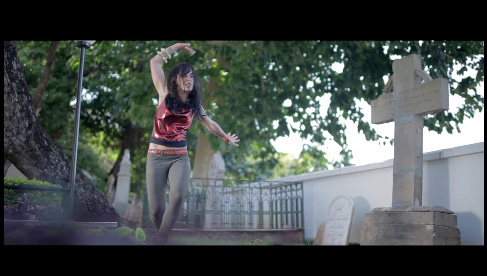 Or a variety of cinematic letter-boxes.
There are bumps, shakes, wobbles, flashes, ghosts, slides, and all manner of other ways of distorting, scrambling or destabilizing your images.
SUMMARY
If you are looking for ways to take pristine action footage and make it look like its been through the wars, you need to check out what you can do with Rampant Design's FCP X Essentials.
My principal request for the next version is that they give us control over key settings in these effects. The ability to control the amount or direction of grain, noise, saturation or movement would help a lot.
---
Bookmark the
permalink
.