First Look: Post Haste from Digital Rebellion

[ Read my product disclosure statement here. ]
While I've been a fan of Digital Rebellion for years, I just discovered an extremely useful – and free – application on their website: Post Haste. (Digital Rebellion is known for its workflow tools designed for video professionals.)
"Post Haste is a free project management tool that allows you to setup file and folder templates for your projects. Create a new project and everything's organized, ready for you to start.
"It's suitable for photographers, video professionals, audio professionals, graphic designers, web designers and anyone who needs to keep their projects and assets organized." (Digital Rebellion website)
INSTALLATION
Download the program from the Digital Rebellion website (not the Mac App Store). This is a standard DMG file. Double-click the DMG file to decompress and display the app. Drag the app into your Applications folder. Installation is easy and takes only a few seconds.
OPERATION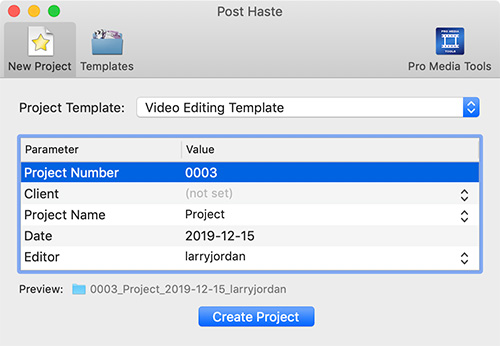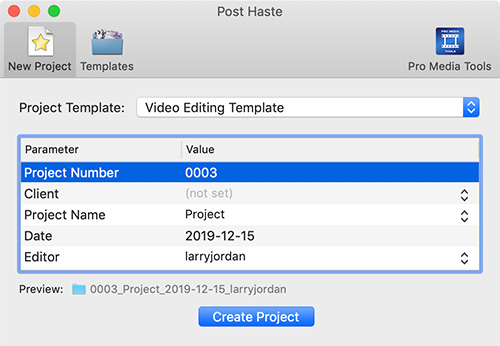 When the application first opens, it defaults to creating a folder structure for video editing in Adobe Premiere. For example, when you click Create Project…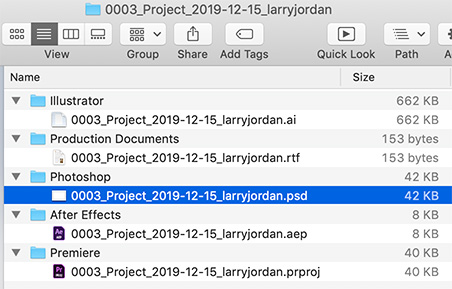 …it creates a master folder named as detailed on the opening screen, then a series of internal folders, each containing a master file that can be used – or not used – in your project. Both the order of the names, and the names themselves, can be modified.
NOTE: You can easily change the specific files it puts in each folder. Templates are stored in [ User Directory ] > Library > Application Support > Digital Rebellion > Post Haste.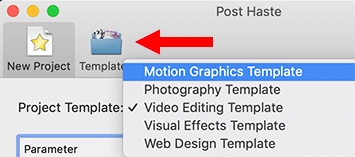 The system comes with five preset folder templates:
Motion graphics
Photography
Video editing
Visual effects
Web design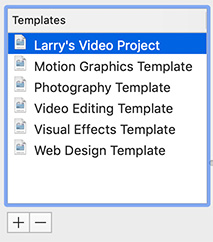 Clicking the Template icon in the toolbar allows you to configure specific templates that best meet your need. These are standard Mac Finder folders, so you can add or modify them at any time.
Click the plus button in the lower left corner to create your own Template, as I did in the screen shot above.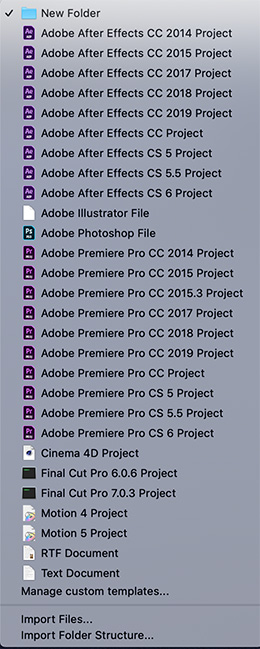 Select a template on the left, then click the Plus button on the lower right to choose from a variety of pre-built application documents.
NOTE: Don't let version numbers distract you. Most older versions can be opened in current version software and it is easy to add template files that are more specific to your work.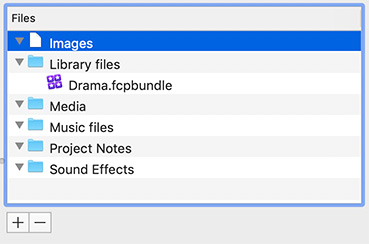 Post Haste templates are initially set for Adobe Premiere Pro. However, it is easy to create templates for Final Cut Pro X. In fact, all templates are easy to create and modify.
SUMMARY
Post Haste can help you get organized right at the start of a project. This is especially useful if all your projects follow a similar file and folder structure. The program is free and available at the Digital Rebellion website.
---
Bookmark the
permalink
.