First Look: Lesspain Software Updates Kyno [u]

[ Updated 10/27/2019 with a comment from Robert Krüger, CEO, Lesspain Software. ]
Last week, Lesspain Software updated Kyno to version 1.7.1. I've been a fan of Kyno for a while and this update makes me even more enthusiastic. Here are the key highlights:
The ability to find and transcode media which is not compatible with Catalina even AFTER you update to Catalina. (Even Apple doesn't provide this!)
ProRes export on Windows
Improved transcoding options and performance
Improved metadata (labeling) workflows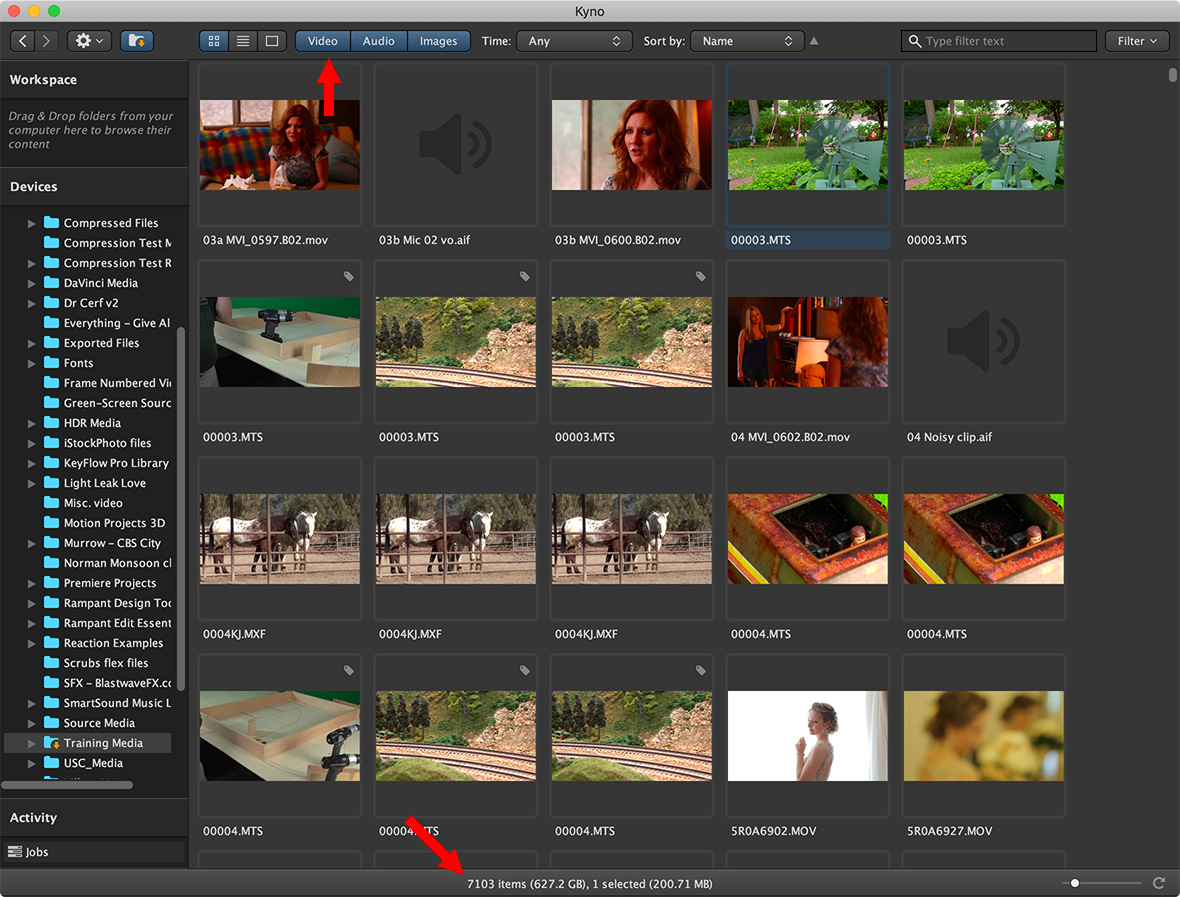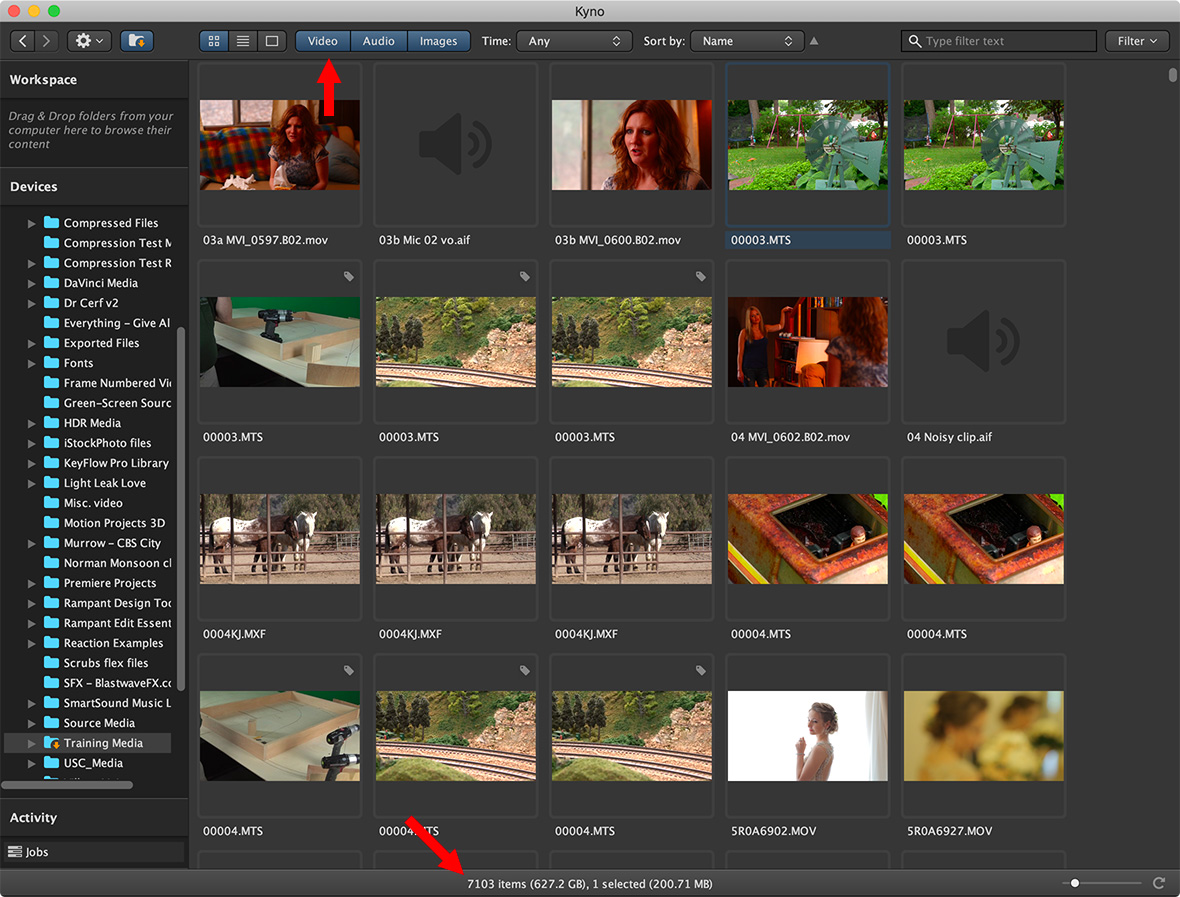 (Click to see a larger image.)
One of the features I REALLY like about Kyno is its ability to display all images contained in a folder AND all the folders that first folder contains. For example, on my iMac, it took about a minute to find and display 7,103 images nested folders deep on one of my servers.
The Kyno interface is the same, the changes are all under the hood. The biggest, of course, is support for Windows. Kyno can now export all flavors of ProRes on macOS and Window 7 or higher.
As well, "We're proud to announce partnerships and integrations with Frame.io, Archiware P5 Archive and Telestream Vantage that are included in Kyno 1.7, along with a host of improvements in playback of the most important formats and yet more media management and transcoding functionality." (Kyno press release)
NOTE: Frame.io and Archiware require the Premium Edition of Kyno, while Telestream Vantage requires the Enterprise version.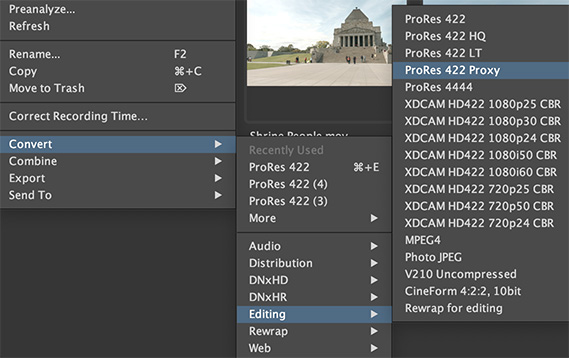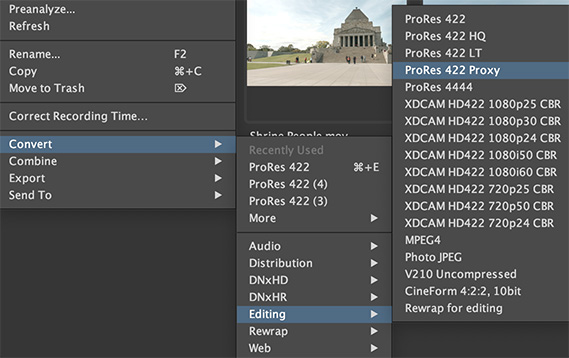 SIMPLIFIED PROXY WORKFLOW
After I published this article, Robert Krüger, CEO of Lesspain Software, sent me the following comment:
"One of the metadata features that we really think deserves a mention is that it is now possible (and very easy) to export a set of proxies or dailies (especially with the new transcoding option that keeps the original folder structure), hand your production assistant a drive with those low-res files and have them log the footage and later "reconnect" that metadata with the original (master) files via a simple export and import, even if file extensions do not match."
The benefit of this option is that now, you don't need to lug around lots of extra storage to log footage or work on a rough cut. Yes, both Premiere and Final Cut support creating workflows in the app. Because creating proxy files in Kyno preserves the original folder structure, the advantage here is that you can create proxy files before you even start editing – outside the Library or Project file. This means you don't need to tie up storage space on your editing system carrying around master files that you don't need at the moment, but can easily reconnect the master files when it is time to start final polishing.
TRANSCODING LEGACY MEDIA
Probably the most important feature, to me, is Kyno's ability to scan my hard disk – or any group of folders on it – and find all media which is not compatible with Catalina. (If you are like me, you have no real idea of what media is affected or where it is.)
What's ESPECIALLY important about this feature is that even if you have already upgraded Catalina, Kyno can still convert legacy footage!
The process is simple:


From the filter menu, select Final Cut Pro X.

From the compatibility menu, select Incompatible files.

Then wait as Kyno scans your selected folders. I had about 10,000 clips for it to examine, so this can take a while. (On my system, it took about ten minutes to scan 10,000 files to find about 30 that needed updating. All were located on a server, a locally-attached hard disk would be faster.)
Once that process is done: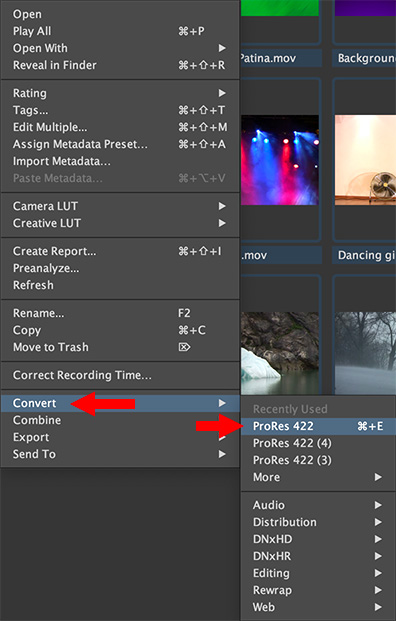 Select all the files you need to convert
Control-click one of the selected files and choose Convert
Select the format you want to convert the file into (the default is ProRes 422)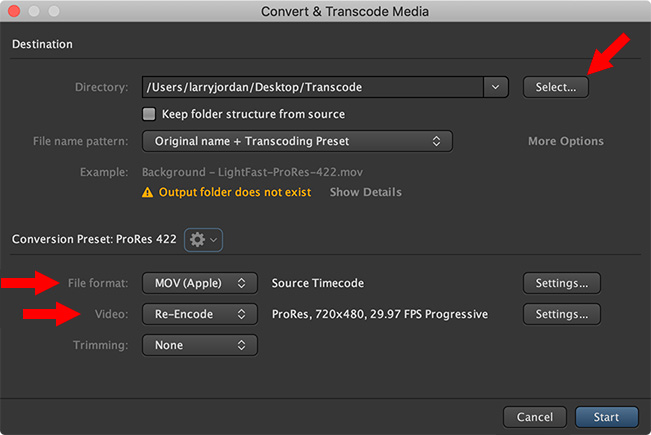 The Convert & Transcode window appears, allowing you to determine where you want the transcoded files to go, how you want them named and what video format you want them transcoded into.
NOTE: What I also like is that if you click the Select button, you have the option to automatically store the transcoded movies back into the same folder as the source files. This makes relinking MUCH easier.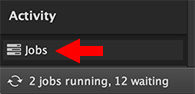 The lower-left corner of the interface provides a summary of the work in progress.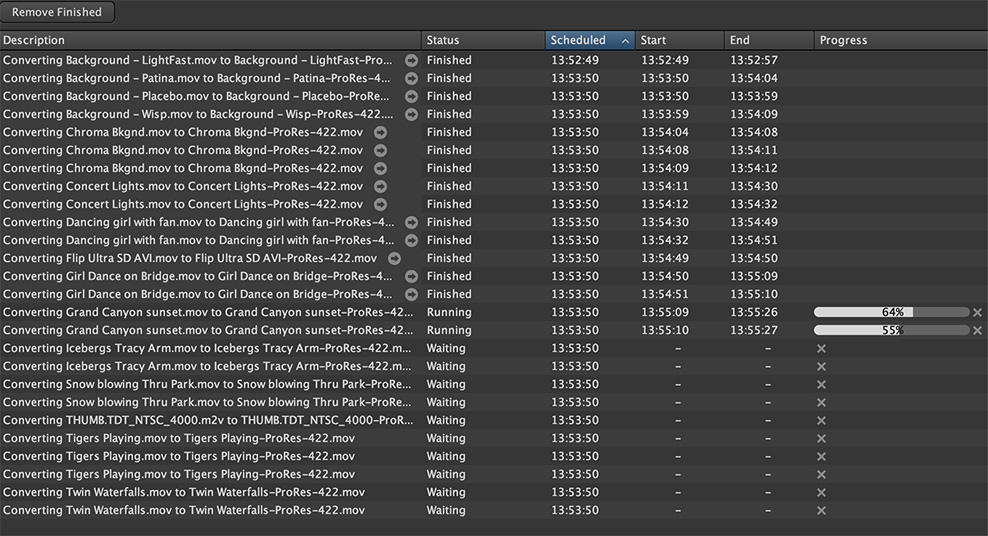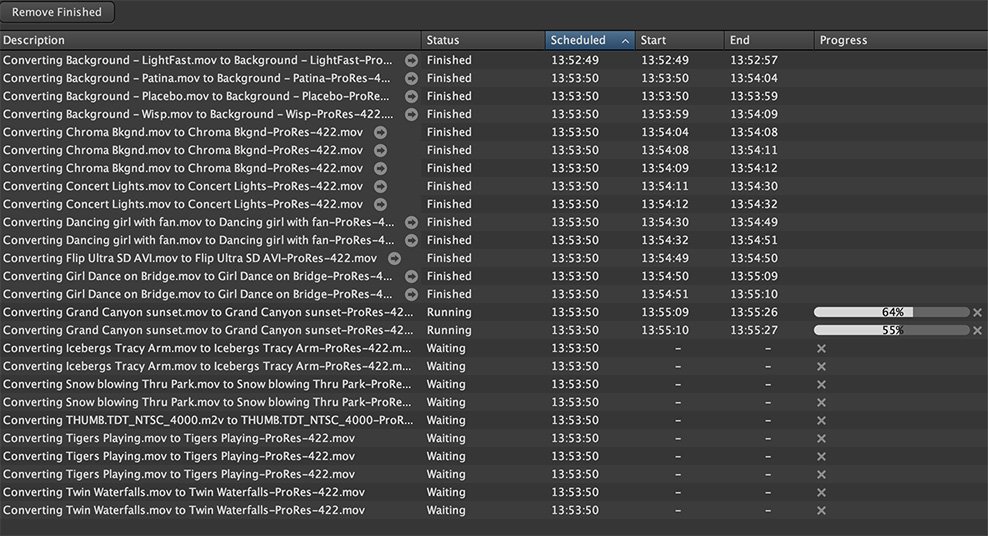 (click to see a larger image.)
Click Activity > Jobs, just above it, and a detailed list of the work in process appears.
The actual transcoding was as fast or faster than Apple Compressor or Adobe Media Encoder. And, like Compressor, Kyno transcodes in the background so you can get back to reviewing clips in Kyno or editing. The actual conversion process was faster than finding the clips.
KYNO AND YOUR NLE


Kyno has made it easier than ever to bring Final Cut Pro or Premiere Pro metadata back to Kyno, with full Final Cut Pro and Premiere Pro metadata import support (via XML and drag and drop for Final Cut Pro).
Specifically, drag an event containing media or projects into Kyno and all the metadata associated with that event will import along with it.
Kyno also offers full metadata support for Premiere Pro via XMP. Rating, Tags and Angle metadata will be transferred when sending to Premiere Pro (check "Write all metadata to XMP", note that this will modify the actual clip files).
With Premiere, select the files you want to track, then choose File > Export > Final Cut Pro XML. That small XML file can be imported into Kyno, where it is automatically linked to your clips.
OTHER NEW STUFF
Here's a partial list of what else is new in this edition:
Kyno 1.7 is ready for macOS Catalina – we've tested it extensively and fixed a few issues that came up. We've also got you covered regarding your legacy 32-bit codecs, see below. As always, we recommend professional users to wait with OS upgrades until all their favorite apps give green light.
Playback and transcoding of HEVC is now hardware-accelerated on macOS and Windows, vastly improving performance on machines with dedicated HEVC chips
HEVC encoding support has been added on macOS, both software- and hardware-accelerated
A new checkbox in the transcoding dialog allows you to mirror the directory structure to the destination when transcoding, enabling powerful proxy and metadata workflows
Copy & paste metadata from one clip to other clips (Cmd/Ctrl-C, then select one or more other clips and select "Paste Metadata…"" or Cmd/Ctrl-Alt-V)
The new filter for legacy Final Cut Pro media will give you some peace of mind when upgrading to macOS Catalina which will drop support for certain legacy codecs, see details here
Adjustable playback resolution for ProRes clips, useful for playing high-res footage with lower CPU usage at minimal loss of visual quality, especially useful for 4k and 8k playback on slower machines
Support for simple boolean expressions in filter queries e.g. "car and drone", "sports or food", "car and not b-roll"
New filter for containing folder name, for example to show all clips in all folders named "dailies"
We've made the display of dates in the list view more flexible in width and localized according to your system preferences
The "Date created" column was added next to the existing "Date modified" column (needs to be made visible once by right-clicking the table header)
Set a marker's or subclip's description as note when sending to Final Cut Pro
Added playback support for DNxHR 444 12bit clips
The frame rate filter now allows identifying clips with variable or constant frame rate (CFR/VFR)
If you prefer to always display zero-based timecode, we've added a preference for that (Preferences/Settings – Advanced – Use zero based timecode)
Added support for playback of Canopus HQ/HQA
Added support for playback of MJPEGB encoded Quicktime clips
We've implemented hardware accelerated decoding and playback of H.264 clips on Windows
Improved matching of files when importing metadata (Kyno, Final Cut Pro XML, Final Cut Pro 7 XML), now supporting powerful proxy workflows
Derive export file name for FCP7/Premiere xml from folder name
(Kyno Release Notes)
SUMMARY
I was extremely impressed with Kyno when it first came out. This release provides even more reason to consider Kyno for labeling, tracking, organizing and transcoding your media.
Kyno retails for $159 (US). Kyno Premium for $349 (US). A 30-day free trial is available.
EXTRA CREDIT
---
Bookmark the
permalink
.