First Look: ERA Bundle from Accusonus [u]

[ Here's my disclosure statement on product reviews.]
[Updated April 22, 2019, with additional information from Accusonus.]
This review began, as many of them do, with an email from a company I had not heard of: Accusonus. Smaragda Alexandri (part of Artist and Partner Relations for Accusonus) wrote:
"I'd like to introduce you to our audio repair plug-ins…. Our collection of single knob audio repair plug-ins, the ERA Bundle, is designed with the needs of videographers' in mind, unlike most audio repair tools in the market which are mostly made for audio engineers, requiring some knowledge around audio editing. Our tools are fast, effective and dead-simple to use and I think they can make a videographer's life much, much easier."
I love audio – and I'm always fascinated by anything that can help videographers improve the quality of our sound. Plus, fixing problems is always harder than it looks. So, here's what I learned.
EXECUTIVE SUMMARY
Based in both the US and Greece, "Accusonus builds next generation audio repair and music creation software. We think that audio repair should be fast, simple and accessible to everyone." (Accusonus website)
The ERA Bundle (ERA stands for "Enhancement and Repair of Audio") is a suite of six or seven audio repair plug-ins that utilize machine learning to support:
Reverb Removal
Noise Removal
Voice Leveler (adjusts gain between and within clips for consistency)
Plosive Removal ("popping P's or T's")
De-Esser
De-clipper (fixes audio recorded at too loud a volume, or using bad AGC circuits)
ERA-D (Pro version only) This provides deeper and more adjustable noise and reverb reduction.
The software supports Apple Final Cut Pro X & Logic, Adobe Premiere & Audition, Audacity, Avid Media Composer & ProTools and many others. It runs on both Mac and Windows systems.
Product: ERA Bundle 3
Developer: Accusonus
Website: https://accusonus.com/products/audio-repair/era-bundle-standard
Price: $149 (US) for the standard version – $399 (US) for the pro version
A 14-day free trial is available from the Accusonus website
WHY CONSIDER ACCUSONUS?
I asked Smaragda: "Why should someone consider Accusonus, instead of Izotope?"
Smaragda replied:
"[Accusonus is] by far the fastest and the most simple-to-use audio repair tools in the market. Thanks to our advanced technology and multi-patented algorithms, we've managed to simplify the process of audio repair without compromising quality. The reason why many people haven't heard about our tools yet, is that we're a relatively new company (yet one of the fastest-growing ones in this field).
"It's not an overstatement when I say that with the ERA plugins, anyone can get quality results in seconds, simply by turning a knob (no manual adjustments needed). It's simply the truth – as well as the reason why we're so proud of our tools and why companies like Adobe trust us (we actually licensed our denoise and dereverberation technology to Adobe last year – you can read more here).
"Also, the ERA Bundle is probably the most affordable option."
As you just read, Adobe licensed both their denoise and dereverb technology last year. That sounds like a good reference about the software to me. With that as background, let's get this installed.
NOTE: A very cool feature about the noise reduction capability in ERA-D is the "dual microphone processing feature of ERA-D is a patented technology which enables you to repair difficult recordings previously thought to be headed for the cutting room floor.
"ERA-D can work in Dual Mode using two sources as an input. For example, a camera mic and a boom mic. Each one of these microphones can capture different elements of the acoustic scene and provide new cues to ERA-D's modern algorithm, leading to superior restoration." (Accusonus website)
INSTALLATION
The installation process isn't difficult, but does require several steps:
Download the software
Install the software
Connect it to your NLE or audio software (not needed for Final Cut Pro X)
Create an Accusonus account to activate the trial or purchase a full version
Enter the credentials into a log-in screen the first time you access each plug-in
I went to the Accusonus website and downloaded the free trial (this includes the ERA-D plug-in, which is only available in the Pro version. The free trial lasts 14 days, which was long enough to write this review.
NOTE: You can activate up to three systems with one license.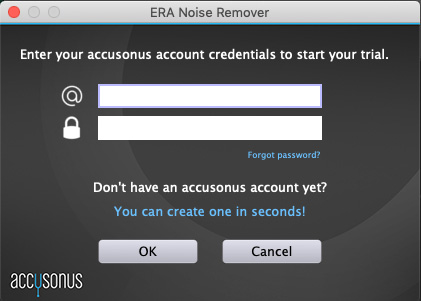 Here's the credentials screen.
NOTE: I should point out that you need to authorize each individual plug-in. This isn't bad, but it will take longer than you expect. Just allow a little extra time to get everything connected.
Installation took only a couple of minutes. Written instructions were provided via PDF for Apple Final Cut Pro X, Adobe Premiere Pro CC, and Audacity. The operation of the software is the same for each. I'm going to be working in Audition, simply because all my example files are audio-only.
To add plug-ins to Audition: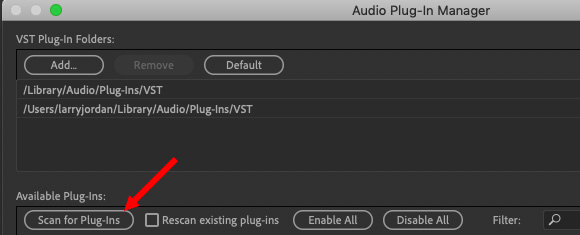 Go to: Effects > Audio Plug-in Manager and click the Scan for Plug-ins button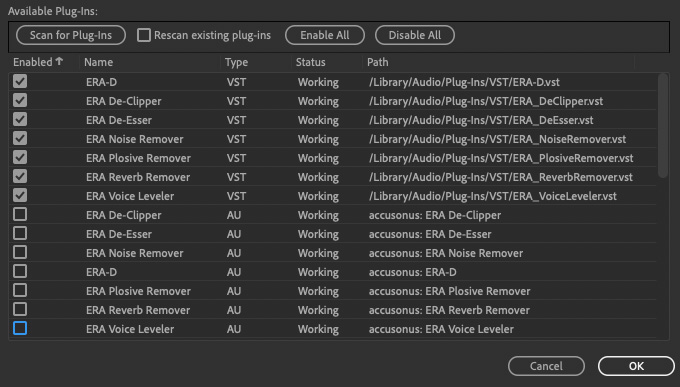 After a few seconds, both VST and AU versions are displayed. You only need to install one or the other. For Audition, use the VST versions.
Select the ones you want, then click OK. Almost instantly, the plug-ins are connected to Audition. You'll find them in the Effects Rack for Audition and Effects panel for Premiere.
NOTE: FCP X automatically scans for plug-ins during launch. So, always quit FCP X before starting any effects installation. You'll find the new effects in the audio section of the Effects Browser.
Installation for Premiere is similar to Audition, except go to: Preferences > Audio and click Audio Plug-in Manager at the bottom. After that, the process of installing VST plug-ins is the same.
REVERB REMOVER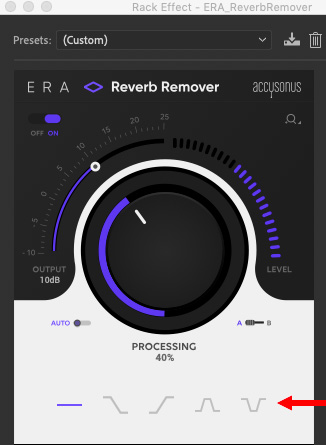 The defining characteristic of Accusonus is a VERY simple – and consistent – interface. Specifically, one knob, as you see here. The icons across the bottom allow you to refine the effect based on different criteria; these vary from one effect to another.
Reverb Remover, for me, is one of two key reasons to buy this program. Reverb happens whenever your mic is too far from the subject; for example, when you record an interview using the camera mic.
Getting rid of reverb requires MASSIVE amounts of computing power in order to distinguish the sound of the voice you want to keep from the echoing sound of the same voice in the reverb. Until recently, this hasn't been possible at all. Now, it is.
If you are someone who is suffering from hollow, echoey, thin audio, this one plug-in can make a huge difference in your projects.
NOISE REMOVER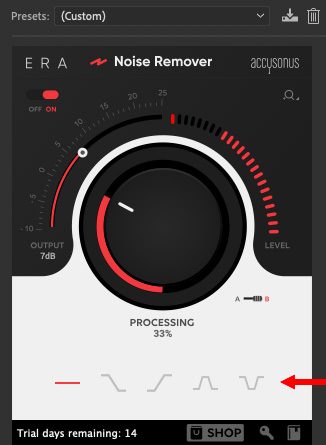 If you look very, very carefully at the interface of this plug-in, you'll discover that it bears a suspiciously striking resemblance to the Reverb Reducer – except that it uses red, rather than blue to indicate settings.
To increase the amount of noise removed, grab the big dial in the middle and drag. If removing noise decreases the volume too much, drag the small slider on the left up a bit.
The red dotted ring on the right shows the current audio level of the clip.
And that's it. You don't need to be an audio engineer or nuclear physicist to get good results. The age-old maxim applies: "Drag something and listen to what happens." If you like it, great. If not, change the dial in the middle.
NOTE: The Accusonus website says: "Use the ERA Noise Remover to easily reduce or completely remove unwanted fans, air-conditioners, electric hum & hiss or any other background noise."
VOICE LEVELER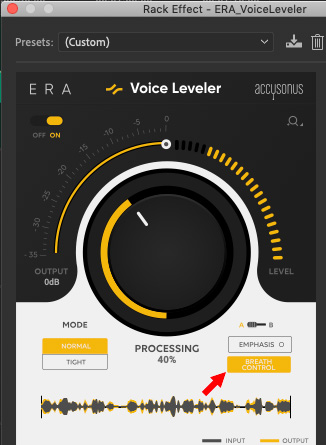 This is another must-have effect. This, essentially, increases audio levels using a combination compressor/limiter.
What I especially like about this it the "Breath Control" setting. This means that this effect will amplify the voice, without unduly amplifying the speaker's breathing. This is a very useful technique.
DE-ESSER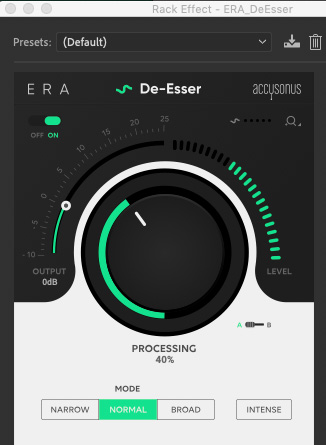 Similarly to the other effects, this has the same identical interface, using green instead of blue or red.
De-essing decreases sibilance, this is the sharp "whistle" that occurs in many speakers, especially those that are older, when they say a word with an "s" in it. These whistles can be moderate to severe. (I've found myself fighting these personally for many years. Most of the time, I can prevent them, but, every so often, one squeaks out.)
As with the other plug-ins, you adjust this using the dial in the middle until the whistle is no longer objectionable. In general, you don't want to remove it – this would convert an "s" into a "f" – but, you do want to make sure it doesn't shatter windows during playback.
PLOSIVE REMOVER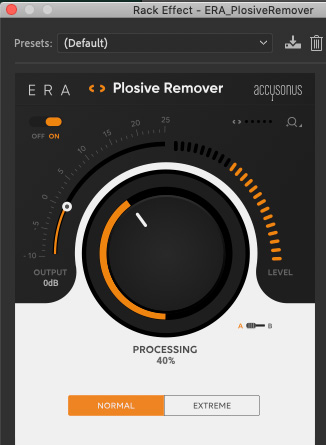 By now, you should be expecting this. Plosives are "p," "t," or "b" sounds which "explode" into a mic which is too close and directly in front of the speaker's mouth. The ideal solution is to move the mic off to one side of the mouth, without moving it too far back.
But, if the recording is complete and can't be changed, this plug-in can help.
Again, the interface is the same, but the color is orange. (As I look at a screen filled with a variety of these plug-ins, its nice that the differences in color help me figure out what I'm adjusting.)
DE-CLIPPER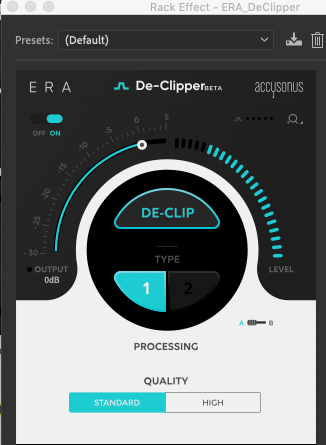 This fixes problems where the audio was recorded too loudly or the recorder had a poor-quality AGC circuit – either of which can cause clipping. This effect restores a more natural dynamic range to the sound.
UPDATE – April 22, 2019
I sent an email to Stelios Bournous, product manager for the ERA bundle with two additional questions.
Larry asks: Where, on your website, do you describe what these plug-ins do in more detail. While people who don't understand audio are happy to believe these are "magic," folks with some audio experience would love more details.
Stelios: Further details on the functionality of each ERA product, can be found in the respective manuals. You can find them here.
Larry: What applications is the Noise Removal plug-in best used for? When I tried it, it did not reduce background conversations. But did seem to reduce hum. How is it determining the noise print?
Stelios: Noise Remover is most powerful on static background noises, such as air-conditioning fans, electric noises, "hiss", "hum" and many more. Cases like background conversations or traffic noise are a bit trickier, since they are not as static as the above-mentioned ones over time. However, tweaking the controls of Noise Remover can lead to pretty satisfying noise reduction, or even completely eliminating the noise. It depends on the input signal.
SUMMARY
The first question is: Do these work? The answer varies based upon how you record your audio and the typical problems you experience. The simple interface makes these very easy to use. I would, perhaps, want a couple of additional controls to tweak, but, if you don't know what you are doing, more controls just give you more ways to screw things up.
I like Accusonus' focus on single tools to fix audio problems, a simple interface to adjust them and a great price to get the entire bundle. Complex software just does not get easier to use.
If you are looking for better ways to improve your sound in Final Cut, Premiere, Audition or ProTools, downloading the 14-day free trial is a great place to start.
---
Bookmark the
permalink
.