First Look: Compressor Speed Test – Catalina vs. Mojave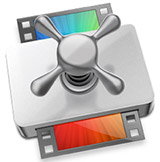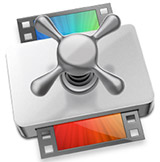 BIG NOTE: This article has been updated and replaced by – Video Compression Speed Test. This new article has updated numbers for Apple Compressor and now includes Adobe Media Encoder.
---
One of the new features in macOS Catalina is a revised graphics engine called Metal 2. Both Final Cut Pro X and Compressor were recently upgraded to support it.
So, this week, I decided to revisit my Compressor speed test from October, 2019, to see what changed. This is just a first look, as I haven't had time to check the speed of Adobe Media Encoder with Catalina.
NOTE: Here's my original article.
First, though, I want to report that a bug in Compressor that prevented it from compressing ProRes 4444 files into 10-bit HEVC has been fixed in Catalina. While Compressor still takes about twice as long as Adobe Media Encoder to compress the same file into 10-bit HEVC, at least, now, Compressor is able to complete the job.
TESTING PROTOCOL
I ran these theses on the same computer (an i5) using the same data files and same compression settings using Apple Compressor.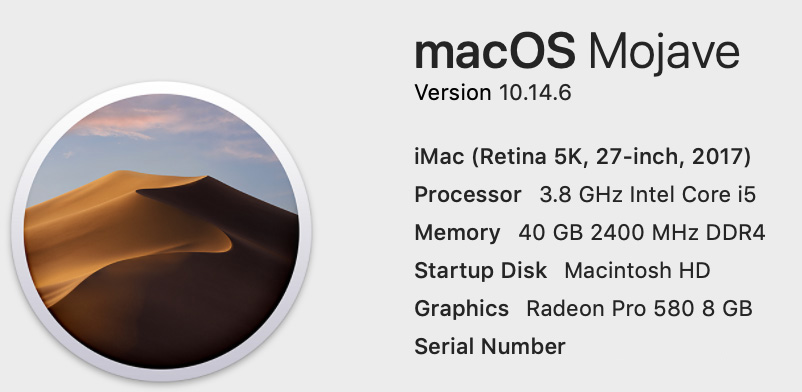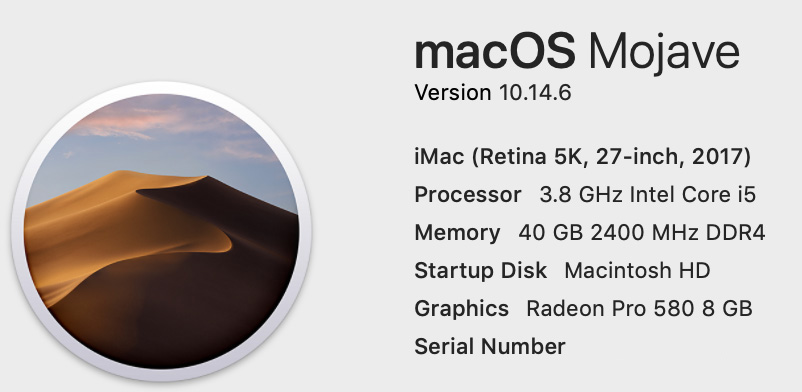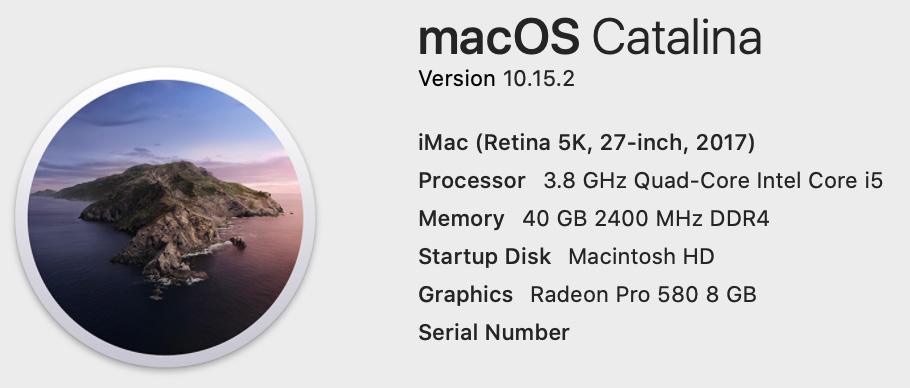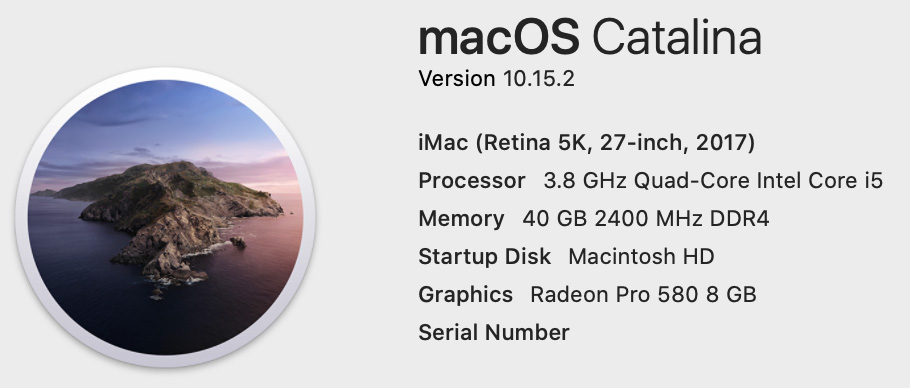 The Mojave tests used Compressor 4.4.5. The Catalina tests used Compressor 4.4.6.
RESULTS
The short answer is that the latest version of Apple Compressor running on Catalina is slightly slower across all tests than Compressor running on Mojave.
H.264 compressed file sizes are the same, while HEVC compressed file sizes are slightly smaller in Catalina.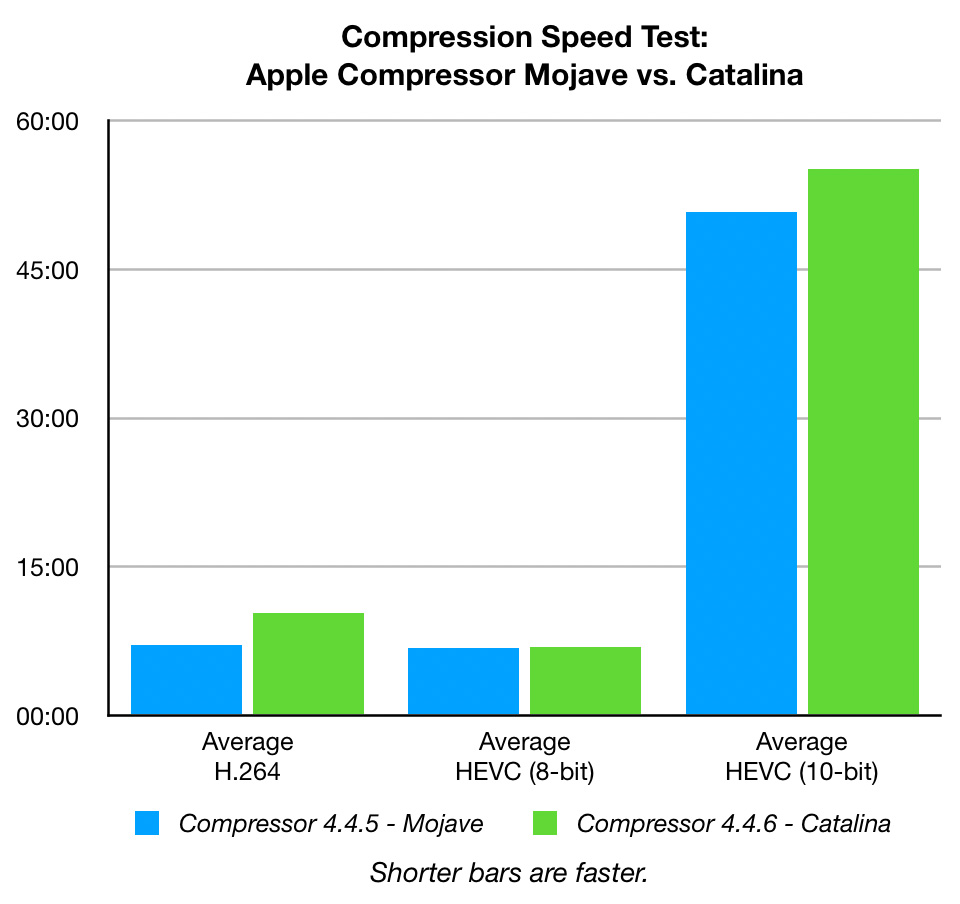 This chart illustrates the results. Catalina is represented by green bars, shorter bars are faster.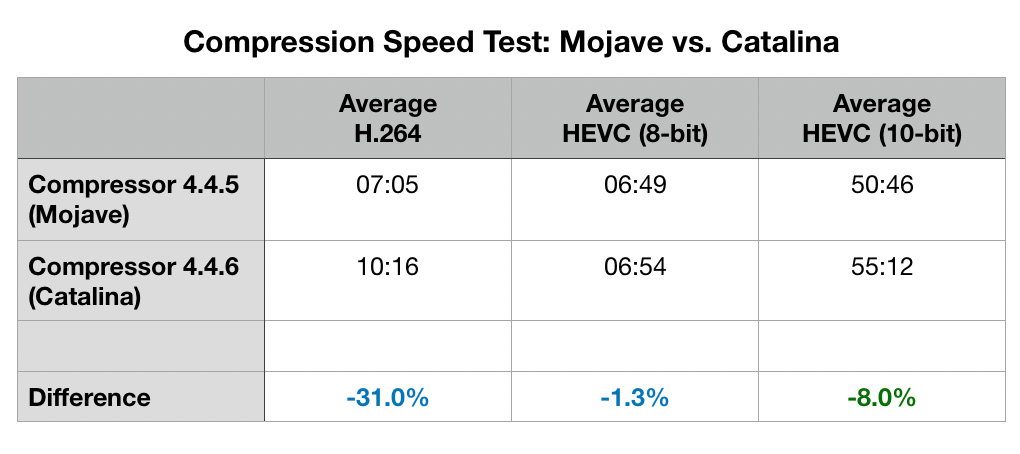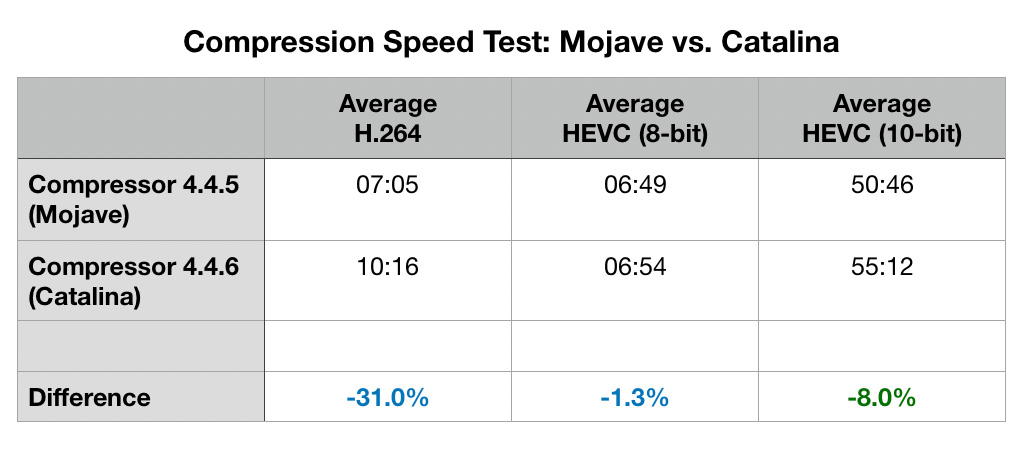 Here are the numeric results for speed. Also, based on the results published in my earlier article, Adobe Media Encoder remains significantly faster than Compressor, especially given these new numbers.
NOTE: These speeds only represent files that were able to be compressed. As the Mojave version of Compressor failed to compress ProRes 4444 files into HEVC 10-bit, I excluded those results from this table. That bug was fixed in Catalina with the 4.4.6 update to Compressor.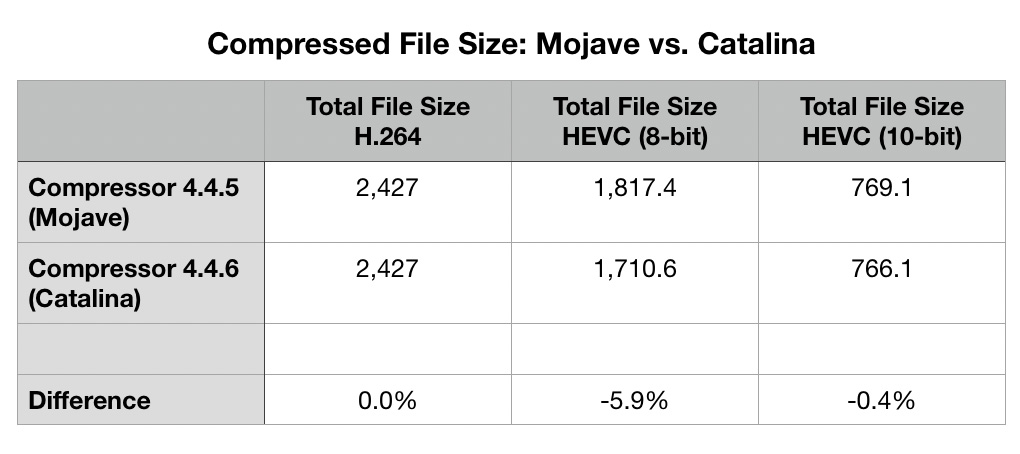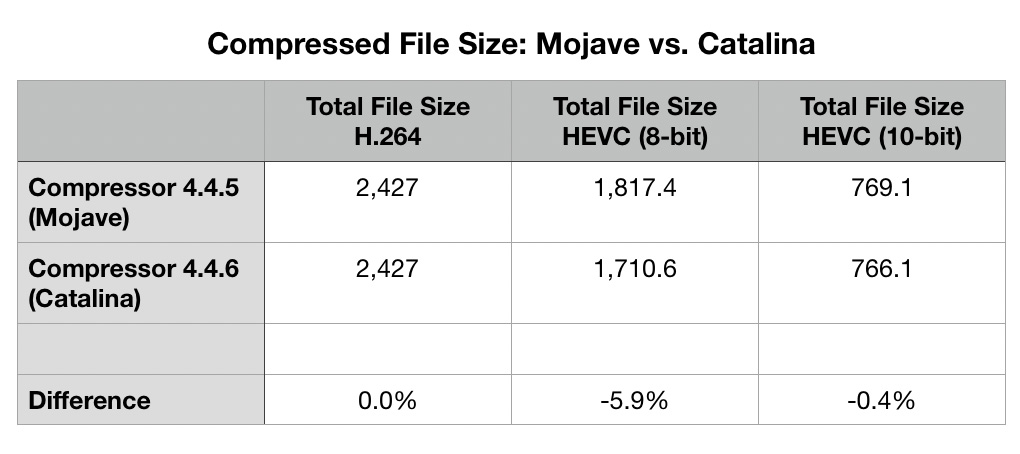 Here are the numeric results for file size. No change in compressed file sizes for H.264, slightly smaller files with the latest version of Compressor running on Catalina.
SUMMARY
This is just a first look, I want to re-run my tests to make sure I'm getting consistent results. As well, future tests will show what performance impact Catalina has, if any, on Adobe Media Encoder compression speeds.
So far, though, there's no big performance improvement in Compressor's compression speed when updating to Catalina and running Metal 2.
---
Bookmark the
permalink
.