First Look: ChronoX 1.2 from EVRapp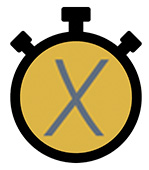 [Read my product disclosure statement here.]
Antonio Marogna writes:
Larry, I just released a unique application called "ChronoX." ChronoX measures the elapsed time of Final Cut Pro exports in a precise and fully automated way. No more handheld timer to stop. ChronoX, using a proprietary algorithm, identifies the precise moment in which Final Cut Pro starts the export process to the end, allowing it to calculate the elapsed time in seconds.
I'd be grateful if you could take a look at it.
I was interested – here's my first look.
EXECUTIVE SUMMARY
Think of ChronoX as a very fancy AppleScript. The reason to use ChronoX is to determine if different system configurations or storage options improve the export speed of Final Cut Pro X. It takes control of Final Cut to provide a fully-automated tool that measures the speed of Final Cut Pro X exports. The free version displays the elapsed time in a popup window. The Pro version:
Supports timing up to three exports to create an averaged export duration
Saves a log report in CSV format
Keeps a record of any user notes for each export in the report file
The detailed reports in the Pro version offer the opportunity to compare export speeds between different hardware configurations (CPU, GPU and storage media) or software options (macOS and FCP X versions).
Installation also requires installing ExifTool, a free utility for Mac and Windows that reads, writes and edits metadata information for a wide variety of files and cameras.
ChronoX is a performance testing tool, similar in concept to the BlackMagic Speed Test. You use this to measure your system. You would not use this as part of your daily workflow.
Software: ChronoX
Developer: Antonio Marogna
Website: https://www.evrapp.cloud/ChronoX.html
Price: Standard version: Free
Pro version: $9.99 (US)
SECURITY NOTE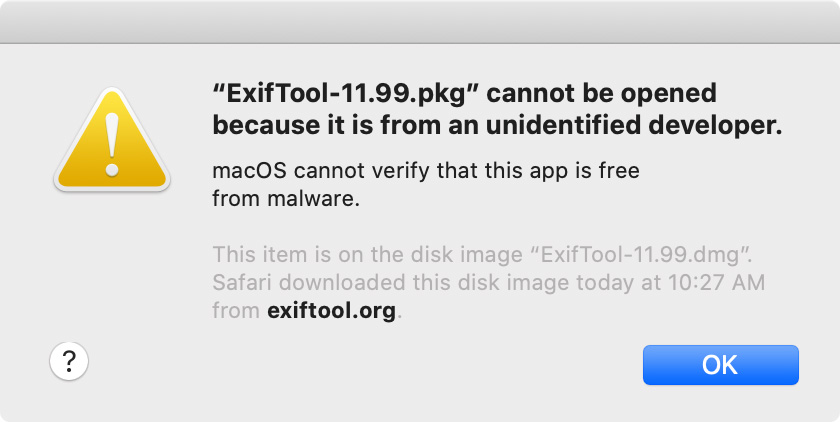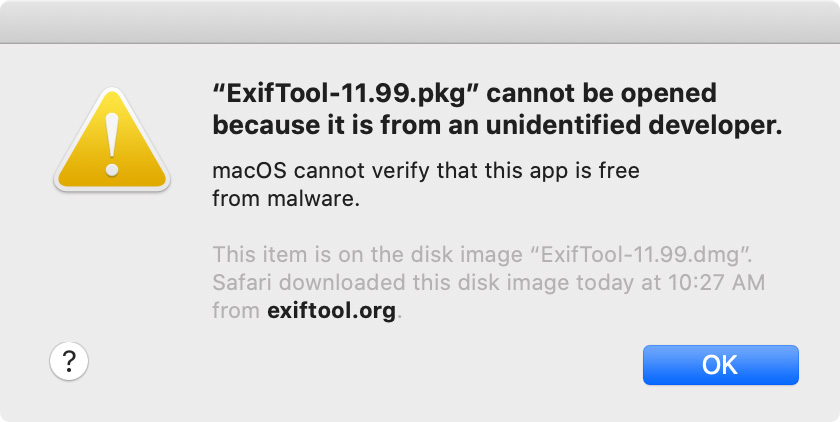 ChronoX requires the installation of ExifTool, a respected utility that reads EXIF data from a file. Because ExifTool is not offered through the Mac App Store, it will display a security warning during installation.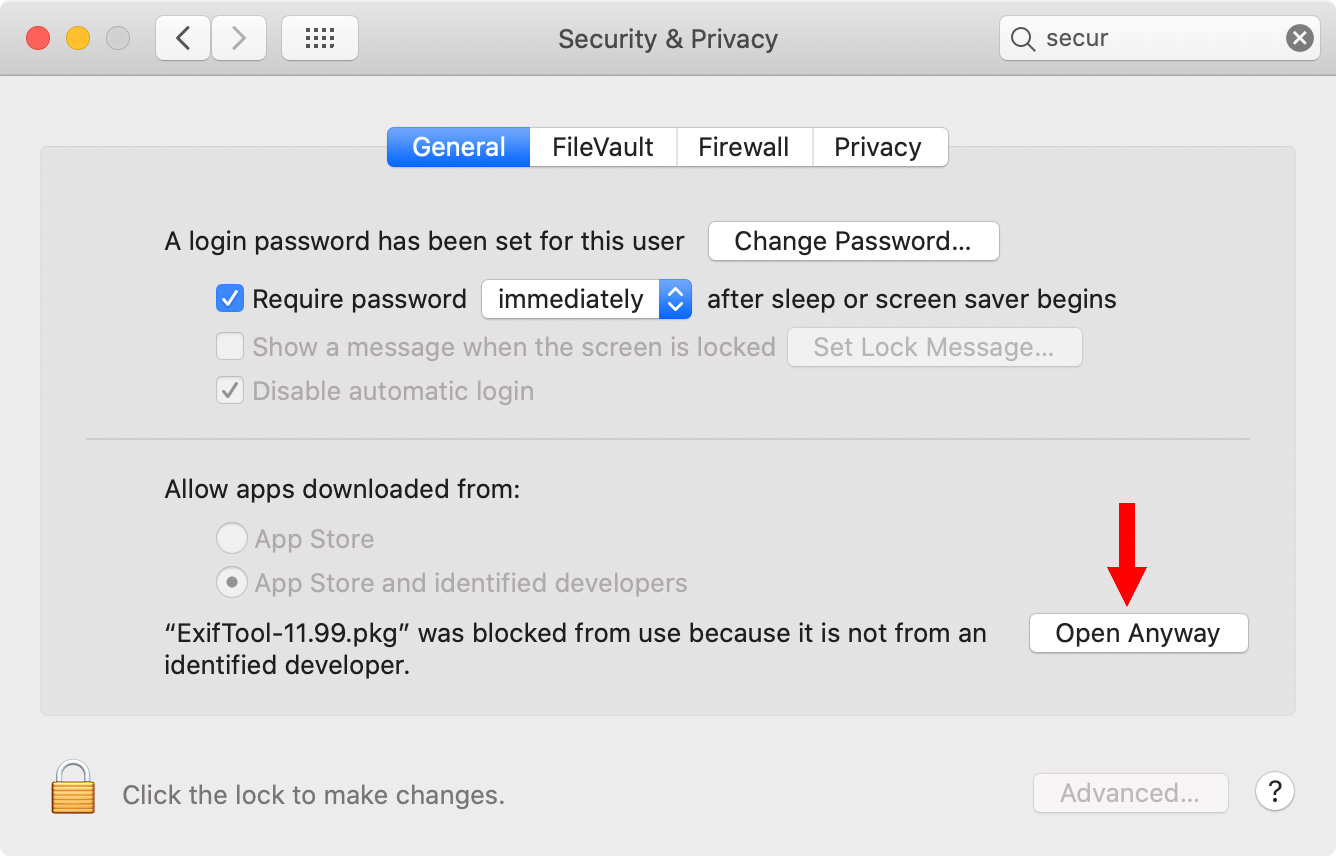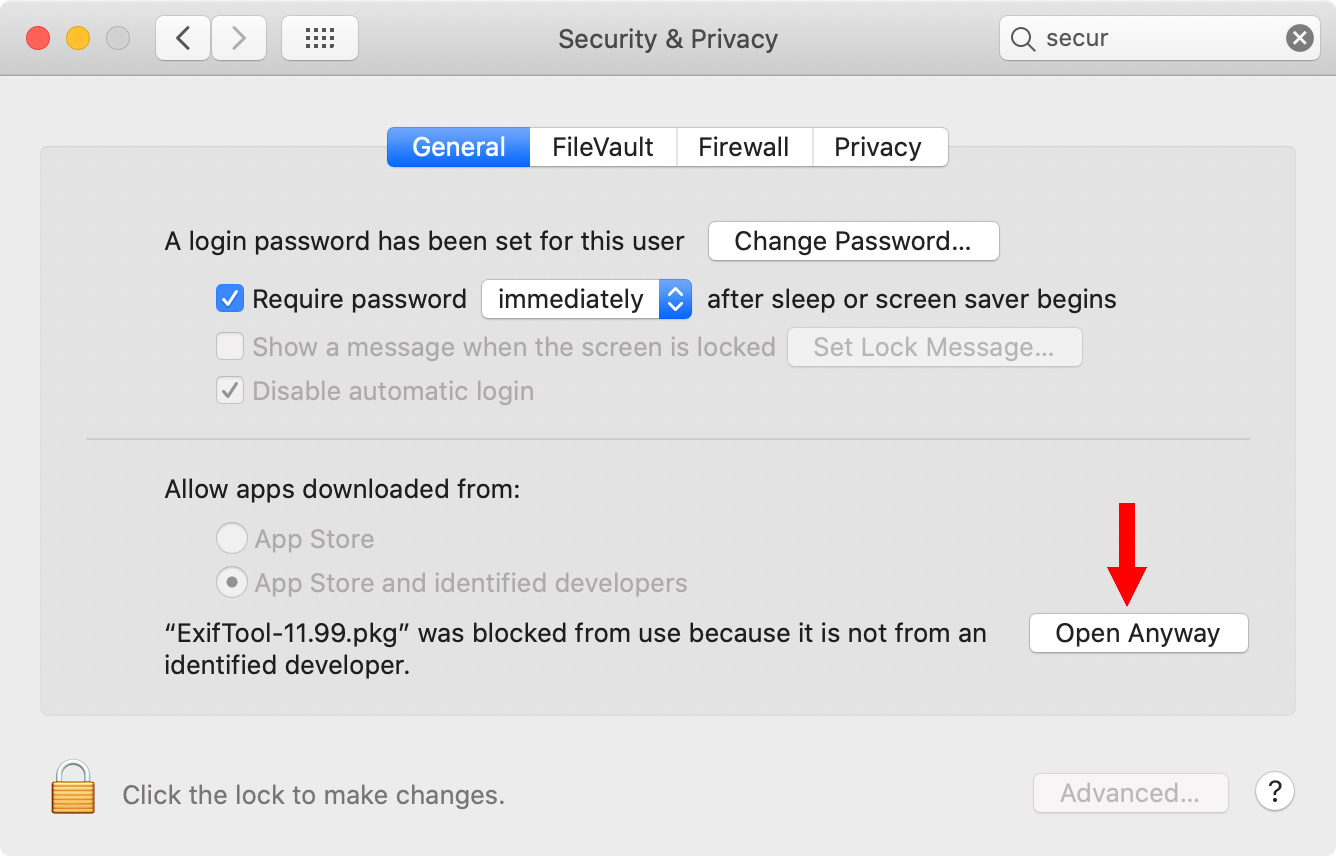 To resolve this, open System Preferences > Security & Privacy > General and click Open Anyway.
INSTALLATION
To install the software, download it from the EVRapp.cloud website. (Antonio's first application was Exif Video Resolved, which is a plugin that allows reading EXIF metadata directly into DaVinci Resolve, Premiere Pro and Final Cut Pro X.)
After downloading the app, but before installing it, we also need to download ExifTool, a free utility, written by Phil Harvey that reads, writes and edits metadata from a variety of file formats and cameras. It's available at: https://exiftool.org.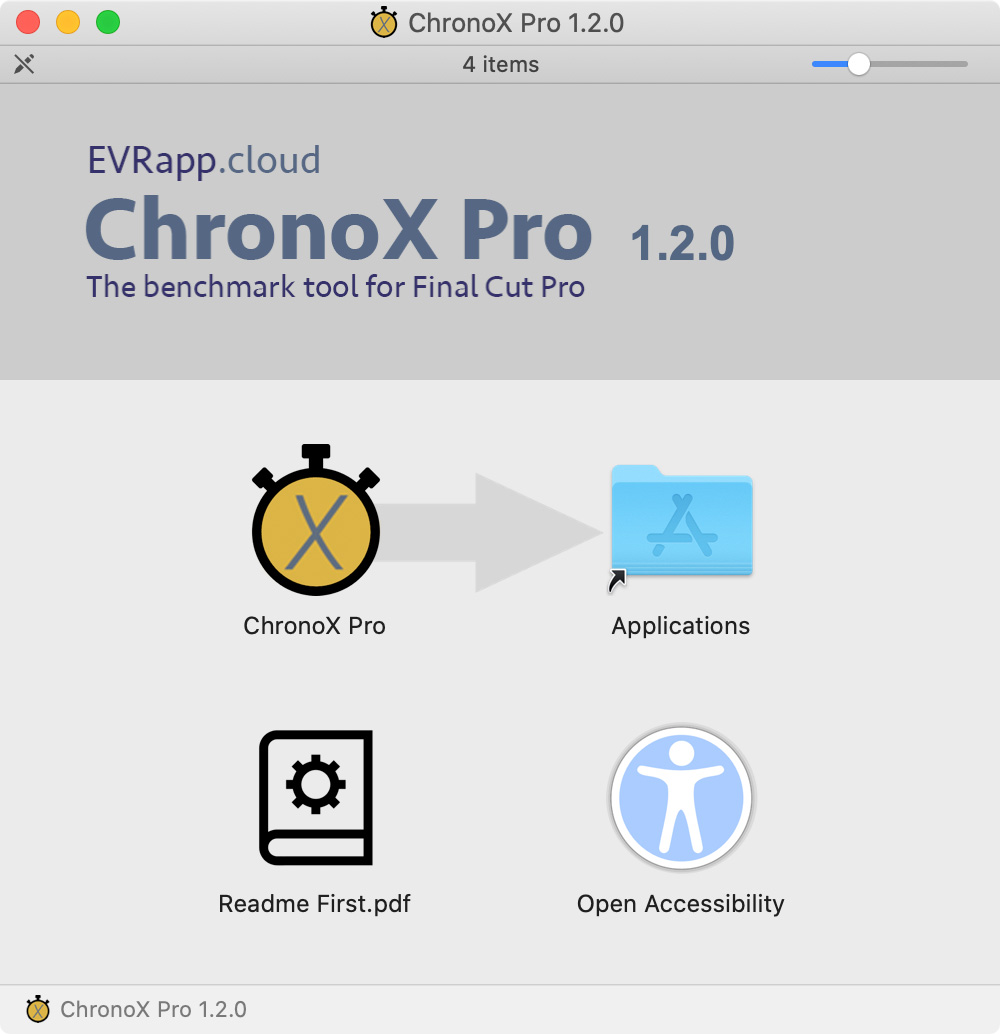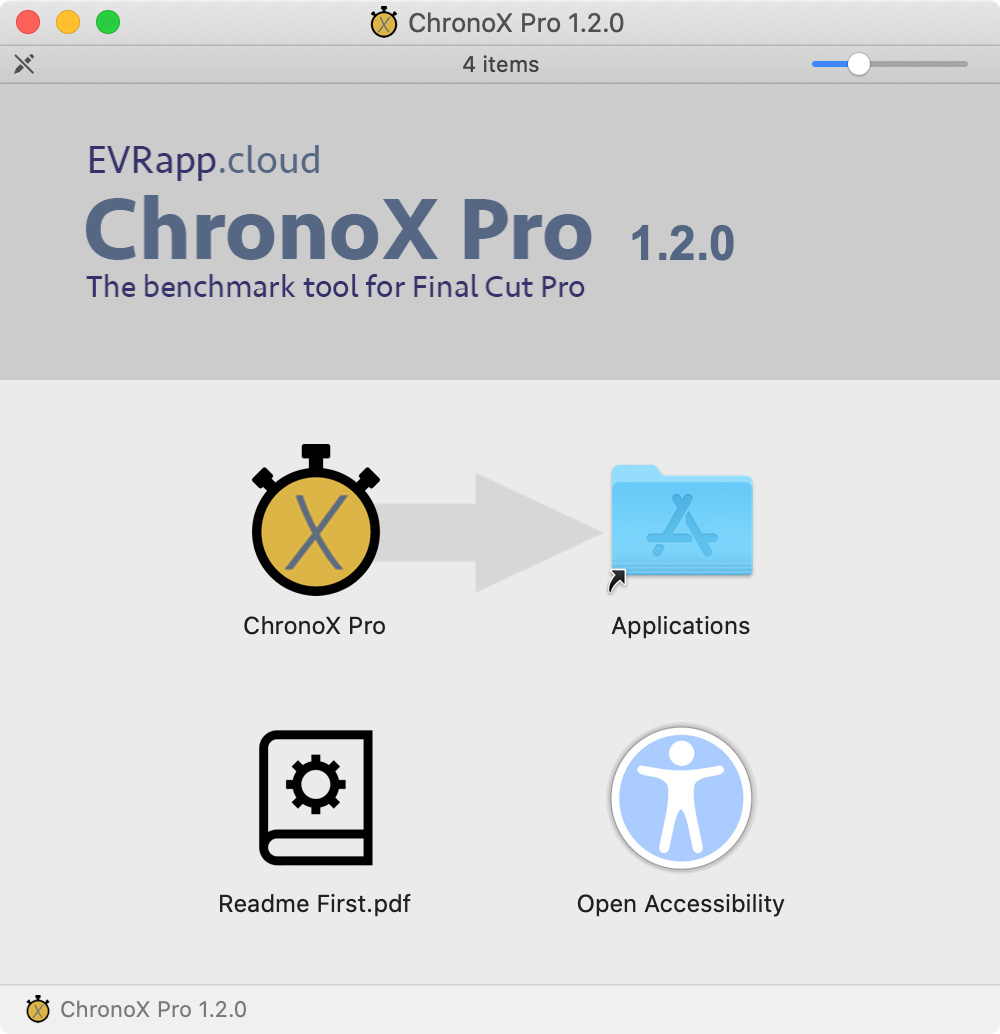 Installing ChronaX is simpler. Simply drag the app icon into the Applications folder in the installation window.
IMPORTANT: Download and use the ReadMe First file. It will guide you through installation. The Read Me Guide is excellent and resolves most installation questions. Be sure to read it while installing the software.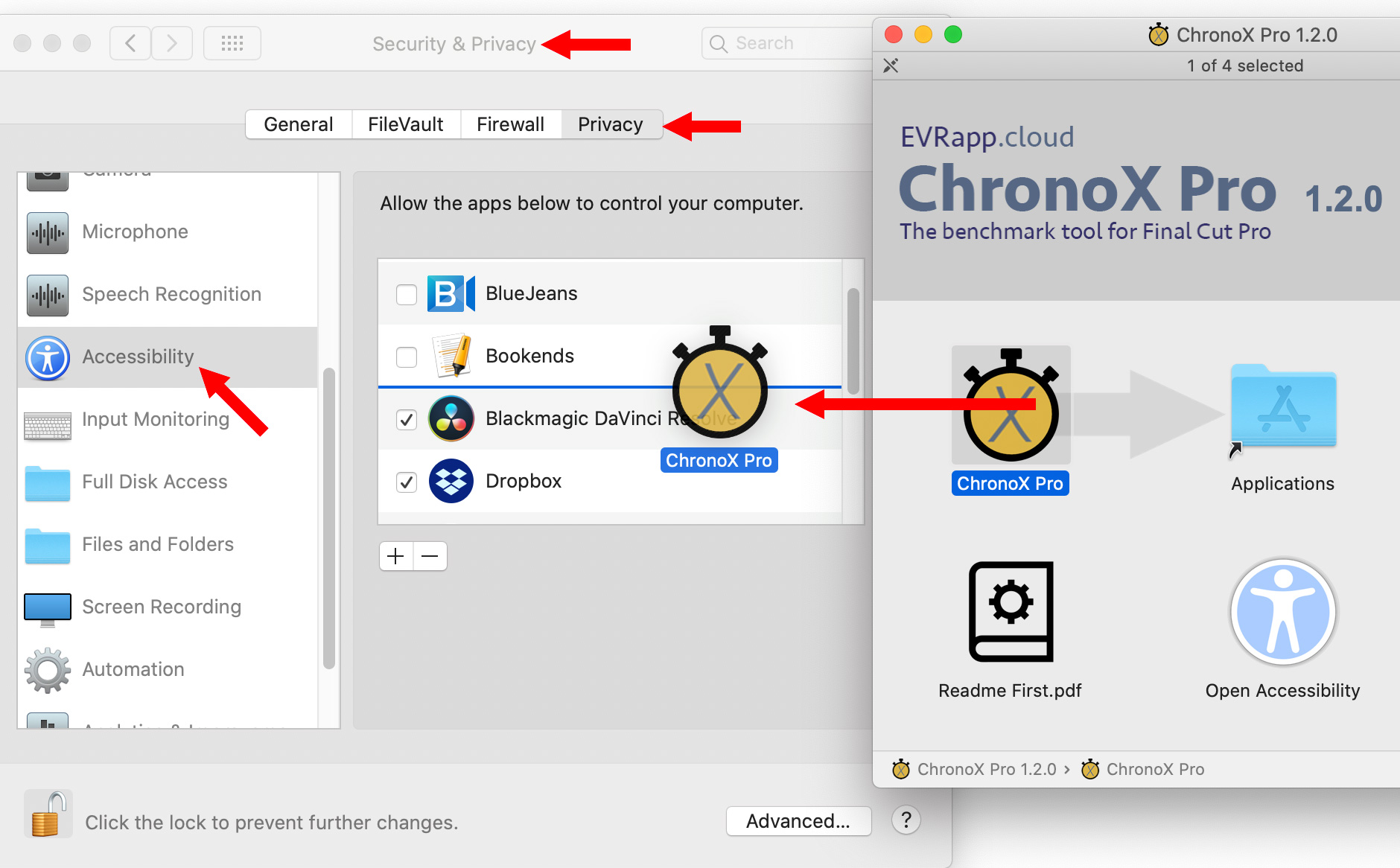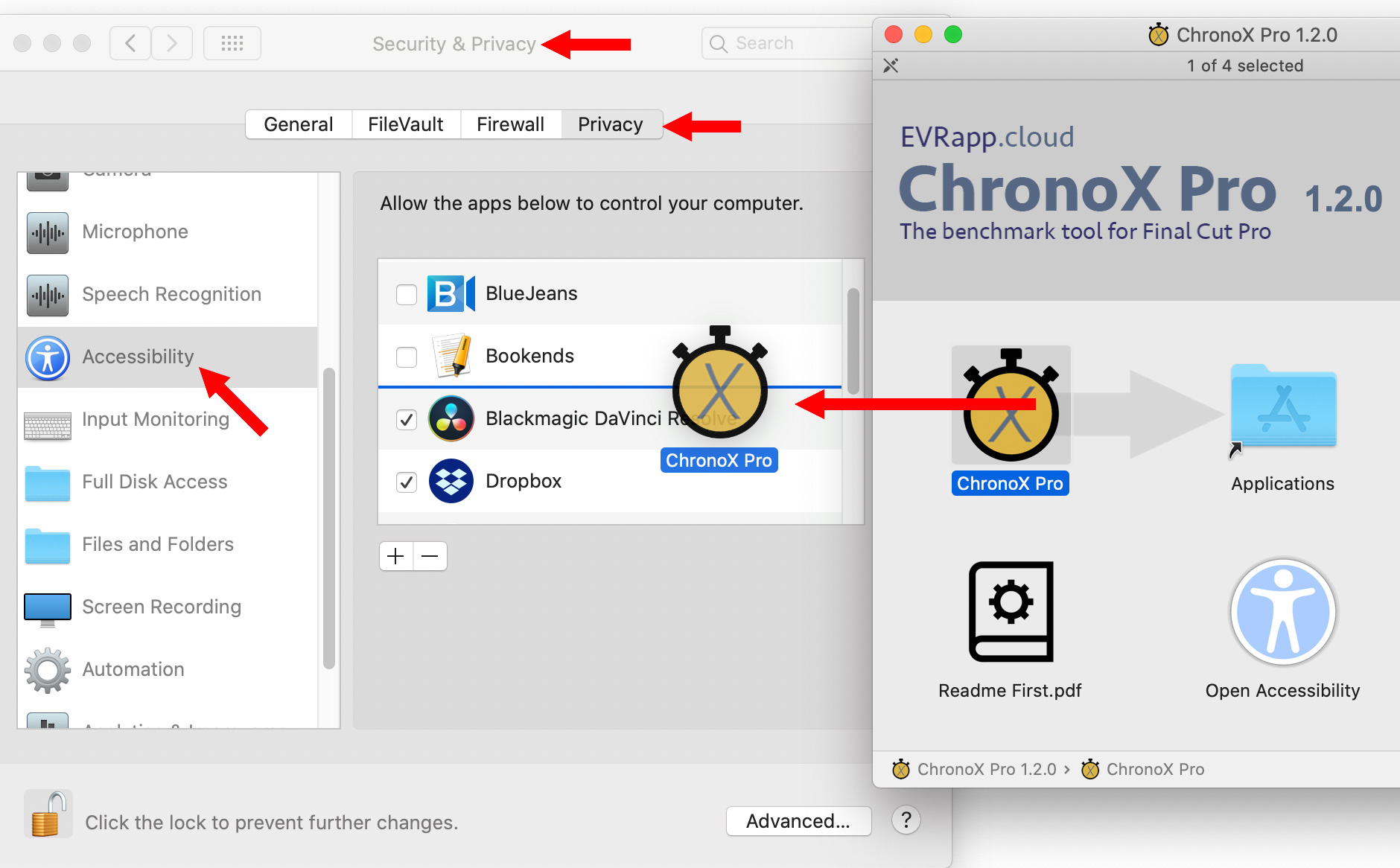 (Click to see a larger image.)
Next, we need to give ChronoX permission to work with your system:
Open Preferences > Security & Privacy > Privacy
Go to Accessibility
Unlock the window using the padlock in the lower left
Drag & drop the ChronoX Pro.app in to the apps list – or use "Open Accessibility.app" in the DMG file.
The developer stresses that ChronoX only reads data from your computer – aside from creating the log file at the end of the test.
CONFIGURE FCP X
Start Final Cut before starting ChronoX and load the project you want to time for export into the Timeline.


NOTE: If you don't start Final Cut before starting ChronoX, you'll see this warning.
A good use of ChronoX is to time how long it takes to export the same project to different storage media. For example, your internal drive, an external RAID or shared storage.
Think of ChronoX as a very fancy AppleScript. It takes control of Final Cut to perform the export so it can time it. This means that we need to determine where FCP X will store our media before we start the test.
For example, go to: Share > Master File and click Next. Enter the storage location you want to use for the test. Then, click Cancel. FCP X remembers the last storage location you used.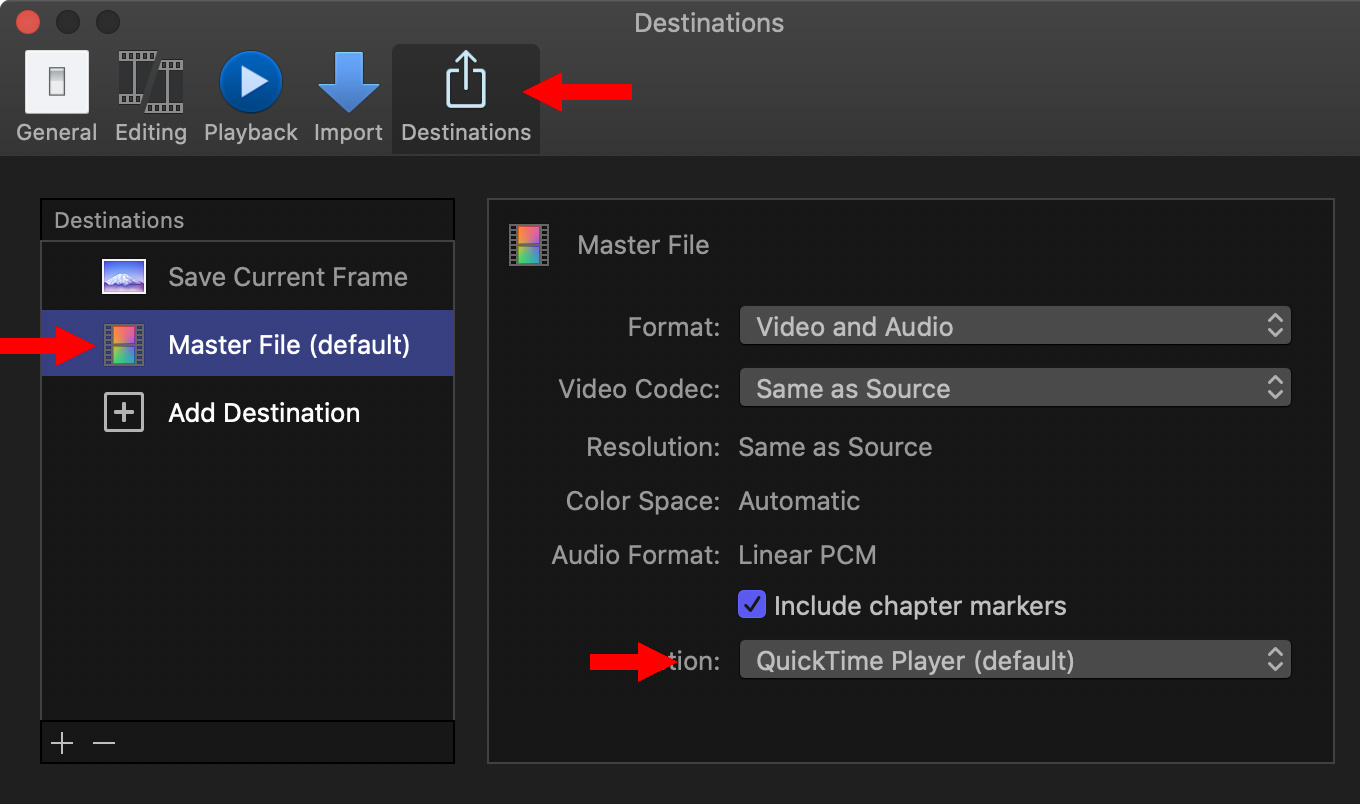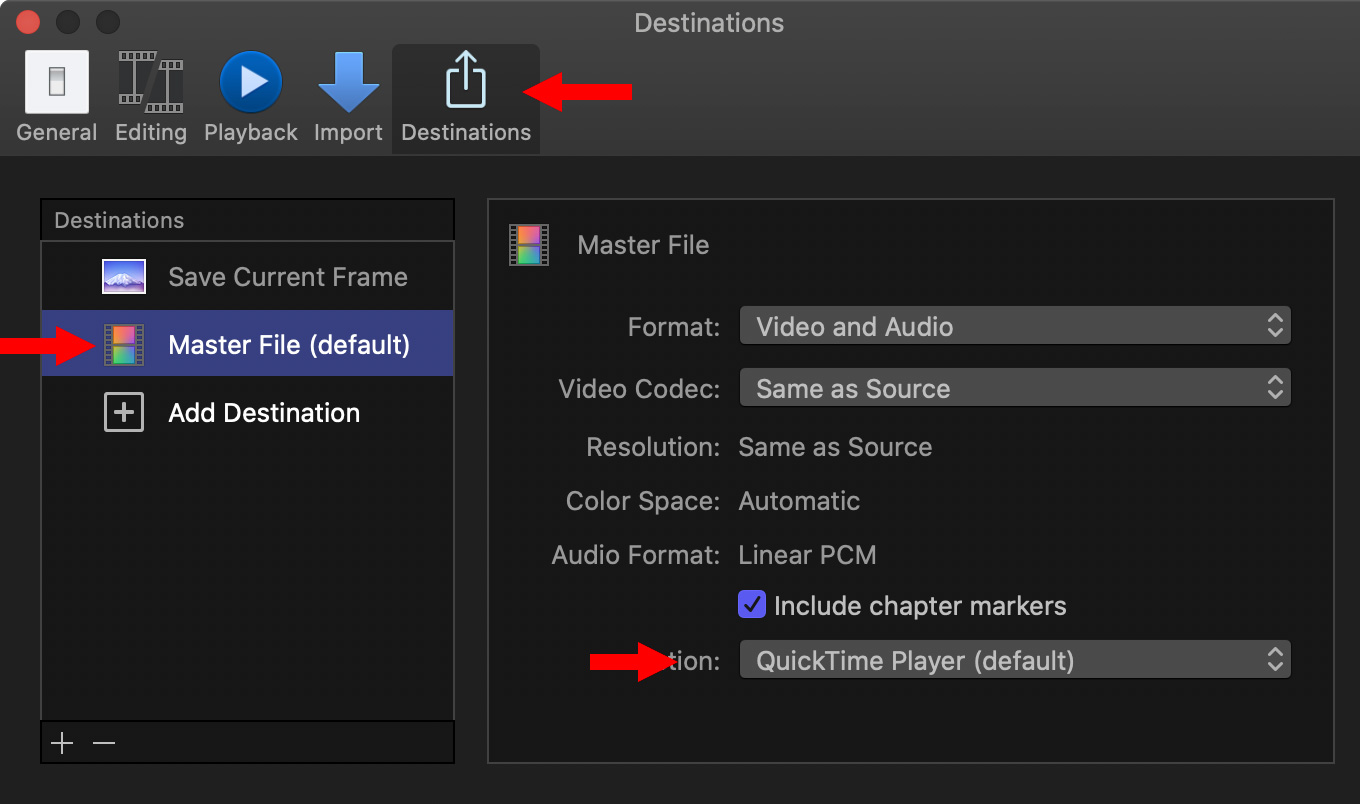 Next, open Final Cut Pro X > Preferences > Destinations:
Control-click Master File and set it to Default
Set Action to QuickTime Player (default)
NOTE: If the master file is not set as default and Action is not set to QuickTime Player, ChronoX Pro will not be able to complete its tasks and will have to be closed manually. Both these settings are important.
The last critically important step is to select the project in the timeline. The Timeline must be active for this test to run. (An easy way to do this is to select a clip in the timeline so that it has a gold box around it.)
FCP X is now ready for the test.
RUN CHRONOX
With FCP X running, start ChronoX.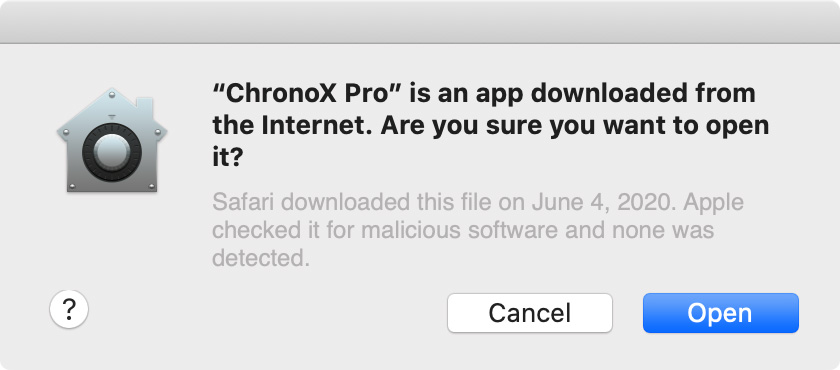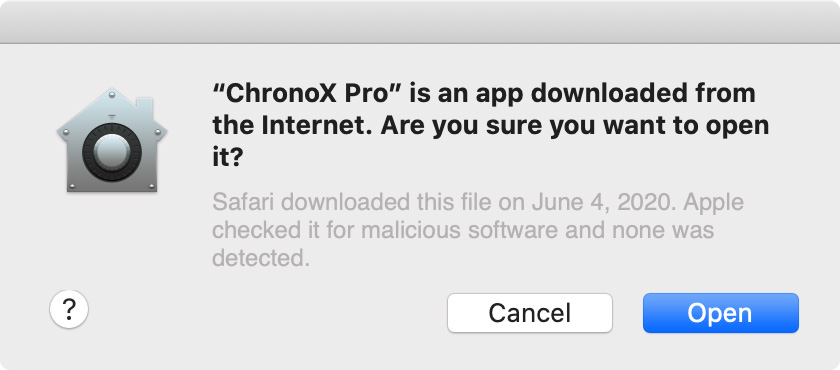 If this is your first time using it, it will warn you that you didn't install this from the Mac App Store. To resolve this, click Cancel. Then, go to System Preferences > Security & Privacy and click Open Anyway. You'll only need to do this the first time you run the program.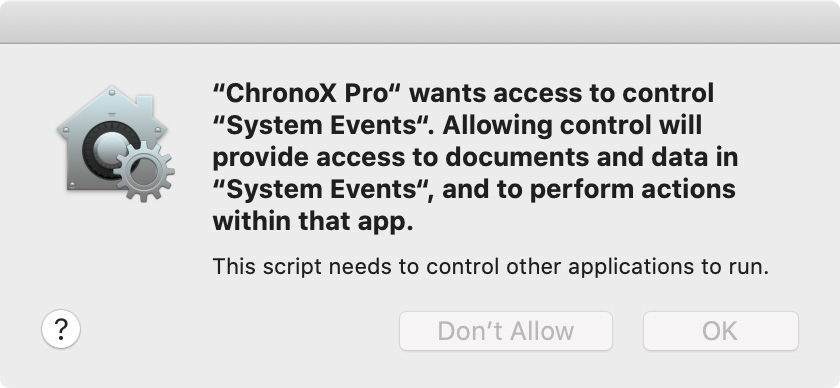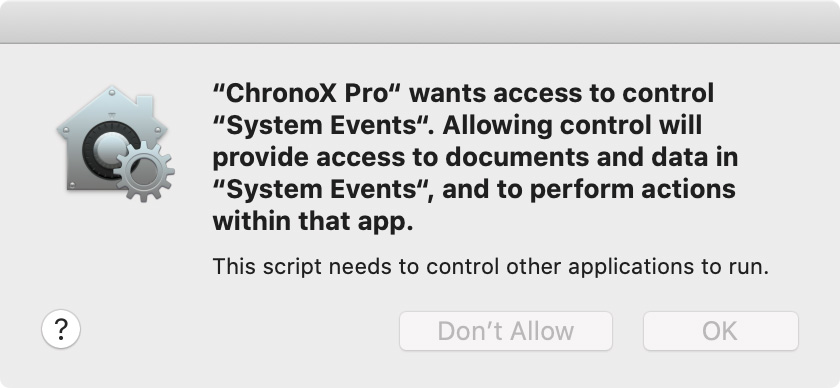 Again, if this is the first time, you'll see this warning. Again, click OK. This provides the apps access to the folders it needs to run the tests. You'll only see these messages once.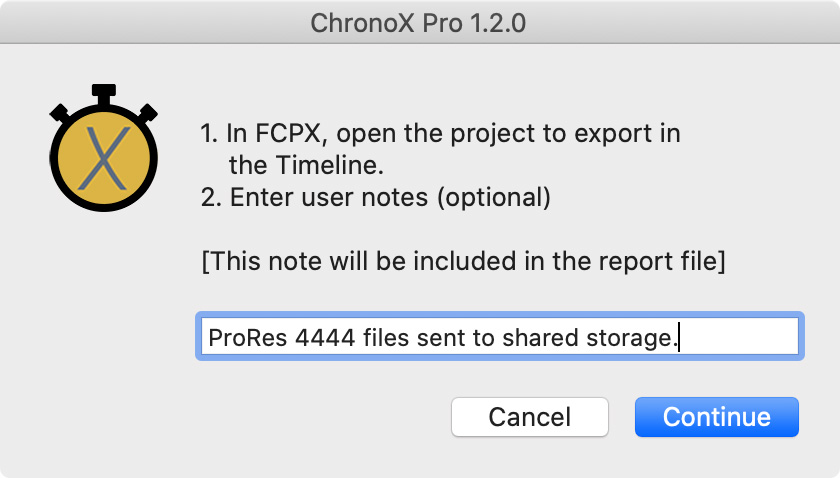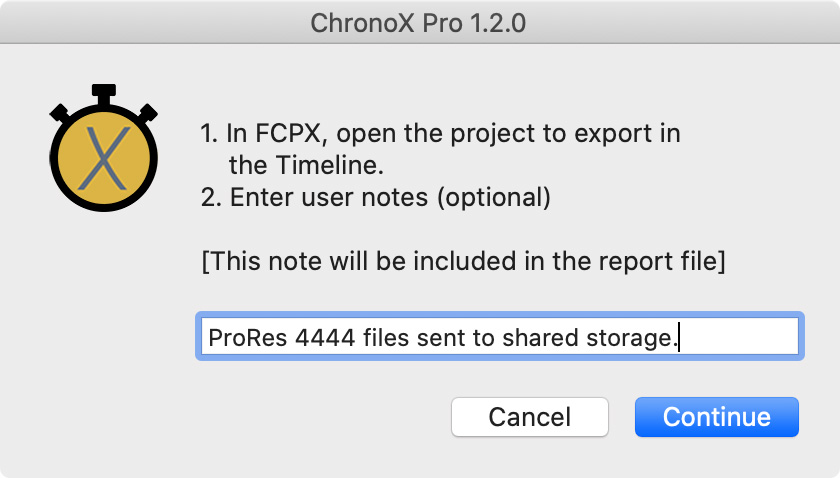 Now that installation is fully complete, enter any relevant user notes (they will be displayed in the log that's created in the Pro version). Here I'm indicating the files I'm using and where they will be stored.
Click Continue.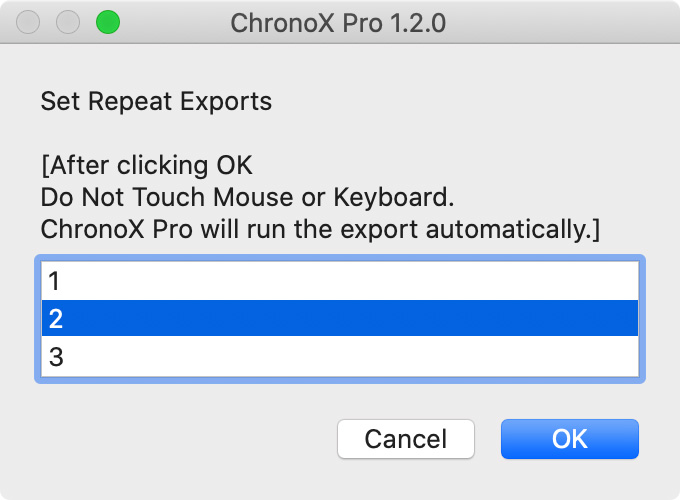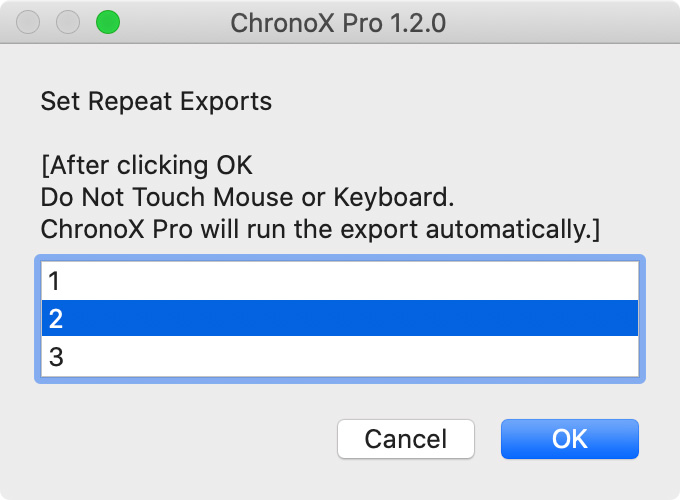 If you have the Pro version, the software will ask how many times you want the test to run. Because exporting is a background process, export time can vary depending upon what else is running on the computer.
In this example, I asked for the test to be run twice. My recommendation is to run at least 2 and preferably 3 tests to get the best results.
Click OK and the test starts.
NOTE: Because exporting is a background process it is important to let the test run WITHOUT touching the mouse or keyboard, or running any other app on your system. Doing so, will slow down the export.
CAUTIONS
In running these tests, I discovered that if you have a two monitor system, as I do, both FCP X and ChronoX MUST run on the same monitor – or the tests won't start. In fact, to prevent problems, run both applications on your main monitor.
Make SURE the timeline is selected in Final Cut before starting the test.
Finally, make sure that NO OTHER application is in the foreground. Just let the test run, even though, in your heart of hearts, you want to be doing something else. Don't. Just go get a cup of coffee.
NOTE: Something I didn't expect. When ChronoX is done exporting files, it erases them so that they don't fill your storage with files you don't need.
RESULTS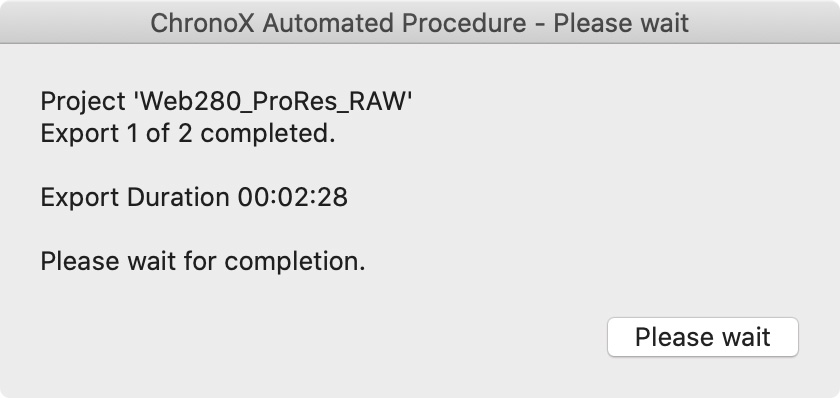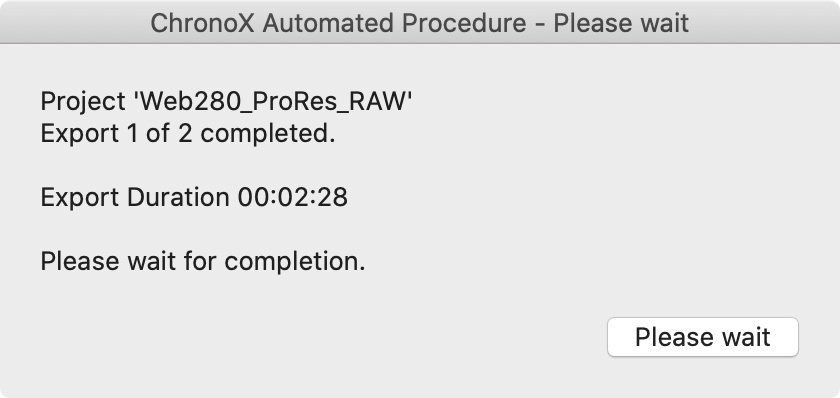 As each export completes, ChronoX displays a quick info-message for five seconds with the results. If you are running the free version, this will be all you see.
Running the software is a bit persnickety. You need to read the user guide, setup Final Cut Pro X properly and make sure all programs are on the main screen. This isn't as easy as running a speed text of a hard disk.
BUT… the Pro version is worth the money. At the end of the tests, it displays a detailed log file tracking the test results, your export notes and a ton of great information on your system. This log file can be easily opened into Numbers or Excel for additional calculations and charting. Note, also, that this saves the results of multiple tests.
NOTE: I did discover a calculation error on the first average in the log file, but it is easy to load this file into Numbers or Excel and recalculate it.
UPDATE: This calculation bug was fixed in the 1.2.1 update to ChronoX.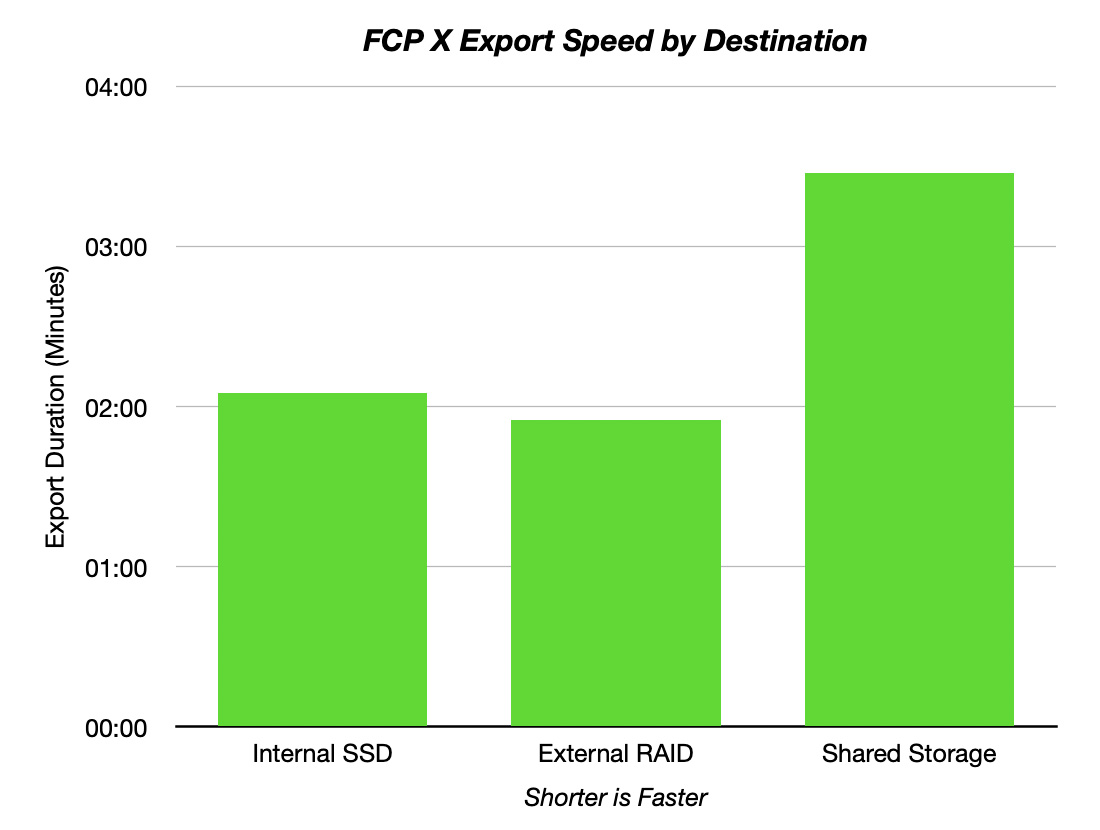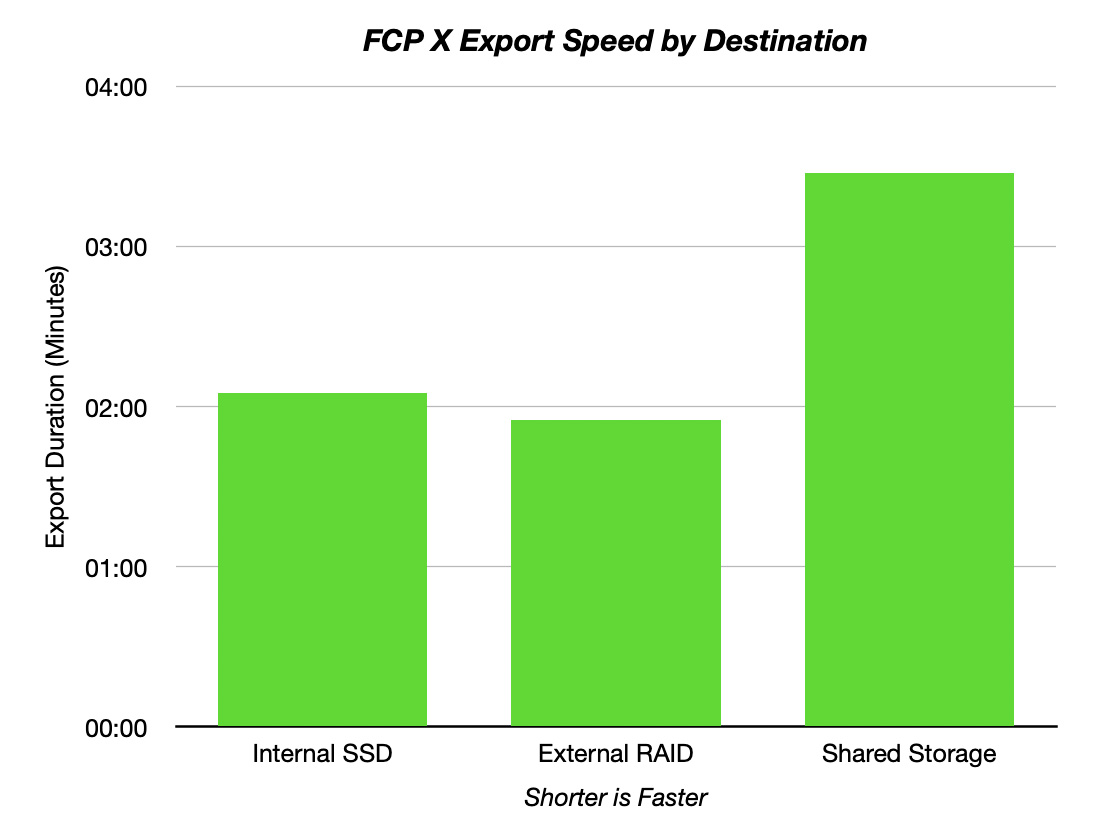 Here's why I like this program: From the numbers in the log file, I created a chart from the data in the log file illustrating how export speed varies depending upon which storage I use for output.
NOTE: Your results will vary depending upon project, storage options and GPU speed.
What I learned is not what I expected. I thought, going in, that my internal drive would be the fastest. But, instead I learned that my external RAID was about 8% faster. I knew shared storage would be the slowest, but it wasn't as slow as I thought.
With these numbers I can make more informed decisions about where I export and when to trade off speed for capacity. These are the kind of stats that can help us optimize our systems to make the most of its performance.
SUMMARY
ChronoX, though a bit tricky to setup, is a very useful app for testing your system in a real-world setting to help you maximize export performance. I recommend the Pro version because of its ability to accurately create average durations and the strength of its log file.
---
Bookmark the
permalink
.